When I was a kid, my mom's go-to dinner when she didn't know what to feed us was hamburger and onions. What is Hamburger and Onions, you ask? Well. It's hamburger. And onions. Just hamburger sautéed with onions. Some salt and pepper. Maybe some Worcestershire sauce mixed in there if she was feeling fancy. I'd eat it with some ketchup if I was feeling fancy. Honestly, I loved it and I should probably make it again and see if it was as good as I remember, but what I'm REALLY getting at is Egg Roll in a Bowl is kind of the 2021 version of Hamburger and Onions (and by that, I don't mean post-apocalyptic Hamburger and Onions, I mean ground meat sauteed with vegetables and seasonings.)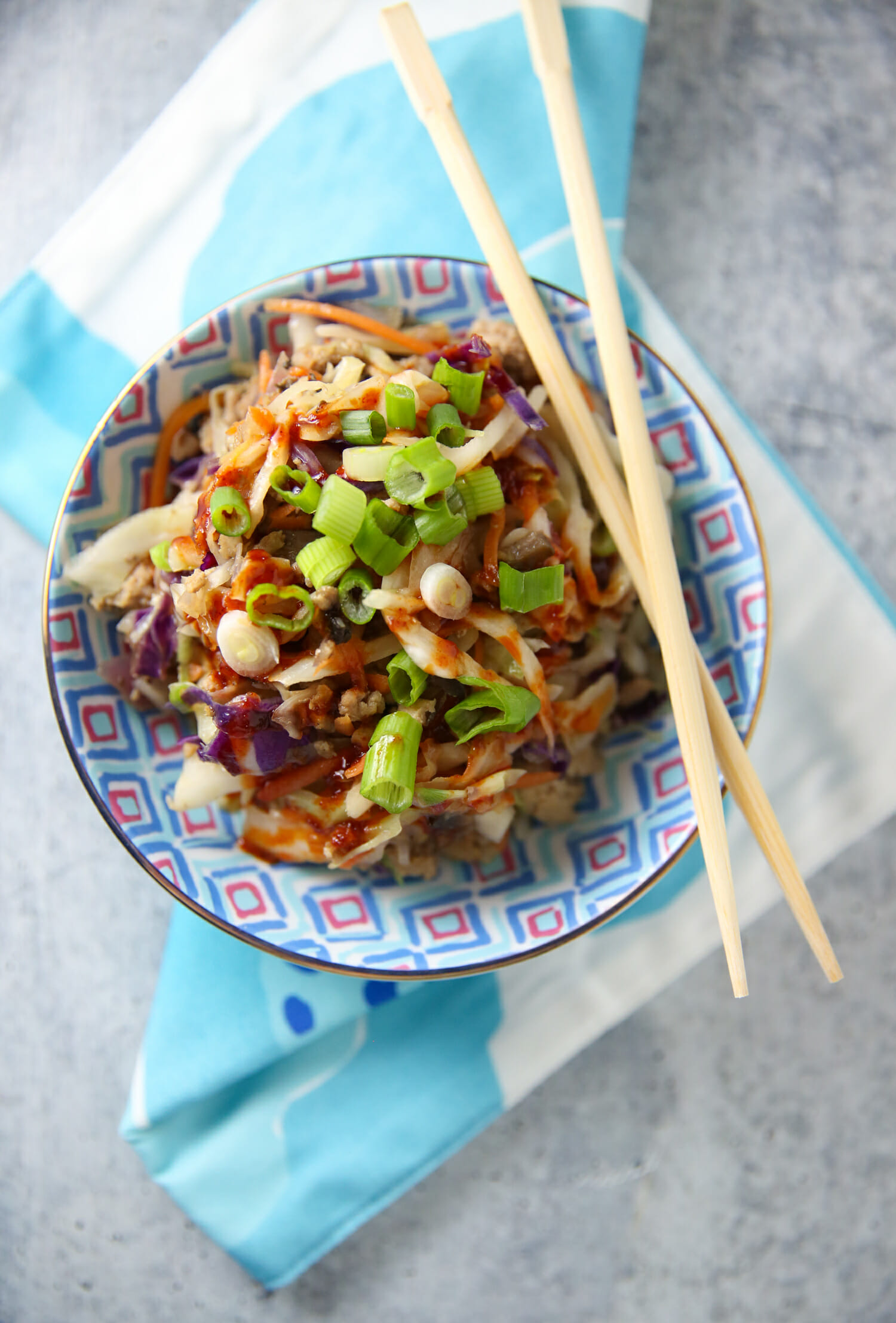 Egg Roll in a Bowl, You Say…
If you're not familiar, egg roll in a bowl is a super-popular, veggie- and protein-packed, very easy dinner (I actually love making a whole batch for meal prep lunches.) You can serve it with some brown rice or you can just serve the meat and veggies and it doesn't feel weird.
I experimented a little with a few different recipes before landing on my own.
Meat: I'm using a mixture of lean ground chicken and flavorful ground pork.
Vegetables: I've thrown in some stray vegetables at times–a handful of mushrooms or shredded some celery that needed to be used up. It's always good. It's hard to mess these up.
Cabbage: I like using the coleslaw mix from Walmart (for someone who doesn't love Walmart, I really love their produce department.) It has purple cabbage and carrots mixed in and the shreds are a nice size for cooking without getting soggy.
Sauces: When I'm ready to serve, I drizzle it with an Asian condiment. My go-tos are Gochujang (like what I use in these beloved Korean Noodle Bowls) or this Japanese BBQ Sauce. Sriracha would also be delicious. Sprinkle it with some green onions and voila–you have the easiest dinner ever!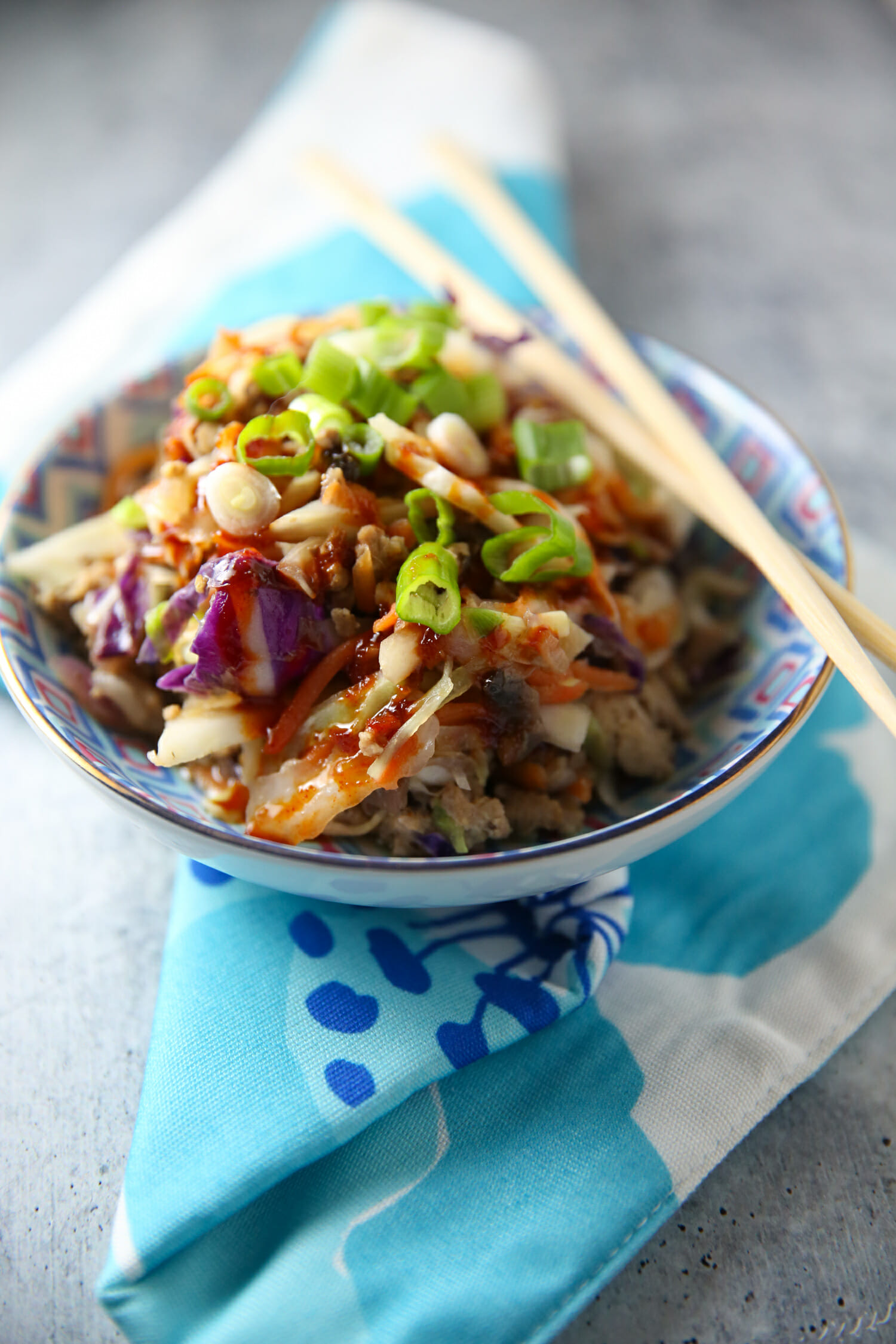 Print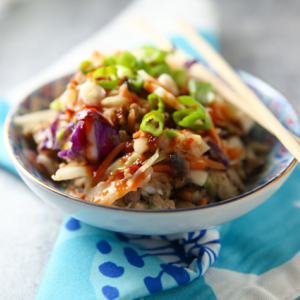 Egg Roll in a Bowl
Author:

kate jones

Yield:

4 large main dish servings
---
Description
This quick and easy meal comes together in 30 minutes or less, is packed with flavor and protein, and you won't even miss the carbs! It's great for a family dinner or to meal prep for busy weekday lunches.
---
1/2 pound lean ground chicken
1/2 pound ground pork (as lean as you can find)
1 small-medium red onion, diced
1 teaspoon grated ginger
1/2 cup grated carrots (buy them pre-shredded to save time or grate them yourself to save money)
5–6 cloves garlic
1 cup finely diced baby bella mushrooms (optional)
1 16-oz. bag coleslaw mix or shredded cabbage
1/4 cup soy sauce
1/2–1 teaspoon Sriracha (optional)
1 tablespoon sesame oil
1 tablespoon rice wine vinegar
Chopped green onions for garnish
Asian condiment of your choice for drizzling (Gochujang and Japanese BBQ are my go-tos.)
---
Instructions
In a large skillet, heat 1-2 tablespoons olive oil over medium heat. When hot, crumble the meat into the pan and cook with the onions, garlic, and ginger. When the meat is about halfway cooked, add the carrots, and mushrooms (if using) and cook until the meat is cooked through and the onions are translucent and fragrant.
While the meat is cooking, whisk together the soy sauce, sesame oil, vinegar, and Sriracha (if using). Set aside.
Add the cabbage a couple handfuls at a time, stirring it as it wilts. When the cabbage is cooked, drizzle the soy sauce mixture over the meat mixture and stir to combine and heat through. Serve alone or over brown rice.
---