Quick and easy weeknight meals are not always something that is good enough to serve company or something your kids will not only eat but request. These Korean Beef Noodle Bowls are both! They are SO quick and easy, but also delicious and beautiful. You probably need to put them on next week's menu immediately.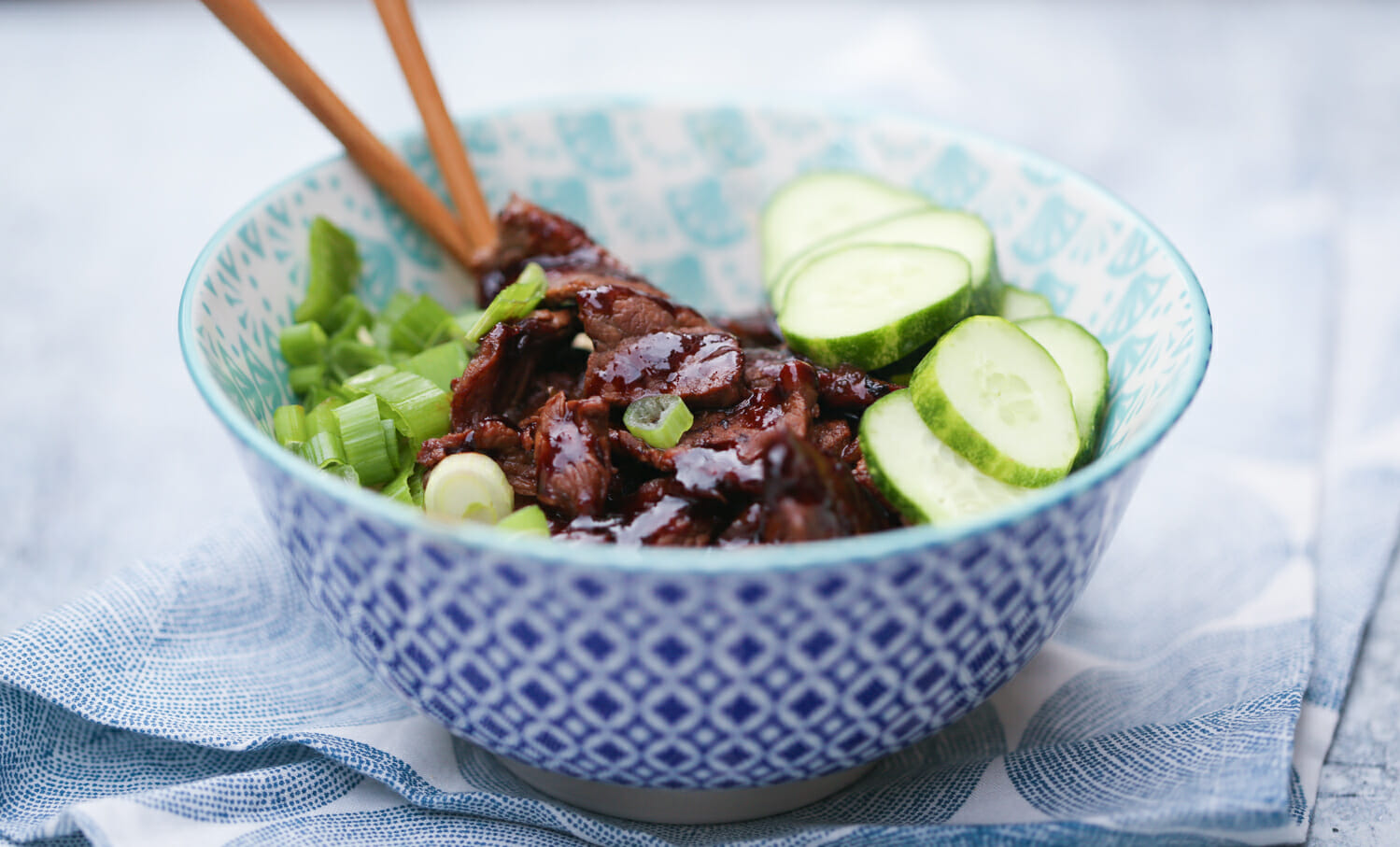 about the ingredients
I literally keep ALL these ingredients in my house at any given time just in case the mood strikes us. My oldest son said that his perfect day would involve these noodles. This is probably THE favorite recipe I have in my arsenal right now. Sometimes I make it with sirloin and sometimes I make it with ground beef. But no matter what, when my kids hear this is what's for dinner, the whole mood in the house changes.
You need a handful of pantry ingredients–soy sauce, ramen noodles (discard the packets), brown sugar, sesame oil, sesame seeds. There also may be things you don't have–sriracha, fresh ginger, fresh garlic, steak or ground beef, white onions and green onions.
what about gochujang sauce??
If you don't typically cook Korean food, you'll also need Gochujang sauce. People ask me if it's necessary. Yes, it is. I live in the sticks and I can find it at pretty much all my grocery stores (I actually have better luck at the Neighborhood Walmarts than the big Super Walmarts, but I can also find it at Kroger and Albertson's.) It's sweet. It's spicy. It's more kid-friendly than most Asian spicy sauces. You for sure need it in your arsenal.
It doesn't take long–the ramen noodles cook in minutes and the stir fried beef is the same. This can easily be on your dinner table in 30 minutes or less! Toss on some fresh cucumbers and green onions and it's the perfect combination of hot and cold, sweet and savory, lots of different textures and flavors. Best. Dinner. Ever.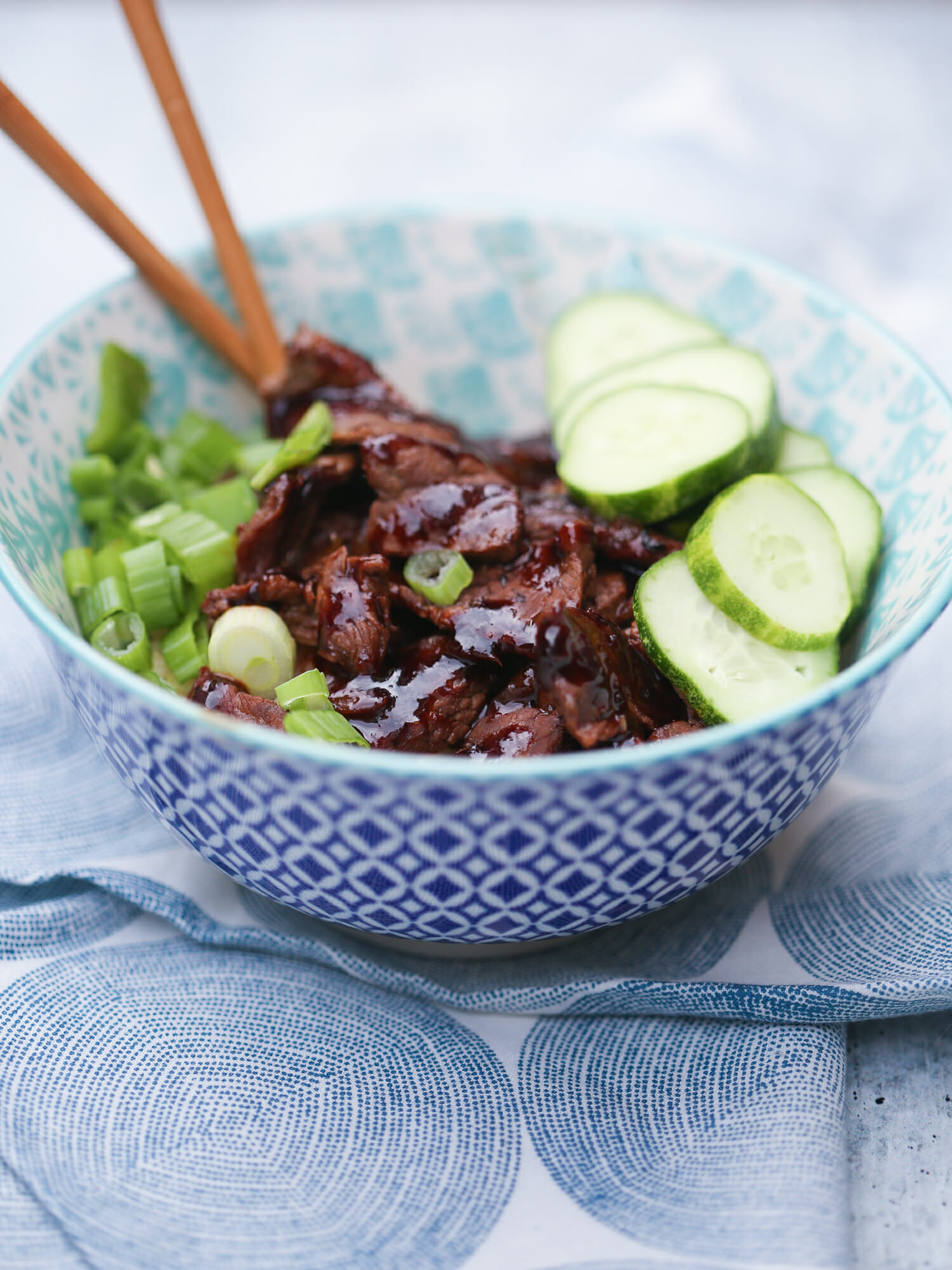 Print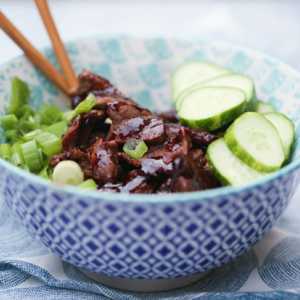 ---
Description
These sweet, spicy, satisfying Korean Beef Noodle Bowls are on the menu at least twice a month at my house!
---
1 lb. sirloin steak, thinly sliced*
kosher salt and freshly ground black pepper
1 tablespoon olive oil
¼ cup soy sauce
2 tablespoons water
1 teaspoon sriracha sauce
1 teaspoon sesame oil
1 tablespoon brown sugar
1 small white onion, thinly sliced or finely chopped
3–4 cloves garlic, minced
1 teaspoon freshly minced or grated ginger
2 packages ramen noodles (discard seasoning packets or save them for another use)
½ English cucumber or 2 baby cucumbers, thinly sliced (leave the peels on)
1 bunch green onions, chopped
Sesame seeds
Gochujang sauce (see note)
---
Instructions
In a small bowl, whisk together soy sauce, water, sriracha, sesame oil, and brown sugar. Set aside.
Season thinly sliced beef with kosher salt and freshly ground black pepper. Set aside.
Bring a medium pot of water to a boil. When it comes to a boil, add noodles and cook for 2 ½-3 minutes or until barely cooked through. Drain and rinse immediately in cold water. (You can start the next step while the water is coming to a boil.)
While water is heating, heat oil in a large skillet on medium-high heat. When hot, add the beef in a single layer and cook, stirring frequently, until it's about ¾ done. Reduce heat to medium and add chopped/sliced onion, garlic, and ginger and cook until beef is cooked through and the mixture is fragrant. Whisk the sauce mixture one more time and then drizzle over the beef and onions. Turn heat to low and simmer while the noodles cook.
When the noodles are cooked and the sauce has been added to the pan, add the drained noodles to the pan and toss gently to combine. Divide the noodles and beef among 4 bowls. Sprinkle with sliced cucumbers, chopped green onions, and sesame seeds and drizzle with a little (or a lot, if you want) Gochujang sauce.
---
Notes
*You can substitute ground beef for the sliced steak if you prefer
**Gochujang sauce is absolutely essential. It's sweet and spicy, but not as spicy as other Asian sauces. It's delicious–probably my favorite spicy Asian sauce. Most grocery stores are carrying it now. If you can't find it at your local grocery store, you can order it from Amazon.