With several favorite healthier cream-sauces on this site like our Guiltless Alfredo and our Cauliflower Cream Sauce, it dawned on me that we've neglected to talk about real-deal Alfredo sauce.  Ironically "real" Alfredo doesn't actually involve cream, but we're talking about what we Americans refer to as Alfredo and it's this lusciously indulgent cream sauce that gets slathered over noodles, or anything else you decide to put it on.  If  you've been making the lower calorie versions for a long time then you might have even forgotten how good the real stuff is.   And if you've never made the real stuff, now is your time!
Fettuccini Alfredo is one of those things that you should just have in your repertoire.  Its' so fancy and impressive and SO EASY!  It only requires 3 main ingredients and literally just minutes to whip up.  It's obviously indulgent, and at our house, it's something we make for special occasions, or when we have cream leftover from other recipes to use up.  Fettuccini Alfredo would be a fantastic meal to make for Valentines Day next week!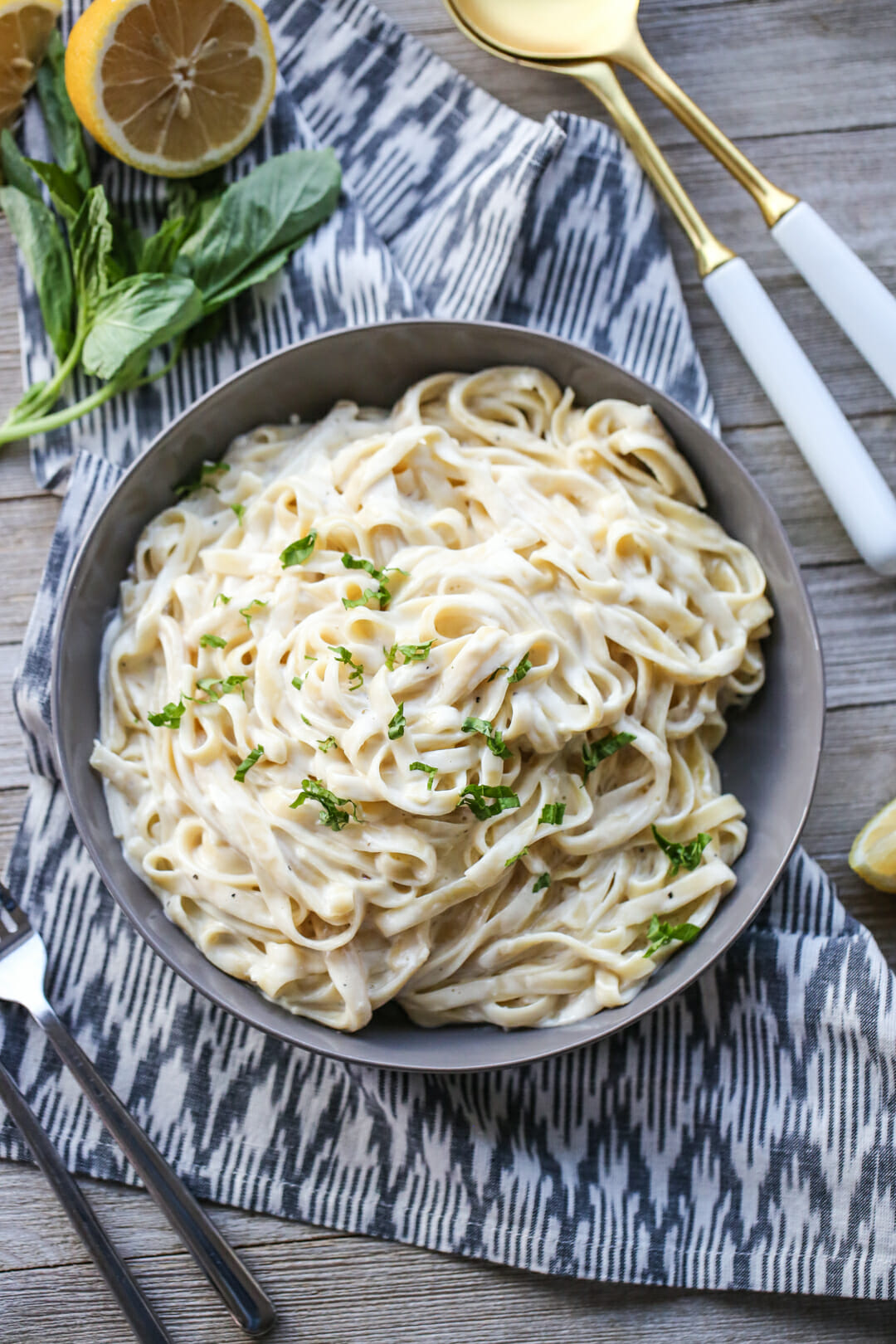 Ingredients for Fettuccini Alfredo


Since this sauce only involves a few ingredients, it's really important to use good ones.  Real cream (not milk), real butter (no margarine), fresh garlic (skip the tube or pre-minced), and fresh grated parm.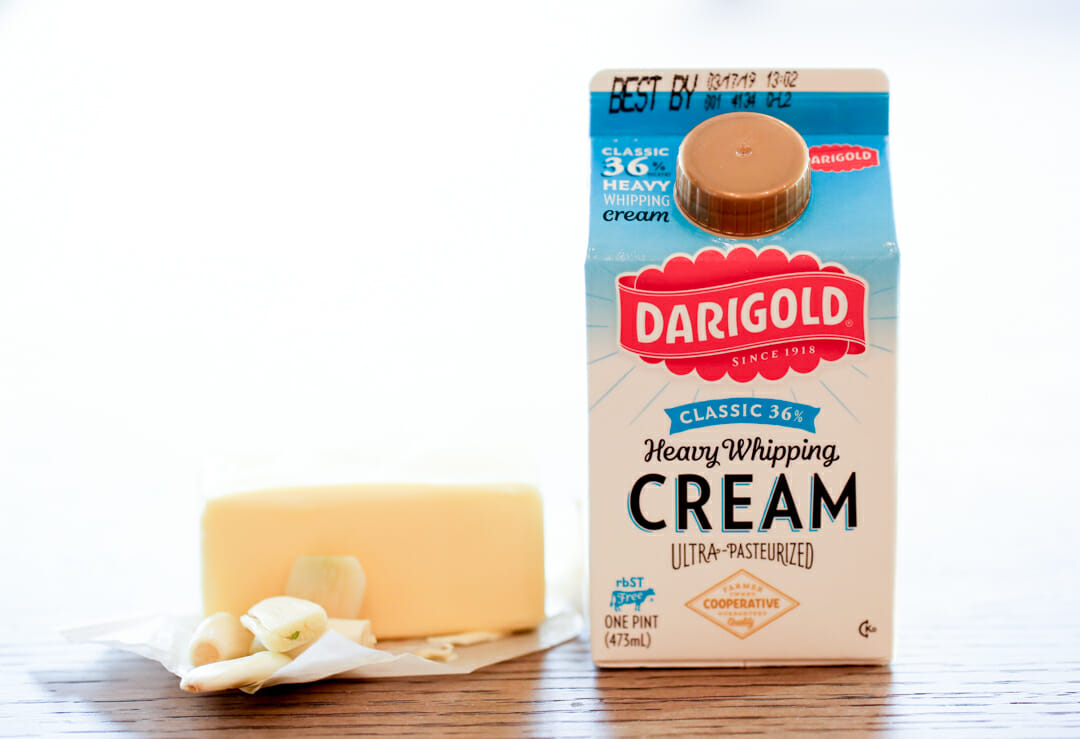 Cooking the Cream Sauce
This will only take a few minutes!  Melt a stick of butter with a generous amount of fresh garlic and let it sizzle away.  You're cooking the garlic and infusing the butter and few things in life are better than garlic-infused butter.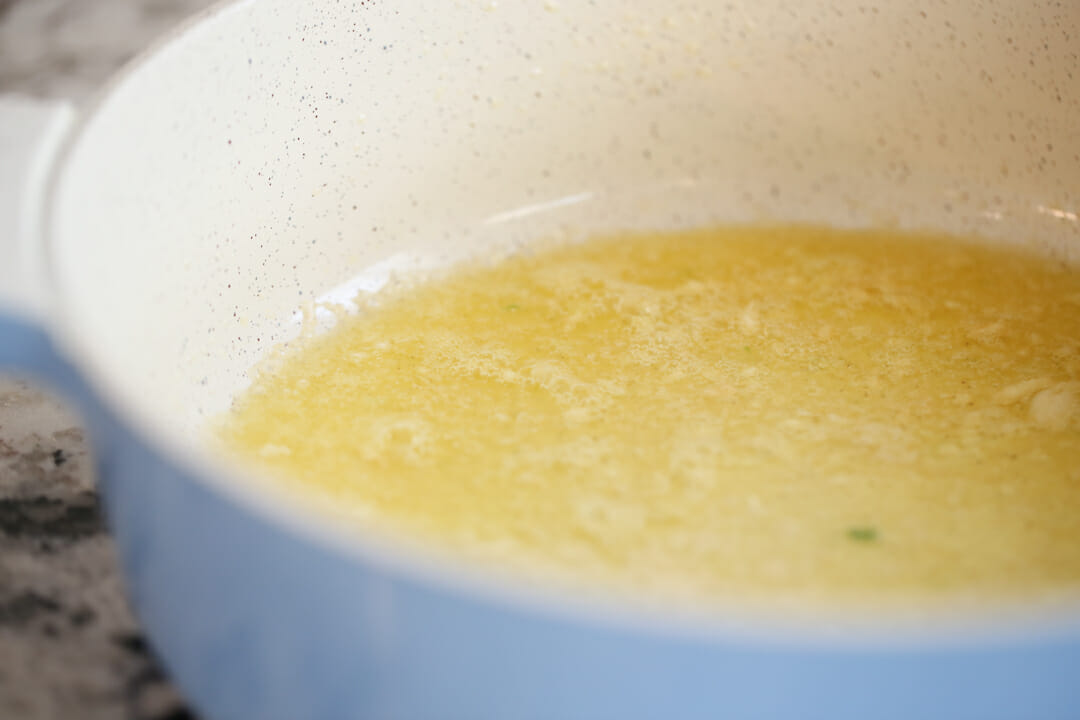 You'll then pour in the cream and simmer for just a few minutes to thicken and then whisk in that cheese.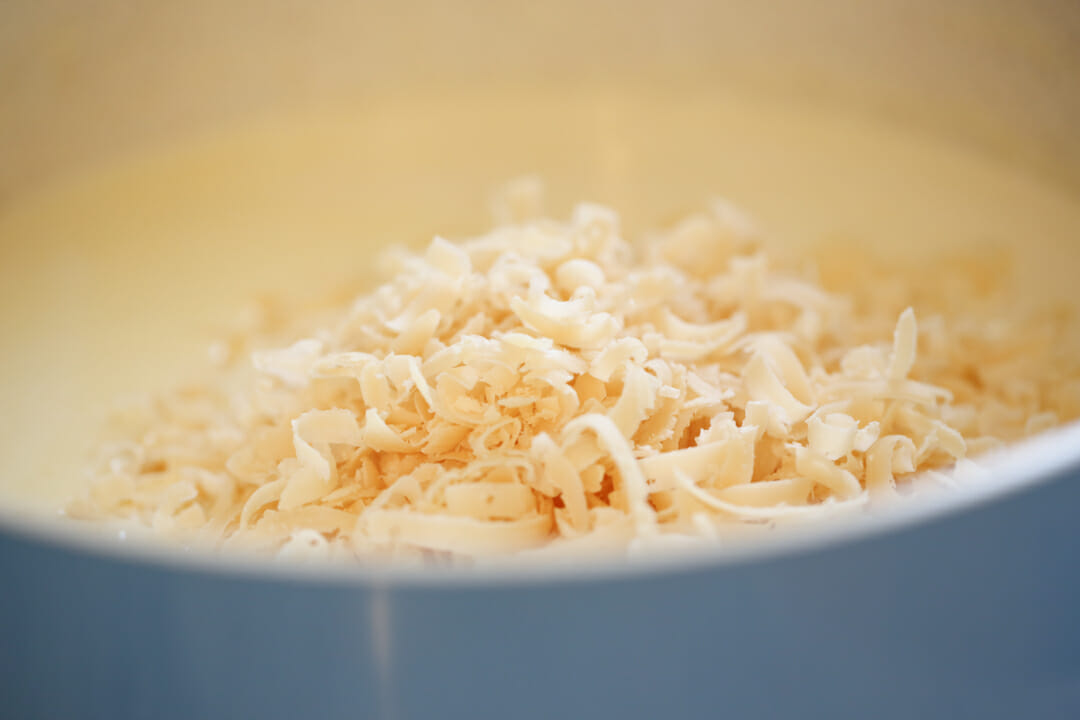 I always recommend grating your own Parmesan cheese for this (and other recipes where it's kind of the star of the show).  A lot of times pre-grated parm-just doesn't melt quite as well.  I usually buy these little wedges that are found near the other packaged cheeses, not by the fancy expensive cheese in the deli where you'd think it would be.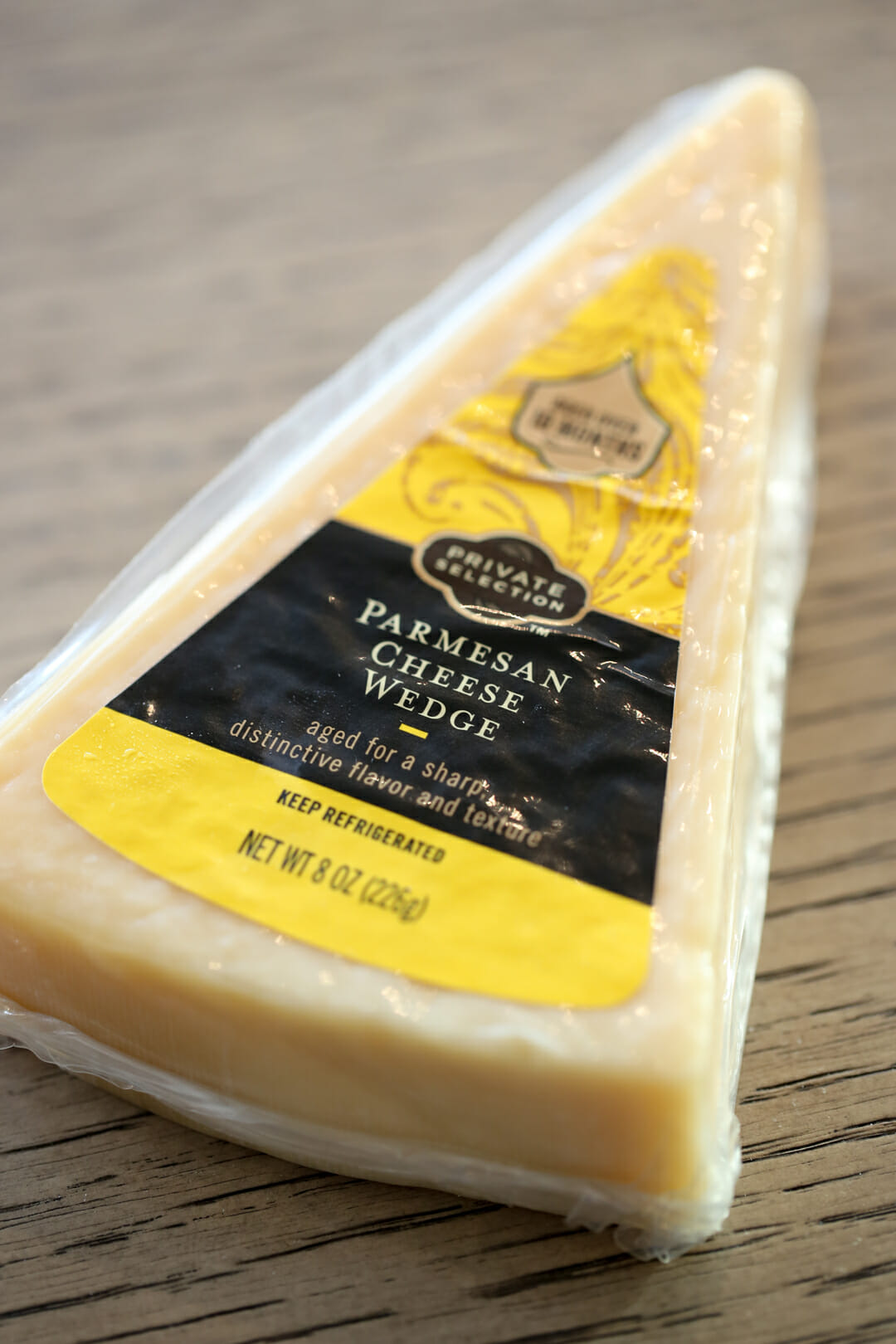 Melt it all together and you have the most amazing, creamy, indulgent sauce- and you made it in about 10 minutes!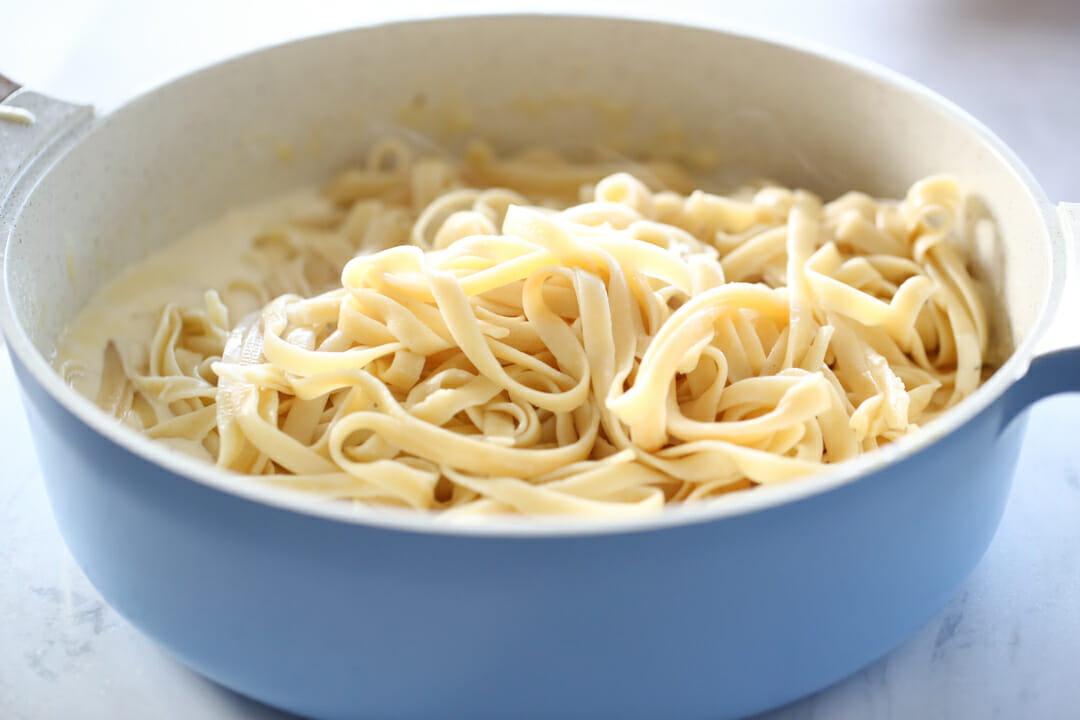 Serving Fettuccini Alfredo
Toss some hot pasta in there and you're good to go.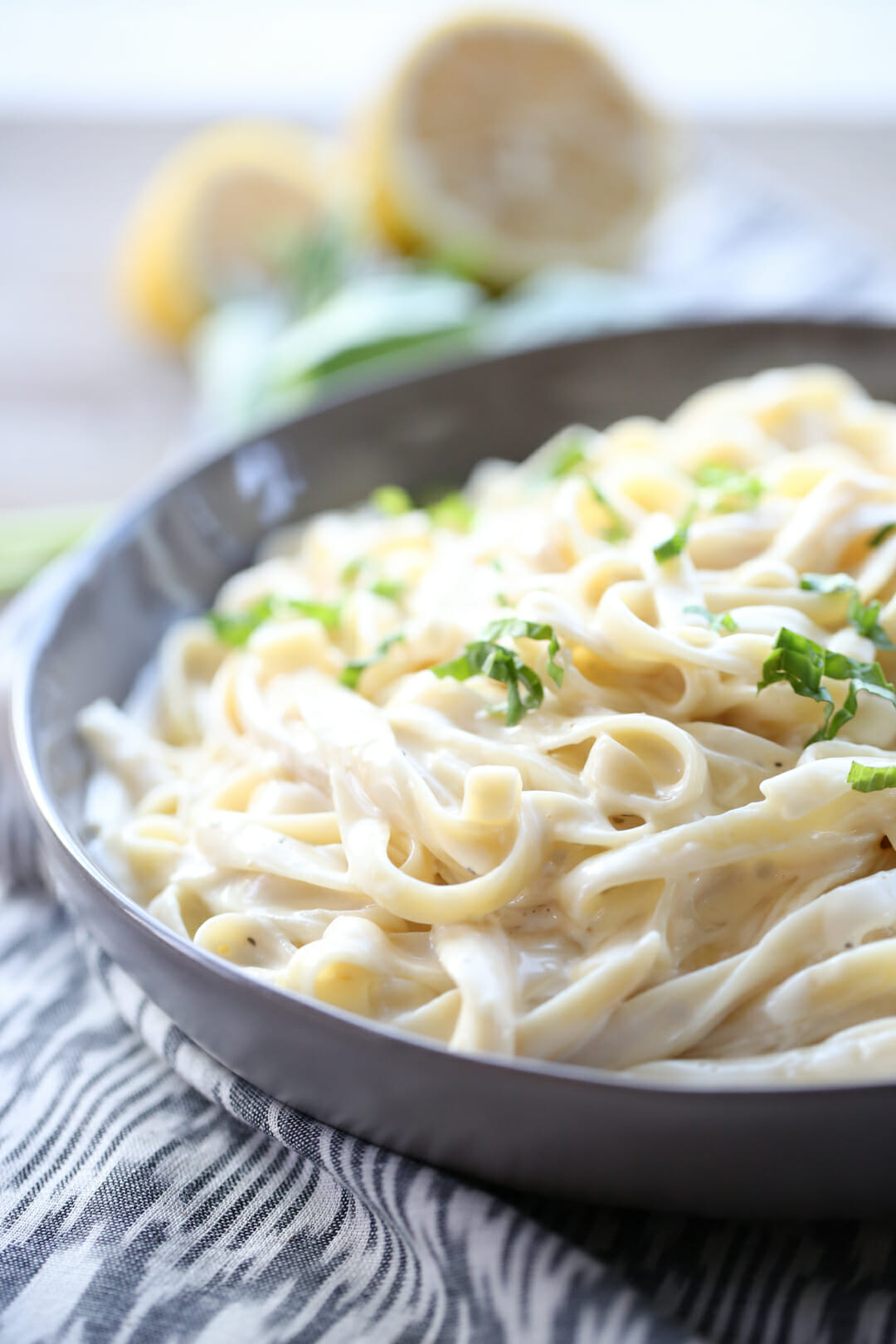 Serve it alone with pasta, or toss in some chicken and broccoli or chopped asparagus or any other veggie.  It's great alone, and it's also a great starting point for a lot of creative dishes.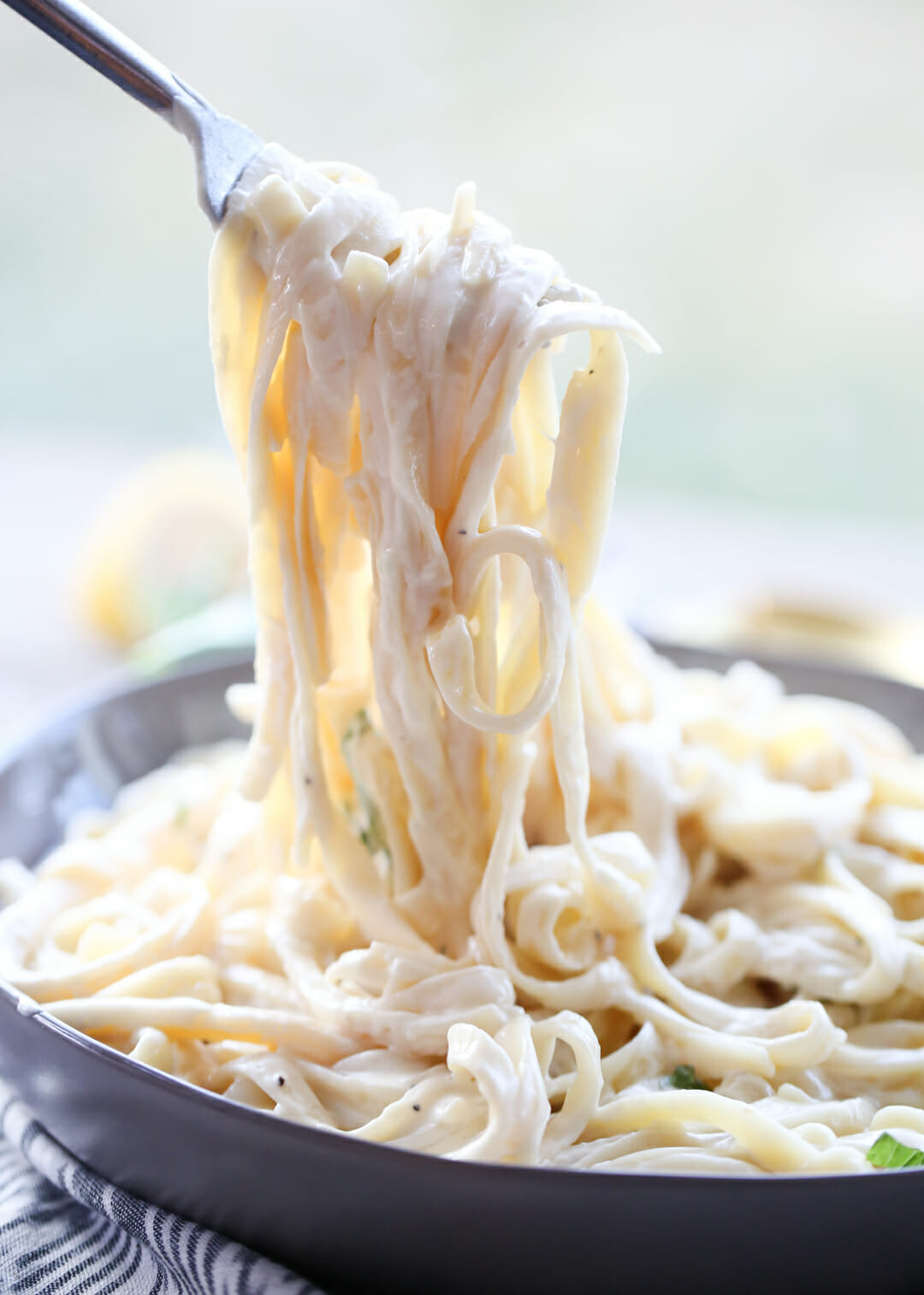 I really love it with a generous squeeze of fresh lemon juice (even some zest) and chopped fresh basil.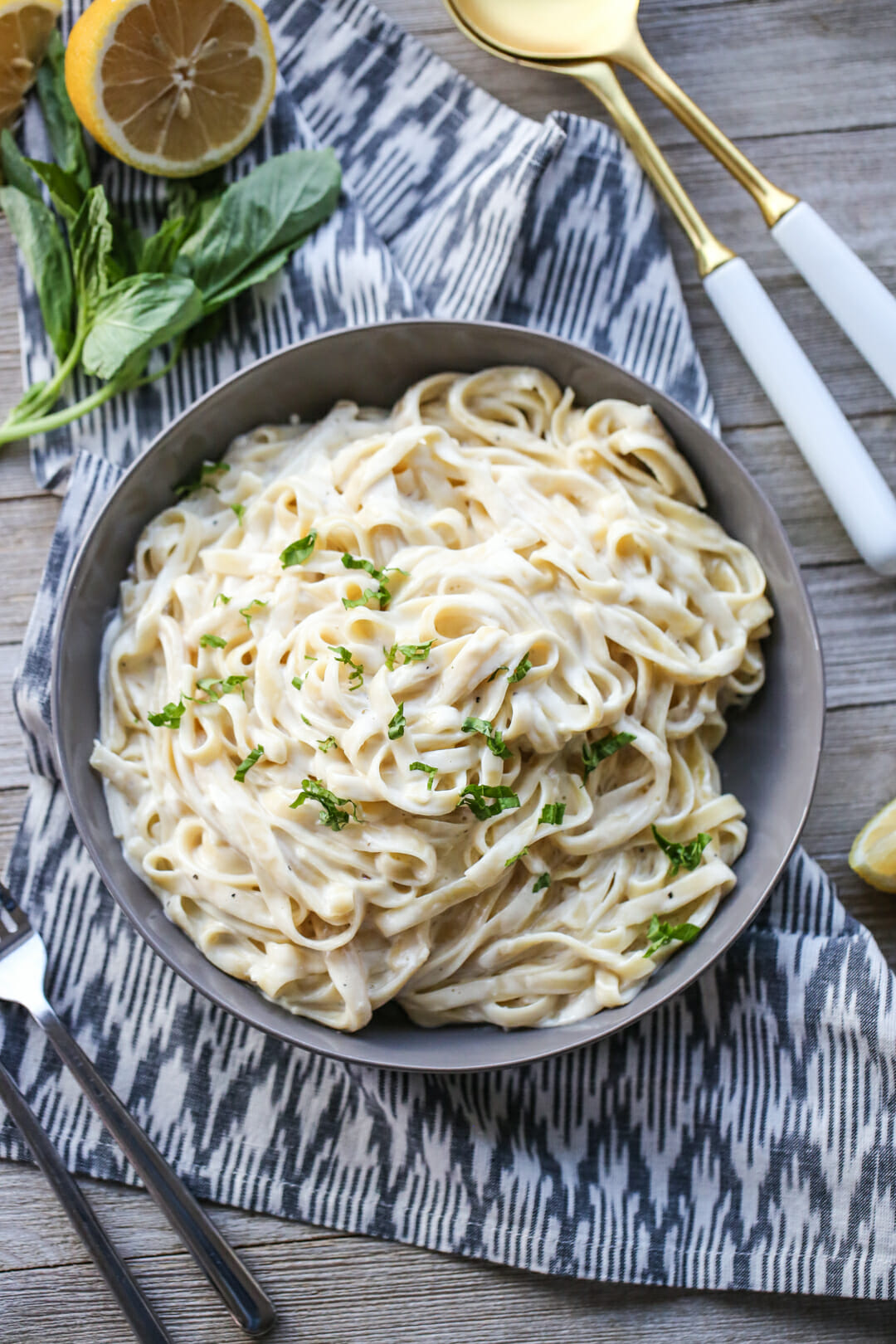 And in addition to pasta, this sauce is also amazing over vegetables or chicken, or as a dip for breadsticks, or on a pizza…so many options!
Print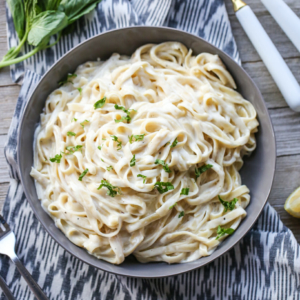 ---
Description
A classically simple cream sauce.  Rich, indulgent, and absolutely dreamy on pasta, chicken or vegetables!
---
1/2 cup (1 stick) butter
4 cloves garlic, finely minced
2 cups cream
4 oz Parmesan (about 2 cups, freshly grated)
1/4 teaspoon black pepper
kosher or sea salt to taste
1 lb pasta (standard grocery store box) up to 1.5 lbs *see note
Optional (see notes): fresh basil, fresh lemon, chicken, broccoli
---
Instructions
Heat a large sauce pan to medium heat.  Melt butter and add garlic, stirring frequently for 1-2 minutes.  It should be bubbling and cooking, but not boiling and splattering.   Add cream and whisk to combine, bring to a low simmer and cook for 3-4 minutes, stirring often.
Turn heat to low and add cheese whisking until smooth.  Parm can be a little slow to melt, so sometimes I whisk and then turn the heat off, put a lid on the pan for a few minutes and come back to stir until smooth.
Toss with hot pasta and add chicken and/or veggies, if desired.
---
Notes
*This actually makes enough sauce to coat up to 1.5 lbs (1.5 boxes) plain noodles OR 1 lb noodles plus some chicken and/or veggies.  I often toss extra "stuff" into ours so I made this recipe extra saucy!  If we don't add extra stuff, we like having enough extra sauce to be able to dip chunks of bread into so it all works out.
*Totally optional, but a delicious variation is to add fresh lemon juice to taste (just toss it in with the pasta) and fresh chopped basil.
* If pasta sits too long and thickens, simply add a little milk, hot water, or starchy pasta water to thin.