Is Pumpkin Alfredo the new PSL?  I developed this recipe and photographed it months ago in anticipation of fall and I feel like I'm seeing it everywhere now!  Either way, it's DELICIOUS and a fun recipe to add to your fall rotation.  Pumpkin itself is very mild so it really adds some color, texture and underlying flavor notes.  It also lightens this heavy dish up a bit since we are basically replacing half of the heavy cream in traditional alfredo with pumpkin!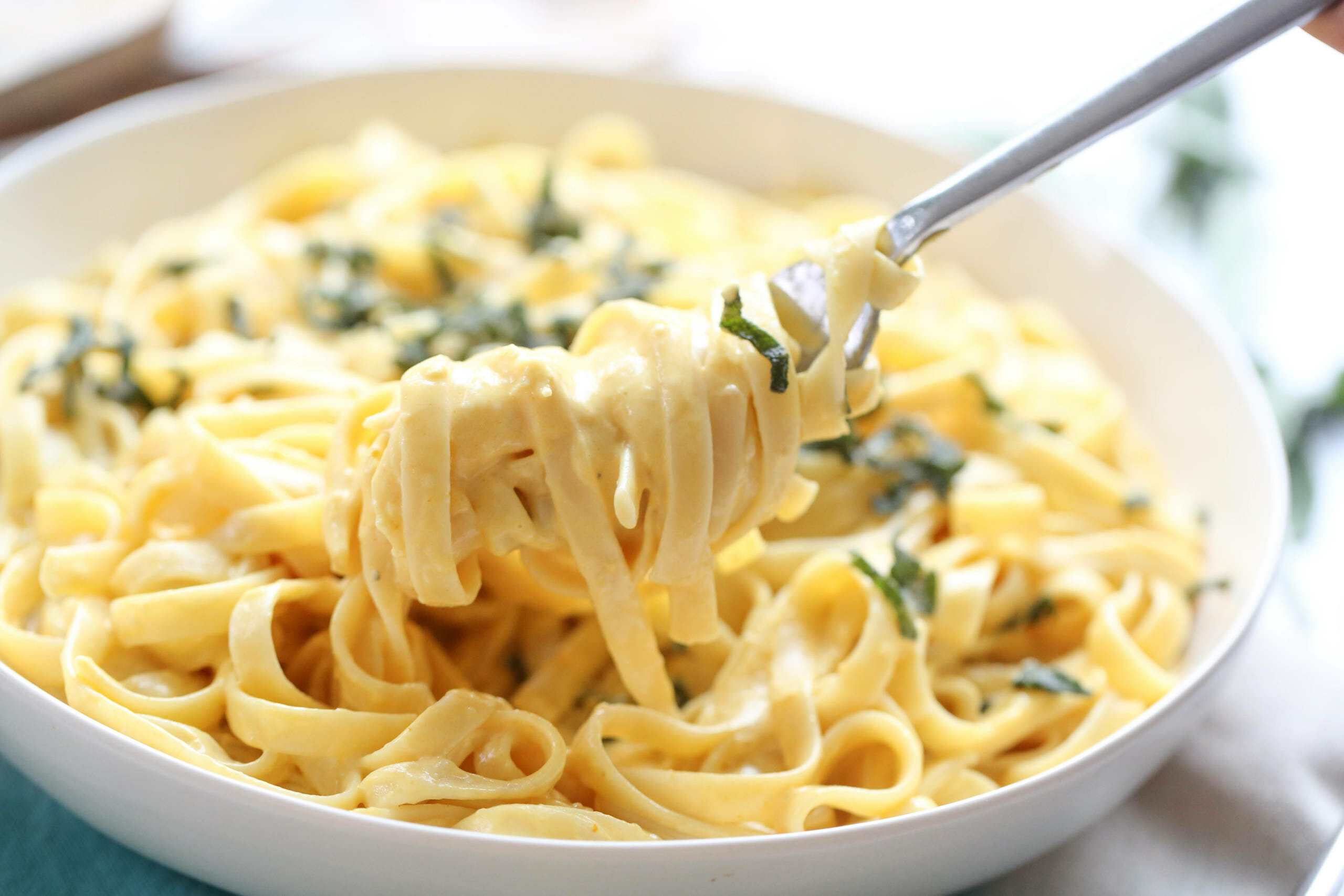 I start this recipe with a little trick, but check out the note in the printable recipe about how you can totally skip this part if you want!  You can also use more sage if you have it-but to make things easy, I'm calling for one package of grocery store sage, like this:
You'll start by by cooking the sage in butter.  This does 2 things.
1.  Makes beautiful bits of crispy fried sage.
2. Browns your butter.
Herbed brown butter, oh my gosh. You will want to drink it.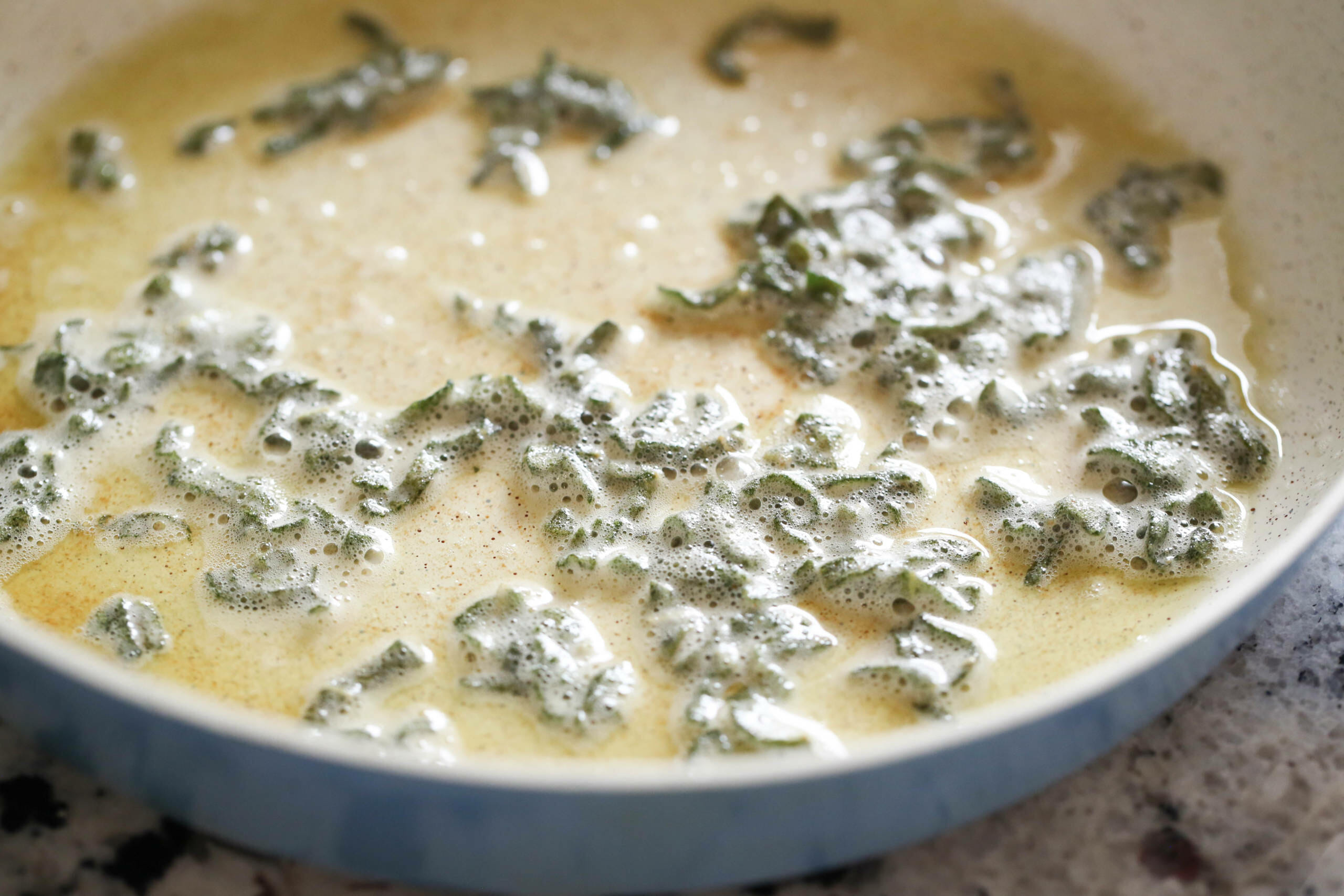 Use a slotted spoon to put your sage crispies on a paper towel and then leave all that beautiful butter and swirl some garlic around in there.
Then we'll move on just like a standard alfredo with butter, parm, and cream- but also pumpkin!
The best part is that this look just like mac and cheese so your kids won't be freaked out there's pumpkin in it. (Shhh they don't have to know.)
It's thick and creamy and you'll want an enormous bowl of it.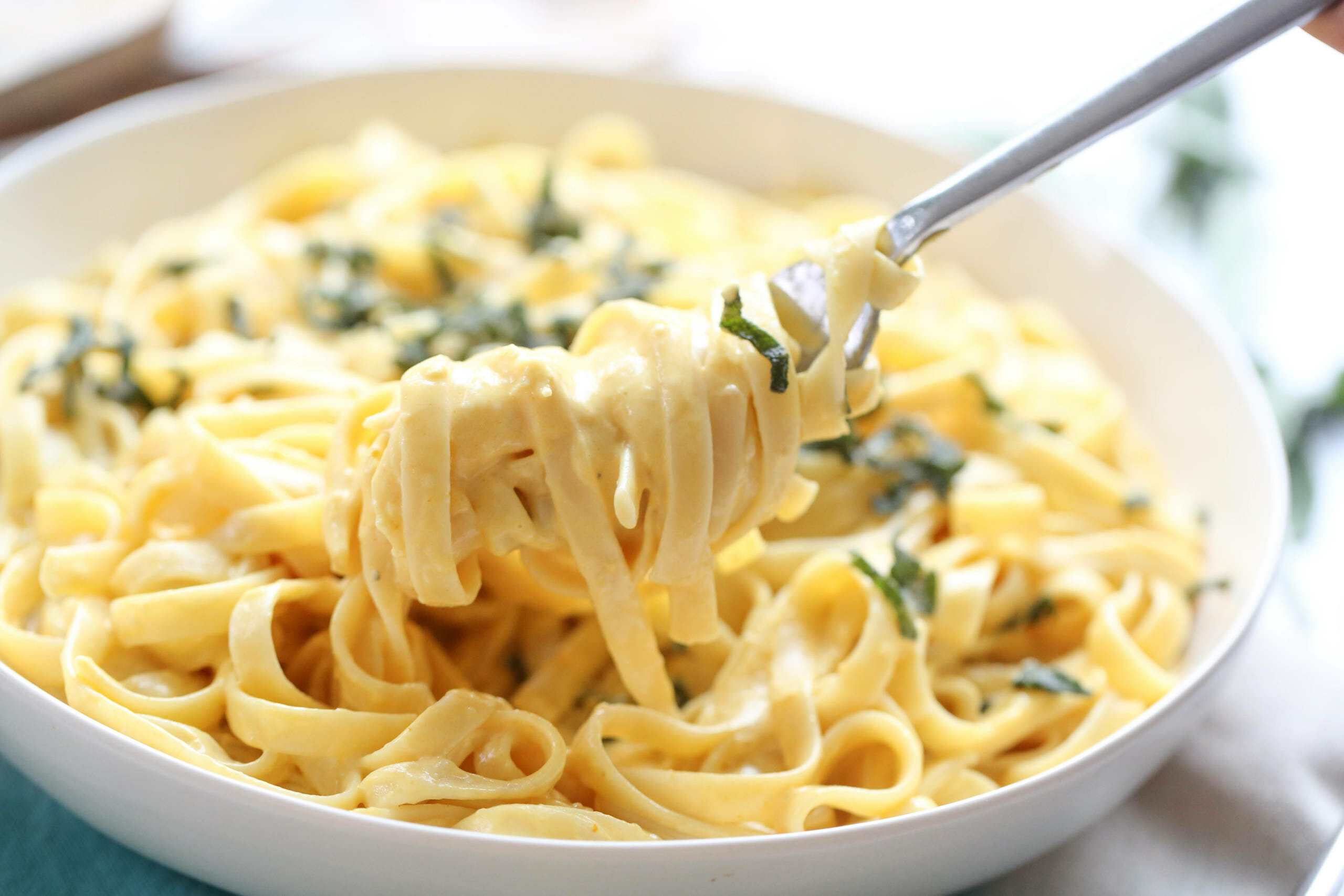 It's 2020 so I say go for seconds.
In the mood for Pasta?  Here's a few more you might like!
Teriyaki Chicken Alfredo
Lightened Up Alfredo
Skinny Cauliflower Cream Sauce
Creamy Cajun Pasta
Thai Peanut Noodles
Print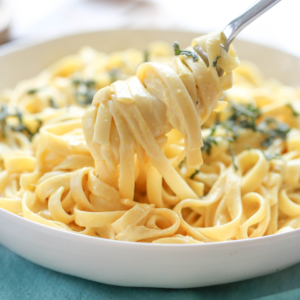 ---
Description
Creamy decadent pasta with fried sage and brown butter!
---
1 lb fettuccini noodles, cooked to package directions
8 tablespoons butter
*5 oz package sage (about 1/2 cup, roughly chopped)
5–6 cloves garlic, finely minced or pressed
1 cup heavy cream
1 cup pumpkin puree
1.5–2 cups fresh grated parmesan cheese
kosher salt to taste
---
Instructions
While pasta is cooking, melt butter in a large pan. Add chopped sage and cook, stirring lightly for 3-4 minutes until butter is light golden brown and sage is bubbly.  Use a slotted spoon and let butter drip into pan and then place sage on paper towels to drain.  Set aside.
Add garlic to pan and stir for about 30 seconds on low heat.  Add pumpkin and cream and bring to a simmer.  Whisk in cheese and astir to melt.  Sauce should be bubbling for a few minutes.  If sauce feels too thick, you can always add more cream (or a little pasta water), and if it ends up too thin at any point, just a add a little more pumpkin!  It's very flexible. Taste sauce and add salt to taste.
Drain noodles and add them to pan with sauce.  Toss.  Top with more parmesan if you like and sprinkle sage on top.
---
Notes
*Note about sage.  While delicious and fun, you can absolutely skip this step if you like.  Although I love the crunchy fried sage, it doesn't really affect the overall flavor of this dish enough to matter if you skip it.  If I'm making this for company or special occasion I'll include it, but if it's just for family dinner, I'll often just skip it and save a couple dollars on my grocery list!
Keywords: pasta pumpkin noodles