This zucchini fettuccine recipe was born from the garden.  It's the meal you make when you've got both herbs and zucchini ready to be used!  Garlic-infused olive oil coats warm pasta with flecks of lemon zest and fresh herbs. Grilled Zucchini and lemon-chicken top it off with savory Parmesan cheese running throughout. It's casual and rustic enough for a weeknight family meal, and fancy enough for company.  It's one I make over and over again in the summer months!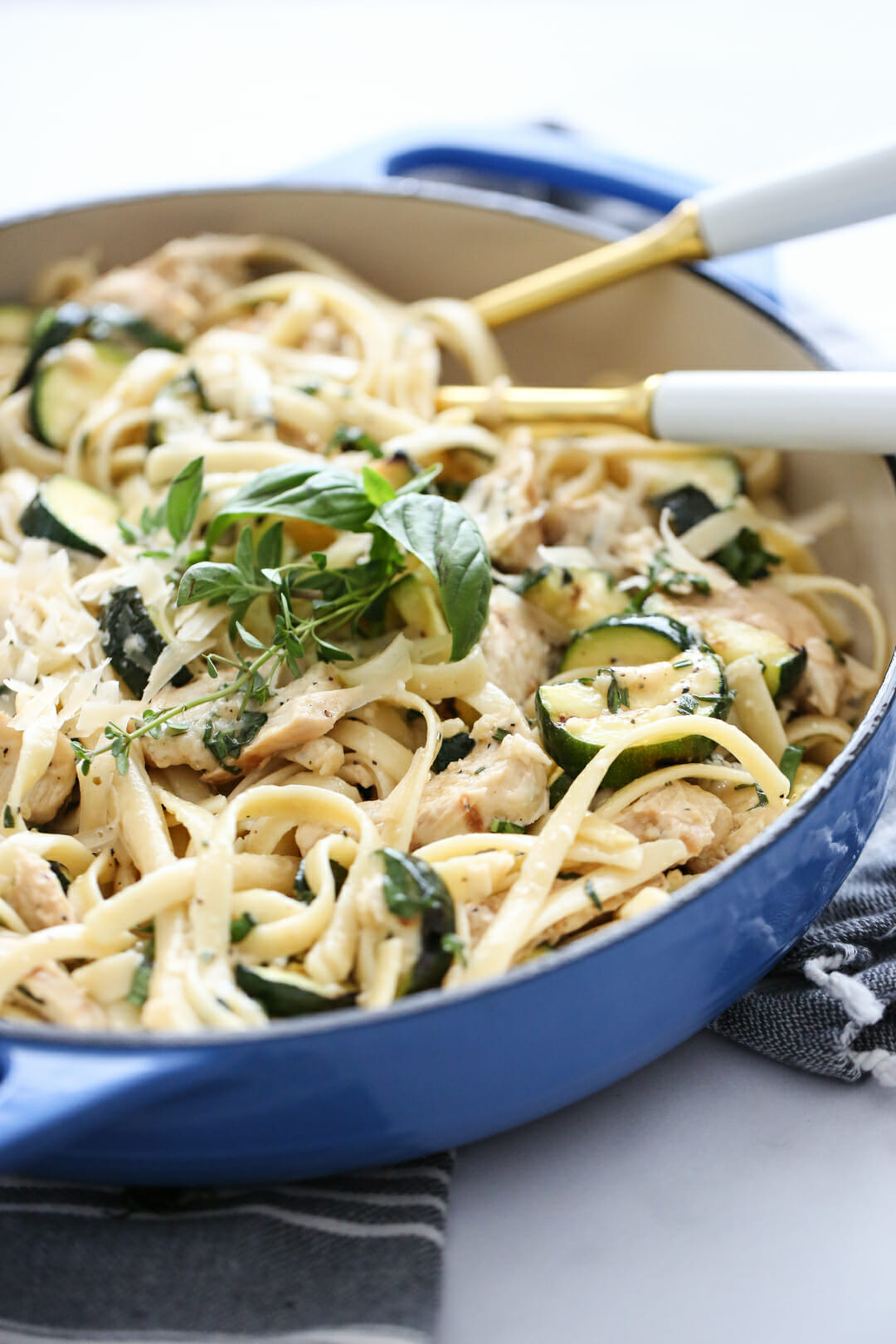 Using Herbs in Zucchini Fettuccini
The great thing about this recipe is that you don't have to follow it exactly.  I use whatever herbs I have growing in my garden that need to be used!  For me that's usually basil, oregano and rosemary.  Feel free to mix and match depending on what you have.
Saute Garlic & Cook Veggies
I start by sautéing crushed garlic in olive oil. After it's softened (but not crispy) I turn off the heat and toss in half my herbs.  I feel like this infuses more flavor into the oil!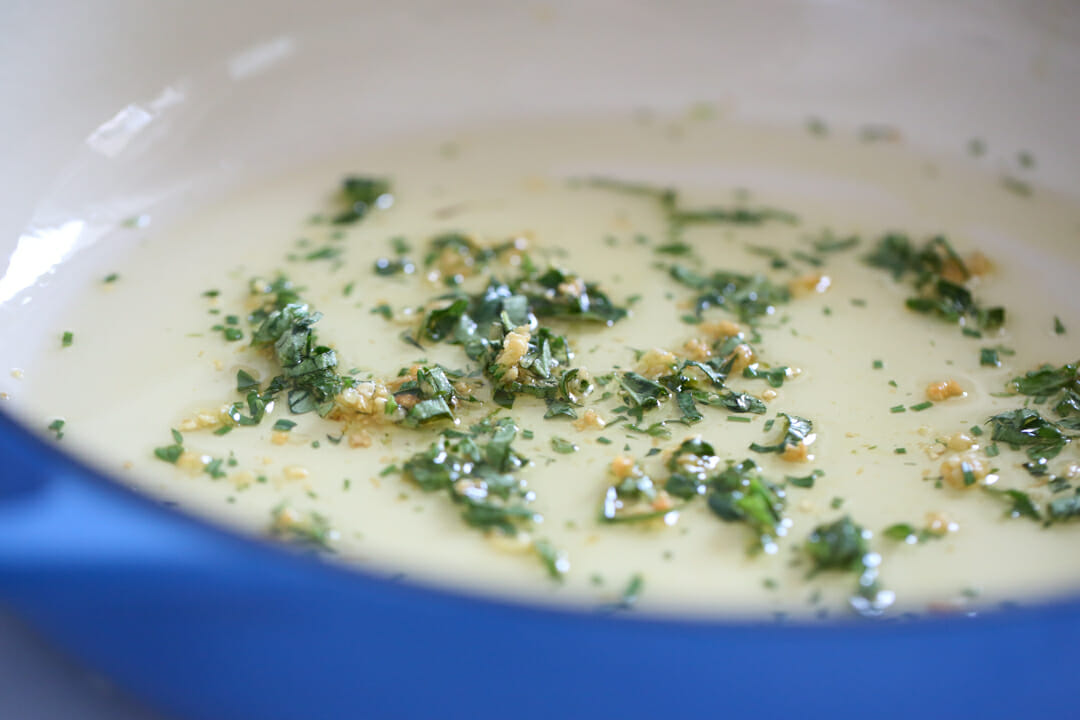 You'll toss some zucchini on the grill to get some pretty char marks on there.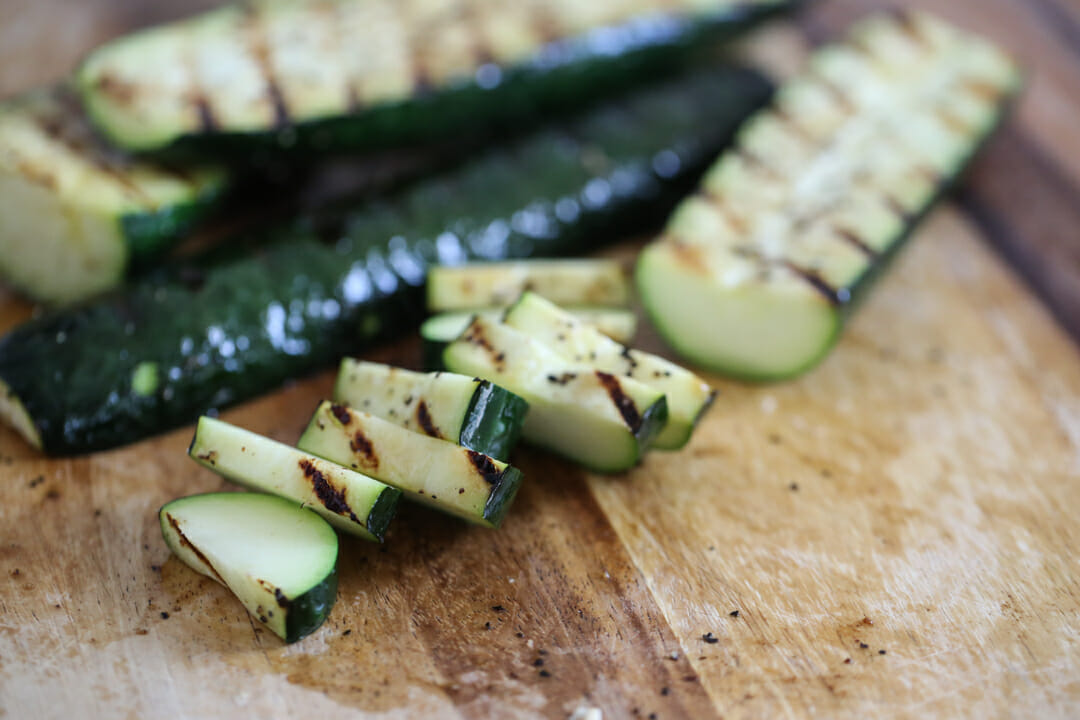 And also grill up a couple chicken breasts.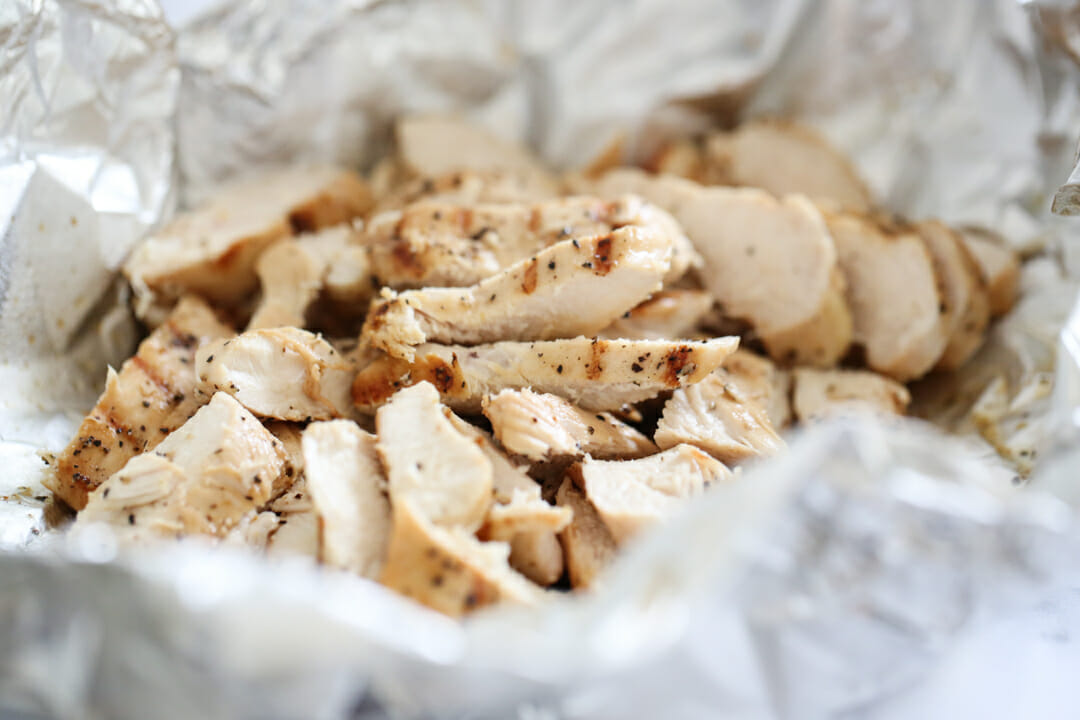 Toss the pasta together
When those are done cooking, you'll toss them in the pan with the sauted garlic, add the rest of your herbs, cooked pasta, parmesan cheese and fresh lemon juice.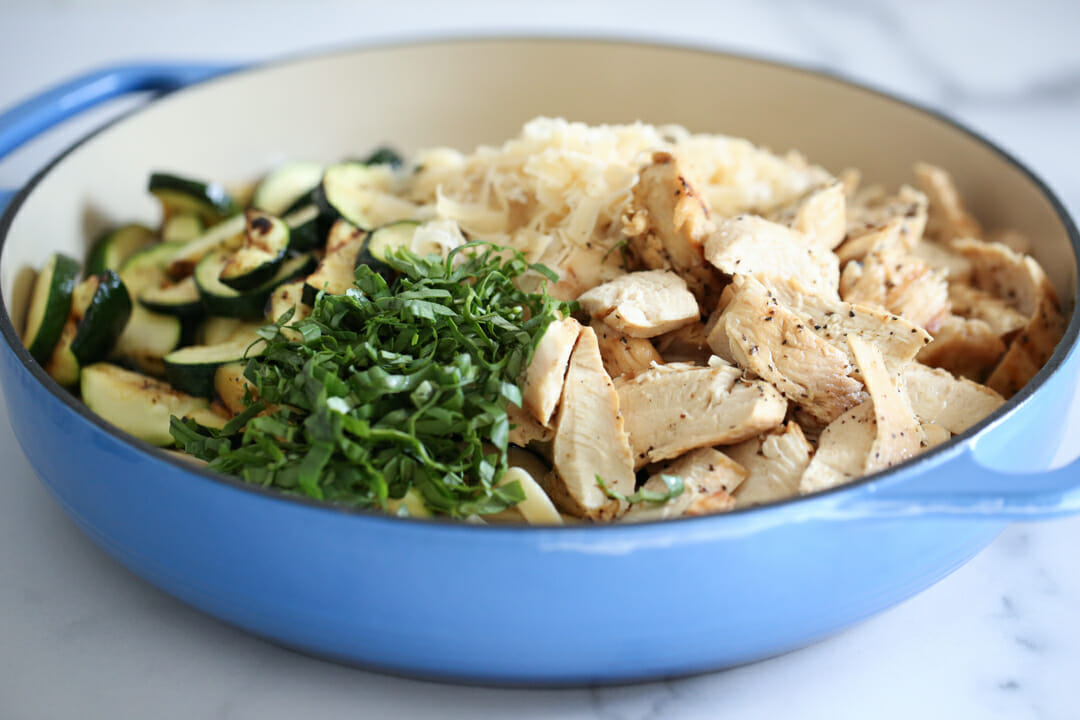 Toss it all together and serve it with a chunk of crusty bread and it's the perfect summer meal! This is definitely a rustic dish, meaning you can absolutely adjust and make things to taste.  Add more lemon, more cheese, drizzle with oil at the end, switch up the herbs, include more veggies, etc.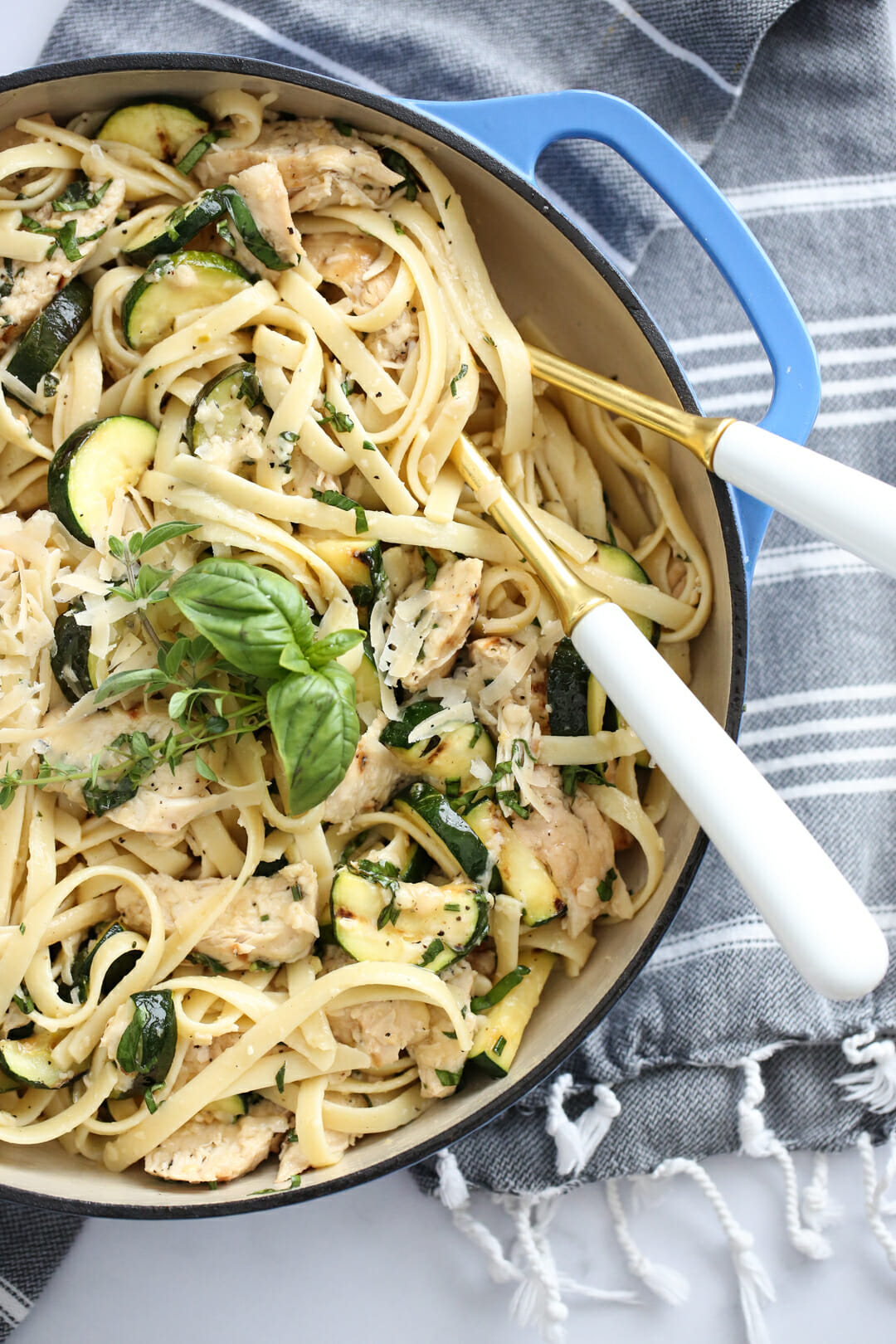 Print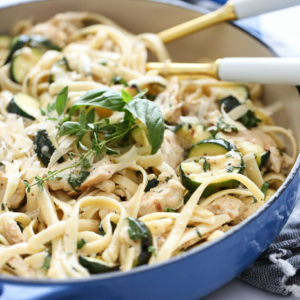 Lemon-Herb Zucchini Fettuccine
---
Description
Garlic-infused olive oil coats warm pasta with flecks of lemon zest and fresh herbs. Grilled Zucchini and lemon-chicken top it off with savory Parmesan cheese running throughout.
---
2 large boneless, skinless chicken breasts
2 lemons
2 tablespoons red wine vinegar
Extra virgin olive oil
1/2 pound fettuccine (that's just 1/2 of a normal box)
2 medium zucchini
1 cup shredded Parmesan cheese (about)
5–6 cloves garlic
Fresh basil (about 1/2 cup)
*Fresh oregano (about 1/4 cup) If you don't have fresh oregano, just add a little dried.
Extra virgin olive oil
Salt and Pepper
---
Instructions
Prepare grill. You could also do this on the stove top in a skillet, or a grill pan.
Place chicken in a zip-top bag with the juice of one lemon, a couple tablespoons of olive oil, and a couple tablespoons of red wine vinegar. Smoosh around and set bag aside while you get your other things ready. (If you've got time to spare, let the chicken marinate for 30 minutes, if you don't, just take what you can get. I did mine for 15 min and it was great.)
Put the pot on the stove to boil water for the pasta. While you're waiting for the water to boil, slice the zucchini in half length-wise. Drizzle with olive oil and sprinkle with salt and pepper. Set aside.
Press, or finely mince garlic cloves. In a small sauce pan on the stove, place 1/4 cup olive oil and add garlic. Turn burner onto low-med heat. It shouldn't be popping and frying, it should just slowly warm, infusing the oil with the garlic and removing that zing fresh garlic has.
When water boils, add pasta and a spoonful of salt.
Remove chicken from bag and salt and pepper both sides. Place chicken, and zucchini on grill.
While chicken and zucchini are grilling and pasta is boiling, chop herbs and get out cheese. Zest both lemons and juice the one that hasn't been juiced.
Keep an eye on garlic. It should still look nice and white, not brown or crispy. Give it a stir. If it starts really cooking, just take it off the heat and set aside.
When zucchini and chicken are done, take them off the grill and chop them up.
Reserve about 1/2 cup pasta water. Drain pasta and immediately place in a big bowl. Place chopped zucchini and chicken on top. Add lemon zest, lemon juice, cheese, herbs, and garlic-olive oil mixture and toss together.  If you feel it needs more moisture, add a little of the pasta water, or a little more olive oil.
Garnish with a little more Parmesan on top and another squeeze of lemon if you have any left and serve.
---
Notes
*feel free to mix and match any herbs you have on hand