If you've been following me on Instagram, you've seen a glimpse of my adventures over the past few weeks.  I spent some time in Europe, enjoying not only the sights and scenery, but the food as well, which included a diet of carbs and pastries, followed by gelato and chocolate, for pretty much every meal.  While I fully support vacation diets involving pastries and chocolate, I felt like I literally rolled off the plane home after stuffing my face for so long.  I wanted nothing more than a giant plate of something fresh, light, and cold.  I came home to a fridge stocked with some fresh veggies (good job, hubby) and threw together this salad which turned out SO good.  It's amazing how little you need to enhance the flavors of food fresh and in season, like sweet corn and tiny tomatoes.  This salad is awesome for potlucks because it's different, and it makes the perfect summer dinner when paired with grilled chicken, fish, or steak.  This recipe seems so simple, but I honestly hope you all try it because it's so, so flavorful and delicious.
You'll need 4 ears of fresh sweet corn.
And a few other things you might have growing in your backyard garden before too long.
You need to start out with cooked corn for this salad.  I've found that my Thermador Steam Oven cooks corn perrrrfectly so that's the only way I do it these days.  You can just as easily boil your corn cobs in water for a few minutes.
When the corn is finished cooking, immediately plunge it in ice water to stop the cooking and cool it down.
Once it's chilled, cut it off the cob and place in a bowl.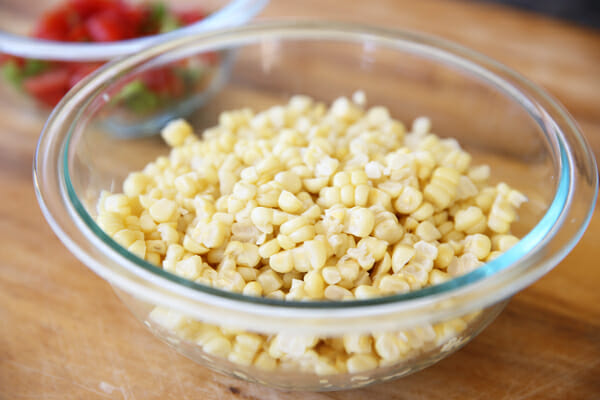 To that you'll add some sweet grape tomatoes and sliced green onions.
And a big handful of fresh basil.
When you have such amazing, natural flavors like this, you need very little to dress it up.  A simple drizzle of extra virgin olive oil, preferably our Garlic Oil,
and drizzle it right over the top.
And also some red wine vinegar and some salt and pepper.
Toss that all together so everything is coated, and last of all, toss in some feta cheese.  Toss the salad gently after the feta is added so it doesn't completely fall apart.
You can serve this relatively quickly after making it, but it is so much better after it's had time to really chill.  I recommend at least a couple of hours, but if you have time to chill it more like 4-6, or even overnight, it's even better.  Everything sort of marinates together and the flavors are so, so yummy.
No joke, I ate the leftovers from this batch for breakfast.
Fresh Sweet Corn Salad
Recipe by Our Best Bites
Ingredients
4 ears fresh corn, husks and silk removed
1 10oz clamshell grape tomatoes (about 2 cups)
1/3 cup sliced green onions
1/4 cup chopped fresh basil
1 1/2 tablespoons Garlic Olive Oil (regular is fine if you don't have garlic)
2 1/2 tablespoons red wine vinegar
1/2 teaspoon fresh ground black pepper
1/2 teaspoon kosher salt
1/2 cup crumbled feta cheese (reduced fat is fine)
Bring a large pot of water to a boil.  Add corn and return to a boil, cooking for about 5 minutes.  Note that very fresh corn will cook quickly (5 minutes or less) and corn that is a few days old will take a little longer (6-8 minutes).  To avoid tough corn, never exceed 8 minutes.  When corn is done boiling, immediately plunge in a bowl of ice water for a few minutes to stop cooking.
Use a sharp knife to remove corn kernels from cobs and place corn in a mixing bowl.   Cut tomatoes in half and add them to the bowl along with the green onions and basil.  Add olive oil, vinegar, salt, pepper, and toss to coat.  Add feta and very gently toss salad to distribute cheese.  Cover bowl and refrigerate for at least an hour or two, but for best results, 4-6 hours or overnight.
Yields about 5 cups salad, which is about 6-7 servings that are about 3/4 cup.