So remember a few weeks ago when I posted the Tzatziki recipe and promised a lamb gyro recipe sometime in the near future? Well, today's your day.
I will be the first to admit that I rarely cook with lamb. I've always kind of been under the impression that it's difficult to cook and expensive. However I decided to give a shot  . And I discovered that not only is it really distinct and delicious, but that it's really not any more expensive than similar cuts of beef or pork. Who knew?
One of my favorite ways to eat lamb is in a gyro, so I wanted to replicate those flavors. However, I don't have a spit, nor do I really need a large chunk of seasoned lamb from which to slice sandwich shavings. I also wanted to make my gyro a little more healthy (since every gyro I've ever had has been glistening with grease), so I worked on a recipe for a gyro burger. I can hear it now: "But Kate, burgers aren't healthy!" Well, that can be true, but it mostly depends on the cut of meat you're using. Lean ground lamb is available, particularly at high-end groceries, and if you can't find that, you can always ask a butcher to grind a pound of either the leg or the loin, which are very lean cuts which, combined with the fact that lamb is high in many essential nutrients, makes it a great choice for healthy meals.
All you do is take some of my favorite seasonings–garlic, coarse-grain mustard, red wine vinegar, rosemary, oregano, Kosher salt, freshly ground black pepper, and onion flakes:
and gently incorporate them with your hands into 1 lb. of ground lamb.


Shape the meat into 4-6 patties. You can make circular patties, but I find oblong patties work a little better when you fold the pita bread over the meat.


Grill over medium-high heat for about 5 minutes per side. Remove from heat and allow to stand for 5 minutes.
When ready, place the grilled lamb on a piece of pita bread. I used our Flatbread recipe, only instead of making one large loaf, I made 4 smaller, pita-sized circles and it worked beautifully. If you do do that, however, cover the flatbread with a clean cloth when you pull them out of the oven and allow them to cool completely. This way, they'll remain soft and pliable and won't crack when you try and fold them over.
Anyway, place the grilled lamb on the pita bread, add some thinly sliced onions and tomatoes (my tomatoes are missing…they were beyond gross). Spread with a generous layer of Tzatziki.


Fold like a taco.
If you're assembling all the gyros ahead of time (or just for convenience), wrap the folded gyros in aluminum foil.
That way, you can avoid embarrassing Tzatziki-related drama and you can also pretend you're eating something from a street vendor (or a mall food court, whatever) but knowing that you were cool enough to make the food yourself.
Print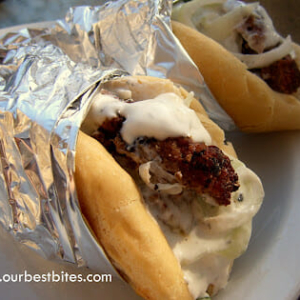 Gyro Burger Pitas
Author:

Our Best Bites

Prep Time:

15 minutes

Cook Time:

15 minutes

Total Time:

30 minutes

Yield:

4 gyros
---
Description
A light, tasty twist on a classic lamb gyro.
---
1 pound lean ground lamb (if this is hard to find, ask a butcher to grind 1 pound of lamb leg or loin)
4 cloves garlic, minced
1  1/2 teaspoons dry onion
1 tablespoons Dijon or coarse grain mustard
3/4 teaspoon Kosher salt
1/4 teaspoon black pepper
1 tablespoon red wine vinegar
1/2 teaspoon dry oregano
1 teaspoon rosemary, dry or fresh and chopped
Tzatziki
whole wheat pitas or 6″ rounds of flatbread (see this recipe to make your own; just make 4-6 circles instead of 1)
Fresh tomato and thin onion slices
---
Instructions
Gently combine lamb, garlic, onion, mustard, salt, pepper, vinegar, oregano, and rosemary with your hands and shape into 4 oblong patties. Grill for 5-6 minutes on each side and remove from heat. Allow to stand for 5 minutes. Place on pitas or flatbread and add onions, tomatoes, and Tzatziki. Fold like a taco and serve immediately. For easy serving and clean-up, wrap in aluminum foil.
---