If you live in Utah or have lived there (or even if you've visited), I'm sure you're familiar with places like Crown Burger (which is hands-down the most popular), Burgers Supreme, and Apollo Burger. They're part steak fries and flame-broiled burgers and part gyros and baklava, but no matter what you get, it's awesome.
When I was pregnant with my daughter, my OB/
GYN's
office was just down the street from what was, in my pregnant (at the time) opinion, the best
Apollo Burger
(the one on State Street in
Orem
, a few blocks north of Center Street, if
anyone's
interested…) I would always go to my appointments hungry (you weigh less that way) and then swing by Apollo Burger for a kid's meal or a gyro afterwards. Not such a big deal when you're just going to monthly appointments, but when you start going every week (or more), going to those doctor's appointment hungry isn't gonna help that scale much…
My favorite part of the gyro is the tzatziki. If you're not familiar with t
zatziki
, it's a creamy, cucumber-y, savory sauce that goes on top of a gyro (basically, a pita filled with Greek-seasoned lamb or chicken). But guess what? You can also dip vegetables, pita wedges, crackers, or
flatbread
in it. I had some of this on hand a little while back and made a roasted vegetable pizza and dipped the pizza in it and it was awesome. You could even use it as a salad dressing–super versatile and healthy.
Speaking of yogurt…there's a lot of Greek yogurt out there and it feels like the scene is always changing, but when it comes to plain Greek yogurt, there's a lot of great stuff out there–Chobani, Stonyfield, Oikos–but Fage is consistently my favorite. So. There's that for what it's worth.
This recipe is super easy–like, you're 5 minutes away from eating tzatziki and pita chips for breakfast. Not that I would know from any firsthand experience. You're going to need plain Greek yogurt, 3 green onions, a clove of garlic, some dill weed (dry is fine–dill is one of those herbs that tastes just as good dry as it does fresh and you can use the same amount of fresh or dry), about 1/2 of a medium cucumber, and some kosher salt and freshly ground black pepper.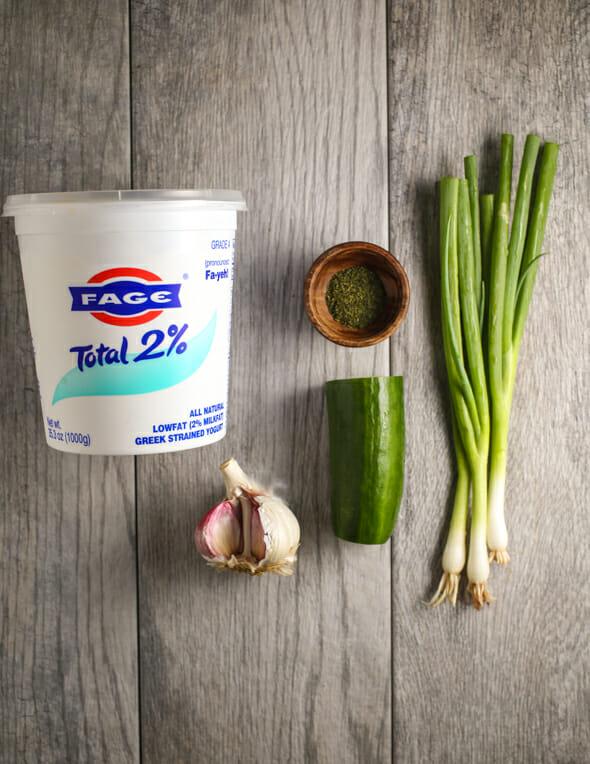 "How do I seed a cucumber?" you ask. Glad you asked! Slice the cucumber in half lengthwise and then insert the tip of a small spoon into the seed membranes of the cucumber. Apply enough pressure until you reach some resistance and then drag the seeds out with the spoon. Super easy.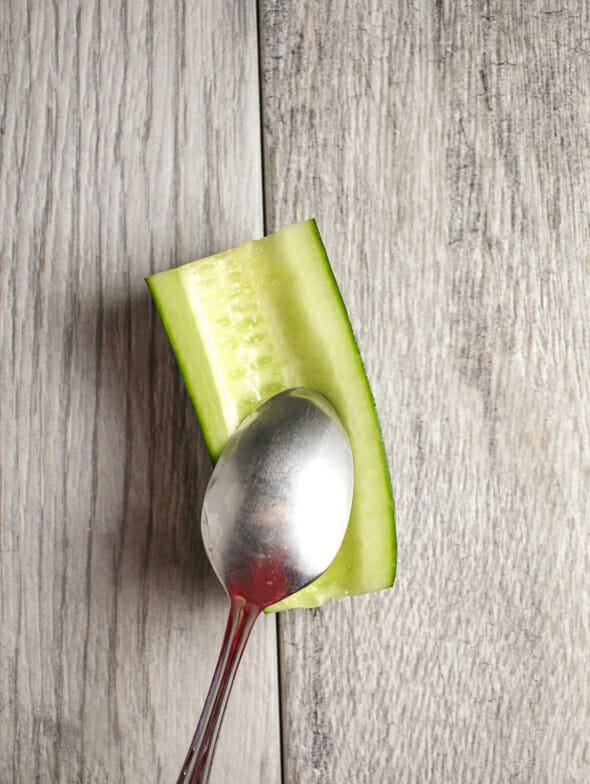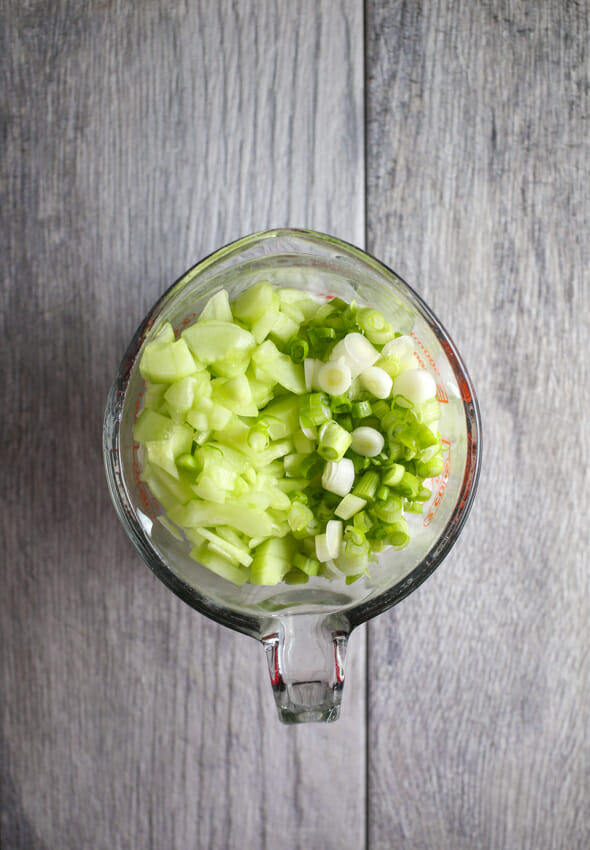 and mince up that clove of garlic.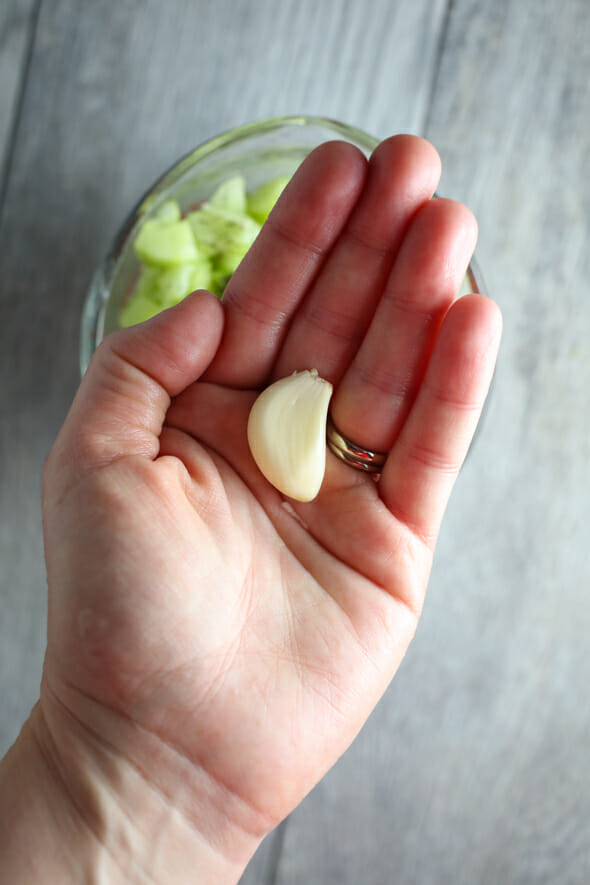 Add the dill weed…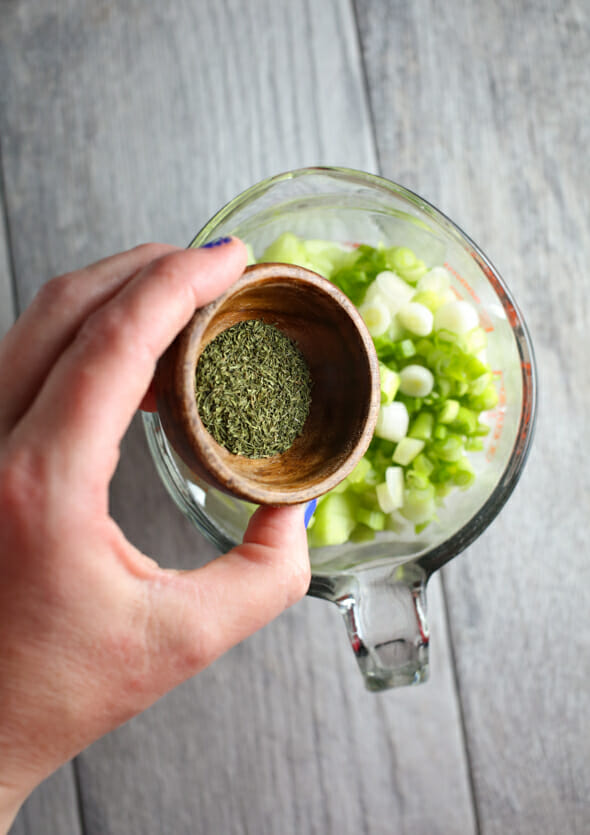 and season to taste with kosher salt and freshly ground black pepper.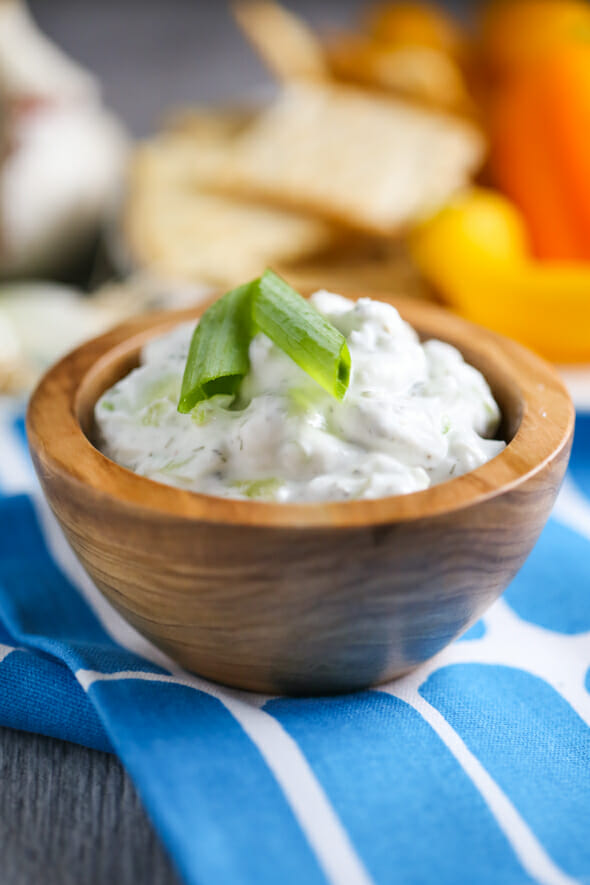 Try to stop eating it, I dare you.
Print
---
Description
A quick, refreshing dip or sandwich spread!
---
1 1/2 cups

plain Greek yogurt (that's

2

6-oz. containers)

1

clove garlic, minced

1/2

medium cucumber, peeled, seeded, and chopped

3

green onions, firm ends finely chopped

1 teaspoon

dill weed
Kosher salt and freshly ground black pepper, to taste
---
Instructions
Mix ingredients together and season to taste. Can be stored up to three days.
---
Notes
This is delicious with vegetables, on burgers, pitas, in 7 layer dip, or with chips, pita chips, or crackers.