(Don't have a smoker?  No problem!  You can make this recipe on the grill, as well.)
Sometimes when you think smoker recipes, your mind goes straight to big expensive cuts of meat and a minimum 12 hour time commitment.  I love smoking pork tenderloin because you don't have to plan a day in advance; it only takes 2-3 hours to smoke, which is speedy for a smoker!  We frequently buy the pork tenderloin from Costco, which comes with packs of 2 tenderloins, which is perfect for this recipe. The result is a flavorful, smoky pork with a light, sweet glaze. If you like our Spicy Honey Chicken Recipe, I based this loosely on that flavor combination.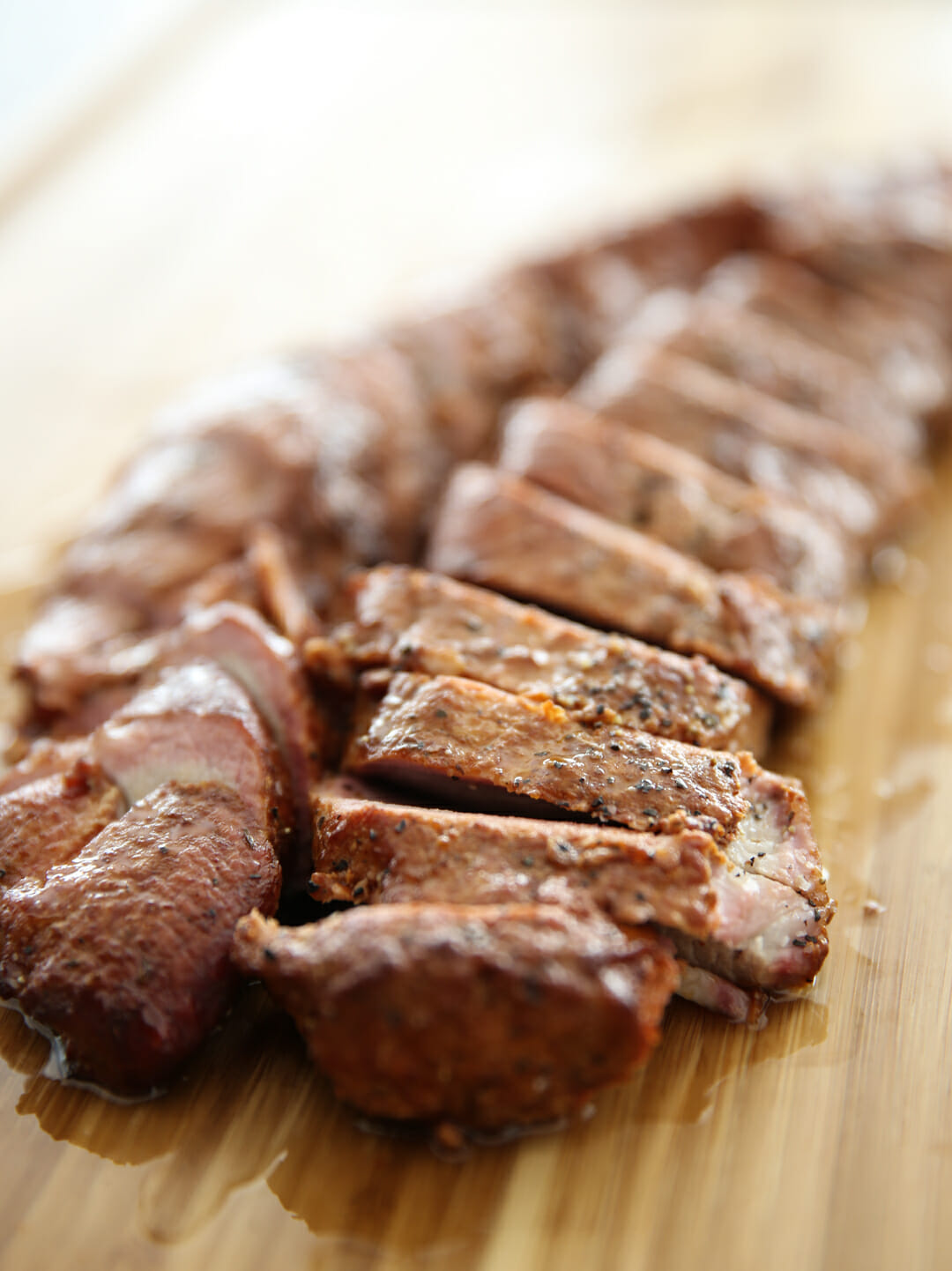 If you have the time, I prefer to marinate this recipe overnight, but several hours during the day is great, too. It gets rubbed a mix of spices and a little olive oil (I always use our Bacon Olive Oil, here!)  and vinegar.  When it's time to cook, just pop them on the smoker.  Smoked pork tenderloin takes about 2 1/2-3 hours.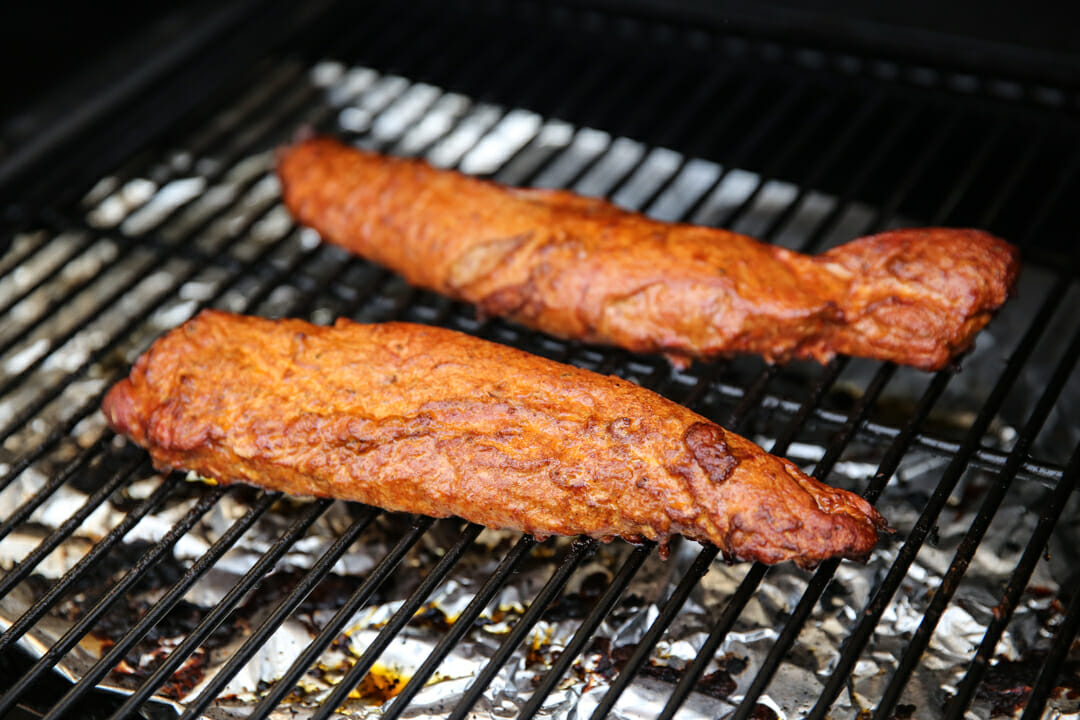 When it comes off and rests, whisk together a little honey with a touch of apple cider vinegar and drizzle or brush over the top.  I actually like to do this after the pork has been sliced so each piece gets a little drizzle.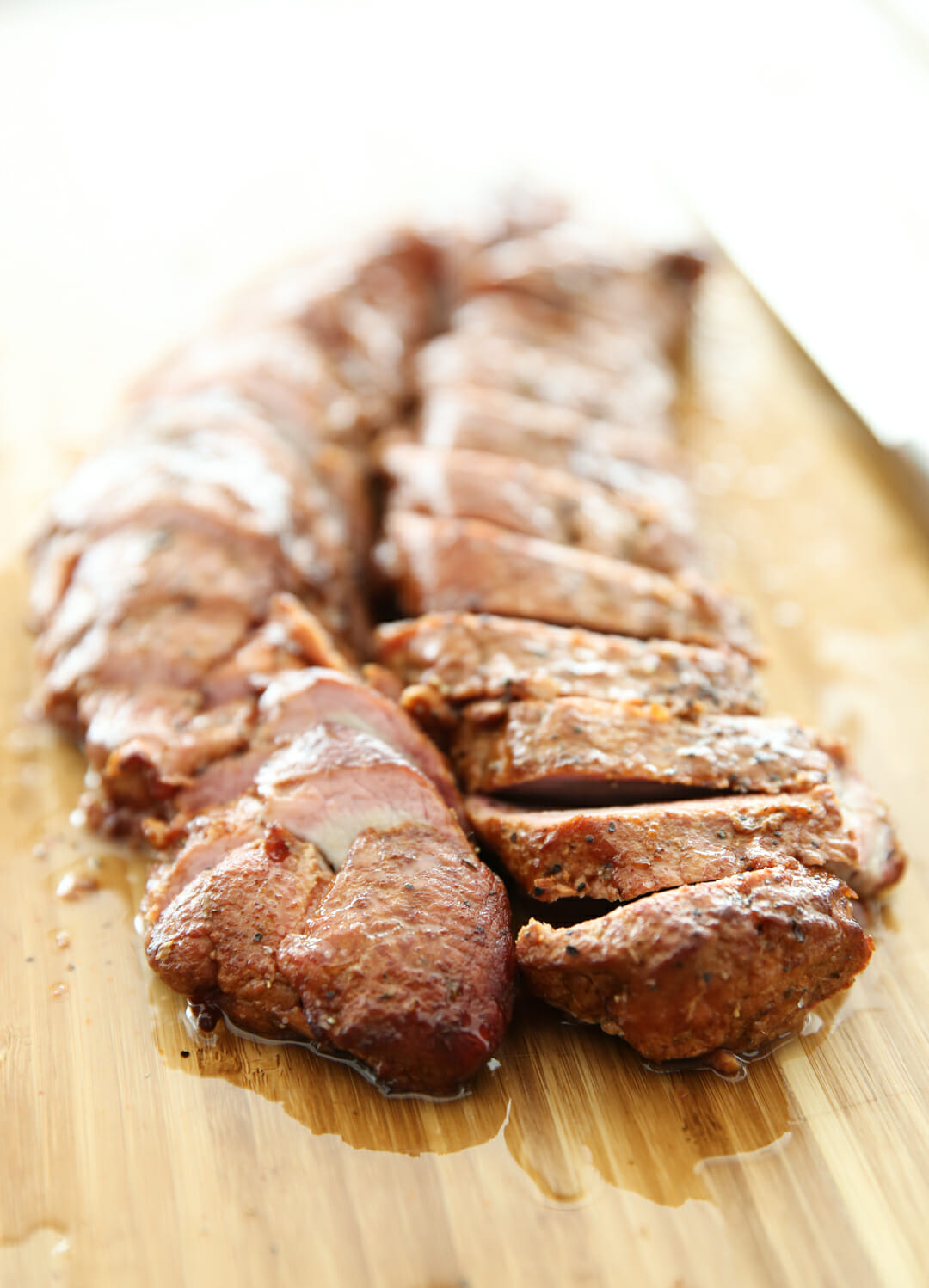 Do you see that pink ring around the edge?  That's a smoke ring- where the smoke penetrated the meat, and it's a think of beauty.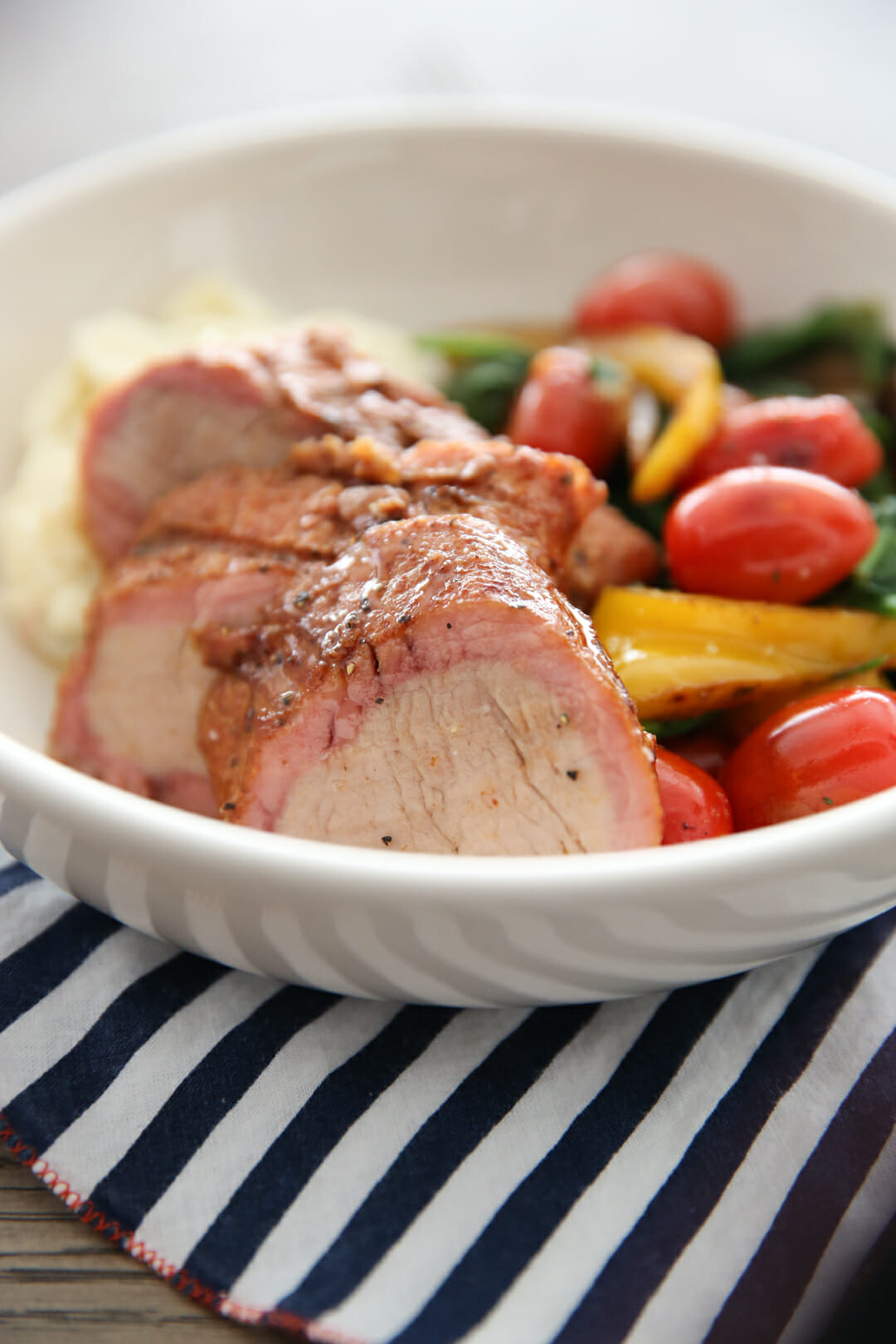 Try this one out next time you need a "quick" smoke recipe!
NOTE: guys, we're having a technical glitch  at the moment and I can't edit recipe cards!  So please note in the recipe below, the very first ingredient should be 2 tablespoons apple cider vinegar, for the marinade.  Hopefully I can get it edited soon for the printable version!
Print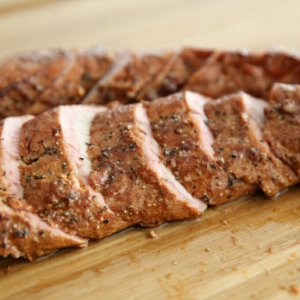 Honey-Glazed Smoked Pork Tenderloin
---
Description
A simple recipe for smoked pork tenderloin that turns out tender and flavorful with a sweet glaze. No smoker?  No problem!  Pop it on the grill.
---
2 tablespoons extra virgin olive oil (I use our bacon olive oil)
2 tablespoons apple cider vinegar
3 cloves garlic, finely minced or pressed
1 teaspoon smoked paprika
1 teaspoon chili powder
1/4 teaspoon chipotle chili powder
1/2 teaspoon oregano
2 pork tenderloins
kosher salt and black pepper
Glaze:
4 tablespoons honey
1 teaspoon apple cider vinegar
---
Instructions
Whisk olive oil, vinegar, garlic, paprika, chili powders and oregano together and add pork to coat well.  Marinate overnight or 4-6 hours preferred.
When ready to cook, heat smoker to 225 degrees.  Transfer pork to smoker, sprinkle with kosher salt and pepper, and close lid.
Cook to an internal temperature of 145 degrees and remove from smoker.  Tent in foil to rest while you prep glaze.
Combine honey and apple cider vinegar and drizzle over sliced pork.
---
Notes
If you don't have a smoker, simply cook directly on grill.