Springtime in southwest Idaho is strange.  And by strange I mean annoying and highly unpredictable.  A few weeks ago I literally went from wearing snow boots to busting out the flip flops and capris all in one week.  It's like Mother Nature is going through a life crisis.  Right now it's cool and drizzly, but just a few days ago my kids spent the day running through sprinklers and have golden brown tans and I spent the day screaming at everyone to shut the doors to not let the air conditioned inside float to the piping hot outside.  Our little heatwave reminded me of summer time and all of the things I love about that time of year; including grilling.  And more specifically, grilling with things that are growing in my garden.  It's actually surprising I've never posted this recipe, because come summer time we literally eat some variation of this at least once a week.
Even though you may not have fresh herbs growing in your garden, this is a great recipe to use up those little packages of oh-my-gosh-how-can-this-tiny-plant-cost-so-much-money herbs you can buy at the store.  I sometimes buy herbs for a recipe and hate to let the rest of the package go bad.
It's also a great thing to make if your herbs are getting a bit wilted, they'll still work great here.  I like to use a mix of basil, rosemary, and oregano.  In the summer I usually have an abundance of all three, but any two work fine.  I try to at least always use rosemary in there, but you can mix and match with any herbs you have on hand.  I had leftover basil and oregano from the store
and I always have rosemary in my garden.  Three huge plants.  Remember how I've told you rosemary is the best herb to grow because you can't kill it?  And mine always lasts through the harsh Idaho winters?  Well I stepped outside to grab some and found this:
Oooh, hey there buddy.  I guess we'll stick with basil and oregano today.
Mix up a bunch of minced garlic, your finely minced herbs a little salt and pepper, and the zest and juice from one large lemon (or a couple of smaller ones).  Then mix in some olive oil just until it's sort of a loose paste/thick sauce.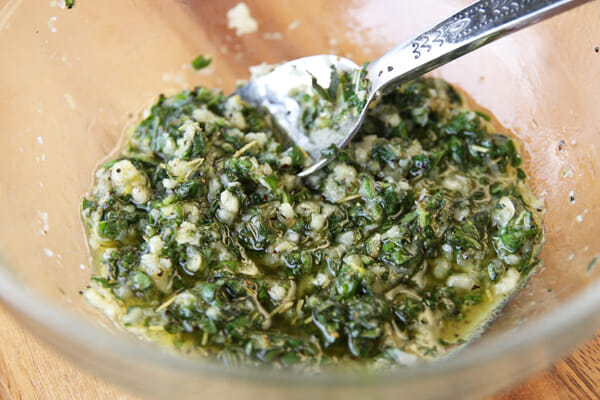 If you have a mini food processor (like, mini mini.  I use one that attaches to my immersion blender) I suggest blending it all together so it's more the consistency of a pesto.  But it's not necessary.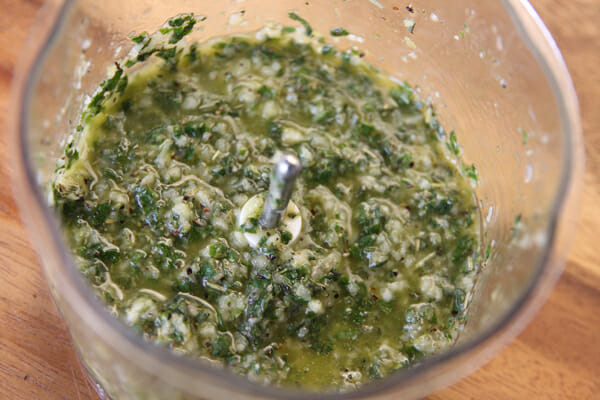 You can use this on a lot of things.  Marinating chicken, obviously.  But it's also great on fish, pork, or rubbed on vegetables or grilled corn on the cob before cooking.  In this case, just toss it in a zip top bag with some chicken breasts.  Since they are not going to marinate very long, I always make sure to pound out or butterfly large boneless, skinless chicken breasts, so you get maximum flavor and they cook fast.  Rub the chicken all over with the herb mixture and let it sit for 20 minutes or so.  You can get away with as little as 15, but for the best flavor you'll want 20-30.  That's about the time it will take to set the table, prepare side dishes, etc.  so it works out well.
When you place the chicken on the grill, scrape out any leftover garlic-herb mixture and pour it on top.  Grill for a few minutes on each side.  It's very important you only flip the chicken one time.  If you flip it too soon, the flavors won't have time to form a crust and you'll end up with dry, flavorless chicken.  Or it will get stuck to the grill grates and just tear off.  Not to stereotype, but men are the worst offenders when it comes to being flip-happy on the grill.  Watch it, boys!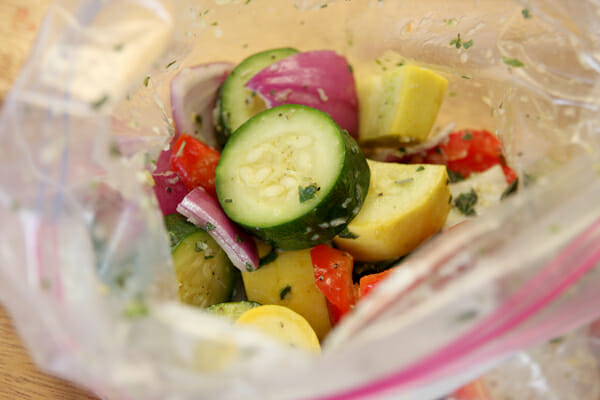 It's also yummy with grilled veggies on skewers.  Just put a small spoonful of the herb mixture in with a bag of veggies and then drizzle a little more olive oil in there.
It makes a super quick and easy meal that's really versatile to change up depending on what herbs and meats you have on hand.  Hope this one becomes a go-to at your house as well!
Print
Lemon-Garlic Herb Rubbed Chicken
Author:

Our Best Bites

Prep Time:

10 minutes

Cook Time:

10+ minutes

Total Time:

20+ minutes
---
Description
An Our Best Bites summer staple! This garlic herb rub is perfect for grilled chicken and other meats, but is also wonderful rubbed on vegetables before hitting the grill.
---
1  1/2 tablespoons finely minced or pressed garlic
1 large or 2 small lemons, zested and juiced
1/3–1/2 cup minced fresh herbs, preferably a combo of basil, rosemary, and oregano
1 teaspoon kosher salt
1/4 teaspoon black pepper
4–6 tablespoons (or more) extra virgin olive oil
1  1/2-2 pounds boneless, skinless chicken breasts (see note)
---
Instructions
Combine garlic, lemon zest, lemon juice, herbs, salt and pepper.  Add olive oil until mixture comes together like a thick sauce.  If you have a mini food processor, you can blend the mixture until it becomes the consistency of a chunky pesto.  Rub mixture over chicken and/or vegetables and let sit for 20-30 minutes.  When ready to cook, preheat outdoor grill or indoor grill pan.  Cook a few minutes on each side, turning only once, until done (Internal temp should be about 165 degrees).
---
Notes
Also great on steak, fish, or vegetables!
Keywords: marinades, sauces, garlic, lemon, herb, chicken, beef, fish, vegetables, bbq, grill