Come summer time we literally eat some variation of this Lemon-Garlic Herb Rubbed Chicken at least once a week at our house. It's a great way to use up garden herbs and is totally flexible according to what you have on hand. The marinade is a snap to whip up and goes great with chicken, fish, pork, steak and even corn on the cob or vegetables you want to grill. I hope this one becomes a go-to at your house as well!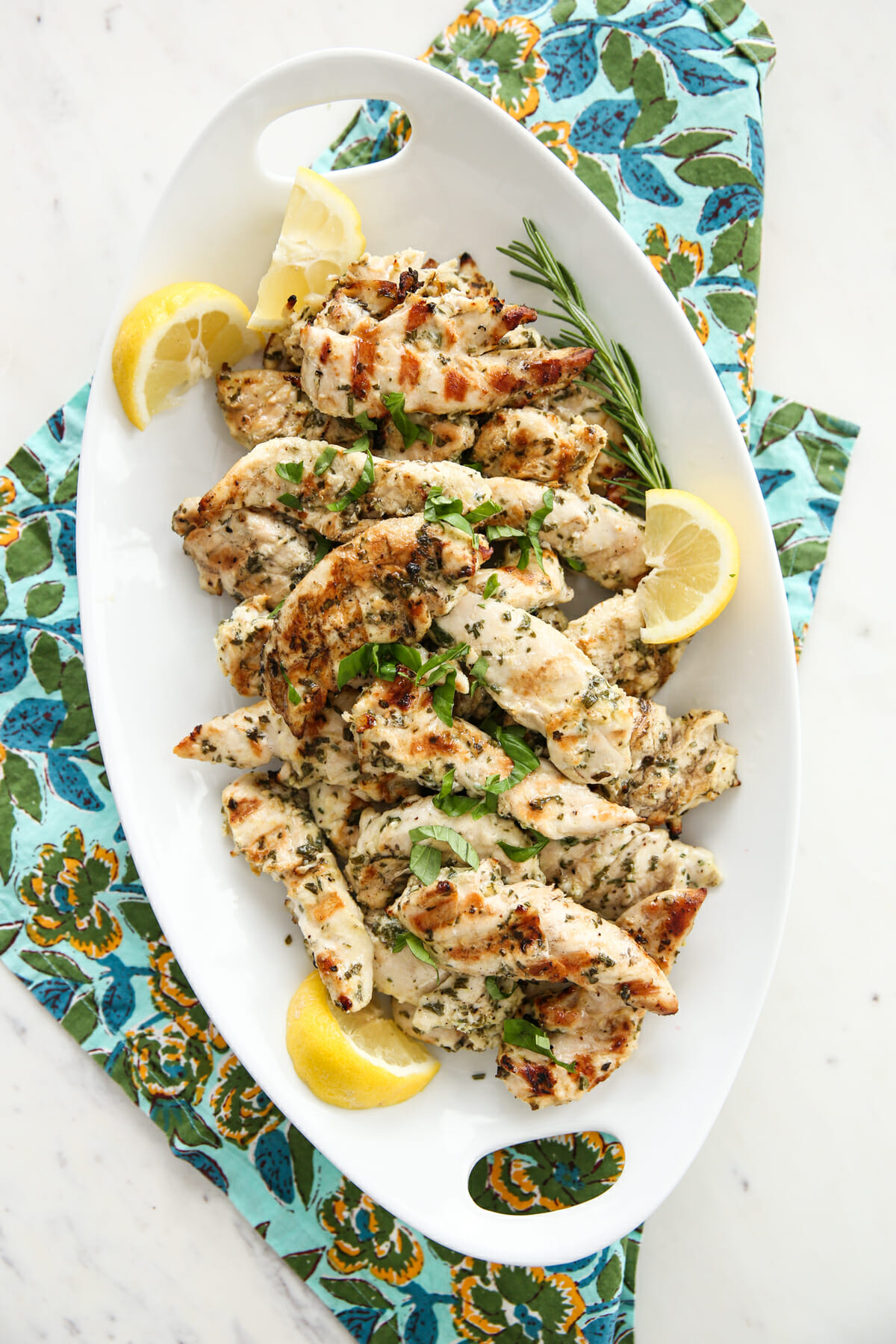 Ingredient Notes
Fresh Herbs – I like to use a mix of basil, rosemary, and oregano. In the summer I usually have an abundance of all three, but any two work fine. It's also a great thing to make if your herbs are getting a bit wilted, they'll still work great here. I try to at least always use rosemary in there, but you can mix and match with any herbs you have on hand. If you don't have a garden, the little packs of fresh herbs in the produce section work just as well, especially if you have a random assortment leftover from another recipe. Dried herbs are not recommended.
Meat and Vegetables – I've written up the recipe for chicken, but this marinade is delicious on pretty much any cut of meat you might throw on the grill. The fresh flavors go well with chicken, steak, pork, or fish. It's delicious on grilled vegetables as well- peppers, onions, squash, mushrooms, and even corn on the cob.
How to Make Lemon-Garlic Herb Rubbed Chicken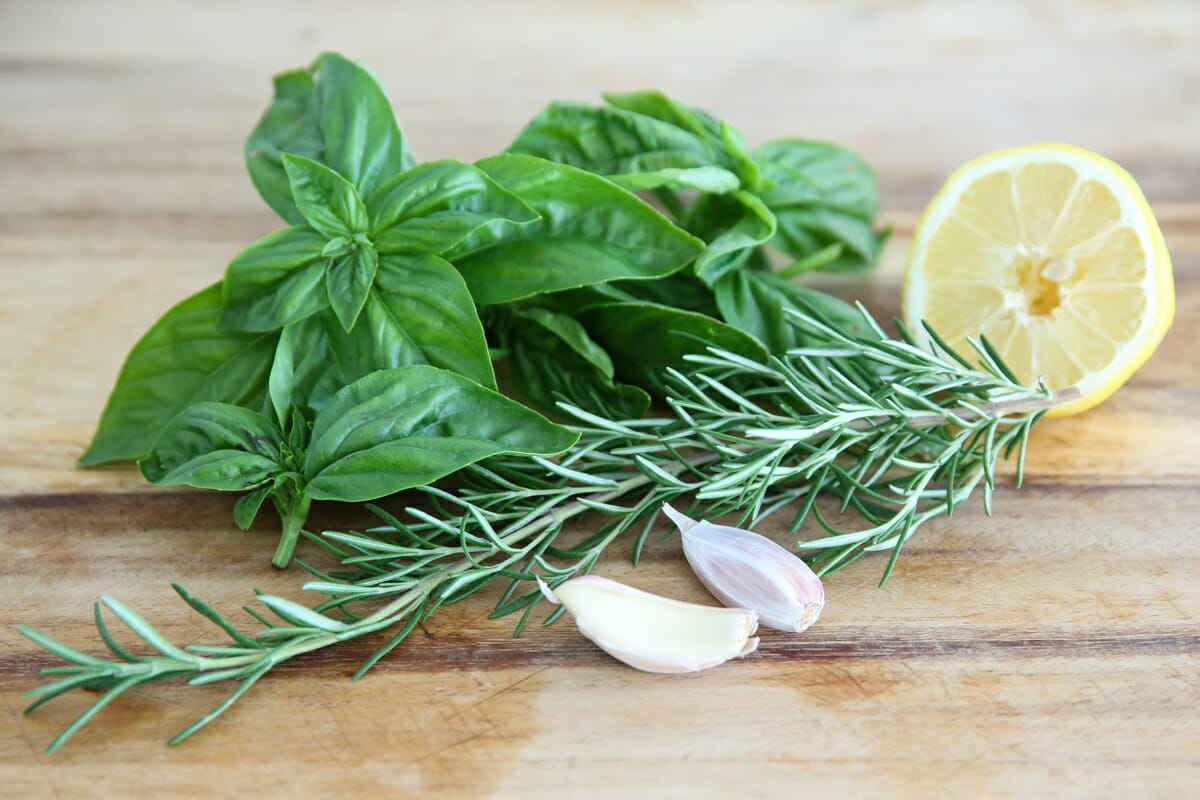 1. Mix up minced garlic, finely minced herbs, a little salt and pepper, and the zest and juice from one large lemon (or a couple of smaller ones).  Then mix in some olive oil.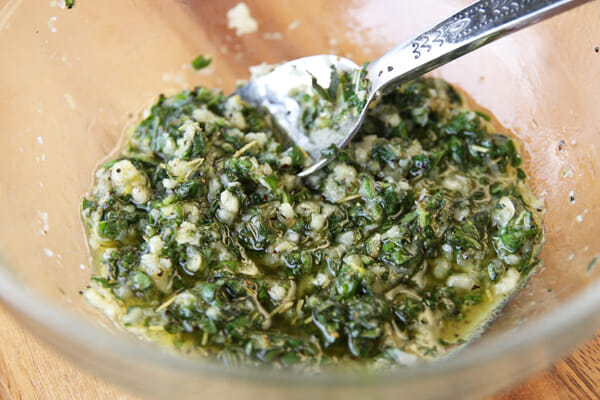 If you have a mini food processor (like, mini mini.  I use one that attaches to my immersion blender) I suggest blending it all together so it's more the consistency of a pesto, but you can also just chop your herbs super finely.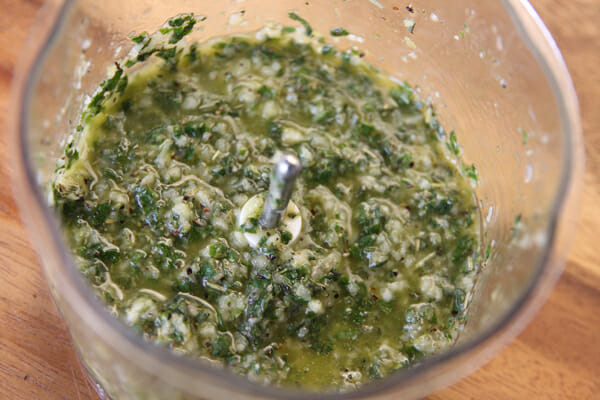 2. Place meat in a zip top bag and cover with marinade. Since they don't marinate very long, I like to pound out or butterfly large boneless, skinless chicken breasts, so you get maximum flavor and they cook fast, or use chicken tenders, as I'm doing in these photos.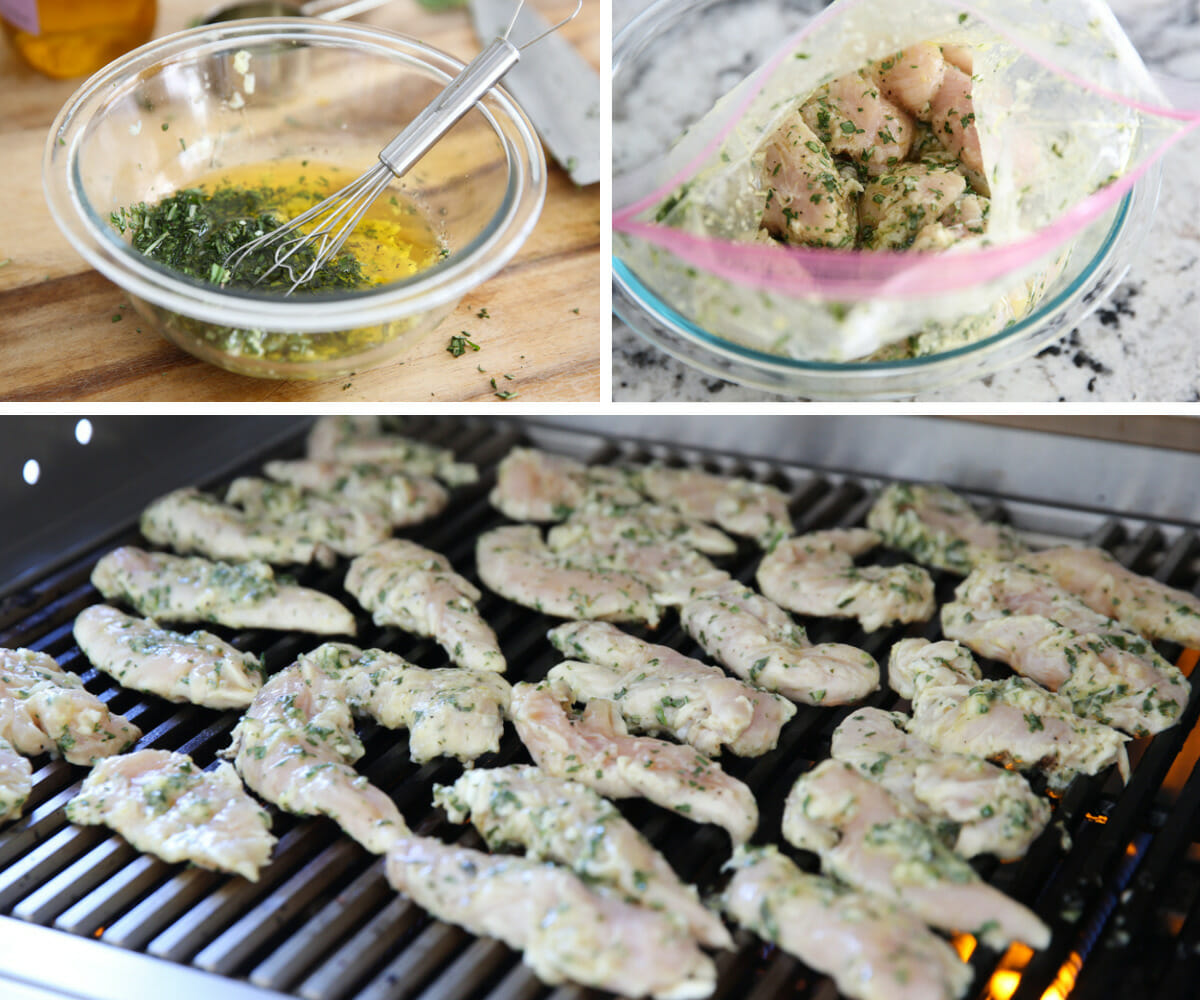 3. When you place the chicken on the grill, scrape out any leftover garlic-herb mixture and pour it on top.  Grill for just a few minutes on each side, until an instant read thermometer reads 165° F in the thickest part of the chicken.  It's very important you only flip the chicken one time.  If you flip it too soon, the flavors won't have time to form a crust and you'll end up with dry, flavorless chicken.  Or it will get stuck to the grill grates and just tear off.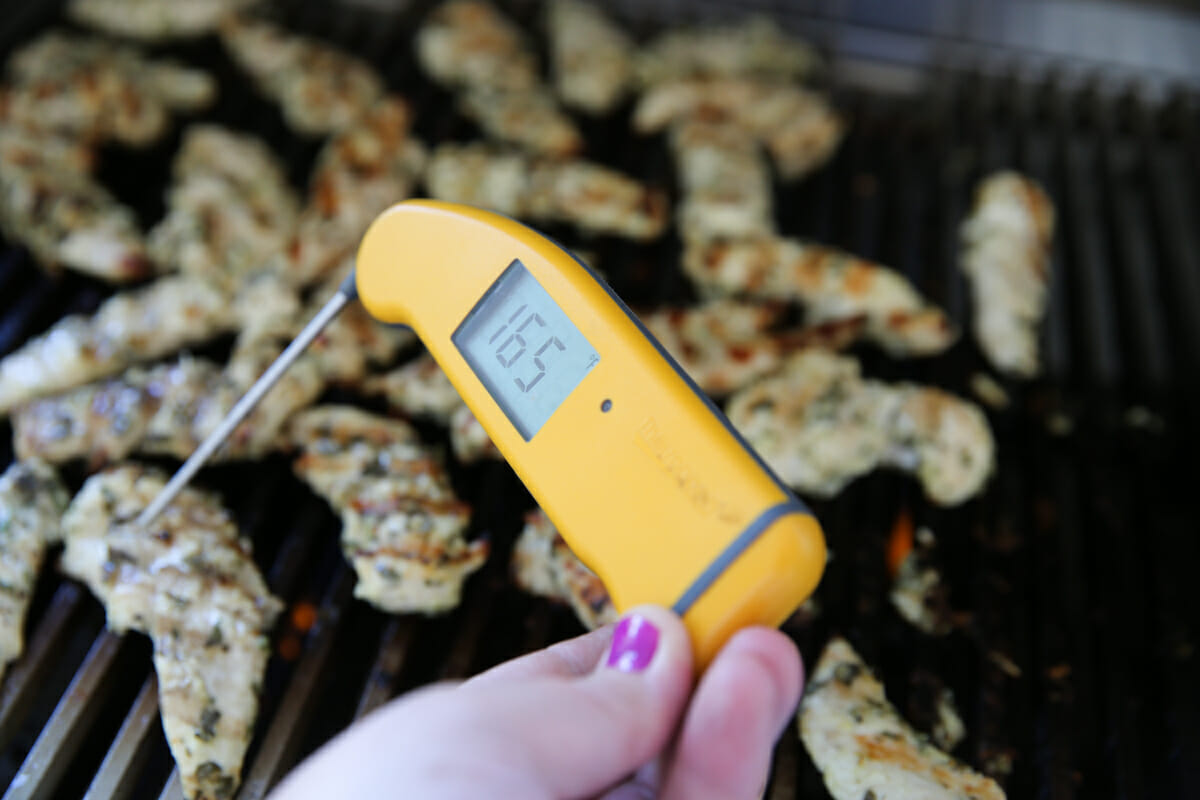 4. It's also especially great with grilled vegetables.  Just put a small spoonful of the herb mixture in with a bag of veggies and then drizzle a little more olive oil in there. Marinate for a few minutes, then toss on the grill in a grill basket.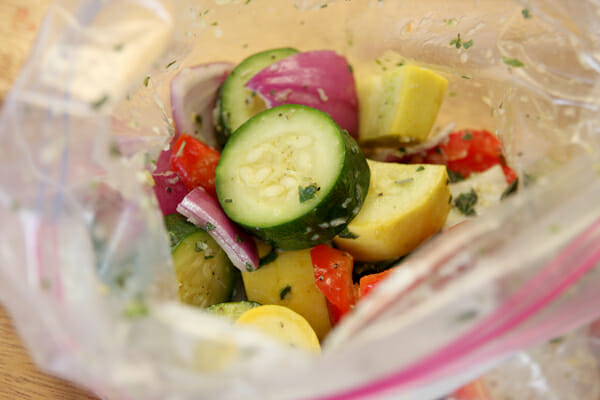 Serving Suggestions
If you have grilled chicken and vegetables together, a simple side will suffice. Rice or Creamy Stovetop Mashed Potatoes would be delicious. Some light fresh sides that would go well are these Dressed Up Avocados or Homemade Caesar Salad. If you have leftover basil, you might want to try this Fresh Herb 
and Watermelon-Feta Salad for something different.

FAQs
Can this recipe be made ahead of time? The marinade can definitely be made up to a day ahead of time. I don't recommend marinating the meat in it for more than about 6-8 hours or the texture will suffer. It has such a quick marinade time, that it shouldn't be much of a hassle to toss things together a few minutes before you hit the grill.
I love this recipe, but it's not grilling season/I don't have a grill. Can I make this inside? You can certainly make it on a grill pan, or even under the broiler in your oven. Just make sure your chicken is butterflied or pounded thin so it cooks thoroughly/quickly.
What do I do with leftovers? Reheated chicken often isn't the best, but this chicken is delicious cold on a salad or in a wrap. Just store leftovers in an airtight container in the fridge and use within a couple of days.
Did You Make This?
I'd love to hear from you! Snap a picture and tag me on Instagram, and then come back and give this recipe a rating!
Print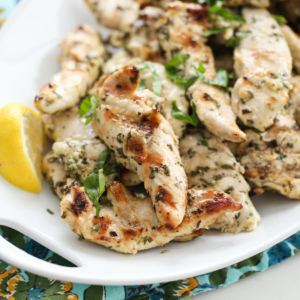 Lemon-Garlic Herb Rubbed Chicken
Author:

Our Best Bites

Prep Time:

10 minutes

Cook Time:

10+ minutes

Total Time:

20+ minutes
---
Description
An Our Best Bites summer staple! This garlic herb rub is perfect for grilled chicken and other meats, but is also wonderful rubbed on vegetables before hitting the grill.
---
1  1/2 tablespoons finely minced or pressed garlic
1 large or 2 small lemons, zested and juiced
1/3–1/2 cup minced fresh herbs, preferably a combo of basil, rosemary, and oregano
1 teaspoon kosher salt
1/4 teaspoon black pepper
4–6 tablespoons (or more) extra virgin olive oil
1  1/2-2 pounds boneless, skinless chicken breasts (see note)
---
Instructions
Combine garlic, lemon zest, lemon juice, herbs, salt and pepper.  Add olive oil until mixture comes together like a thick sauce.  If you have a mini food processor, you can blend the mixture until it becomes the consistency of a chunky pesto.  Rub mixture over chicken and/or vegetables and let sit for 20-30 minutes.  When ready to cook, preheat outdoor grill or indoor grill pan.  Cook a few minutes on each side, turning only once, until done (Internal temp should be about 165 degrees).
---
Notes
Also great on steak, fish, or vegetables!
Keywords: marinades, sauces, garlic, lemon, herb, chicken, beef, fish, vegetables, bbq, grill
Disclaimer: This post contains affiliate links.
Terms and Disclosures