The first time I'd ever heart of watermelon salad with feta was on the last season of The Next Food Network Star. And I won't lie, I thought it sounded pretty grim. But throughout the last year, I've seen it popping up here and there in magazines, cooking shows, and the blogosphere and I finally decided to get up the guts to try it. And I'm so not regretting it.
I remember being a kid when my dad would sprinkle salt on his watermelon and I thought he was nuts until I tried it myself. The same idea is in action here–the salty creaminess of the feta complements the sweet crispness of the watermelon really nicely. In fact, for all the reputation that feta has for being a strong flavor, in this salad, the feta is probably the most subtle of all the flavors. With the spiciness of the onions and basil and the sweetness of the mint and watermelon, the gentle tangy-ness of the feta balances things out perfectly.
Ingredient Notes
Watermelon – You'll need about 6 cups of watermelon, or one medium-large watermelon. If you prefer, pick up a tub of pre-cut watermelon to make things easier!
Herbs – Only use fresh mint, cilantro and basil, no dried herbs. If you don't care for cilantro, the original recipe called for 2 cups of watercress in it's place. You could also consider subbing in 1 cup fresh minced parsley or 2 cups fresh chopped spinach.
Onion – Red onion provides a nice punch of flavor here. If you must substitute, choose a sweet onion, as cooking varieties will be too strong.
Lime Juice – Use fresh-squeezed juice here, nothing from a bottle.
Feta – I prefer Athenos brand crumbled feta, but any brand will do.
How To Make Fresh Herb and Watermelon Salad
In a serving bowl, you'll just combine some watermelon, fresh basil, fresh mint, thinly sliced onions, crumbled feta, lime juice, and coarse salt.
Then you just give it a quick toss and serve it ASAP.
And I've gotta tell ya…you know how there are some foods that just make you feel good after you eat them? Like your body is just thanking you for giving it some of the good stuff? This salad is totally that way. You just feel nourished after you eat it, like you never want to have a chocolate hangover again. If only I could bottle that feeling…
Serving Suggestions
This salad has summer bbq written all over it! It would be delicious alongside Latin flavors like Brazilian Style Black Beans and Rice and Taco Chicken or with Greek and Mediterranean flavors like Gyro Burger Pitas, or Grilled Greek Pizza.
Frequently Asked Questions
Can I make this ahead of time? This salad is best served right away after assembly. To prep ahead, feel free to slice your watermelon ahead of time (or buy it pre-cut). You can also chop your herbs and onions a few hours ahead and store in airtight containers in the fridge until you're ready to toss everything together.
Did You Make This?
I'd love to hear from you! Snap a picture and tag me on Instagram, then come back and give this recipe a rating!
Print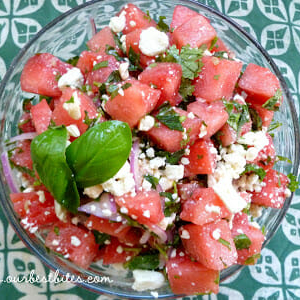 Fresh Herb and Watermelon-Feta Salad
Prep Time:

15 minutes

Total Time:

15 minutes
---
Description
With the spiciness of the onions and basil, and the sweetness of the mint and watermelon, the gentle tangy-ness of the feta balances things out perfectly. Great for a summer shin-dig!
---
6 cups cubed (1/2″ cubes) watermelon
1 cup minced cilantro*
1/2 cup thinly sliced red onions (about 1/2 of a small red onion, maybe a bit more)
1/4 cup thinly sliced fresh basil leaves, plus more for garnish
3 tablespoon thinly sliced fresh mint leaves, plus more for garnish
juice of 2 limes (3–4 tablespoons)
1 4-ounce package of Athenos crumbled feta cheese, divided
1/2 heaping teaspoon kosher salt
---
Instructions
Gently combine the ingredients (reserve 1/4 cup of feta). Sprinkle with reserved feta, garnish with basil and mint leaves, and lightly sprinkle with additional salt. Serve immediately.
---
Notes
Notes
The original recipe calls for 2 cups of watercress. If you prefer watercress, feel free to substitute it for cilantro in this recipe. If you don't like cilantro or watercress, try substituting 1 cup minced Italian parsley or 2 cups chopped spinach.