Crispy, tender, salty, flavorful,  baked zucchini fries.   They're a perfect little appetizer, side dish for sandwiches, or even a great after school snack. They're inexpensive, virtually guilt free, and a totally painless way to get your veggies.  Try them with you favorite veggie dip, or with our Buttermilk Ranch or Homemade Pizza Sauce!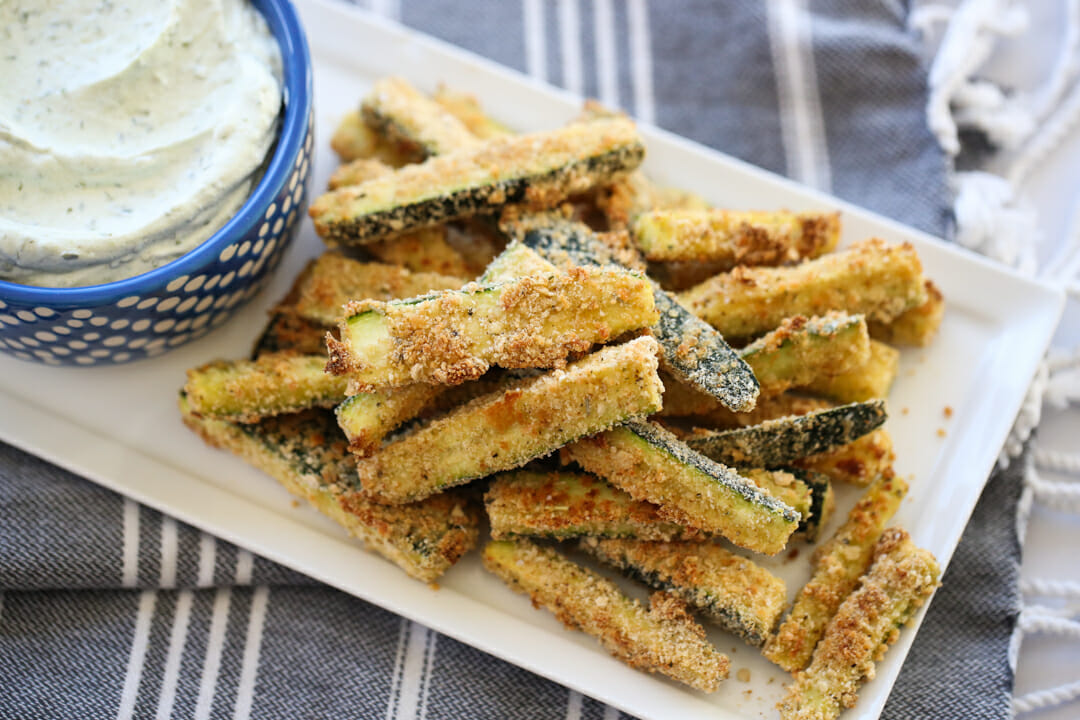 Ingredient Notes
Zucchini – Use up that garden zucchini if you have it! Store bought also works well. In general, smaller zucchinis the best flavor and texture. Save those jumbo ones you forgot to pick for baked goods like this Chocolate Zucchini Bread.
Italian Seasoned Panko Bread Crumbs – Panko bread crumbs are usually found on the baking aisle. If you don't have or can't find any Italian-style panko bread crumbs, just add 1/2 tablespoon of Italian seasoning, 1/2 teaspoon garlic powder, 1/2 teaspoon Kosher salt, and 1/4 teaspoon onion powder to 1/2 cup plain panko bread crumbs and you'll be good to go.
 How to Make Baked Zucchini Fries
The first step is to cut your zucchini into little planks.  The easiest way to do this is to cut both ends off, then cut into several strips, then cut each strip into the fry shape.  Larger fries will be meatier and taste more like zucchini.  Smaller fries will cook faster and tend to be crispier.
2. Once your fries are cut, set up a little dipping station.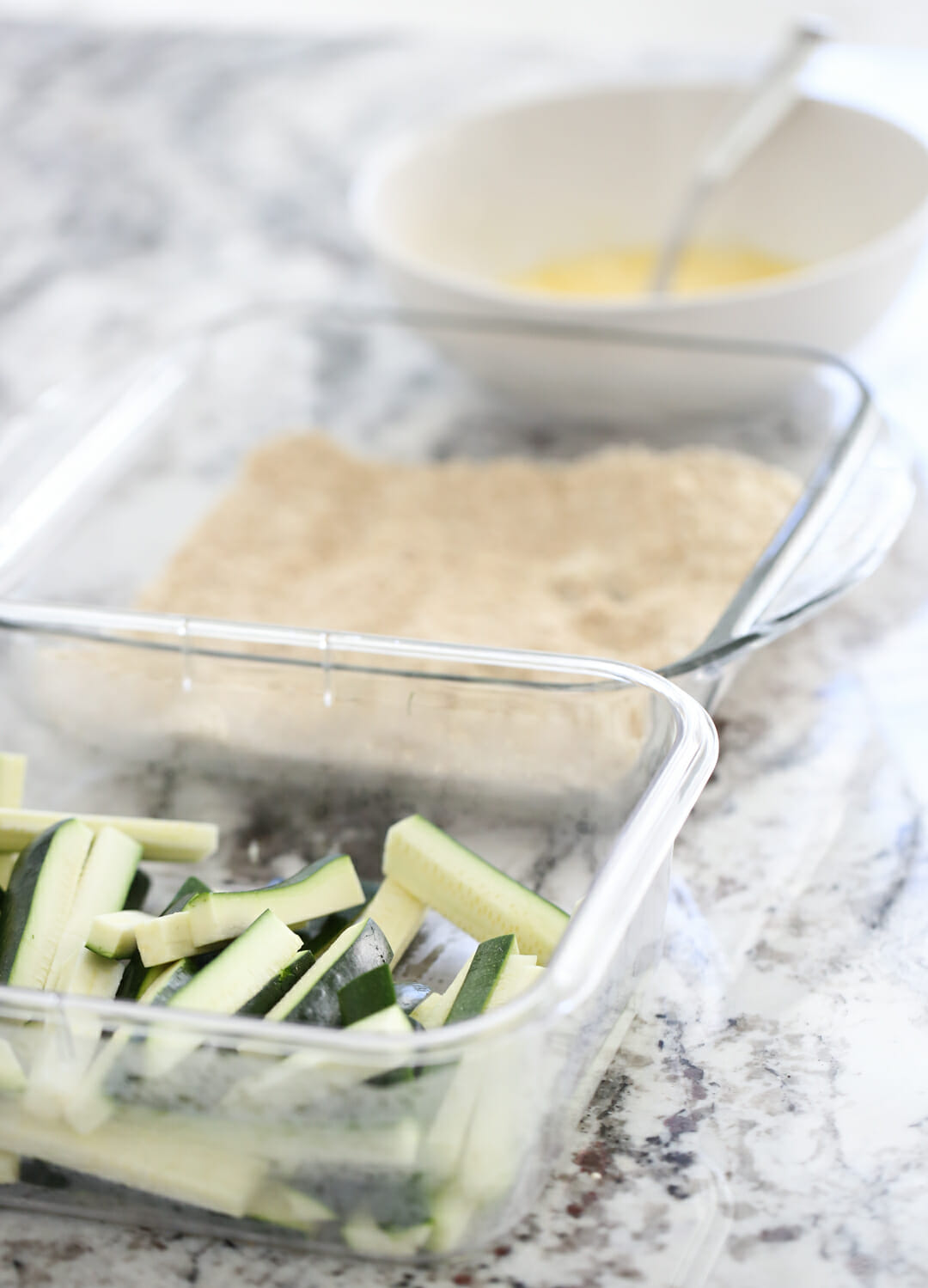 Panko crumbs are awesome because they add a lot of crispness and they're actually lower in calories than traditional bread crumbs. However, they also soak up moisture like a sponge, so if you start dipping the zucchini in the eggs and then rolling the sticks in the entire 1/2 cup of bread crumbs, after a few batches, the bread crumbs won't stick anymore. So you'll want to work with a portion of the bread crumb/Parmesan cheese mixture at a time, and you may need to wash your hands frequently during the process.
3. Once you are done you should have them all lined up, not touching each other, on your baking sheet. Then into the oven they go.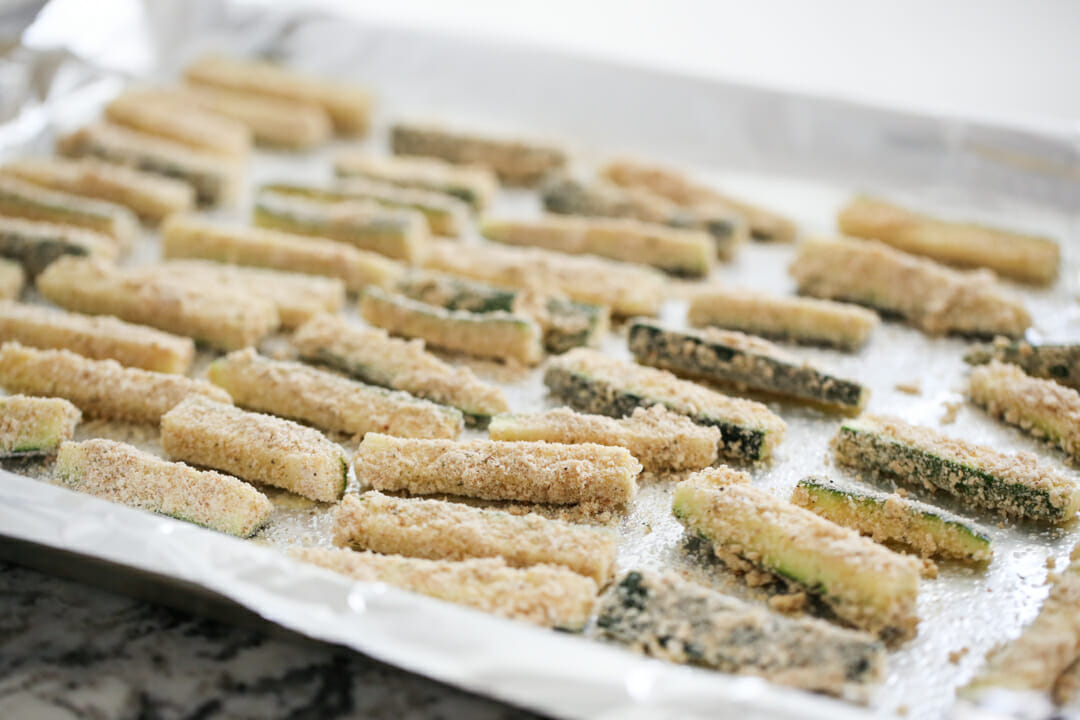 All ovens are different, so bake them until they look browned and crisp!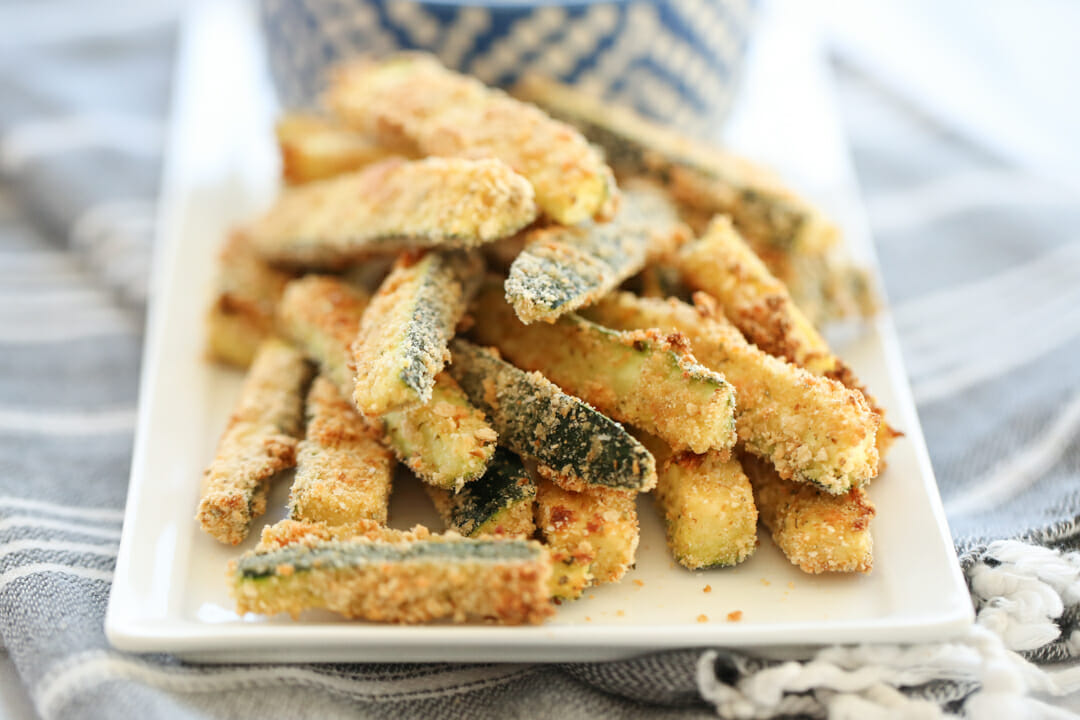 Try them with your favorite veggie dip, or with ranch or marinara.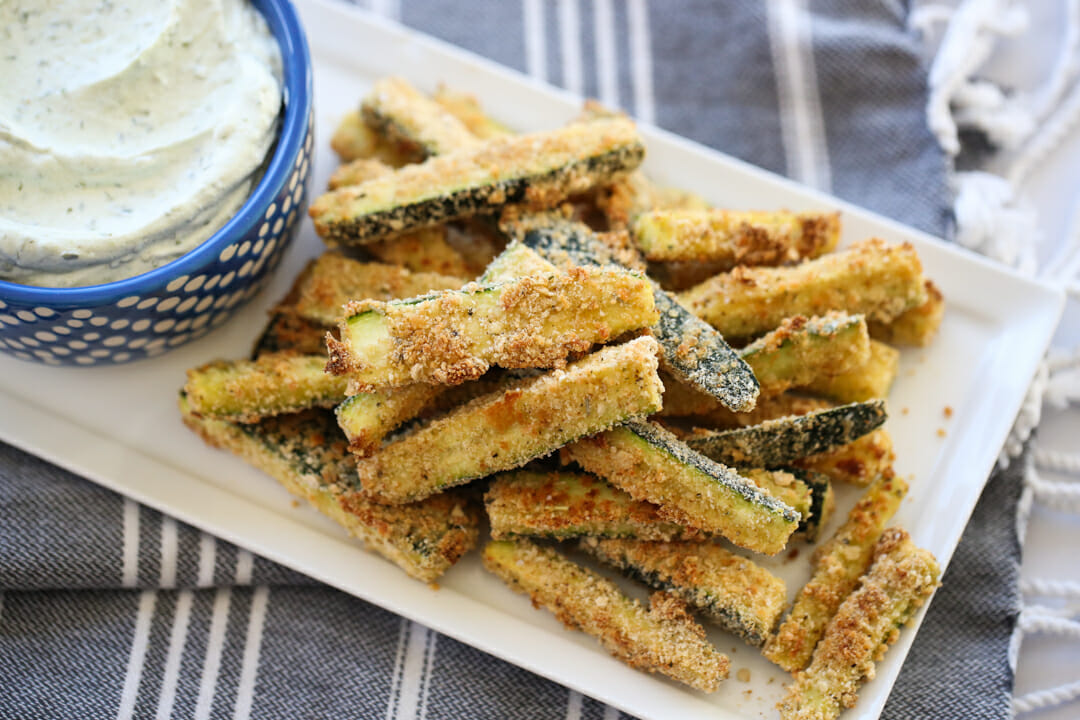 This is an easy side dish and a fun snack that most kids will actually eat!
Serving Suggestions
Got Zucchinis?  Here are some other recipes you might enjoy!
Chocolate Zucchini Bread
Chocolate Zucchini Bundt Cake
Lemon Herb Zucchini Pasta
Grilled Zucchini Caprese
Zucchini Caprese Frittata
FAQs
Can I make these ahead of time? These zucchini fries are best made fresh. If you'd like, you could slice your zucchini up ahead of time and store in an airtight container in the fridge until you are ready to dunk. The breadcrumb mixture could also be prepped ahead.
Can I make these in an air fryer? In theory, these would be great in an air fryer, but I haven't personally tested them that way yet to advise on cook time or temperature. If you try it, let me know how it goes!
Did You Make This?
I'd love to hear from you! Snap a picture and tag me on Instagram, and then come back and give this recipe a rating!
Print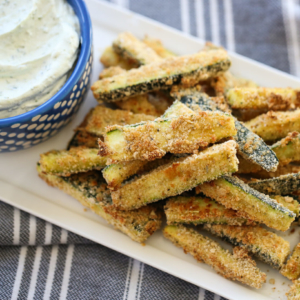 ---
Description
Crispy baked zucchini sticks perfect for dipping in your favorite sauce!
---
About 1 lb. zucchini
1/2 cup Italian-seasoned panko bread crumbs
1/4 cup grated Parmesan cheese (the crumbly stuff, not shreds)
2 eggs
---
Instructions
Preheat oven to 425. Line a baking sheet with aluminum foil sprayed with non-stick spray, or parchment paper.  Set aside.
Combine bread crumbs and Parmesan cheese in a shallow bowl. Set aside.
Whisk 2 eggs together in a shallow pie plate and set aside.
Cut the ends off the zucchini and then cut the zucchini in half so you have two short, stubby pieces. Set one piece on its end and cut it in half lengthwise. Cut that half in half, making 2 planks. Repeat with the remaining halves (so you'll get 16 planks per zucchini).
Stack 2 planks on top of each other and cut into strips. Thicker strips will yield "meatier" fries with more zucchini flavor while thin strips will be crispy and taste virtually nothing like zucchini. When all the fries are cut, blot the pieces with a paper towel.
Working with a small handful at a time, dip the zucchini sticks in the egg, shake them to remove any excess, and then roll them in about 2-3 tablespoons of bread crumbs at a time, adding more as needed; you just don't want to work with all the bread crumbs at once because they'll soak up moisture from the egg and won't stick to the zucchini. Place the coated strips on the prepared baking sheet and repeat until all the zucchini strips have been coated.
Bake for 10-12 minutes in the prepared oven then remove from oven, flip the fries, and bake for another 10-12 minutes or until the zucchini is not soggy and the coating is crisp and golden brown. If you have convection setting on your oven, that will help get them crispier, faster!
Serve immediately with Pizza Sauce or Buttermilk Ranch Dressing. Serves 6-8 as a side dish.
---