I'm pretty sure something biological happened to me about the same time I became a mother.  At least that's when I remember it happening.  That was the point when I realized I couldn't live without chocolate.   I found myself thinking about chocolate, craving chocolate, scouring my pantry for spare chocolate chips that may have fallen out of a bag at some point and landed in some random corner.  And I wouldn't by any means call myself a chocolate snob (because I'm pretty sure anyone who makes that proclamation wouldn't be on their hands and knees in the pantry looking for old chocolate chips)  but I do have an appreciation for quality chocolate.  And I don't like it overloaded with sugar- the darker the better in my book.  I even love bittersweet chocolate.  But when it comes down to it, if it's got chocolate in it- I'm down.  So needless to say, a chocolate cake with chocolate frosting pretty much rocks my world.
Everyone in  my opinion needs a great, basic, go-to chocolate cake recipe.  And while there's a time and a place for boxed cake mixes, everyone needs a good homemade, from scratch recipe.  I've used this Hershey's recipe quite a bit over the years, and I still love it.  But several years ago I bought the "Best Recipes" issue of Cook's Illustrated, partially because this cake was on the cover.  I finally had a great excuse to make it last month and I wish I would have done it years ago.  It's definitely one of the best chocolate cakes I've ever tasted.
I started going through the pictures for this cake and realized the post would quickly turn into a novel, so I'm splitting it into two installments.  Frosting today, cake on Wednesday!  Don't be turned off by the number of steps here.  I almost was and I'm so glad I stuck with the recipe and made this frosting.  It's more labor intensive than beating some butter, powdered sugar, and cocoa powder together but it's sooo worth it.
Start by melting some chocolate.  The glass bowl you see in the pictures is sitting on top of a pan of simmering water.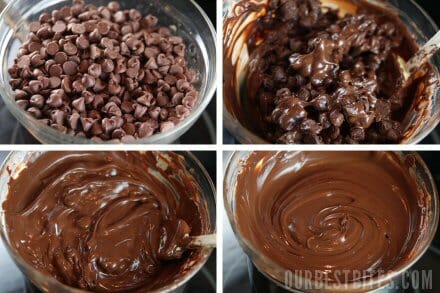 After the chocolate is melted, set the bowl aside and dump out the water that was in the pan.  Now you've already got a warm pan for the next step (butter melting).  Remember that when you read the recipe and it tells you to use 2 pans.  I'm all about one less dish to  have sitting in my sink for days wash.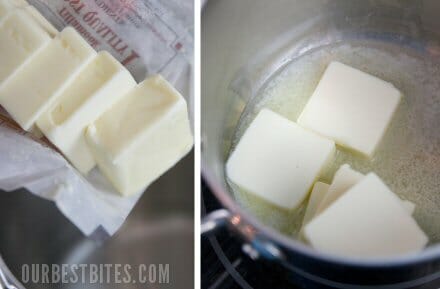 To the melted butter, you'll add a little corn syrup, vanilla, and granulated sugar.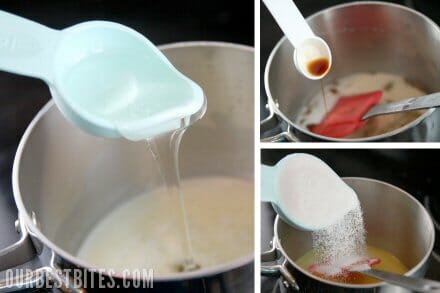 As soon as it's all melted together and the sugar is dissolved, add it to a large bowl along with…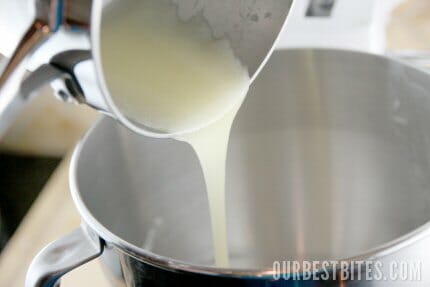 the chocolate.  The beautiful, glorious, melted chocolate.  And no I did not stick my finger in that as it was pouring down like a chocolate waterfall just begging for someone to stick their finger in it…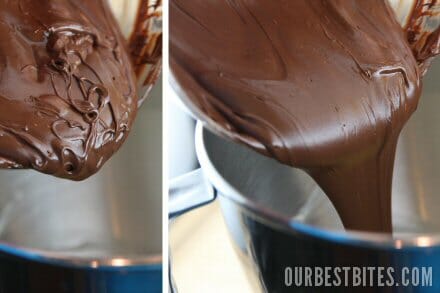 And also some heavy cream.  You know, for good measure.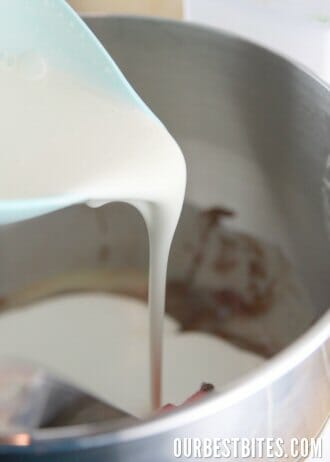 You'll stir this all together and have sort of a chocolate sauce consistency. Place your bowl in a bowl of ice to bring the temperature down, and just keep stirring until the mixture starts hardening against the side of the bowl.  Then you can pop the paddle attachment on your mixer and start whipping.  Magically it turns thick and fluffy.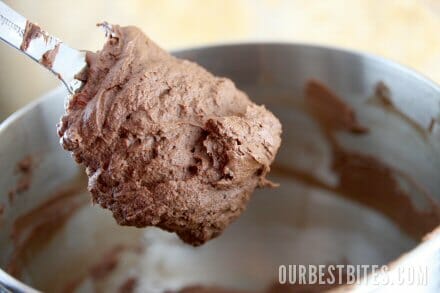 I was actually super impatient when I made this and didn't wait for it to cool enough that the mixture was sticking to the sides of the bowl.  So my whipped frosting was reeealy soft.  I just popped it in the fridge for 10-15 minutes and it was perfect.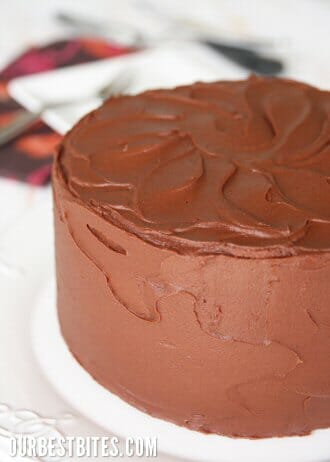 The flavor is so perfect.  It's sweet, but not too sweet, so the great chocolate flavor really shines through.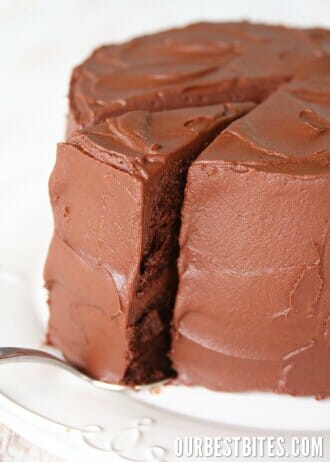 and when combined with the chocolate cake, it's perfection.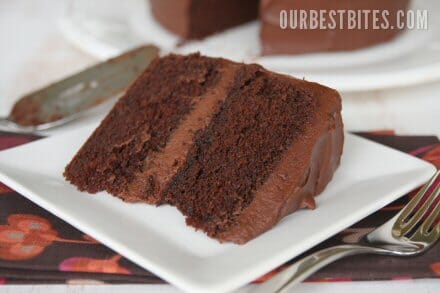 I should also note that the texture is so light and soft, and whippy, that this frosting would probably be best for slathering- like smeared all over a cake, or just plopped on top of cupcakes, as opposed to piping.  If you're looking for a good chocolate icing for piping- try this one!
Old-Fashioned Chocolate Frosting
Cooks Illustrated Best Recipes Issue, 12/09
16 ounces semisweet chocolate, finely chopped (I measured 16oz chocolate chips on a kitchen scale, it's a teeny bit more than 2 1/2 cups.)
8 Tbs (1 stick) unsalted butter
1/3 cup granulated sugar
2 Tbs corn syrup
2 tsp vanilla extract
1/4 tsp table salt
1 1/4 cups cold heavy cream
Melt Chocolate in heatproof bowl set over a saucepan containing 1 inch of barely simmering water, stirring occasionally until smooth.  Remove from heat and set aside.  Meanwhile, heat butter in small saucepan over medium-low heat until melted.  Increase heat to medium; add sugar, corn syrup, vanilla, and salt and stir with heatproof rubber spatula until sugar is dissolved, 4-5 minutes.  Add melted chocolate, butter mixture, and cream to clean bowl of stand mixer and stir to thoroughly combine.
Place mixer bowl over ice bath and stir mixture constantly with rubber spatula until frosting is thick and just beginning to harden against sides of bowl, 1-2 minutes (frosting should be 70 degrees).  Place bowl on stand mixer fitted with paddle attachment and beat on medium-high speed until frosting is light and fluffy, 1-2 minutes.  Stir with rubber spatula until completely smooth.  *If you find after beating, your frosting is still too soft for your liking, try chilling in the fridge until it sets up a little more.