If you follow my Instagram, you might have noticed that last week, I was in Savannah, Georgia (you can still check out my stories under the "travel" section if you want to see some little highlights of the trip!) My daughter and I were there for the National Beta Convention where she had qualified to compete in the Language Arts division. A team from her school was also competing in an engineering team competition called Tower of Power where they try to build the tallest, most structurally sound tower with straws and masking tape in a given amount of time. I've gotten a lot of questions about Beta and what it is. Basically, it's an honor/service organization similar to National Honors Society, but it's predominantly in the South/Eastern United States. The kids are invited based on academics and citizenship and then are required to complete a certain number of community service hours throughout the year (kind of like parole, but more fun). They also have the chance to compete at  regional and state conventions in lots of competitions from academics (where they take tests similar to standardized tests in given subjects) to performing arts. The Tower of Power team and my daughter, who both placed first in Louisiana in their division, got to compete on the national level last week and both placed 7th nationally, so we were pretty proud of this little group!
But honestly, we spent about 5% of our time Beta-ing and 95% of our time eating, walking around Savannah, and also eating.
For the record, none of this is sponsored in any way, I just wanted to share what I found!

If you're not familiar with Savannah (which I wasn't), it's a small city on the eastern coast of Georgia, near the Georgia/South Carolina border (in fact, it's very close to Hilton Head, North Carolina.)
It reminded me of St. Augustine, Florida (and St. Augustine reminds me of a very clean New Orleans) and, strangely, Philadelphia. I did some digging and apparently it's not that strange because they were settled about the same time by the same people and both were pivotal to the Revolutionary War.
Our school chose the Kimpton Brice Hotel in the historic district of Savannah. I said this on Instagram, but I'll say it again here: I've stayed in a lot of hotels in my lifetime and this was easily the best hotel experience I've ever had. They had every reason to hate us–we were traveling in a group with kids as part of a much larger group with many more kids. But they were so kind and accommodating. My daughter's birthday was the day we got there, so before we arrived, I called the hotel and asked them for a florist recommendation so I could have flowers delivered to our room. They were so kind and recommended the most incredible florist (Garden on the Square), both of whom made sure the flowers were in our room when we arrived.
When my daughter and I checked in, one gentleman offered to make us Coke floats later. When we returned from dinner, he recognized and remembered us and told us to sit tight while he found us stuff for Coke floats. When couldn't find what he needed, he brought us two giant slices of flourless chocolate cake and ice cream. Another lady snuck us ponchos when we were heading out into the rain. They had a happy hour with drinks and incredible charcuterie boards. When I was tired and frazzled, I asked the bartender if I could get a Diet Coke to go and he stopped what he was doing, made one for me, and handed it to me, free of charge (can you tell that my love language really is food??). It felt like we were staying in someone's very, very nice house and they were the best hosts ever. They even let the Tower of Power team practice in the lobby and instead of brushing it under the rug, they posted it on their Instagram:
https://www.instagram.com/p/BkBqu47hig1/?taken-by=bricehotel
The adorably funky lobby always had a dispenser of water and infused water:
The rooms themselves were very fun, but not distractingly wild or anything. The beds and pillows were dreamy. The pool and courtyard area were gorgeous. The location was exactly where I would have picked: right in the middle of the historic district, close enough to walk just about everywhere we wanted to go (within a mile), but far enough from the super touristy areas and also far enough that we could walk off our many, many delicious experiences. I don't normally flat-out recommend a hotel because I know everyone's needs are different and you could stay in the same hotel twice and have two very different experiences, but honestly, I don't think I'd ever go to Savannah and stay anywhere else if I could help it.

Like I said earlier, we did a lot of walking and a lot of eating. I'll talk a little more about where we ate in a minute, but we walked just about everywhere we went (with the exception of a Lyft when it was pouring). One great thing about walking is that you can take the time to explore. Savannah is full of historical squares, churches, memorials, and cemeteries, so we did a lot of that.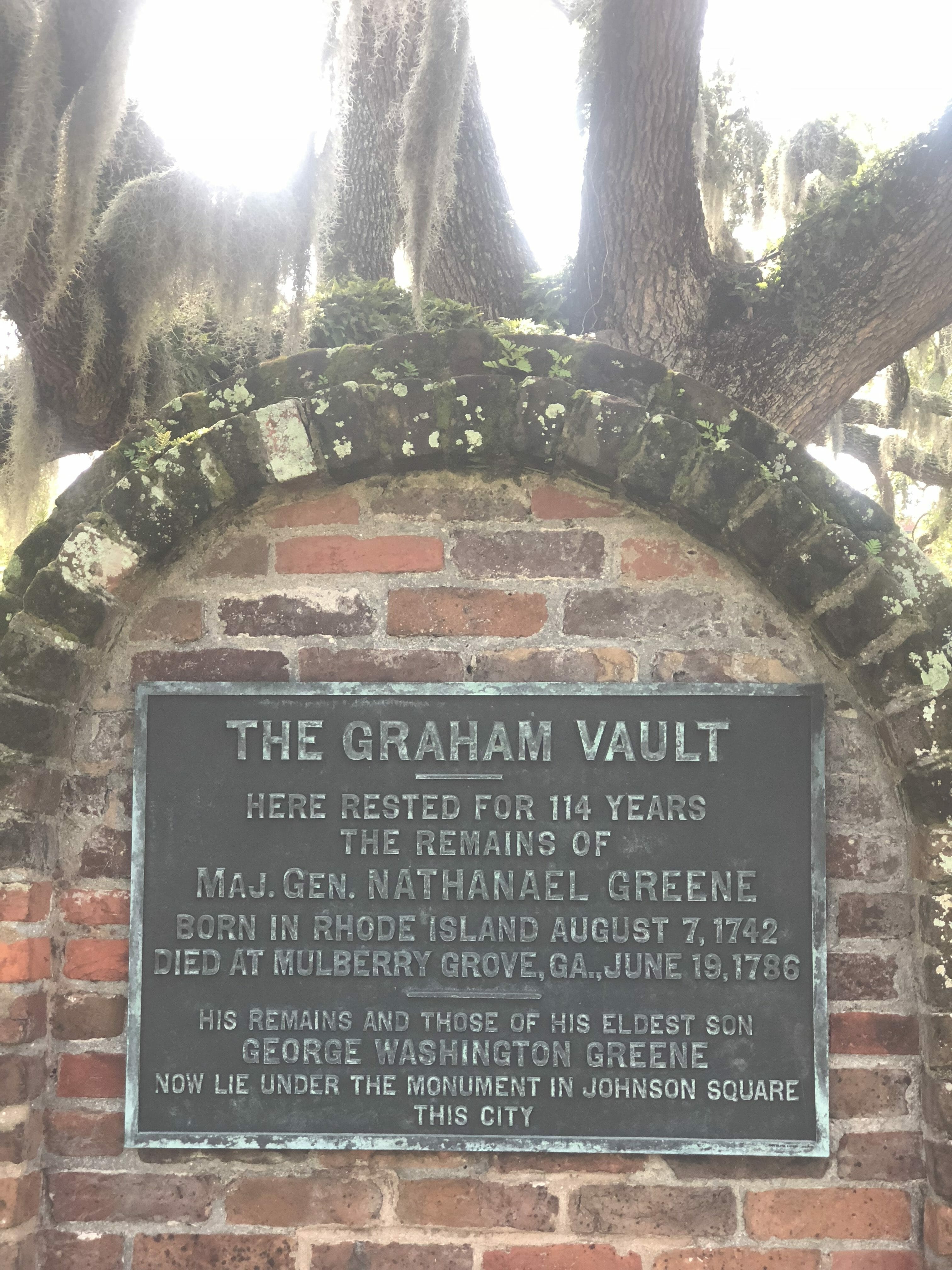 There are also ghost tours, trolley tours, carriage tours, a pirate tour, Tybee Island, gift shops, a cat cafe (gasp!), bakeries, coffee shops, ferry rides, Fort James Jackson. Basically, so much stuff you can do inexpensively or for free.
We also went to River Street, which was very cool, but kind of touristy. We got ice cream, walked on the cobblestone streets, explored disturbingly steep steps, and felt a little dirty and gross when we left because, honestly, it was a little dirty and gross. I love exploring the secret parts of cities, so this wasn't totally my jam, but I'm glad we did it.

For me, eating is my favorite part of visiting any new city and Savannah did not disappoint. The first night there (my daughter's birthday), we went to 39 Rue de Jean. It was an impressive French restaurant with impeccable service. My daughter has the French onion soup, I had the Steak Frites, and we shared a roasted beet salad with fried goat cheese. All of it was amazing, absolutely impeccable.
The next morning, we went to The Collins Quarter where we were kind of forced to live on the edge because the menu looked kind of intimidating, but honestly, it was one of the best restaurants I've ever eaten at. The avocado toast was life-changing and Meredith got the Brioche French Toast.
That night, we went to The Lady and Sons with the Beta group.
It's Paula Dean's restaurant and really, it was a good choice for a large group that included kids, but it probably wouldn't be my #1 choice. It was quite touristy, very crowded, and I don't love buffets (there is a menu, but we all opted for the buffet.) The food was good (the fried chicken was really good, but fried chicken also isn't my favorite) and the kids had fun. There was a Paula Dean gift shop attached to it and even though we had a reservation, we still had to wait. Unless you are coming with a group or have a pressing desire to eat here, I'd say skip it.
The next morning, we went to Goose Feathers Cafe for breakfast. It was a little French bakery with awesome pastries. Meredith had a sticky bun and I had the Eggs Benedict. It was good, but not like The Collins Quarter was for breakfast.
For lunch, we went to The Ordinary Pub.
The location was really cool and the food looked good, but most of us did not love what we got. I got the Local Bagel (a sandwich where everything was locally sourced), but the herbs that were in the goat cheese tasted a little too Christmas-y (not really what I was after on a hot, hot day in June) and the beet bruschetta tasted like it was made from canned beets. I couldn't eat it. Someone else got the Chicken and Waffle Gyro and said the same thing…it was a weird combination of flavors, and not in a good way. The one person in our party who liked what they got had the Bacon Brunch Bowl.
That night for dinner, we went to Treylor Park,
which was hands-down the most recommended restaurant. We were hot and sweaty and tired and kind of gross. We had an hour and a half wait, so the whole time I kept thinking, "This better be good, this better be good."
The adults sat at one table and the kids sat at another. At the adult table, we had…
Treylor Park Nachos
Treylor Park Pot Pie
Grilled Apple Pie Sandwich with Chicken
Fish Tacos
The kids had…
Fried Banana Pepper Rings
PB&J Chicken Wings
Popcorn Shrimp
Treylor Park Nachos
We all shared our food (and my phone was dead at this point, so no pictures, but it's okay because I got to live in the moment.) Everything was delicious. And weird. And delicious. All those weird food combinations they were trying to do at The Ordinary Pub worked here. My favorite was actually the Grilled Apple Pie Sandwich with Chicken. The PB&J Wings sounded scary, but they were fantastic. The service was impeccable. We watched The Flinstones Movie and then started Can't Buy Me Love. It was a fun, eclectic restaurant that was worth the wait, lived up to the hype, and I completely recommend it.
The next morning, we stopped for a quick breakfast in our hotel restaurant, Pacci. Meredith had a bagel and cream cheese and I had the housemade yogurt and granola with fresh berries. Everything about it was delicious and light and perfect after a few days of indulging.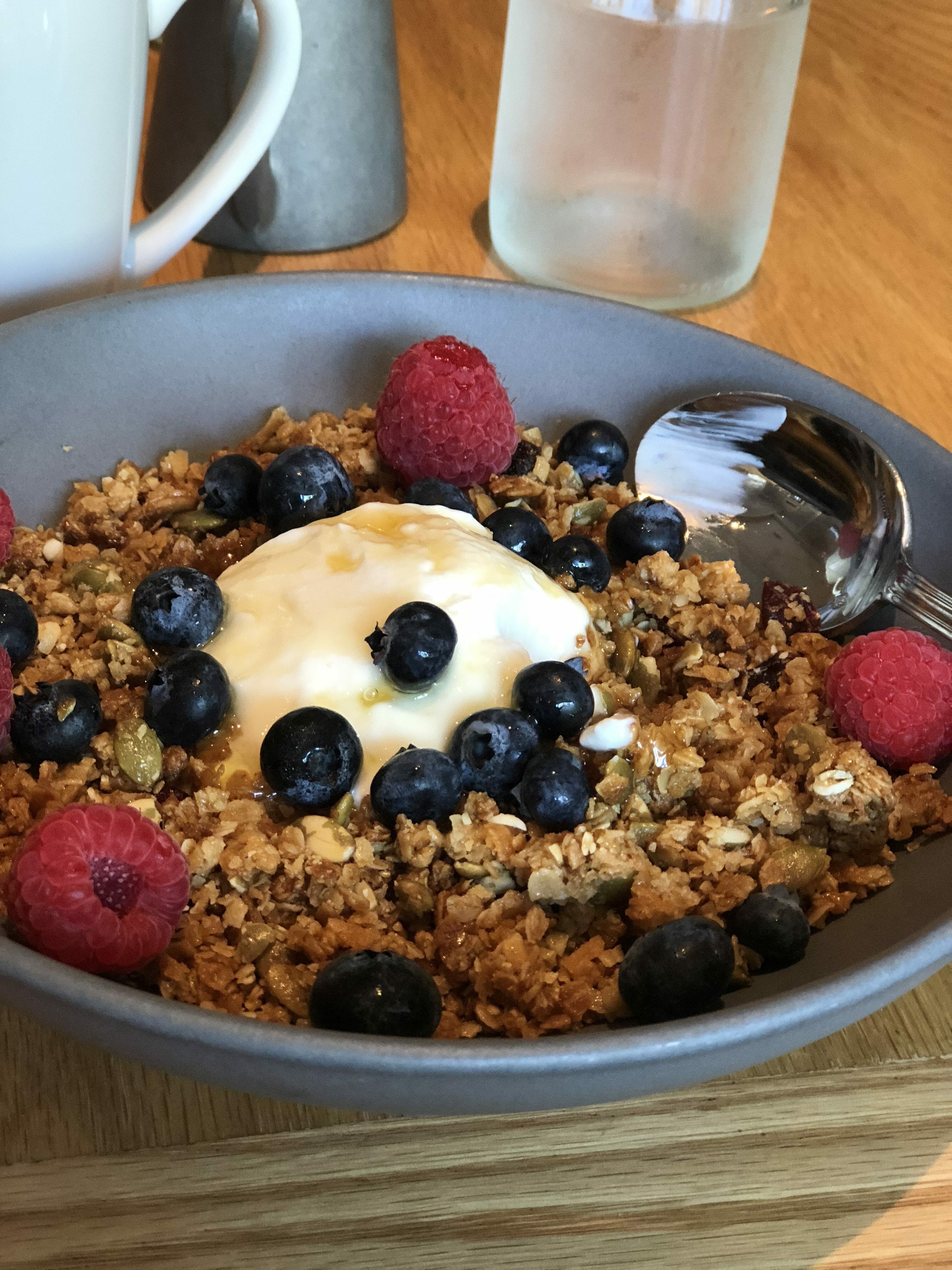 summary
If you're looking for a stop on an American history tour, happen to be in Hilton Head, are looking for a girls' weekend or romantic getaway, I wholeheartedly recommend Savannah. I'd go back in two seconds and am so thankful we had the chance to go! Here's a brief summary of my thoughts and where we went!
Vibe
It's very laid back. Even at the fancy French restaurant, people were in shorts and sandals. It's a beach town. If you go during the summer, it will be hot and you will sweat and you won't wear any of those cute fancy-ish dresses you packed. Early in the week, the restaurant waits will be minimal to non-existent. The later we got into the week, the busier the restaurants got.
Prepare
Bring an umbrella and a poncho. We had a mini-monsoon every afternoon/early evening. Bring good sneakers (maybe with insoles), comfy socks, and prepare to break all sorts of steps records on your Fitbit.
Open containers (read: sidewalk drinking) are legal here, so if that makes you uncomfortable, that might be something to consider. Nothing I saw was anything close to anything I've seen in  New Orleans, but I also wasn't there on the weekend.
Parking is expensive and there are lots of very narrow one-way streets. Consider relying on Uber/Lyft and walking instead of renting a car (although if you want to go to Tybee Island, you may want to rent a car for a day). It's about a $20 Lyft ride from the airport to downtown, which isn't bad.
Leopold's Ice Cream is wildly popular and will have a line around the block. There are two Leopold's Ice Cream stands in the airport, so if that is a must-do for you, maybe think about hitting one of them up
It's hot and humid. Bring a water bottle and use it. If you have a chance to drink water (like in a hotel lobby), take it. It's easy to get dehydrated in this climate and not realize it. Forget about your hair looking awesome. Shorts and sneakers (basically, a soccer mom uniform) will be your best friend.
Places I Mentioned
Kimpton Brice Hotel
39 Rue de Jean
The Collins Quarter
The Lady and Sons
The Goose Feathers Cafe
The Ordinary Pub
Treylor Park
Pacci
Garden on the Square (florist)