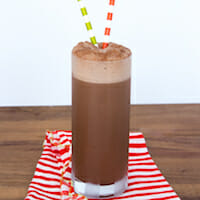 Have you guys ever had an egg cream? It's kind of a funny thing because it's basically a chocolate soda that doesn't have eggs OR cream in it. Chocolate syrup, milk, soda water, whisked together, and voila–it's delicious, not quite as naughty as a chocolate milk shake, totally taking me back to my childhood at The Bluebird in Logan with my dad.
I'm not calling this an egg cream because people feel VERY strongly about their regional foods (this one hails from Brooklyn), and people seem to have very strong feelings about EVERYTHING during the weeks leading up to Christmas. I'm not making this with Fox's U-Bet Chocolate Syrup and I'm adding peppermint (yes, I do realize that Sara and I have a serious chocolate/peppermint thing going on) and it's that time of the year, so I'm just calling this a chocolate soda. But it's pretty much an egg cream. [Dodging the flaming arrows right now.]
You're going to need very cold soda water (like club soda, seltzer, or sparkling water), peppermint syrup (try World Market, Amazon, or your favorite coffee shop), chocolate syrup (I used Torani dark chocolate syrup, which I just picked up at a regular grocery store, and whole milk.
In a 16-ounce glass, add 1 1/2 tablespoons (3 pumps) of peppermint syrup, 3 tablespoons of chocolate syrup,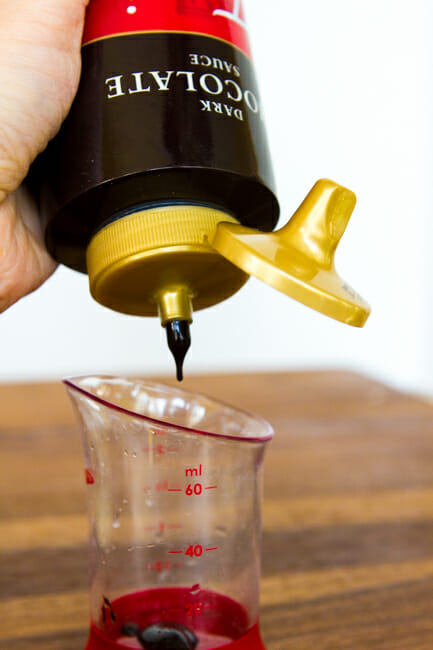 and 1/4 cup of milk.
With a long-handled spoon or fork, whisk it together vigorously. While stirring, add the soda water to fill up the glass, whisking to combine (there will be a lot of froth on top). Serve immediately.
This makes one serving, just for you. Grab a straw and go hide in the bathroom.
Peppermint Old-Fashioned Chocolate Soda
Recipe adapted from Ina Garten
Ingredients:

1 1/2 tablespoons peppermint syrup
3 tablespoons chocolate syrup
1/4 cup very cold whole milk
Very cold club soda, seltzer, or sparkling water
Instructions:
In a 16-ounce glass, whisk together the peppermint syrup, chocolate syrup, and milk. While whisking, add the soda water to fill the glass. Serve immediately with a straw. Makes 1 serving.