I have another recipe for Cherry Chocolate Ice Cream that was one of the very first ice cream recipes I ever posted on Our Best Bites. It's one of my all-time favorites, and involves pitted fresh cherries in a cooked custard-base with shaved chocolate and generous hints of almond flavor. It's decadently delicious, but also a lot of work. I've mentioned before that in the summer time my ice cream maker pretty much sits out on my counter 24-7. Cream and whole milk are constantly stocked and we whip up some version of this quick and easy homemade vanilla several times a week, usually with whatever fresh summer fruit we have sitting around. I have a feeling when my kids are old and grown, this will be one of the their favorite summer memories. Lately I've been buying frozen cherries for a new morning protein smoothie I've been making a lot, and once I whipped up this little Cherry Ice Cream number, it's been making regular appearances at our house. As in, I pretty much have a constant batch in the freezer! This quick and easy homemade cherry ice cream takes just minutes to prep and tastes amazing.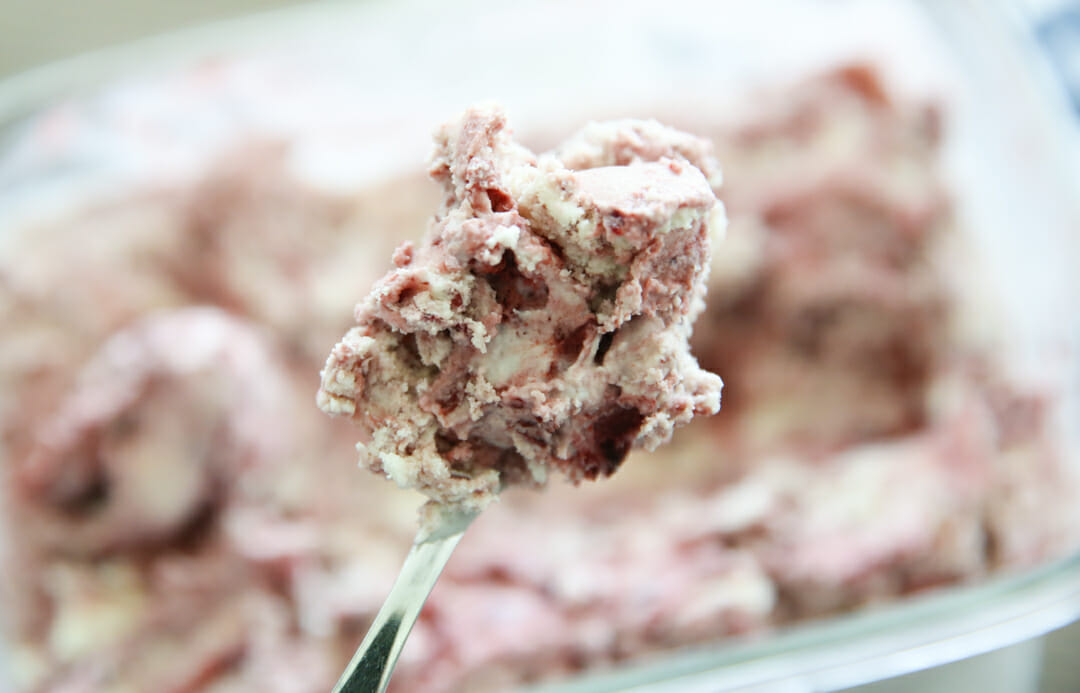 Making Homemade Ice Cream
This ice cream starts out with a simple base of cream, whole milk, sugar, and vanilla, with one special ingredient: almond extract. I've actually been adding almond extract to my regular vanilla ice cream as well and it adds the BEST flavor that no one can put their finger on but everyone loves! But when you're making pretty much anything with cherries, it's a must.
Pre-Chilling Your Ice Cream Base
I've found that pre-chilling this mixture makes a big difference in the finished ice cream so I try to mix up that part earlier and have it sitting in my fridge. Sometimes I even make a huge batch of this part and just keep it in an empty milk jug labeled "Ice Cream Mix" so it's ready to go. Even if your cream and milk come straight out the fridge before mixing- you'd think that would be the same amount of "chill" but for whatever reason I've found it always works better if I mix everything up, then chill for a while. If you don't have time for that step, no problem, but if you do, I would.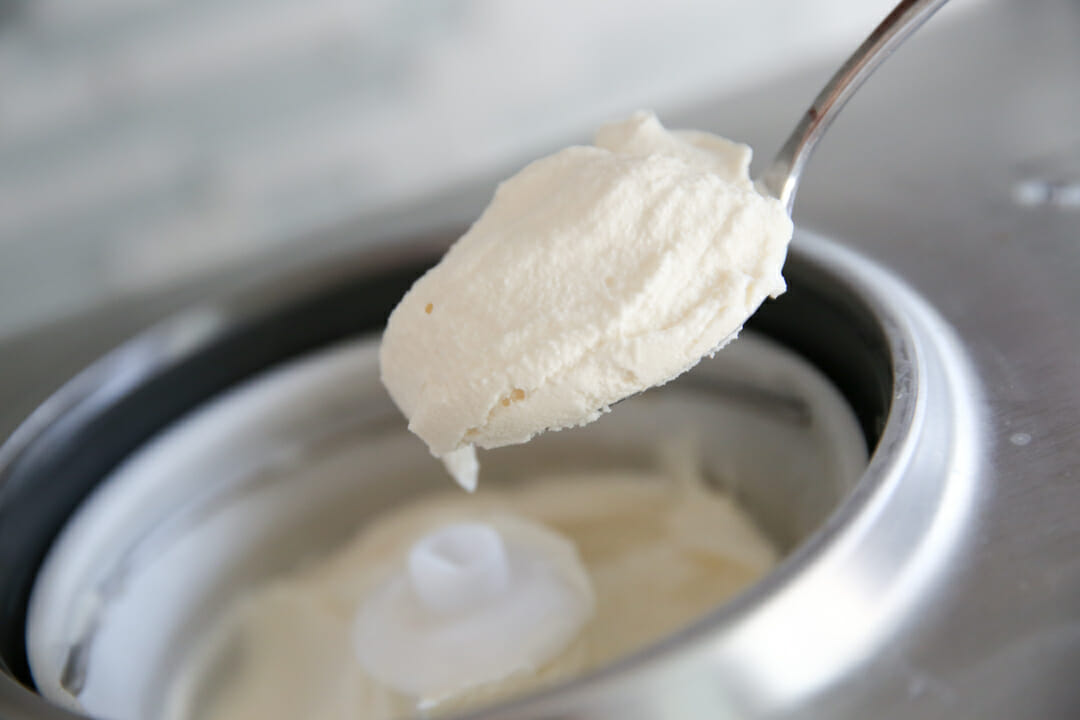 Let's Talk about Fresh Cherries
I found that the frozen fresh cherries in the grocery store are JUST as great as fresh and soooo easy because there is no pitting involved, AND they're already cold. Look for bags like this in the freezer section.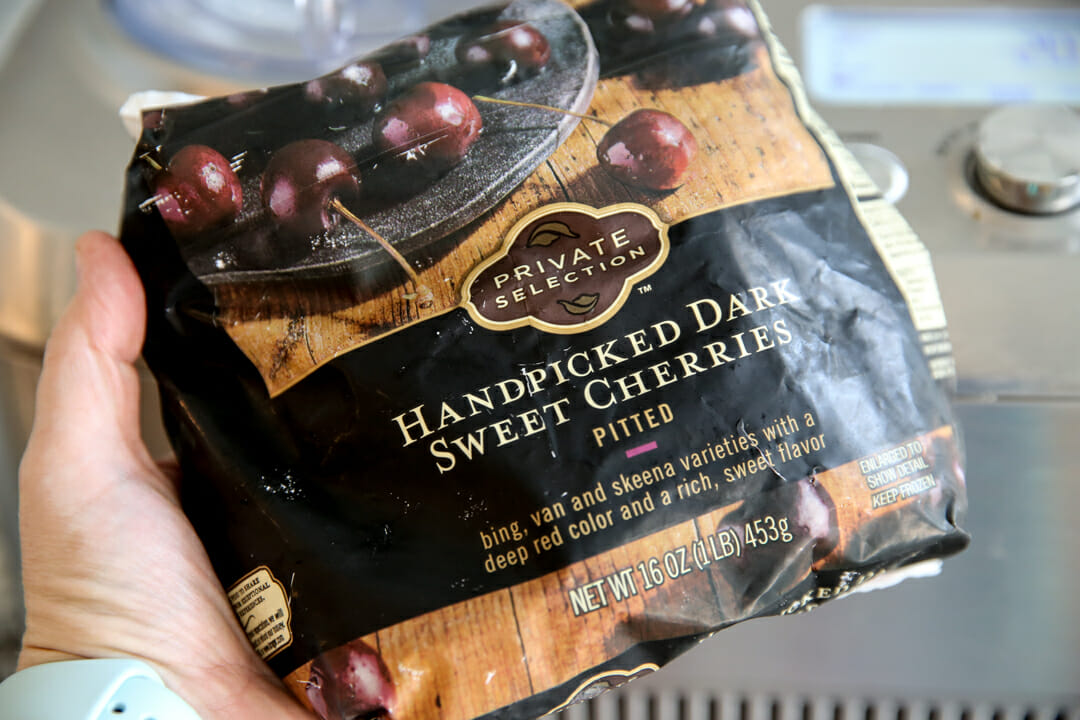 I don't start making the cherry mixture until the ice cream is in the actual ice cream machine processing, and about half-way done. At that point, take about 2 cups of frozen cherries and you'll want to either roughly chop them up with a big knife, OR do what I do and stick them in your blender. I use the small jar on my Blendtec and with just a few quick pulses they are finely chopped like cherry snow.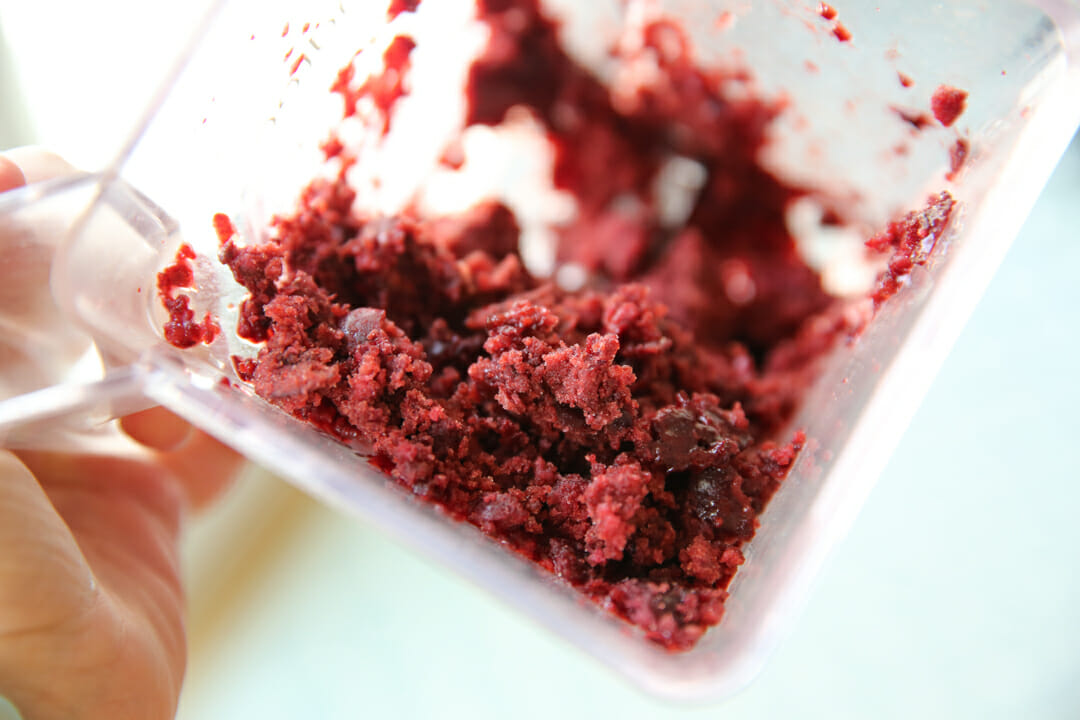 I'm not sure if standard blenders will work as well, but you'll have to let me know! This is a super easy way for me to do it, however a large knife works great, too. Because cherries have natural sugar content, they don't freeze solid like ice cubes, they'll be slightly soft, which makes chopping really easy. Mix those with just a little sugar and a little more almond extract and then pop them back in the fridge or freezer to stay cold.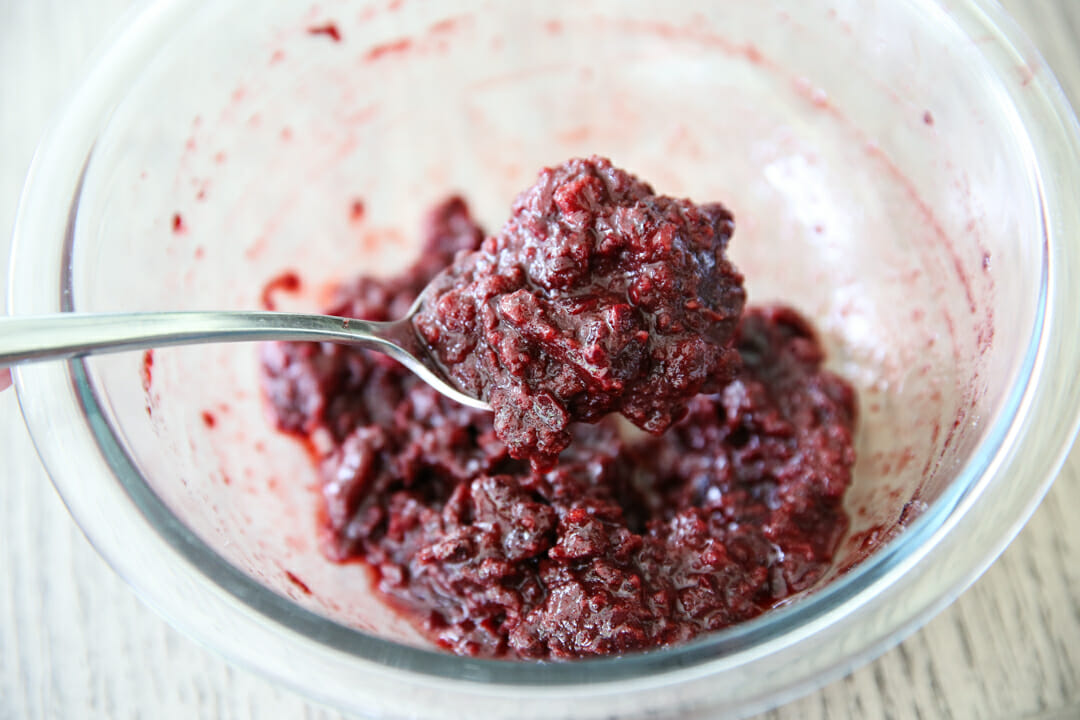 I told you to wait until the ice cream was processing to do this because if they sit too long to macerate they will just turn super juicy and watery and we don't want to add that type of moisture to our ice cream.
Blending in the Cherries
Once the ice cream is creamy and frozen and looks like soft serve, you'll mix in the cherry mixture. You can put it in the actual ice cream maker in the final minutes, or stir it in by hand. I tend to always stir things in by hand because I like them left just a tad bit swirled with ribbons of vanilla throughout, but it's fantastic all mixed together in a glorious shade of pink. After that's done you'll transfer your ice cream to a container and put it in the freezer to firm up. These are my most favorite containers for ice cream, by the way.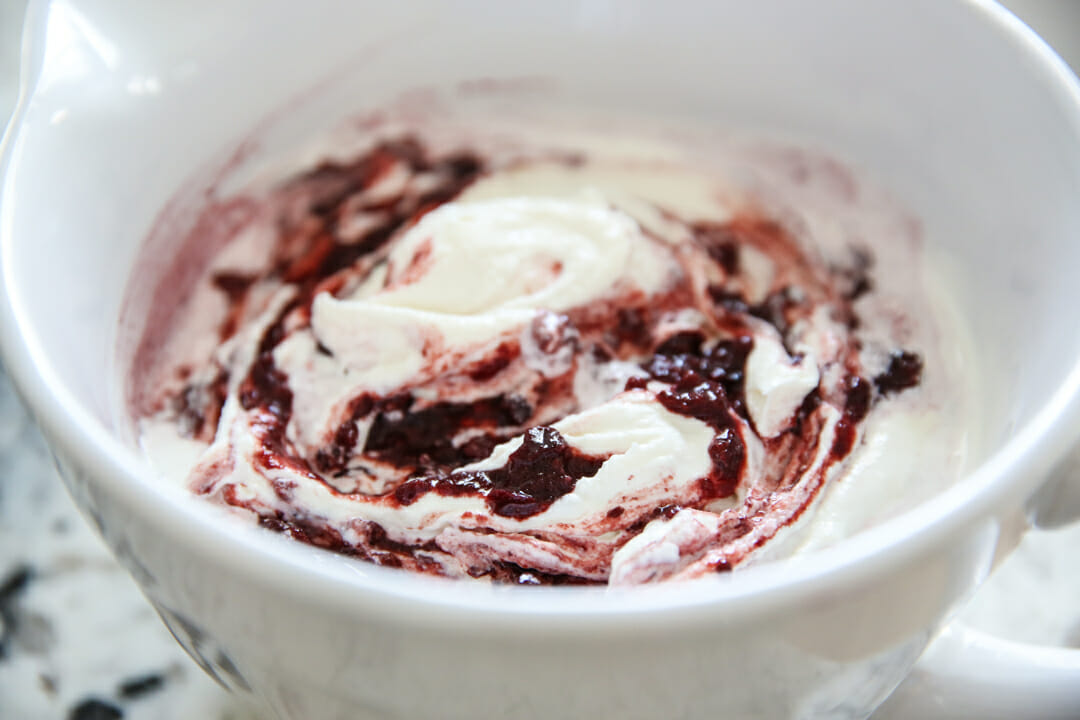 If you're curious about ice cream makers, I've linked all of our favorites in this post. I currently use a Breville Ice Cream Compressor, a bigger investment, but I love the fact that there are no bowls to pre-freeze so no planning ahead is necessary!
This ice cream tastes so fresh and summery and we love the bits of cherries throughout. Because it's an egg-free no-cook base it will be just a bit icier than a custard based ice cream, but I love that about no-cook ice creams. They are really nostalgic for me since that's what we always made when I was growing up.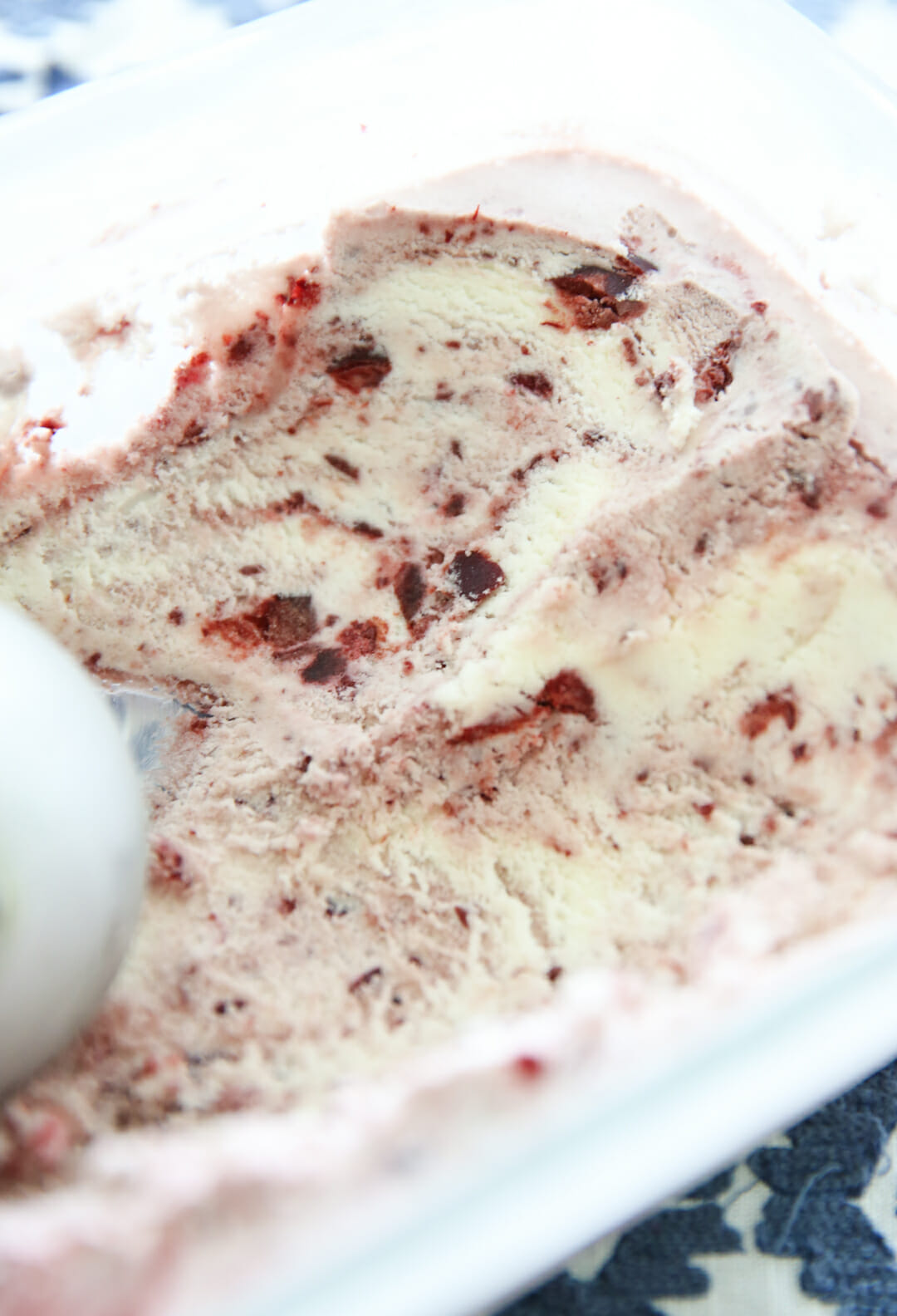 The beautiful shades of purple-pink are pretty stunning as well. The "sauce" you're seeing is just more of that cherry part of the recipe that I added a little more sugar to and drizzled over the top. I hope you try this one and love it as much as my family does, let me know if you make it!
These are EXTRA delicious in homemade waffle cones, or homemade chocolate waffle cones. Check out our full index of homemade ice cream recipes, here!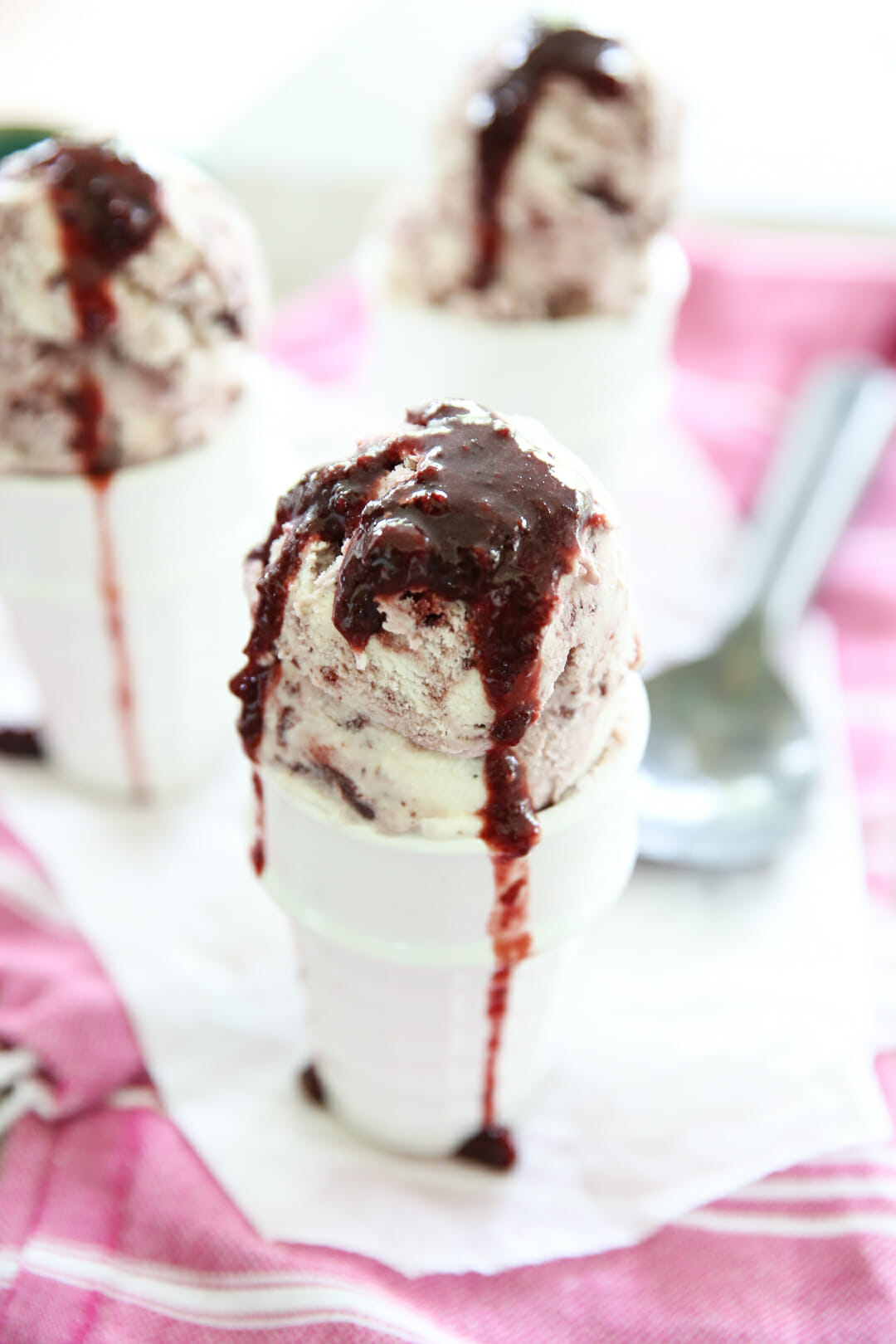 Print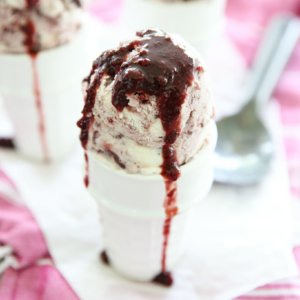 Quick and Easy Homemade Cherry Ice Cream
---
Description
This homemade no cook cherry ice cream is quick and easy and filled with all the best parts of summer!
---
2 cups cream (heavy or regular)
1 cup whole milk
1 cup sugar, divided
1 tablespoon vanilla extract
1 tablespoon plus 1 teaspoon almond extract, divided
2 cups frozen pitted cherries
---
Instructions
Whisk cream, milk, 3/4 cup sugar, vanilla, and 1 tablespoon almond extract. If you have time to chill this mixture, chill for a few hours. Process according to ice cream maker instructions.
When ice cream is about half way done churning, roughly chop cherries, or process in a blender or small food processor until finely chopped. Mix in remaining 1/4 cup sugar and 1 teaspoon almond extract. Place mixture in freezer to remain chilled.
When ice cream is in final moments of churning, add cherry mixture OR wait until ice cream is finished and stir in by hand. Place in freezer-safe container and chill until firm, several hours or overnight.
---