Simple, Italian style pizza sauce has a light texture with chunks of bright tomatoes and a very short ingredient list that really lets each one shine.  Paired with our Neapolitan Style Pizza Dough, found here,  it's perfect for re-creating your favorite brick-oven restaurant pizzas at home.   In Naples, this style of pizza is known for its simplicity- a great dough, simple sauce, fresh mozzarella and basil with a drizzle of olive oil.  Use this sauce for any of your pizza creations!  It's worth splurging for Italian San Marzano tomatoes and a good olive oil here, when they are the star of the show! This simple, delicious sauce only takes about 15 minutes start to finish.  If you're looking for a great American style pizza sauce, which is thicker, smoother, and sweeter, we have a great recipe for that, too!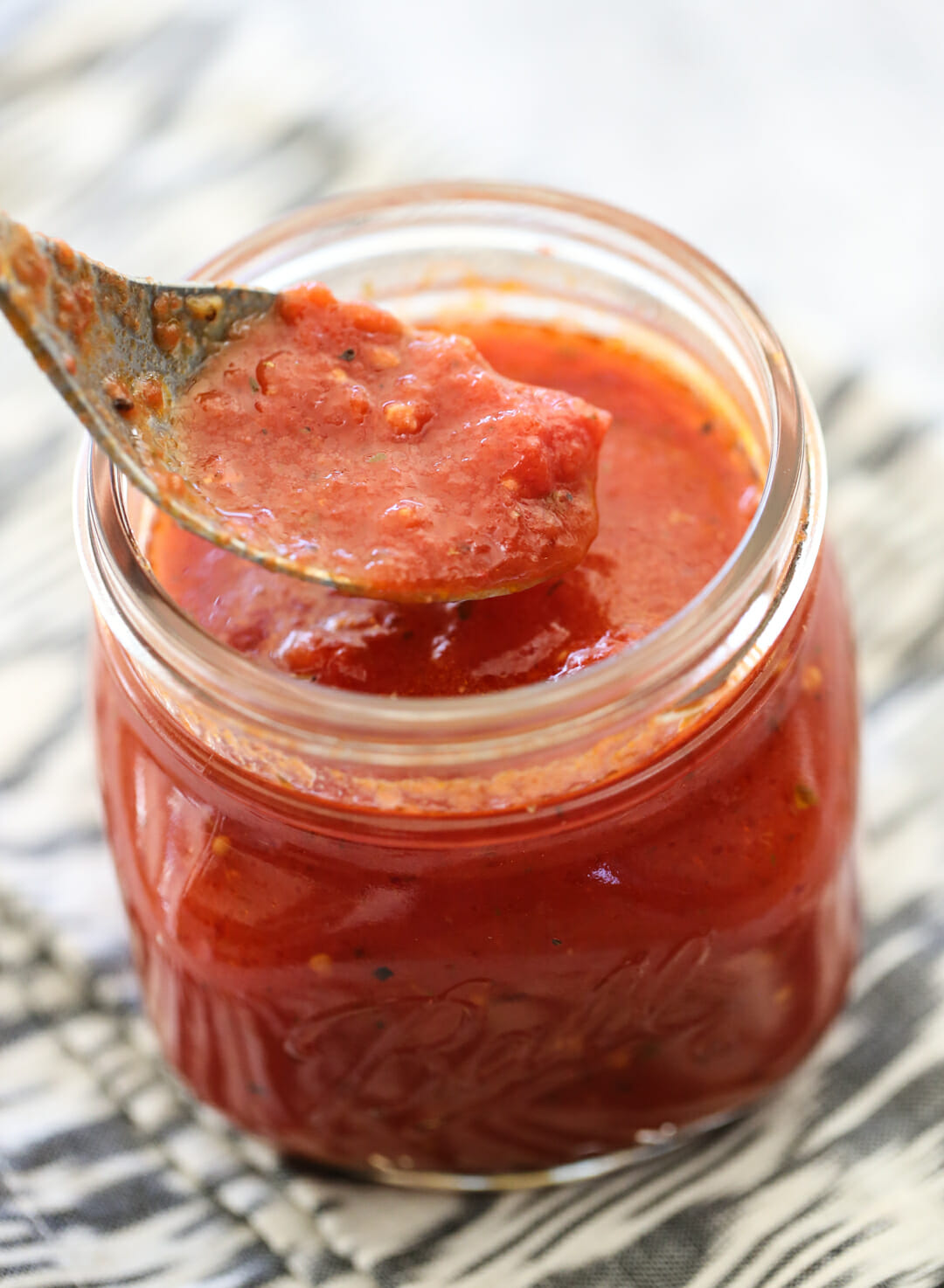 Print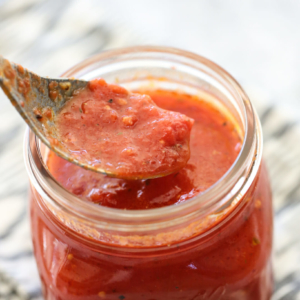 Simple Neapolitan Style Pizza Sauce
---
Description
Simple pizza sauce for wood-fired style pizzas at home!  We love pairing this sauce with our Neapolitan style crust, which you can find here.  This recipe makes enough sauce for about 2 medium pizzas.
---
32 oz can San Marzano tomatoes
3 tablespoons good olive oil
1 large garlic clove, pressed or very finely minced
1 teaspoon dry oregano
3–4 cracks freshly ground black pepper
Kosher salt to taste (usually about 1 teaspoon)
---
Instructions
Set a medium sized sauce pan over low-medium heat.  Add olive oil and garlic and let warm.  You don't want to fry your garlic so it turns brown or crispy, simply warming in the oil for a minute helps release the flavors.  Let it slightly bubble for about 30 seconds.
Open your can of tomatoes and with clean hands, crush the individual tomatoes with your hands into the pot, discarding any basil leaves and hard tomato cores.  Discard juice left in can (or transfer juice to a container and save in fridge or freezer for another purpose, like adding to a soup!)
Add oregano, pepper, and about 1/2 teaspoon kosher salt.  Bring sauce to a simmer and let cook for 10-15 minutes, smashing any larger tomato chunks with your spatula as it cooks.  Season with additional salt to taste.
---
How to Make a Simple Pizza Sauce
I recommend using San Marzano tomatoes for this recipe since the canned tomatoes are really THE main ingredient here with very little else, added.  These Italian tomatoes have amazing, rich flavor, and can be found next to the other canned tomatoes in most grocery stores.  I also love to use these for my Easy Pressure Cooker Tomato Soup!
Warm your Garlic
Start by adding a generous amount of a good olive oil into a small pot.  If you try and skip the olive oil (trying to lower the fat, or any other reason) you will just end up with a pot of boiled tomatoes 🙂 The oil here helps form the sauce so it's important for both flavor and texture.  I love using our Garlic or Rosemary Olive oil in this recipe.
If you want to really be quick, you can literally just dump all the ingredients in the post and bring it to a simmer.  I do however like to start by putting my garlic and olive oil in the pot first, over gentle heat, to release some flavor.
Crush the Tomatoes
This is super simple.  With clean hands, grab the whole tomatoes from your can and simply crush them over your pot as you drop them in. Discard any basil leaves you may come across in the can as well as any especially hard cores.   Add some dry oregano to the pot, and some salt and pepper and then bring it to a simmer for 10-15 minutes.
Simmer the Sauce for 10-15 minutes
As the sauce simmers, some of the liquid evaporates and it will become slightly thickened.  It will never be the texture of American style pizza sauce – think pizza sauce from a jar, or the kind you'd find on your favorite delivery joint like Pizza Hut or Dominos.  This is a looser, chunkier sauce.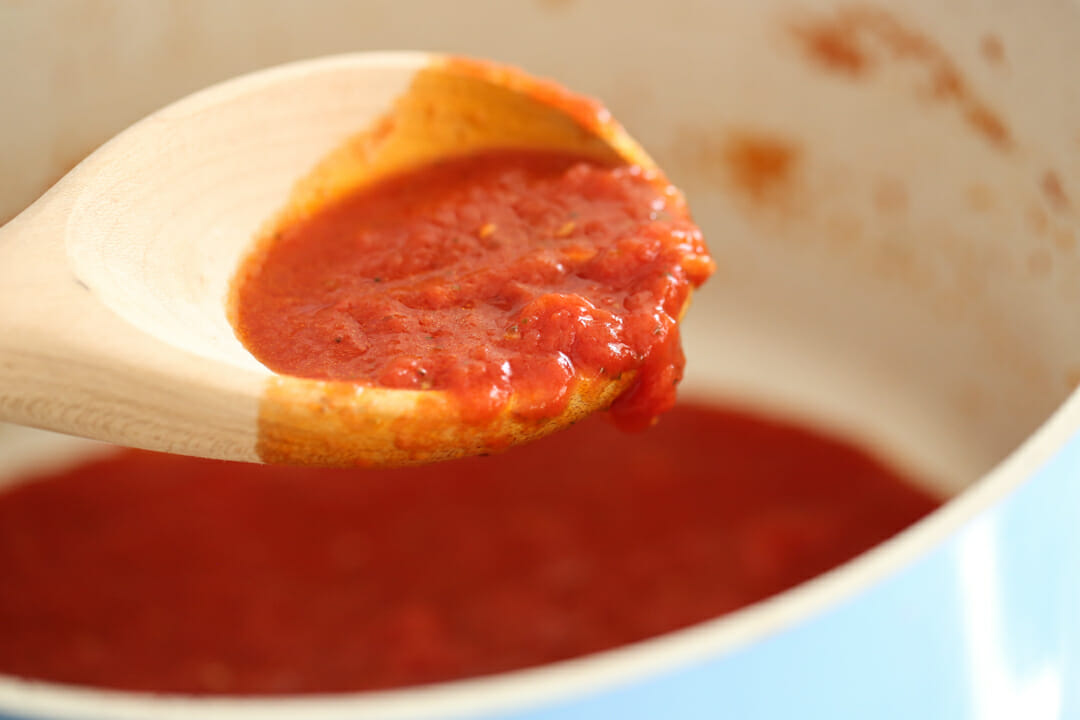 After it's done simmering you can use it immediately, or simply store in the fridge until you're ready to make pizza.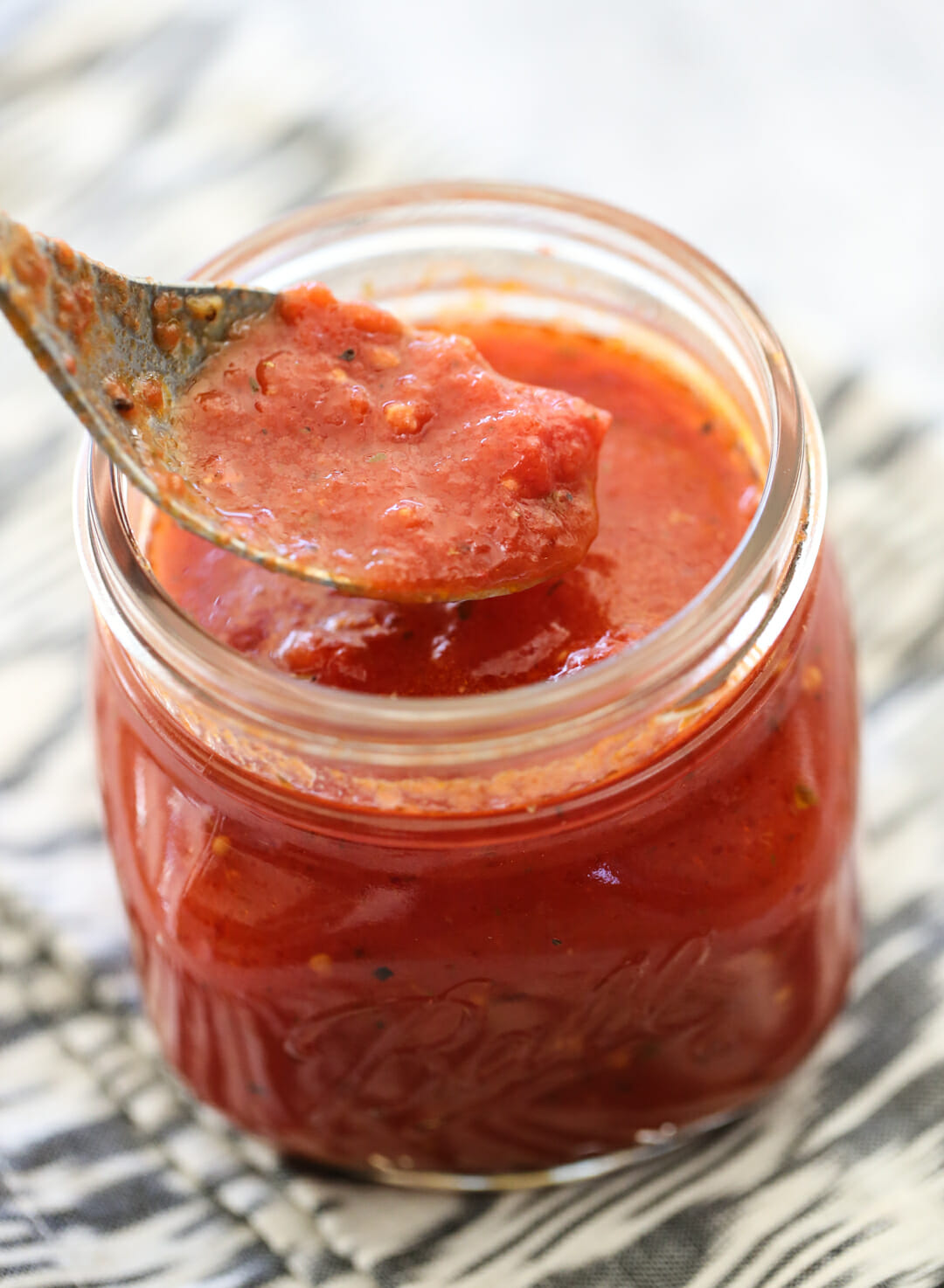 Need more pizza?  You might also like our quick and easy Weeknight Pizza and Pizza Sauce recipes!  Our favorite thick and fluffy pizza dough also makes great breadsticks.