Sometimes I do cook-with-me series on my Instagram channel where I video the cooking process as I'm making something up as I go.  Recently, with the intent of using up some leftover ingredients in my fridge, I made this creamy smoked sausage soup and it was a huge hit with both my family (my kids requested it twice that same week!) and my Instagram audience, who all wanted the recipe. If you like this soup, you'll probably also love this similar Creamy Italian Sausage and Potato Soup,  which is a lightened up riff on the popular Zuppa Toscana at Olive Garden and also featured in our Cook Book 400 Calories or Less.  Both soups are great with a crusty chunk of bread for dipping!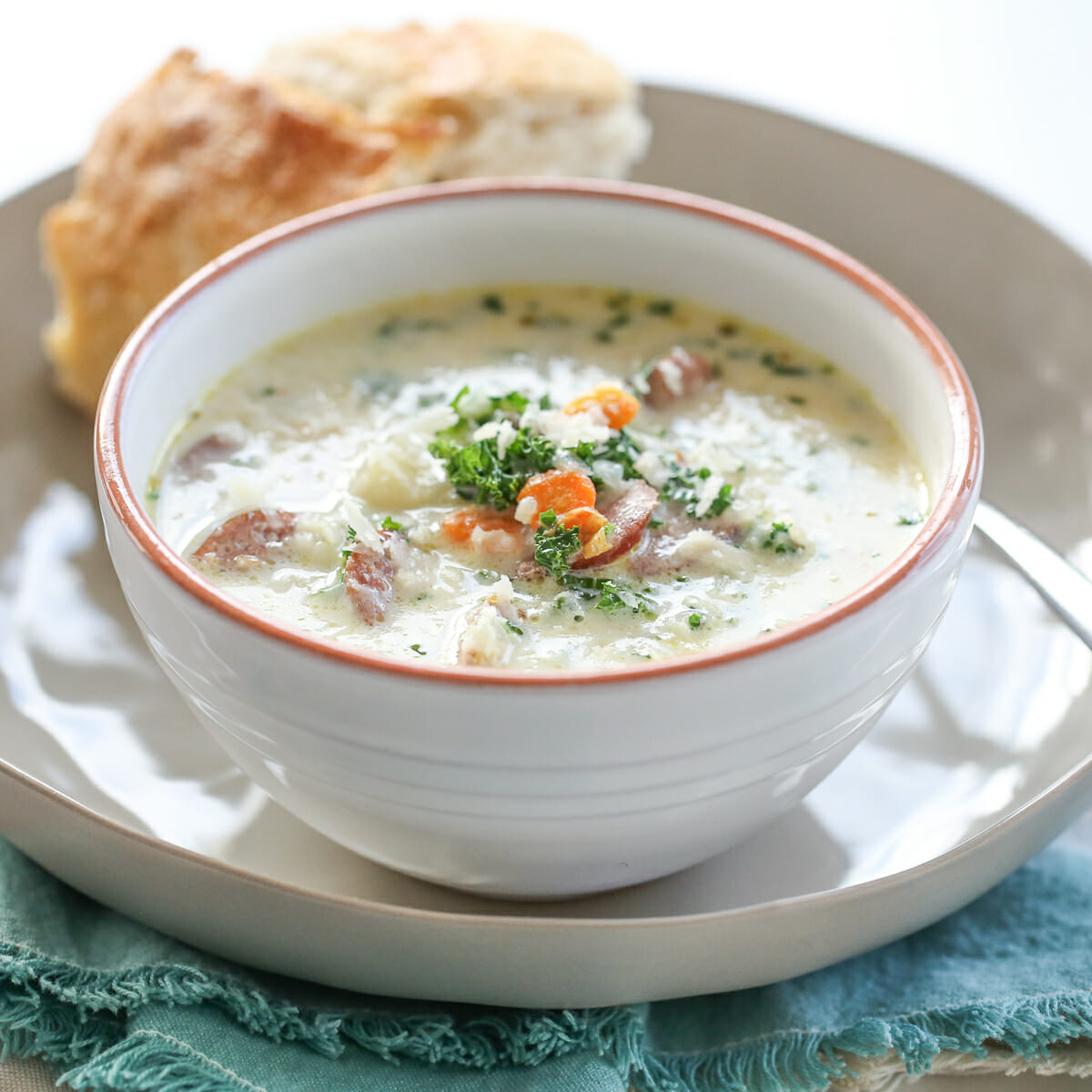 What type of sausage should I use in this Smoked Sausage Soup?
I feel like sausage can be confusing. The type of sausage we're talking about here is fully cooked smoked sausage that comes in a link.  It's the kind that is horse-shoe shaped and found packaged in the meat department. The kind that I use specifically is this private selection Smoked Sausage (which is a Kroger brand) and I get the Garlic variety.  There are many leaner options, like a turkey keilbasa, which would work, but I do feel like the flavor won't be quite the same since a lot of the amazing flavor, seasoning, and richness comes from simmering that sausage in the soup.  But feel free to experiment with whatever you like.  I use half the package for this recipe (freeze the other have to make this again, or use it for another recipe), but you can certainly add more if you like your soup meatier.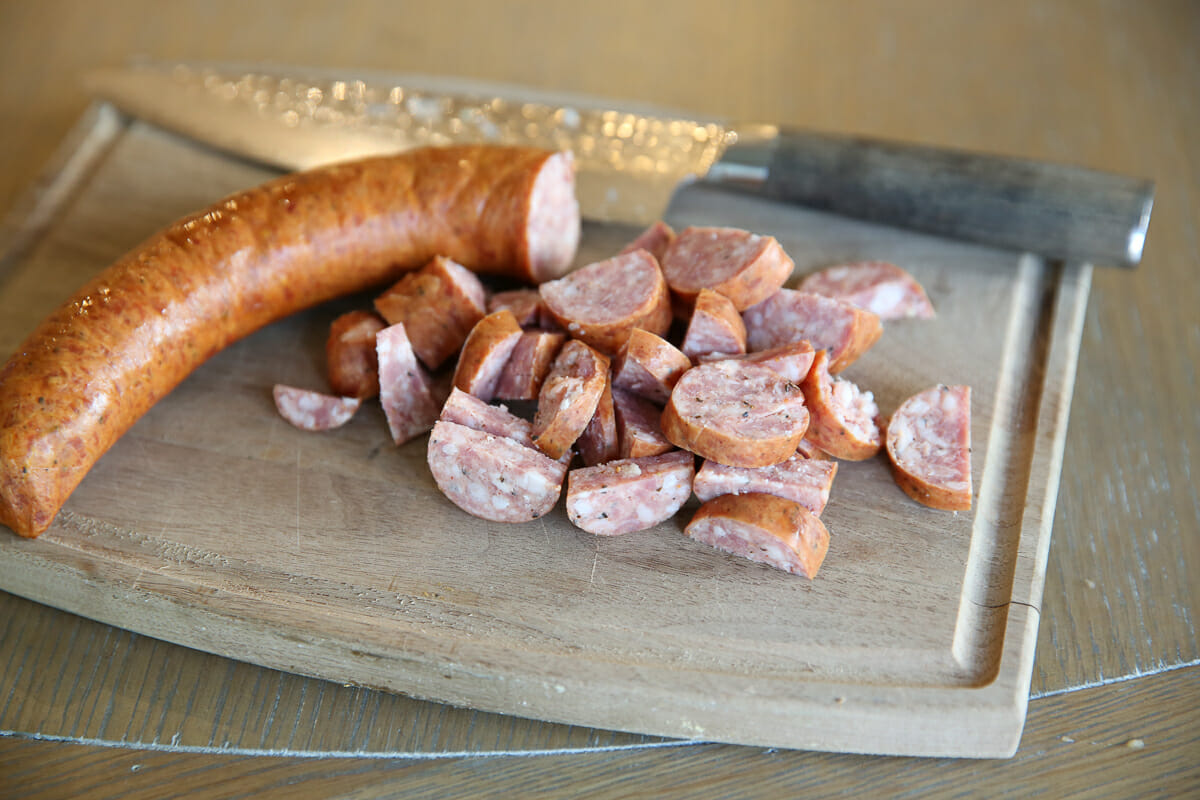 The sausage is one of the main flavoring components of this soup and one of the reasons it's a bit of a shortcut ingredient.  It's already fully cooked and you need very few seasonings in the recipe because the sausage adds so much flavor.
What Kind of Potatoes should I use?
Feel free to use any variety of potato!  These little 1.5lb bags of potatoes (also Kroger- not sponsored, it's just where I do most of my grocery shopping) are fantastic and come in a lot of different varieties.  I almost always have a bag of these on hand in my kitchen so that's what I usually use and why I called for that specific amount haha. I also love them because there's no need to peel, just quarter them up and toss them in.  Feel free to use whatever you have.  Once the potatoes are added to the sautéed vegetables and smoked sausage, you'll just cover with broth and let it simmer.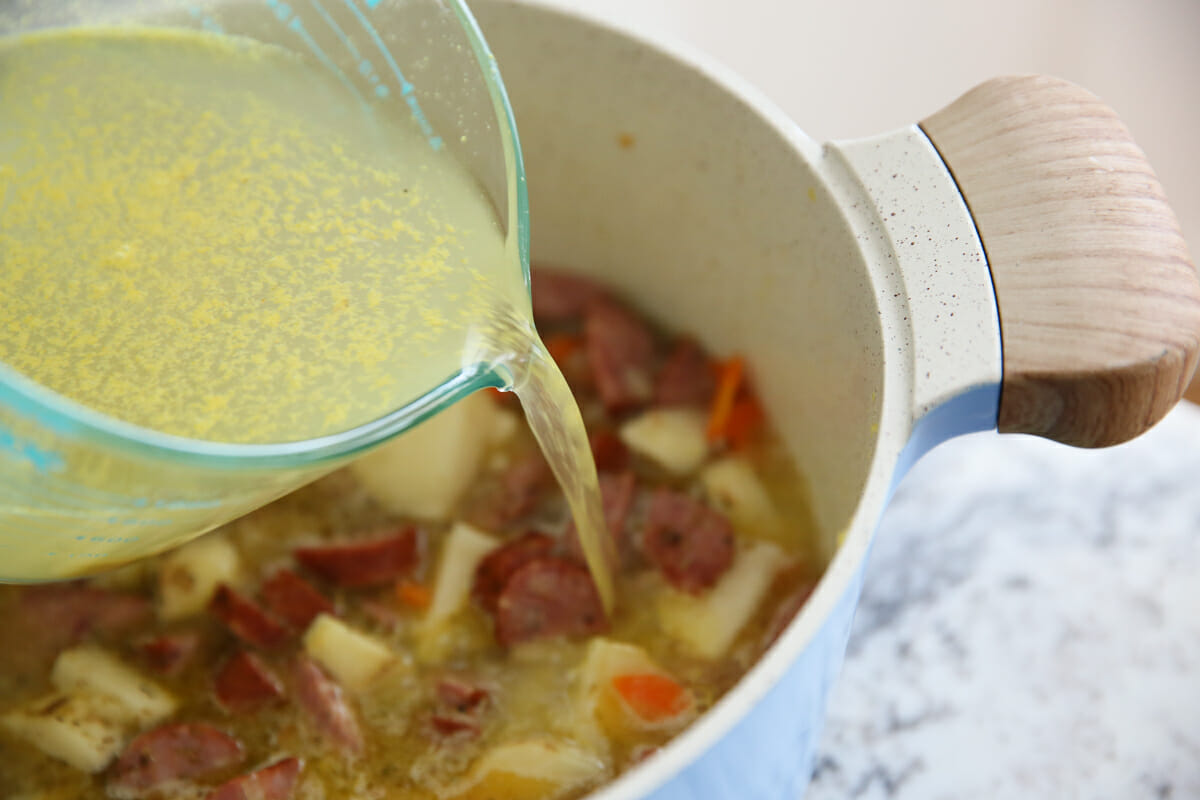 I wanted this soup to be thick and creamy, but I did't want to add cream or large amounts of cheese.  The trick I'm using here is evaporated milk!  I use a little bit of it to dissolve some cornstarch and then add everything in at the end to thicken the soup and give it a nice creamy texture and flavor.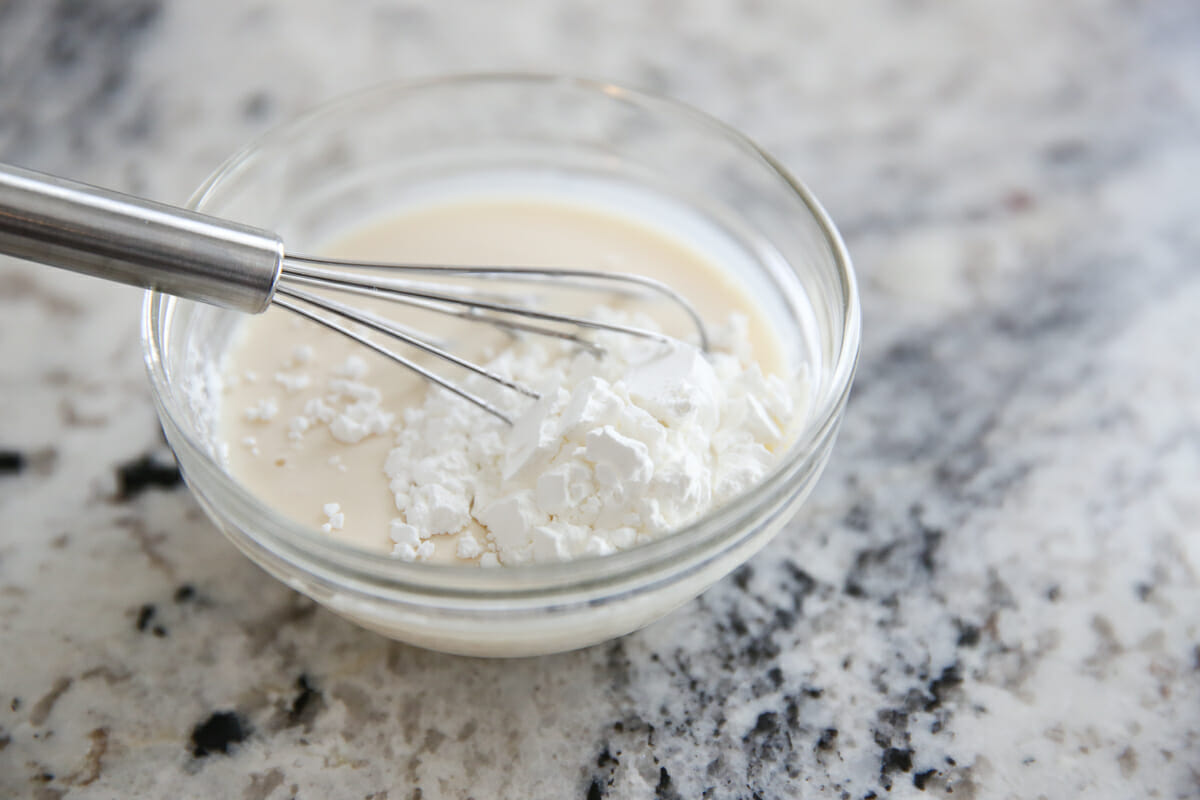 Can we talk about kale for a quick second?
I also throw in some kale at the end.  Kale isn't something I use super often, but I love it in this soup because it adds a lot of heartiness.  Just a few leaves will do.  I pull them off those thick stems and then slice them really thin. 
If you were subbing spinach I'd just toss the spinach leaves in, but with kale, I slice it like I would parsley or cilantro, so it's almost like a chopped herb. It adds color, nutrients, and when it's so small, my kids don't mind it.  It's not "slimy" like spinach can be and acts kind of like another vegetable in the soup, giving it some body and bite.  If you want it to be pretty tender, simmer it for a few minutes in there. If you like it with more bite, just stir it in and let it sit off the heat for about 5 minutes.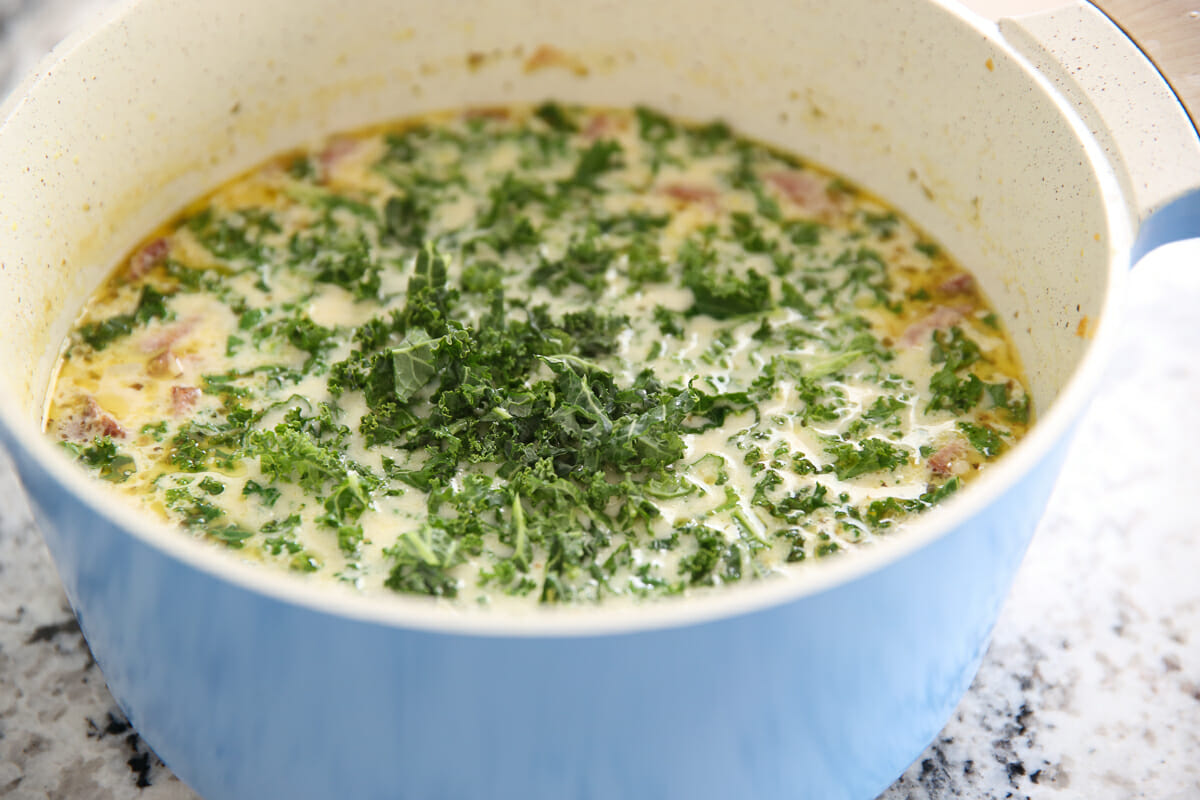 This smoked sausage soup is so creamy and comforting and the flavor from the smoked sausage is super delicious.  Hope this joins the regular rotation at your house!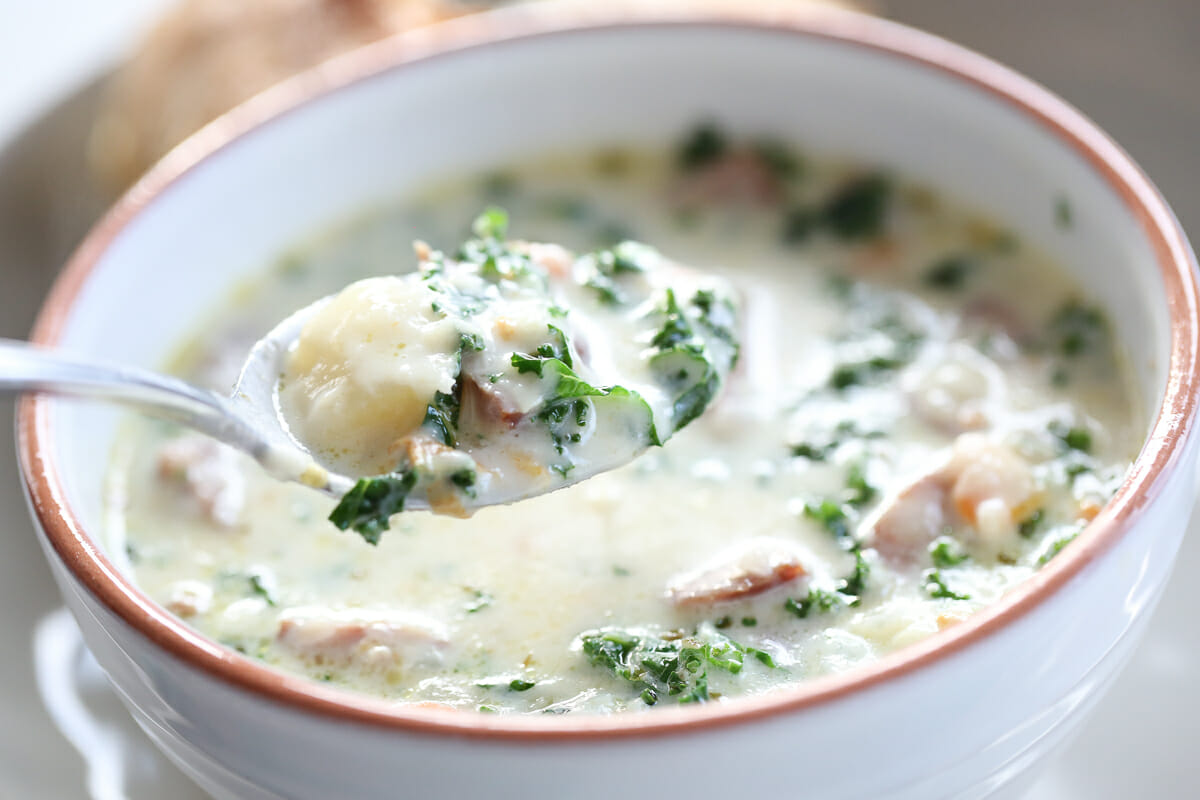 This would be amazing with a loaf of this easy overnight Artisan Bread.  And if you have leftover kale, try these Kale and Cabbage Salad Jars with Tahini Dressing.
Print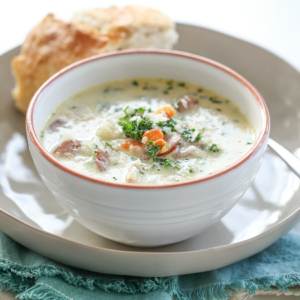 Smoked Sausage Soup with Potatoes and Kale
Author:

Sara Wells

Prep Time:

10

Cook Time:

20

Total Time:

30

Yield:

Approx 10 cups soup
---
Description
Hearty, creamy soup loaded with smoky sausage and vegetables.
---
drizzle of olive oil (2-3 teaspoons)

1 small-medium onion, diced
1 large carrot, sliced in half length-wise and and then sliced thin
4 cloves garlic, finely minced
7-oz smoked sausage (see note)
1.5lbs potatoes (see note)
6 cups chicken broth (could sub vegetable or even beef)
1/2 teaspoon kosher salt
1/4 teaspoon black pepper
1 1/2 teaspoon dried oregano
1 12oz can evaporated milk
1 1/2 tablespoons cornstarch
optional: big handful freshly grated Parmesan cheese
2–3 cups finely chopped kale (can sub fresh spinach). It's 2-4 large kale leaves
---
Instructions
Heat a large stock pot to medium heat.  Once hot, drizzle in a few glugs of olive oil.  Add carrots and onion and saute for about 3 minutes until they start to soften. Add garlic and saute for about 30 seconds and then push all veggies to one side of the pot. Add sausage and cook for a few minutes to start to brown then mix everything in pot together.
Add potatoes, broth, salt, pepper, and oregano and stir to combine.  Simmer soup until potatoes are soft, about 15 minutes.
While soup is simmering, prep your kale.  Pull or cut the leaves off of the thick stems and discard stems.  Hold the kale in a bunch and thinly slice and chop it into small pieces.  If you're using spinach, it isn't necessary to chop finely since spinach wilts so well.  I finely chop the kale since it retains more heartiness in the soup.
Put cornstarch in a small bowl and whisk in approximately equal amount of evaporated milk. (Totally okay to eyeball here, it doesn't need to be exact! Just pour a little from your can) Whisk until smooth.
When your potatoes are tender, pour the remainder of the evaporated milk into the soup, along with the cornstarch slurry.   Stir and set to a low simmer for 2-3 minutes until soup starts to thicken. (If you would like your soup even thicker, you are welcome to add another 1/2 tablespoon cornstarch mixed with 1 tablespoon cold water at this point.)
Add chopped kale and simmer for about 30 seconds and then turn off heat and put a lid on the pot and let sit for about 5 minutes. (If using spinach, simply add spinach and remove pot from heat).
Before serving, stir in parmesan cheese and season with salt and pepper if needed.
---
Keywords: Sausage Potato Soup