Please don't hate me.  Yes, I'm posting another zucchini recipe.  And I know there's no law that says you must consume EVERY vegetable that comes out of a garden, but when you work and plow (okay, fine.  No actual plowing occurred) and sweat over a summer garden and those little seeds grow and finally start producing legit food products, there exists an uncontrollable urge to not let a single one go to waste.  If you're already sick of my barrage of summer squash, just wait.  A few weeks from now when you're tired of my tomato recipes, you'll be begging for more squash.
Here's the thing.  I posted a bunch of my favorite zucchini recipes last week and one problem a lot of people have with zucchini and squash recipes is that they usually use one or two per recipe.  Which is great- don't get me wrong.  A few here and a few there and they all get used up, but sometimes don't you want a recipe that uses a whole crap load of those things?  Here's the ticket right here.  This recipe uses lots of zucchini or yellow squash, it's easy to make, you can make a big batch and feed a crowd (hello summer potlucks) and I'm not exaggerating when I say, it's sooooo so so so so good.  Like, this is honestly maybe my favorite way to eat zucchini yet (well, except for Chocolate Zucchini Bread, but let's not be silly.  That wins every time and we can't really compare apples to oranges here.  Or vegetable dishes to chocolate cake.)  This takes thin sliced squash, buttery caramelized onions, a light creamy sauce, and tops it with melted cheese and toasted breadcrumbs.  So seriously, if you've got a garden, or a neighbor with a garden, you must make this.  It's awesomely delicious.
The onions cook the longest, so start with those.  I happen to have a garden full of Walla Walla Sweets, so I grabbed a few of those.
Slice those up and toss them in a big (biggest you have, seriously) skillet with some melted butter.

While those are cooking, stir them every few minutes, but work on prepping the rest of the ingredients.  You can use zucchini or yellow squash, or a combination of both.  I used a little of both.  Slice it into 1/4 inch slices.  If your squash is pretty large, I'd slice it in half lengthwise first.  And if you have a mandoline, this is a great time to use it!  Perfectly even slices every time.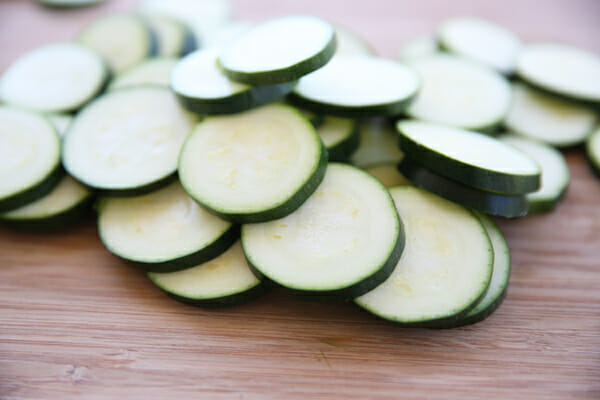 Those get tossed in the skillet after the onions are tender and starting to caramelize.  It's important to use a large pan here because we need to get rid of a lot of moisture.  If the zucchini are crowded, they'll just end up boiling and we want all of that excess water to evaporate so the dish isn't watery.
After the squash cooks down  we'll add salt, pepper, a little garlic, and a pinch of nutmeg.  The nutmeg might sound weird, but don't leave it out!  Don't worry, it won't make your veggie dish taste like pumpkin pie.  Nutmeg is a classic flavor component in white sauces and that's what we're making here.   It just enhances all of the flavors and makes it taste delicious.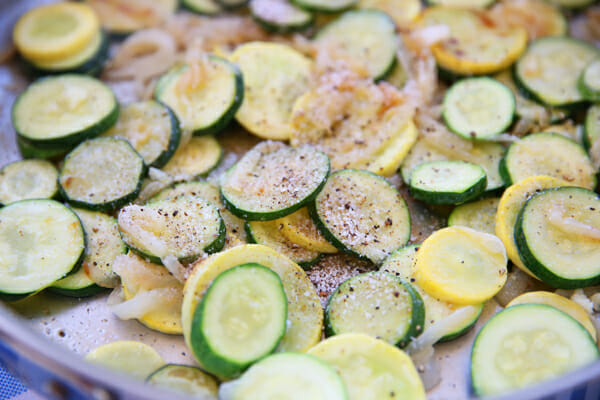 Cook that for a few minutes longer (your zucchini should be pretty tender at this point) and then add a spoonful of flour and a little milk (non fat is just fine.)  You get the decadence of "cream" sauce, but with not too many added calories, and with just 1/2 cup of milk going in, it doesn't drown the veggies; it just gives them a light coating and makes them creamy and flavorful.

Bring the heat up to get that milk simmering and it should quickly turn into a sauce and thicken.  Now it's ready to go into a baking dish.  You could easily make it up until this point and keep it in the fridge all day until you're ready to top it and bake it for dinner.
You're seeing a tiny dish in my photos.  That's because I made a half-batch of the recipe in this post just for my husband and I.  Also, I really wanted to use that adorable little polka-dot baking dish.  But you can see how much the vegetables shrink down.
For the topping, combine some Italian flavored bread crumbs and some Gruyere cheese (one of my most favorite cheeses.)  You could sub freshly shredded Parmesan, or another mild white cheese like baby swiss or muenster if you have one of those on hand.

Sprinkle it over the top of your baking dish.  If your food is bursting out over the top of you baking dish like mine is, make sure you put it on a piece of foil, or a large baking pan to catch any drips.  I drizzle just a little bit of olive oil right over the top as well, to help those little bread crumbs toast up nicely.

Then just bake it in the oven for a few minutes and watch that cheese melt and the breadcrumbs toast to perfection.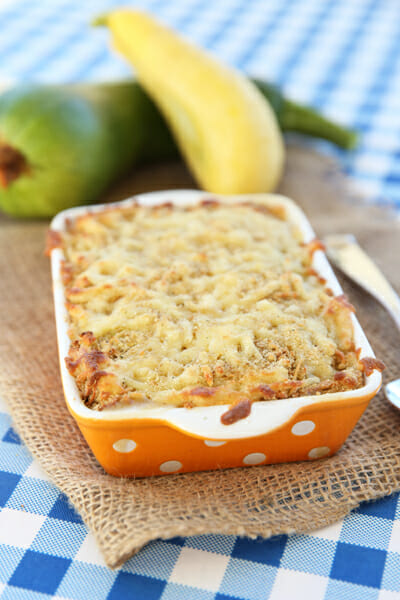 Definitely let it sit for a few minutes before serving to set up (and so you don't scorch your face off.)

We ate this along with a great grilled steak hot off the grill and it was the perfect summer meal.  The zucchini gratin was hearty enough that we didn't need much else.  Perfection.
Zucchini Gratin
Recipe adapted by Our Best Bites from Ina Garten

5 tablespoons butter
1 pound yellow onions, cut in 1/2 and sliced (about 3 large)
2 pounds zucchini and/or yellow squash, sliced 1/4-inch thick (about 4 zucchini)
3/4 teaspoon kosher salt (use 1/2 teaspoon if using table salt)
1 teaspoon freshly ground black pepper
1/4 teaspoon ground nutmeg
2 cloves garlic, finely minced or pressed
2 tablespoons all-purpose flour
1 cup milk
6 tablespoons Italian style bread crumbs
3/4 cup grated Gruyere
olive oil
Instructions
Preheat the oven to 400 degrees F.
Melt the butter in a very large saute pan and cook the onions over low heat for 20 minutes, or until tender but not browned.  As the onions are cooking, stir them occasionally and work on prepping the other ingredients.
Add the zucchini and cook, covered, for 8-10 minutes, or until tender. Add the salt, pepper, and nutmeg and garlic and cook uncovered for 5 more minutes, stirring often. Whisk flour into the milk and add to pan, turning up heat slightly just until milk heats and starts bubbling.  Then cook over low heat for a few minutes, until it thickens and makes a sauce. Pour the zucchini mixture, and all the sauce into an 8 by 10-inch baking dish (or something close to that).
Combine the bread crumbs and Gruyere and sprinkle on top of the zucchini mixture. Drizzle a little olive oil over the top (place your finger over the opening of the bottle to make it easier to just drizzle a little) and bake for 20 minutes, or until bubbly and browned.  Cool for a few minutes before serving. Yield: about 6 side-dish servings.  If doubling recipe, use a 9×13 (or similar) pan.