We have a slightly different Broccoli Cheddar Soup in one of our cook books, but it dawned on me recently that we don't have one in our index here on Our Best Bites and it's one of the soups I make the most often at home! My kids who whine about broccoli in any other form will inhale it in this soup, so I'm calling it a parenting win. Broccoli Cheddar soup can be insanely rich and caloric and I feel like this recipe is the perfect happy medium. It has just enough richness to make it creamy and hearty, without being overly heavy. This is my absolute favorite Broccoli Cheddar Soup Recipe and we make it all the time at our house!
How to Make Broccoli Cheddar Soup
To start this soup, you'll saute onions, garlic, and carrot until they're soft and fragrant and then add both chicken broth and low-fat milk. When I make this soup for my family, we use 2%, that's my go-to. I rarely do non-fat. If I'm making it for a potluck, or company or anything where I want it to be extra good, I'll use whole milk.
I've made this soup with and without carrot, depending on if I have one or not, and I do like the flavor and sweetness the carrot adds. I grate mine with a cheese grater so there's not big chunks of carrot, but rather it melts right into the soup and looks like flecks of cheese.
I like to chop my broccoli fairly small and I use mostly the florets, and less of the stems because I feel like my kids do a better job of eating it that way.
When it comes to cheese, I've found the magic combo is sharp cheddar, plus some parmesan. Even if you don't like eating plain sharp cheddar, it lends SO much more flavor to recipes so I recommend you use it, here. And the little bit of Parmesan adds such depth to the flavor profile here.
This soup is so warm and comforting.
It's also hearty without being too heavy.
My family loves this one with chunks of crusty bread to dip (have you tried this one yet?? People are going CRAZY over it!) or with a big turkey sandwich on the side. It's the perfect warm and cozy accompaniment to just about anything!
Print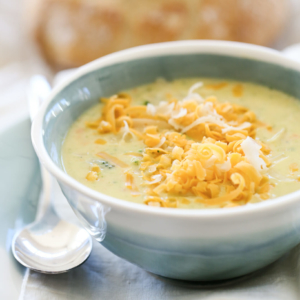 ---
Description
Creamy and delicious, but not overly caloric- this Broccoli Cheddar Soup will become a family favorite!
---
4 tablespoons butter
1 medium white or yellow onion, diced
3–4 cloves garlic, pressed or finely minced
1 medium carrot, grated
4 tablespoons flour (see note)
4 cups chicken broth (that's one 32oz carton), can sub vegetable broth
2 cups low-fat milk
1 tablespoon Dijon mustard
1 teaspoon salt
1/2 teaspoon pepper
3–4 cups chopped broccoli
2–3 cups sharp cheddar
1/2 cup freshly grated Parmesan cheese
---
Instructions
Melt butter in a large soup pot. Add onion, garlic, and carrot and saute until softened and fragrant, 3-4 minutes. Add flour and stir constantly for a minute or two.
Slowly pour in broth while stirring/whisking (this prevents the flour from clumping) and then add milk, dijon, salt and pepper. Bring mixture to a simmer and let cook for 3-4 minutes, gently stirring, to thicken. Add broccoli and continue simmering until broccoli is soft and cooked through, 5-10 minutes or to your liking. Turn heat to low and add cheese, stirring until melted and smooth. Make sure to taste at this point and add more salt to taste before serving. If desired (I usually do this) lightly run an immersion blender through the soup. Don't completely puree, but just blend about half way. You can also take about 1/3 of the soup and pulse it in the blender and then add it back in.
Remove from heat, serve in bowls and top with additional cheese if desired. Makes about 8 cups of soup.
---
Notes
Flour: If you'd like to omit flour for dietary restrictions (gluten, low-carb, etc) you may simply leave it out. Soup will not be quite as thick, but still taste delicious.