I'm always a little leery of foods with Caribbean spice blends.  They always sound great to me, with a lot of the Latin flavors I love like citrus, cumin, and tropical fruits.  But they also usually include some traditionally autumnal spices (for those of us who live in the US) like cinnamon, cloves, and allspice.  I once had a bad experience with a Jamaican Jerk recipe that left my chicken wings tasting like pumpkin pie and I've been gun shy ever since.  When the quantities are perfect however, magical things happen.  I had a good feeling about a recipe I saw in this month's Cooking Light (and let's face it; you all know I can't resist a mango salsa) so I gave it a shot.  I thought the spice mix was spot-on and the mango salsa was the perfect addition.  My whole family loved it (even my kiddos, but see my sneaky-mom trick later in this post) and the fact that it can be on the table in under 30 minutes is a bonus!
The spice rub is an easy mix of coriander, cumin, sugar, ginger, salt, allspice, and ground red pepper.  I was out of red pepper so I tossed in a few red pepper flakes and it worked great.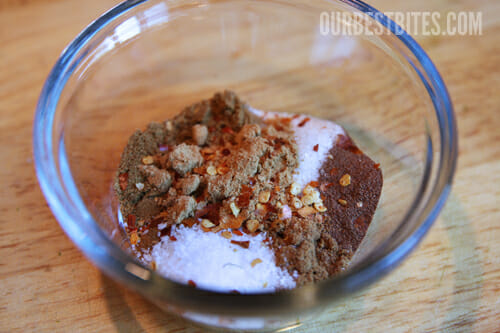 Dump it right over your pork chops.  On a side note; can someone tell me why chicken and pork is so often sold in three packs??  It's either 2, 3 or 6 but never 4.  Wouldn't it make sense to have a 4 pack?  I've never understood that.  I thought there must be some reason that I was somehow excluded from knowing, but then I randomly heard Rachel Ray ask the same thing on her show the other day and that settled it.  There's a strange society of meat packers out there trying to confuse us.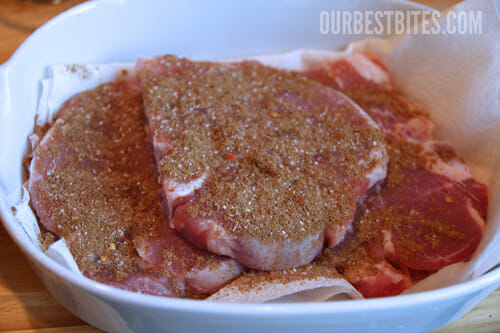 Okay back to reality.  Rub that stuff in.  Take off your rings and get your hands grubby.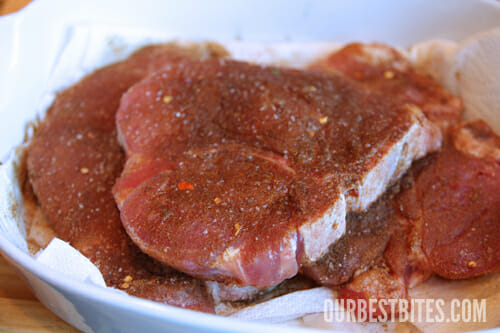 Toss those on a grill pan, or on the bbq like I did.  They only take a few minutes to cook, so while they do, chop up your salsa.  Super duper easy; equal parts tomato, mango and cilantro.  For all of you cilantro haters out there (ya, you know who you are) I think this would still be really good with fresh parsley.  I doubled this part because I knew I would want extra; and I was right!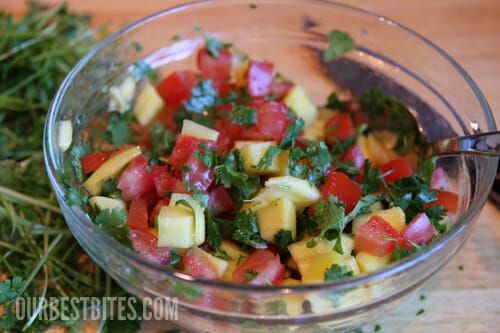 Then, in goes a splash of both red wine vinegar and extra virgin olive oil.  I threw in a little salt and pepper in there too; because I'm a rebel like that.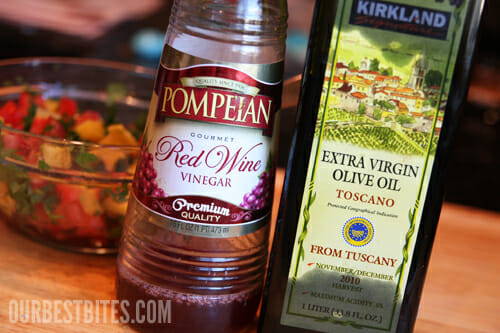 When your chops are done grilling, toss on the salsa.  Done!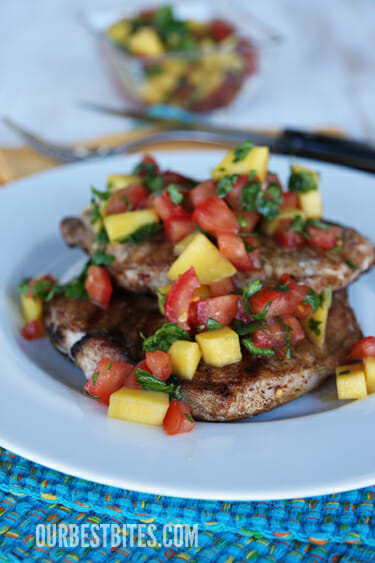 So fresh, so flavorful, and so healthy.  Perfect end-of-summer meal if you ask me.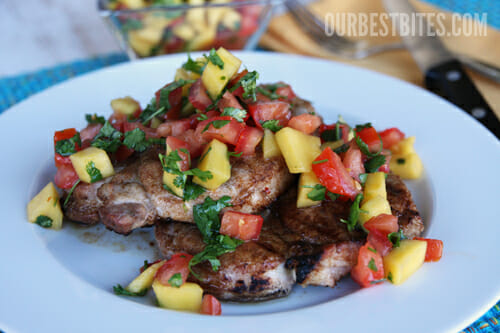 Here's a little trick I use all the time with my kids.  They're still young so it totally works.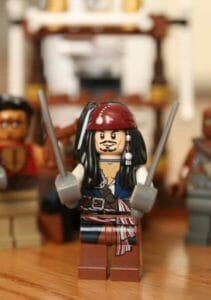 The first thing my little boys did when they saw this on their plates was way, "Ewww, are those POMATOES on our chicken?!  What's this green stuff?? Why is there fruit on the meat?!"  Rule #1 :  It's always chicken.   Then I told them that it was a special kind of food from the Caribbean and explained where that was and told them it was what Captain Jack Sparrow eats.  Then it went from whining about po-matoes to "Really?  This is what pirates eat?  I can talk like a pirate.  Did you know some pirates have peg legs?  Mom, where do pirates take showers?  Does Jack Sparrow have a wii?  Can I be a pirate for Halloween? This is the coolest dinner ever!"  And before we knew it they had eaten up everything on their plates.  When we have Indian Spiced Pork Skewers, it's Aladdin food, Cowboy Quesadillas are Woody and Jesse food, you catching my drift here?  Try it.
Print
Caribbean Rubbed Pork Chops with Mango Salsa
---
Description
A unique blend of Caribbean spices come together with fresh, sweet fruit salsa to create a dish that's sure to please.
---
MANGO SALSA
1/2 cup diced peeled mango
1/2 cup diced plum tomato
1/2 cup chopped cilantro
1 tablespoon red wine vinegar
2 teaspoons extra virgin olive oil
PORK CHOPS
1  1/2 teaspoons ground coriander
1  1/2 teaspoons ground cumin
3/4 teaspoon sugar
3/4 teaspoon ground ginger
1/2 teaspoon salt
1/4 teaspoon ground allspice
1/8 teaspoon ground red pepper
4 (6-ounce) bone-in center cut pork chops (about 1/2 inch thick)
---
Instructions
SALSA
Combine mango, tomato, cilantro, red wine vinegar, and olive oil in a small bowl; toss gently. Set aside.
PORK CHOPS
Combine coriander, cumin, sugar, ginger, salt, allspice, and red pepper in a small bowl.
Place pork chops in a dish or bowl. pour spice mixture over pork chops and use hands to rub the spice mix thoroughly onto each pork chop.
Heat a grill pan over medium-high heat.  Coat pan with cooking spray.  (Or heat an outdoor bbq grill and lightly brush grates with vegetable oil)  Add pork to pan/grill and cook 3 minutes on each side or until a thermometer registers 145° (slightly pink.)
Top pork with salsa before serving.
---