If homemade pastry intimidates you, don't let it!  Sure there are some super complicated pastry recipes that are quite tricky to take on at home, but cream puffs aren't one of them.  They are honestly one of THE easiest things to make.  They're made from a dough called Pâte à Choux, which requires only a few very basic ingredients like  eggs, flour, and butter.  It literally takes minutes to make and you'll feel so fancy.   You can make so many awesome things with this basic dough, like pipe it long for eclairs, or even fry it for churros.  Add some good cheese, and you've got savory puffs called Gougeres.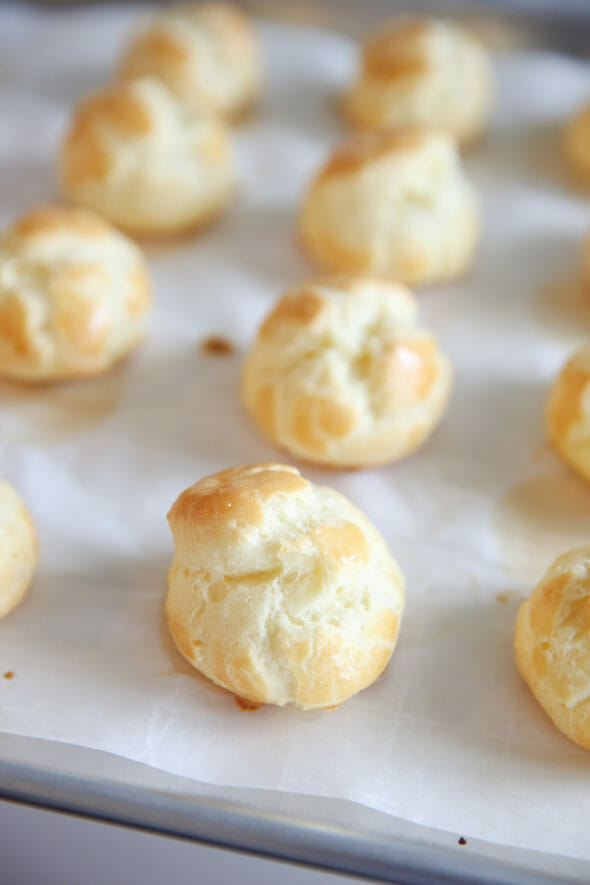 I wanted to do something with chocolate and strawberries since Valentines Day was approaching so I'm filling mine with the most AMAZING fresh strawberry whipped cream.  I might even start a brand new post for that part at some point because it would be so great in so many things, like on top of cupcakes or as a filling for cake, or piled on french toast, I could go on and on… and of course a hefty drizzle of rich chocolate ganache over the top.  These little beauties are simply divine, and will definitely land you a Valentine this weekend!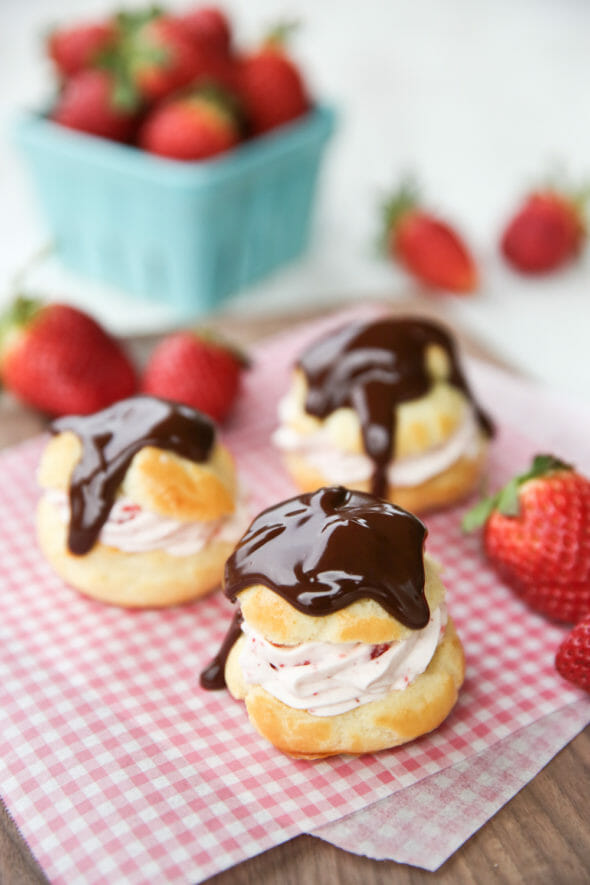 There are three parts to this recipe, and you can actually make any of the three parts ahead of time to ease the process.  But this is also simple enough that you can whip it all up at once.
All pâte à choux recipes are basically the same equation; they involve boiling water with butter and adding flour and eggs.  For this recipe I'm using a recipe from my friend Barbara, who recently wrote an e-book all about cream puffs!  (There's some seriously drool-worthy material in there, check it out!)  To make the pastry, simply bring some butter, water, and a pinch of both sugar and salt to a boil.
Dump in some flour and then stir it up until it forms a ball.  (Barbara actually has a great video for this whole process if you want to watch.)  Note that it's very important to keep the dough on the heat at this point and stir stir stir.  When I have tried to short-change this step, my dough comes out too wet and thin and won't stand up to pipe and I end up with flat little pancakes.  Don't do that!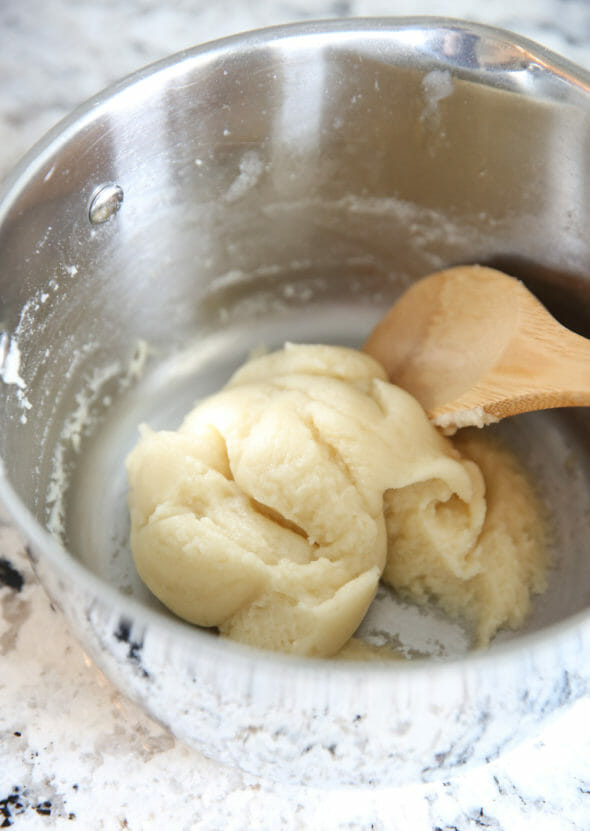 After it rests for a few minutes, mix in eggs and you have your pastry dough.  Pipe the batter out into little towers like this, and use your finger dipped in water to lightly press down any pointy tops.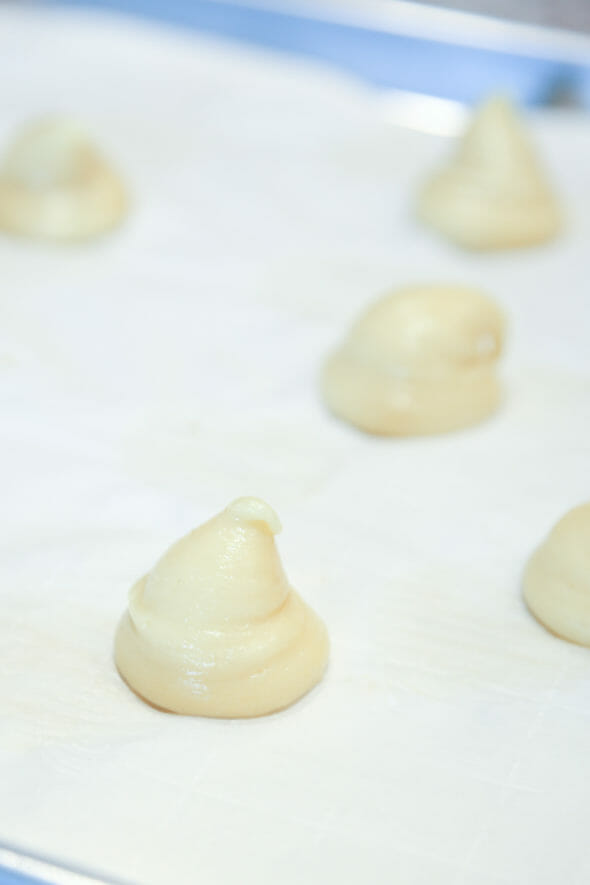 Although your batter is very soft, it should be able to stand in little towers like that.   You can use a piping bag and tips like I did, or even just a spoon.  I do however suggest a piping bag (even a ziplock with the end cut off) because a trick to getting nice, high, round puffs is to pipe upwards so they are about an inch and a half tall.  If your batter is flat and spreads out, it will actually still taste good, but they will be more like puffy little pancakes.
I definitely recommend an egg wash before baking because it makes the tops look pretty, but it's optional.   Pop those pretty little poufs in the oven and they puff up like beautiful little clouds. They are delicate and light on the outside, and hollow in the centers; perfect for filling!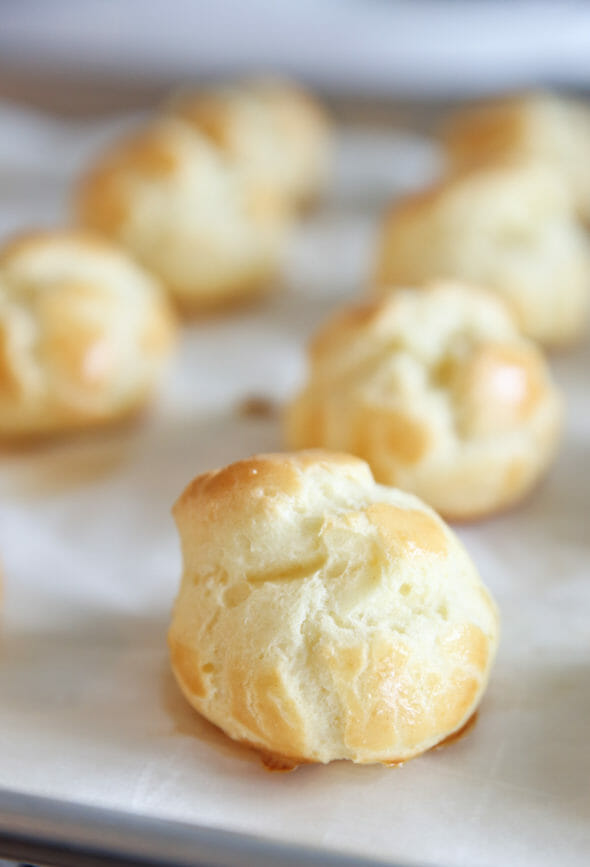 While they cool, you can make your strawberry cream filling [insert all the heart eyes, here.]  I use a stabilized whipped cream as the base, which is perfect for pastry filling.  It's sweetened with a little powdered sugar and vanilla, plus some almond extract, which really brings out the flavor of the berries.  But the part that takes it over the top is the strawberries.  Now, if you add fresh berries to whipped cream, it would take a large amount to actually flavor it and the excess moisture would break the cream.  My secret?  Freeze-dried berries.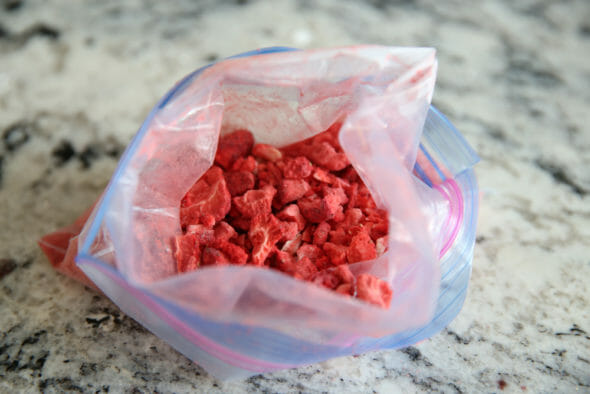 Freeze-dried berries are not chewy dehydrated berries.  They are the same as fresh berries, only all of the liquid is vaporized out of there.  I freeze dried my own, but they are widely accessible at grocery stores or on Amazon.  You can buy them at Kroger/Fred Meyer in the health food section, and Target routinely carries them near the dried fruits, as does Walmart.  Just crush them up and dump them in.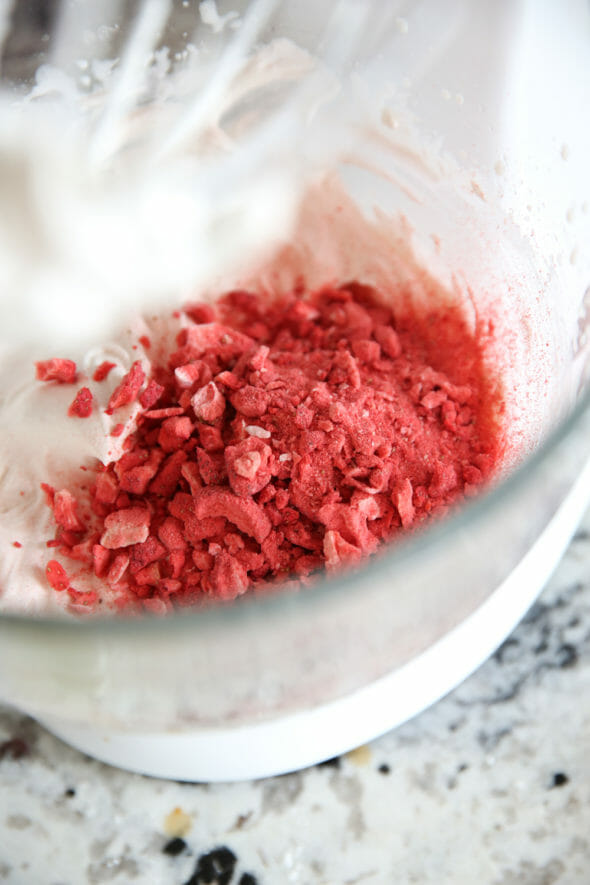 As you beat them into the cream, they start to rehydrate, both naturally flavoring and coloring the cream.  This stuff tastes like heaven.  HEAVEN.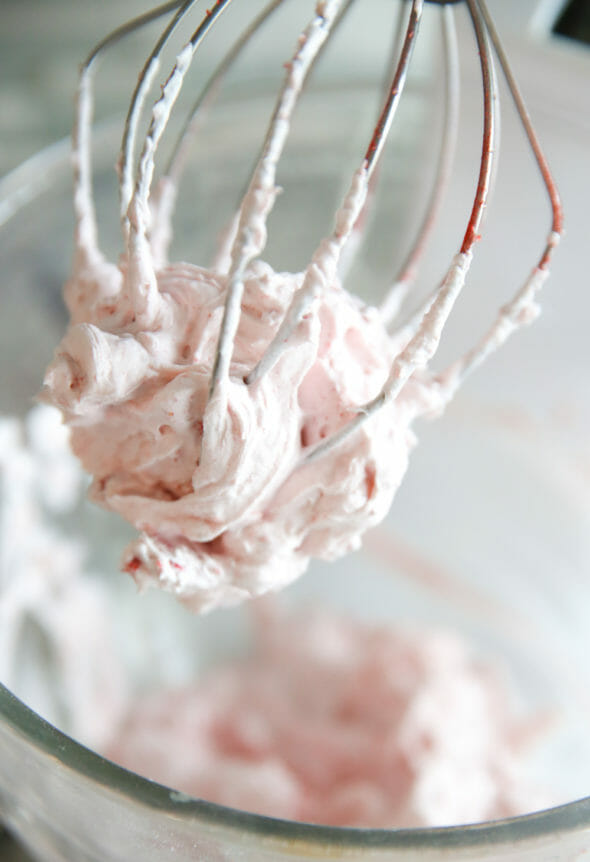 When it comes to filling cream puffs, you have a few options. You can cut them in half like a sandwich and pile the filling in.
This method is a little messier to eat (or transport, if you're doing that) but they look so gorgeous and I like that you can see what's in them.  You've also got the highest filling-to-pastry ratio and that's pretty fabulous, too.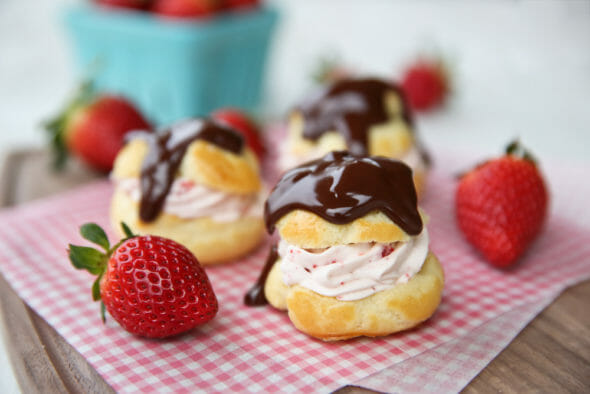 You can also cut them in half, but simply fill up the cavity inside and cover them back up, hiding the filling.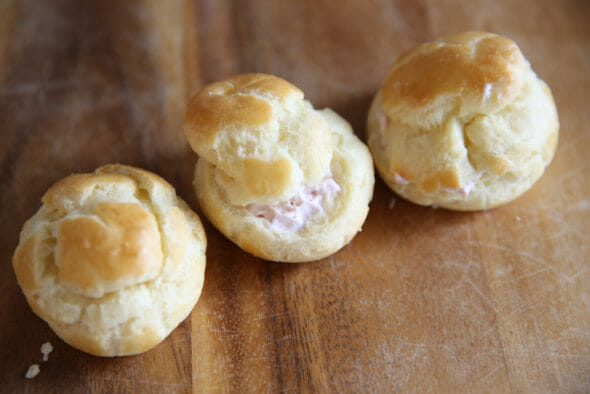 Or there is the traditional method of sticking a piping tip right up into the bottom and fill them up.  This method produces the cleanest result and it's kind of fun to be surprised when you bite into them!
After they are all filled with the strawberry filling, we'll give them a dunk in chocolate ganache.  It's also incredibly easy to make- only two ingredients here.  Use a good chocolate (I'm using these Ghirardelli Semi Sweet wafers)  and mix it with hot cream to turn it into a velvety dipping chocolate.
Give 'em a little dunk, or use a spoon to drizzle it on top.
These can be eaten right away or stored in the fridge.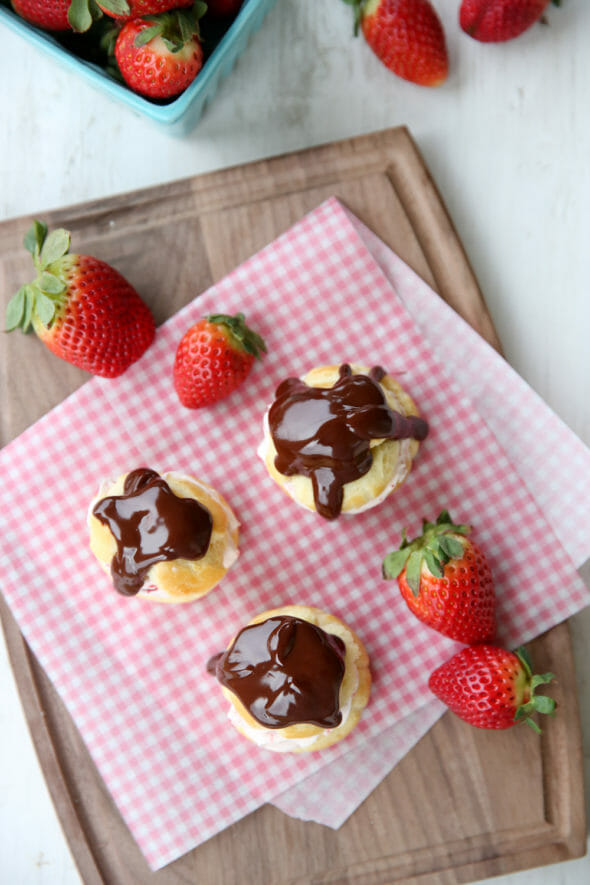 One thing I love about little pastries like this is that they are so gorgeous and special that just one or two makes a lovely little gift.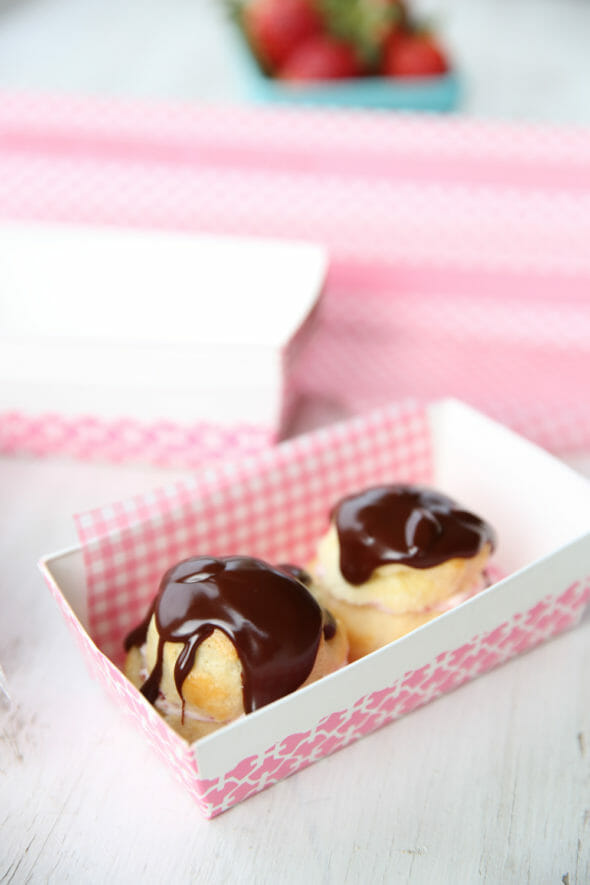 My favorite way to package stuff like this is in those little disposable paper baking pans.  (Orson Gygi has the cutest collection of disposable bakeware– I'm using these ones.)  They have a waxed lining so things don't stick or soak through and they are deep enough to hold a few little goodies. (That adorable printed parchment paper was a World Market find last Easter, they have super cute seasonal ones.  I love this one, too!)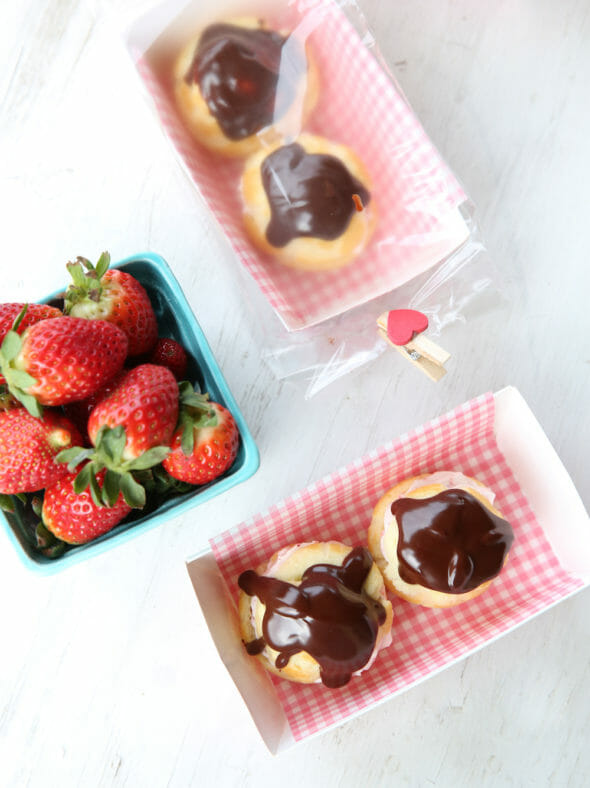 Cream puffs are so fun and one of my favorites for baby and wedding showers.  You can put just about anything inside!  Try these out and then get creative!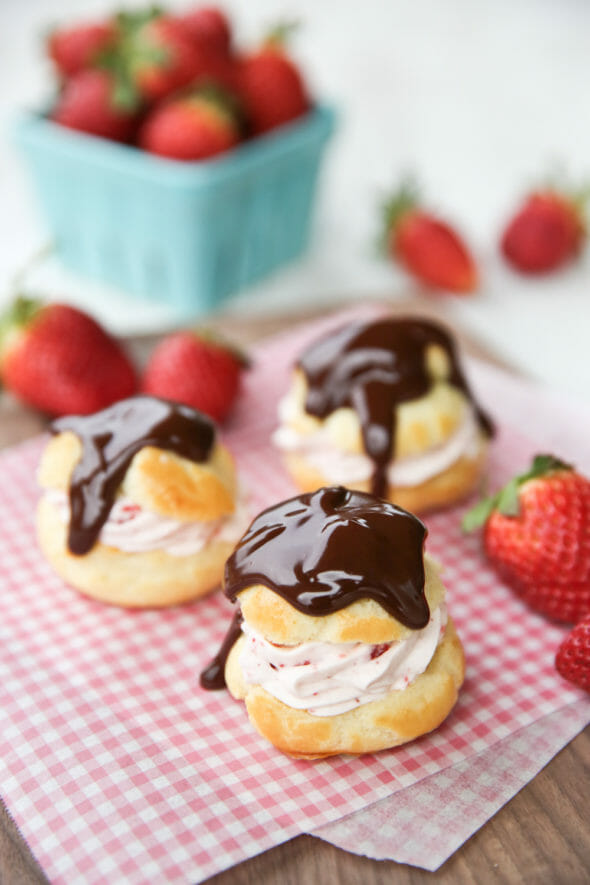 Related Recipes
These cream puffs are great for Valentine's Day. Find more Valentine's Day ideas right here.
Looking for more great desserts? Check out these favorites.
Did You Make This?
I'd love to hear from you! Snap a picture on tag me on Instagram, then come back and give this recipe a rating!
Print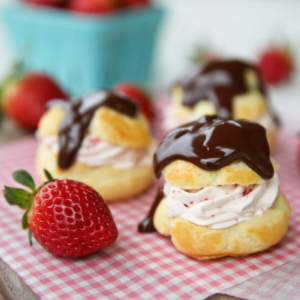 Chocolate Covered Strawberry Cream Puffs
---
Description
A scrumptious pastry bite filled with fresh strawberry cream and topped with rich chocolate. Indulgent, but not difficult to make!
---
Cream Puff Shells
3/4 cup

all-purpose flour

6 tablespoons

unsalted butter, cut into chunks

1 teaspoon

sugar

1/4 teaspoon

salt

3

large eggs, room temperature
For the Egg Wash
Strawberry Cream Filling
1 teaspoon

unflavored gelatin (like Knox, found near Jell-o in the baking aisle)

4 teaspoons

cold water

1 cup

heavy cream

1/2 cup

powdered sugar (more or less to taste)

1/2 teaspoon

vanilla extract

1 cup

freeze-dried strawberries
Chocolate Ganache
4 ounces

(by weight) semi-sweet chocolate

1/2 cup

heavy whipping cream
---
Instructions
Pastry
Preheat oven to 425°. Lightly grease baking sheets or line with parchment paper. Measure flour and set aside.
Bring butter, sugar, salt, and 3/4 cup water to a boil in a 3-qt. saucepan over medium-high heat, stirring occasionally. Immediately remove from heat, and quickly stir in flour mixture all at once. Return to heat and stir with a wooden spoon for 1 to 2 minutes, or until dough is smooth and forms a ball. (Don't short-change this step or your dough may be too soft to pipe.) Transfer dough to the bowl of an electric mixer, and let cool 5 minutes.
Add 3 eggs, 1 at a time, beating until mixture is smooth and glossy. Spoon dough into a pastry bag fitted with a 5/8-inch plain tip. Pipe dough onto prepared pans into 1 1/2-inch rounds (1 1/2 inches high). Smooth out peaks and round tops with a moistened finger.
Whisk together remaining 1 egg and 1 tsp. water. Brush tops of dough with egg mixture.
Bake at 425° for 5 minutes; reduce oven temperature to 375°, and bake 30 minutes or until puffy and golden brown. Turn oven off; let shells stand in closed oven 10 minutes. Remove from baking sheets to wire racks, and cool completely.
Strawberry Cream Filling
Place cold water in small bowl and sprinkle gelatin over it. Let sit for 5 minutes. While it's sitting, place heavy cream, powdered sugar, and vanilla in the bowl of a stand mixer with the whisk attachment or in a mixing bowl if using an electric beater. Once gelatin is set, place bowl in microwave and heat until gelatin turns to liquid, about 5-10 seconds.
Turn mixer on to start beating cream. Let it run for about 1 minute and then with the mixer on high, very slowly pour the melted gelatin in, in a small steady stream.
Continue beating cream until you reach medium-stiff peaks. Place berries in a plastic bag and crush with hands into small pieces. Add to whipped cream and beat for an additional 30 seconds until well mixed.
When pastry shells are completely full, fill using one of the methods outlined in blog post.
Ganache
Heat 1/2 cup heavy cream in microwave until steaming. Pour over chocolate in a heat safe bowl and let sit for 2-3 minutes. Whisk to combine until completely smooth. Sauce will be thinner when hot and thicken as it cools. Drizzle over tops of filled cream puffs, or dunk in bowl.
---
*Disclaimer: This post contains affiliate links.