You may have heard me talk about my recipe search for "the one." What's the one? It's the recipe. The one that trumps all the others you've tried for that particular thing and ends your search to find the best. It's the one that you make over and over again until the page in the recipe book gets ingrained in your head. I have a huge list of things I'm still on a quest for and others that have happily settled in their spots as "the one" in my book. That's not to say that everything that is perfection to me is going to be perfection to anyone else, so I'll never say something is the best, but it might be the best for me.
This recipe turns out bread so light and moist and chocolatey that it's pretty much cake in a loaf pan. But calling it bread and putting a vegetable in it makes it sound hip and healthy and appropriate for things other than dessert. But just so you know, you could totally eat this for dessert. With ice cream 🙂 If fact I made a cake out of it, here. This is the one! Go eat your veggies, kids!
There's no surprises here, you'll mix up some dry ingredients, and I include a little cinnamon in there with the cocoa. It doesn't make it taste cinnamon-y, it just adds a great depth of flavor and enhances the cocoa.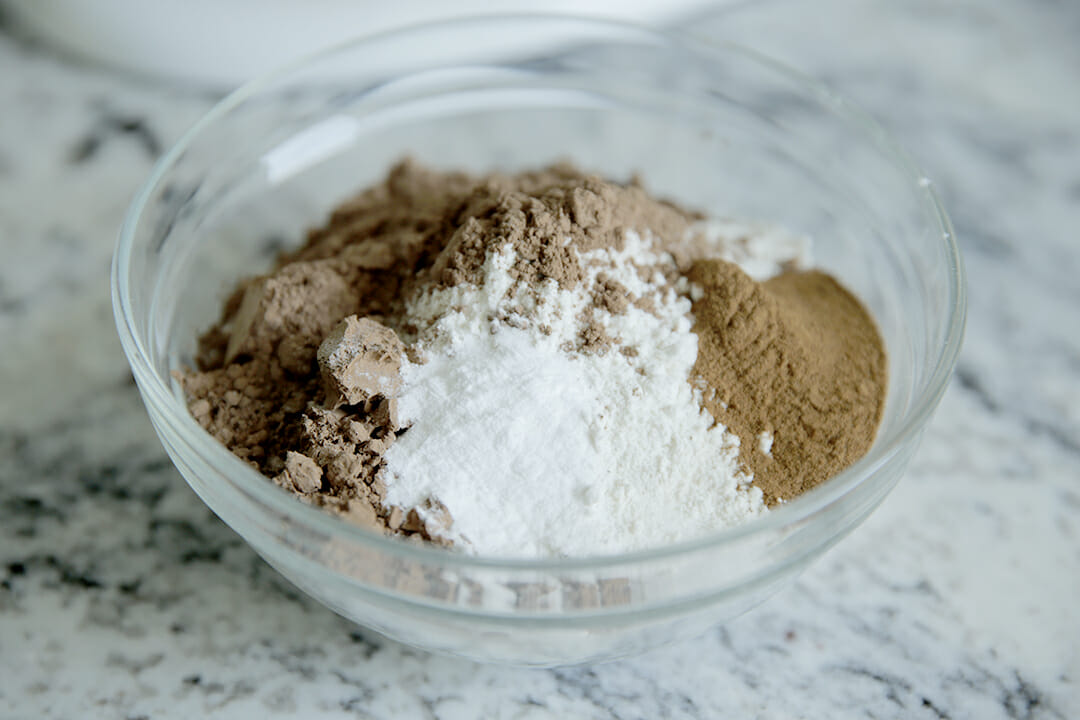 I also use sour cream to make it super moist but keeping it tender. If you're ever making this and find yourself out of sour cream, you can sub Greek yogurt (or even regular yogurt).
And of course the zucchini. I made this several times in a row just to see how much I could push the quantity of zucchini. I included as much as I could while still keeping it awesome. I will say that zucchini sometimes has different levels of moisture. Some are really "wet" and others on the dry side, which is why sometimes you can make recipes like this and have them turn out a little different each time. If I notice my zucchini looks a little water-logged, I just place the grated pieces in a strainer while I prep the recipe and press out a little water. But usually I just grate and toss right in.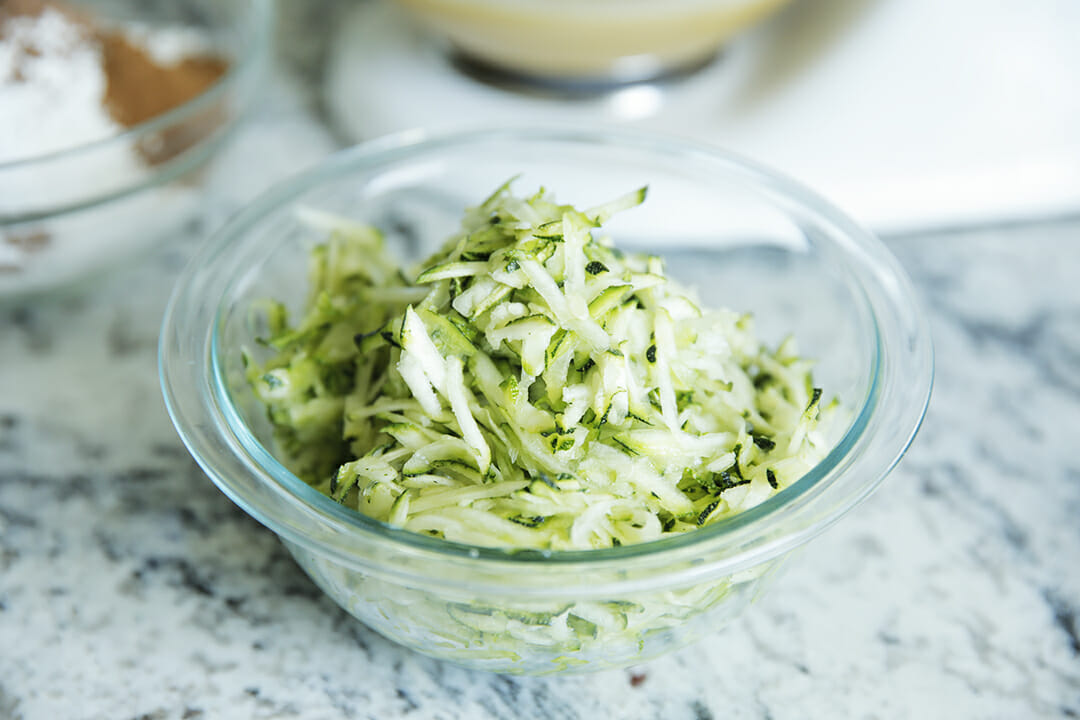 You'll bake it for 50-60 minutes, but I set my timer for 45 minutes and then keep an eye on it for the remainder. Ya never know how different ovens handle things. One of the best parts about this recipe is that I sprinkle on a little sugar mixture before baking that creates a crackly crust that's SO good.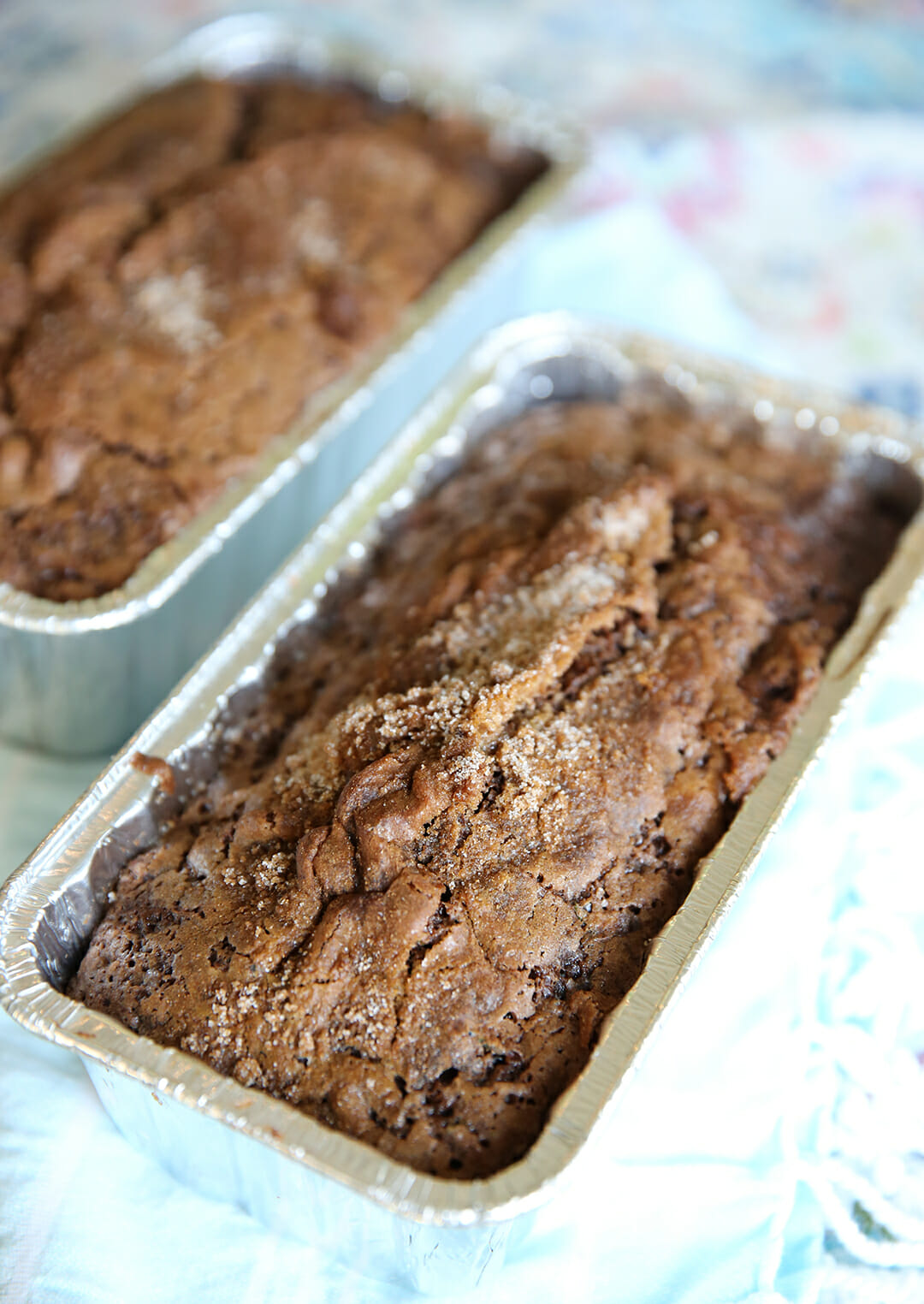 You'll want to pick it off, guaranteed.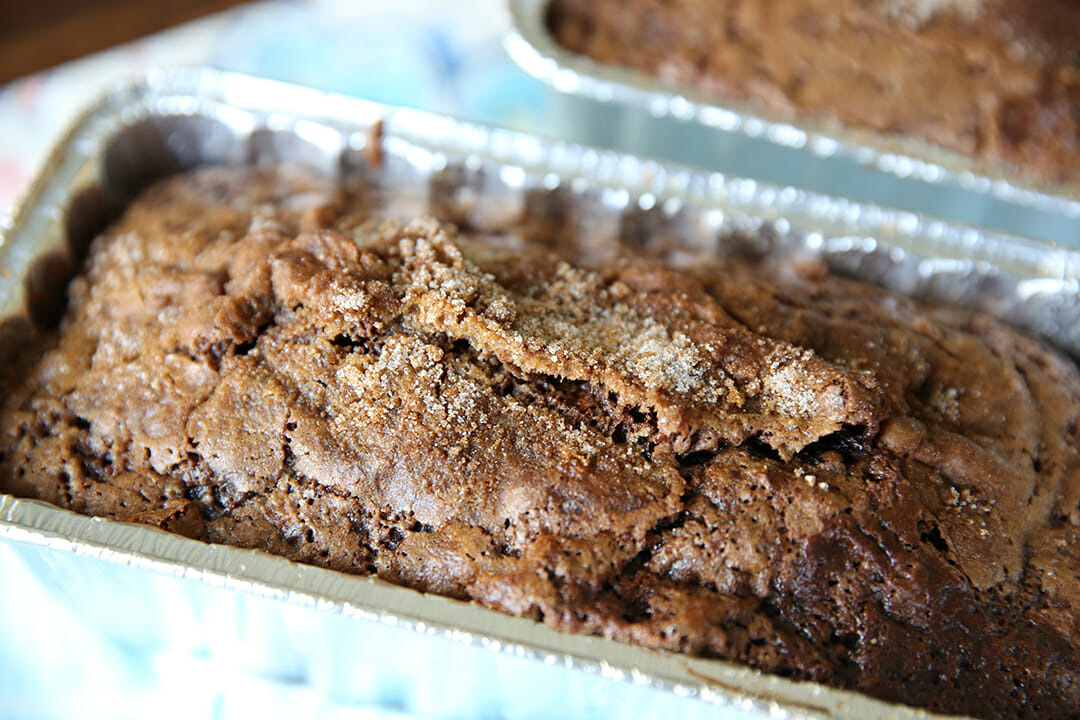 When it's done a toothpick or skewer should come out without goopy batter on it and the top will be gorgeous and cracked with sugar.

Let it cool on a rack for 5-10 minutes and then remove from pans. You definitely have to eat a slice warm (but not hot, or it will fall apart.) And slathered with butter. When you call it a quick "bread" it's okay to slather it in butter, when it reality it's like slathering a piece of really good chocolate cake in butter. Just do it. It's bread. And vegetables.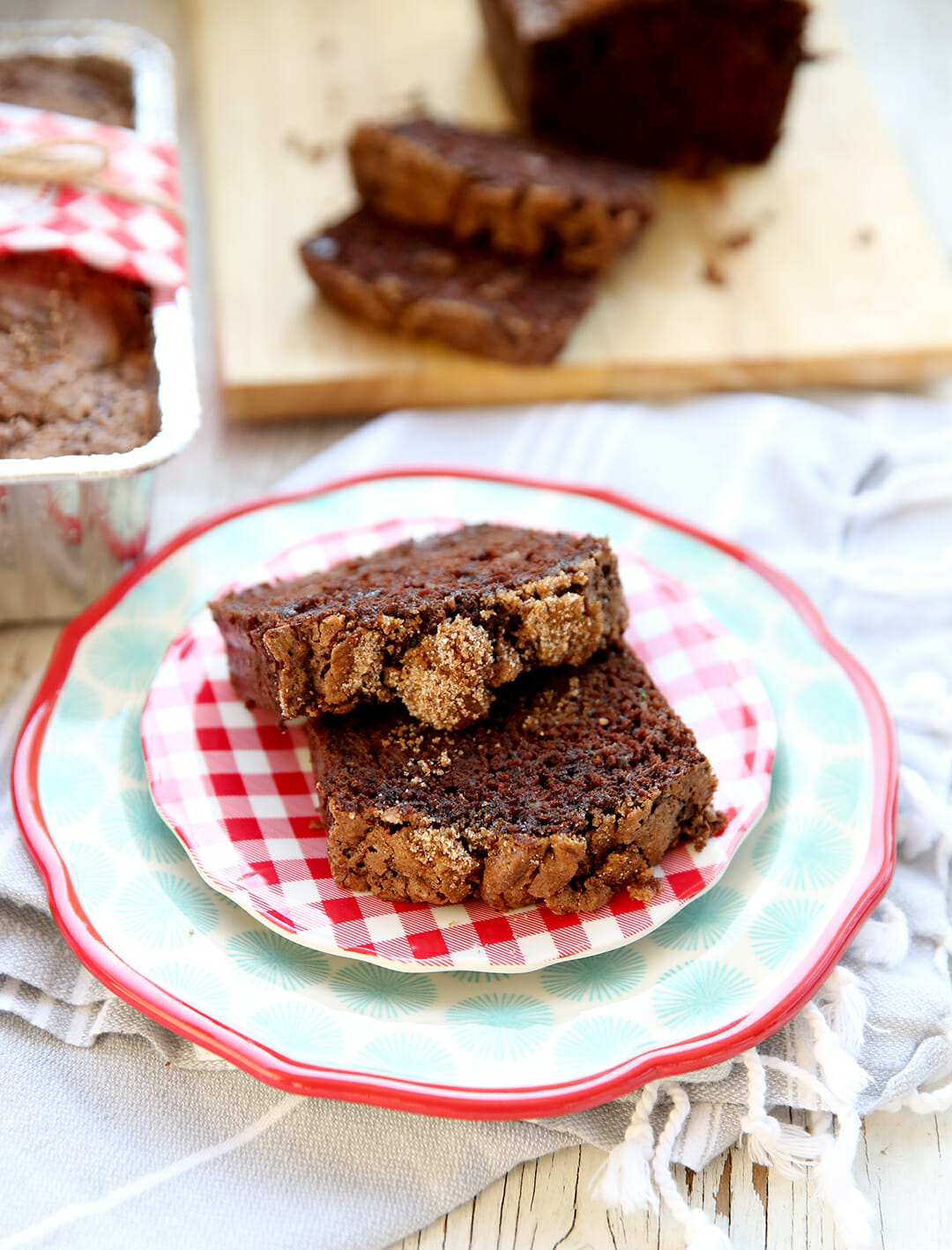 And the best part is that this recipe makes two loaves of bread so you can give one away (or not, I won't judge). A great way to package breads like this is just to wrap a piece of parchment around the middle and tie with a ribbon. So much cuter than shrink-wrapping the stuff in plastic, don't you think?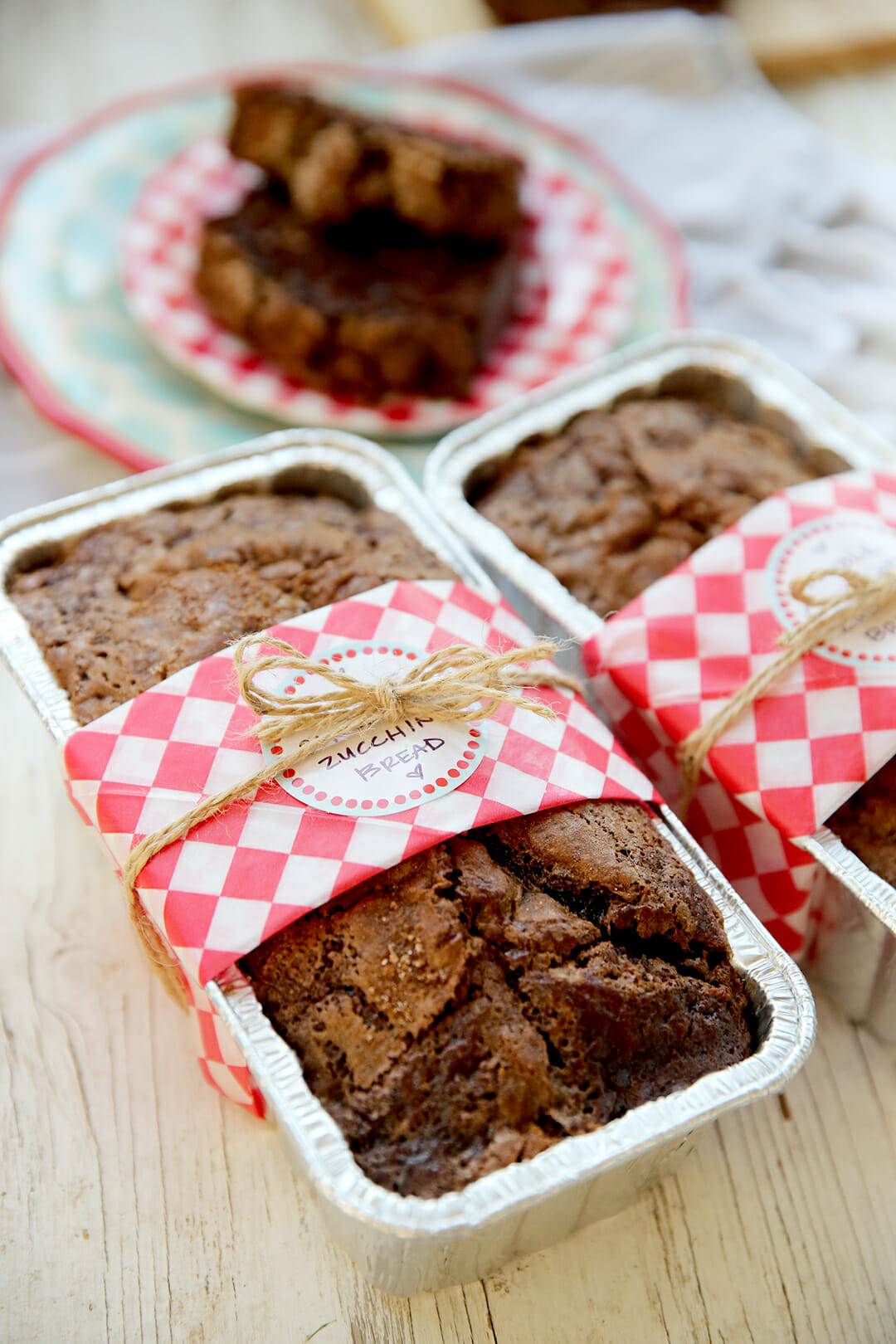 Hopefully some of you still have zucchini coming out of your ears so you can give this a shot. And if you didn't grow your own zucchini, this is totally worth buying some for!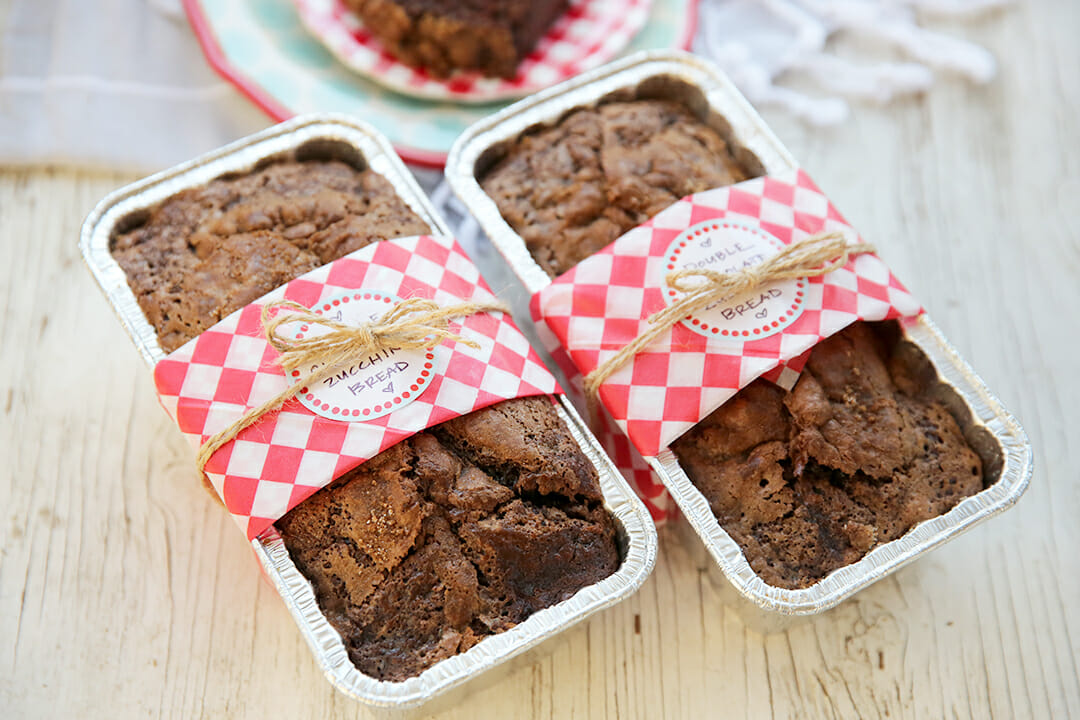 It makes fantastic muffins as well. I used papers in the muffin tin and cooked them at the same temp. Set your timer for 10-12 minutes and then keep an eye on them (cuz I can't remember exactly how long they took!) I made 12 large muffins, 12 mini muffins, and one small loaf- so you definitely get a bunch!
Print
---
Description
Our favorite zucchini bread recipe, perfect for – let's face it – all day snacking. And all 3 meals. (Hey, there's zucchini in it, so it counts!)
---
3

C grated zucchini

2

C flour

2

t cinnamon

1/2

t salt

1 1/2

t baking soda

6

T unsweetened cocoa powder

1/2

C canola oil

1

C sugar

1/4

C brown sugar

3

eggs

2

t vanilla

1/2

C sour cream

3/4

C mini chocolate chips
optional: zest from one orange
Topping
2

T brown sugar

2

T white sugar

1/2

t cinnamon
---
Instructions
Preheat oven to 350 degrees. Butter and flour 2 loaf pans and set aside. Set shredded zucchini in a fine mesh strainer over a bowl and set aside. Mix topping ingredients in a small bowl and set aside. Place flour, cinnamon, baking soda, salt, and cocoa powder in a small bowl and whisk to combine. Set aside.
With a stand or hand mixer beat oil, white sugar, brown sugar, and eggs until combined and slightly fluffy, 1-2 minutes. Add vanilla and sour cream and mix until combined.
Gently press down on zucchini in strainer and discard any excess liquid. Add zucchini to batter (and zest if you're using).
Take a spoonful of the flour mixture and stir in with the chocolate chips (that will help keep them evenly distributed.) Add the remaining flour mixture to the batter and stir just until combined.
Divide the batter between the two pans, and sprinkle topping over each.
Bake in your preheated 350 degree oven for 50-60 minutes.
Let it cool on a rack for 5-10 minutes, then remove from pans.
---
Notes
Great tips
After greasing pans, wipe 1″ edge clean with a paper towel all along the top of the pan. This will prevent the batter from "slipping down", and give you a perfectly crowned loaf every time.
When baking, put loaf pans on cookie sheets for easy moving.
To test for doneness, insert toothpick and ensure it comes out clean. If it comes out goopey and covered in batter, continue baking for another 5 – 10 minutes.