Fry sauce is a condiment found in just about every fast food establishment in some regions of the country.  Legend has it this popular sauce originated in Utah at an Arctic circle in the 1940's and is now quite popular throughout surrounding states, like here in Idaho.  With only 3 ingredients, this easy sauce is something my family keeps stocked pretty much at all times.  In addition to dipping fries and onion rings, we put it on all cheeseburgers and hot sandwiches.  You'll find many variations of this easy dipping sauce, but we like ours as simple as it gets: mayo, ketchup, and a little brine from a jar of dill pickles.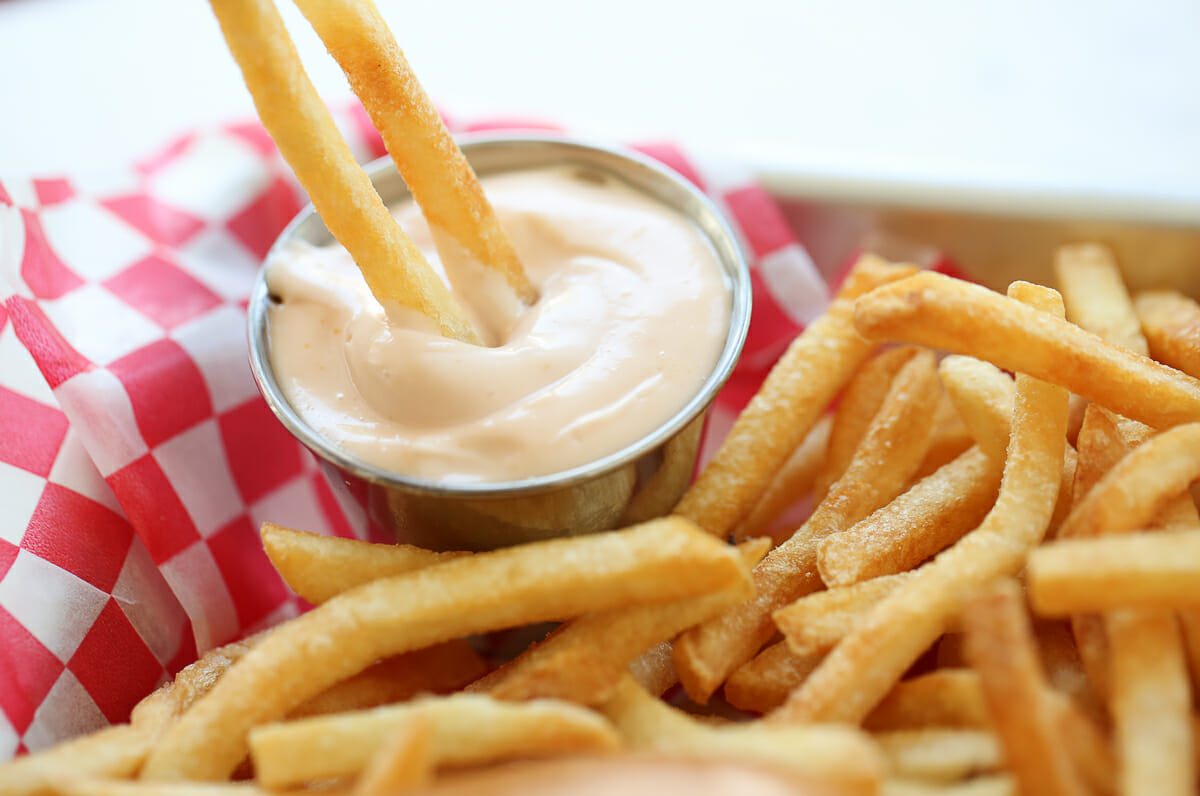 Ingredients for Easy Fry Sauce
You'll only need 3 simple ingredients: mayonnaise, ketchup, and dill pickle brine (that's just the juice in the bottle of dill pickles).  There are no special instructions here, just whisk it all up until smooth!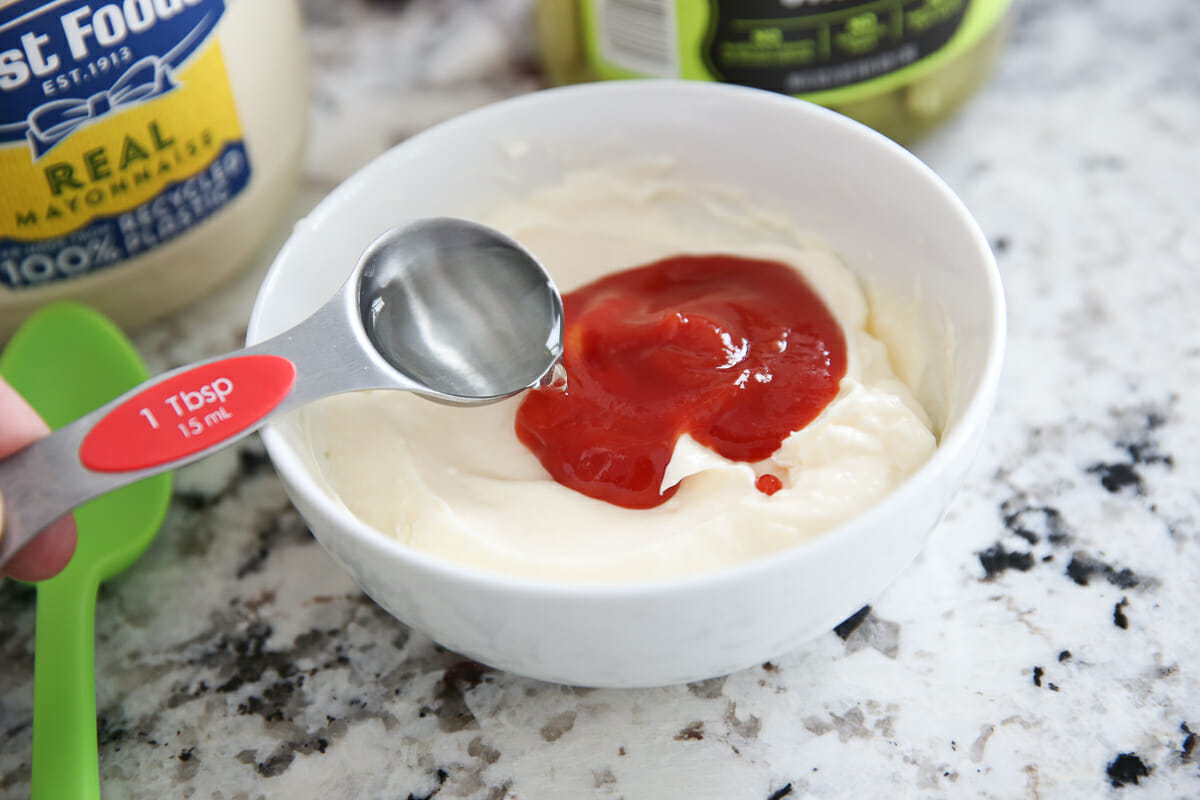 How to Use Fry Sauce
In addition to being a great dip for fries and onion rings, we especially love fry sauce as a condiment on hamburgers and hot sandwiches. It's also great on air-fried snacks like corn dogs and veggie fries. Try it with our crispy Baked Zucchini Fries!
Variations
Some people enjoy putting a couple tablespoons of finely diced dill pickle in their fry sauce.  It's also pretty great with a big swig of bbq sauce instead of (or in addition to) the ketchup.  If you like things spicy, you might like a little sriracha in there, or to dress things up you could add a pinch or two of spices or herbs, like smoked paprika or fresh garlic. 
How to Store Fry Sauce
Store in an air tight container in your fridge and this easy fry sauce will stay good for a couple weeks.
Try it on one of these delicious recipes!
Steak Fries
Baked Zucchini Fries
Samburgers
Sweet Potato Fries
If you like this recipe, you might also enjoy:
Grown Up Dipping Sauce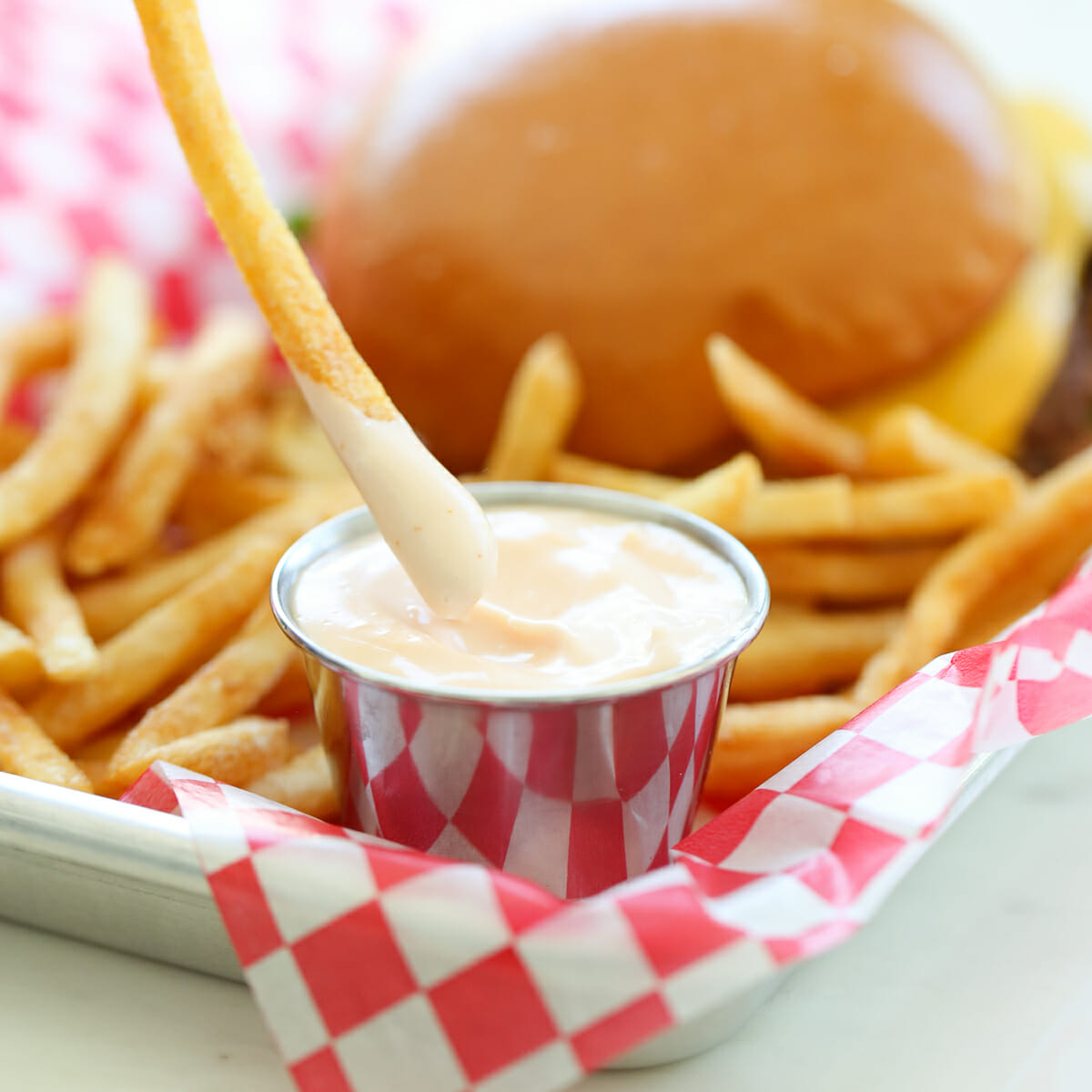 Print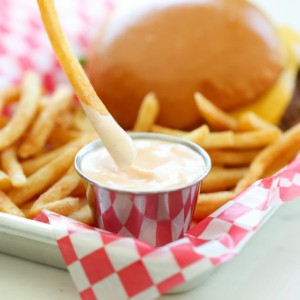 Easy Fry Sauce
Author:

Sara Wells

Prep Time:

5 minutes

Total Time:

5 minutes

Yield:

1 cup

Category:

Condiments

Cuisine:

American
---
Description
A quick and easy sauce to spread on burgers or use as a dip for french fries or onion rings.
---
1 cup mayonnaise
2 tablespoons ketchup (if you like yours more ketchup-heavy, feel free to add more.  Some people like it as much as a 50/50 mayo-ketchup mix!)
1 tablespoon juice from dill pickle jar
---
Instructions
Whisk all ingredients together until smooth.  Spread on burger buns or use as a dip for french fries or onion rings.
---
Keywords: Fry Sauce, Burger, Dip