Smash Burgers are a popular style of hamburger served at certain burger joints (like, surprise- the aptly named Smashburger, or our local favorite, Freddy's.) They're known for their signature thin patties that are literally "smashed" onto the grill, creating lacy caramelized edges and intense beefy flavor.  Smash burgers are incredibly easy to make at home and they've become a family favorite at our house because they mimic our favorite dining-out burgers. As the resident family cook, I love them because they take almost zero prep (no pre-seasoning the beef mixture!) and they cook in just a couple of minutes, with very little effort.  Everyone loves these and you can top them however you like!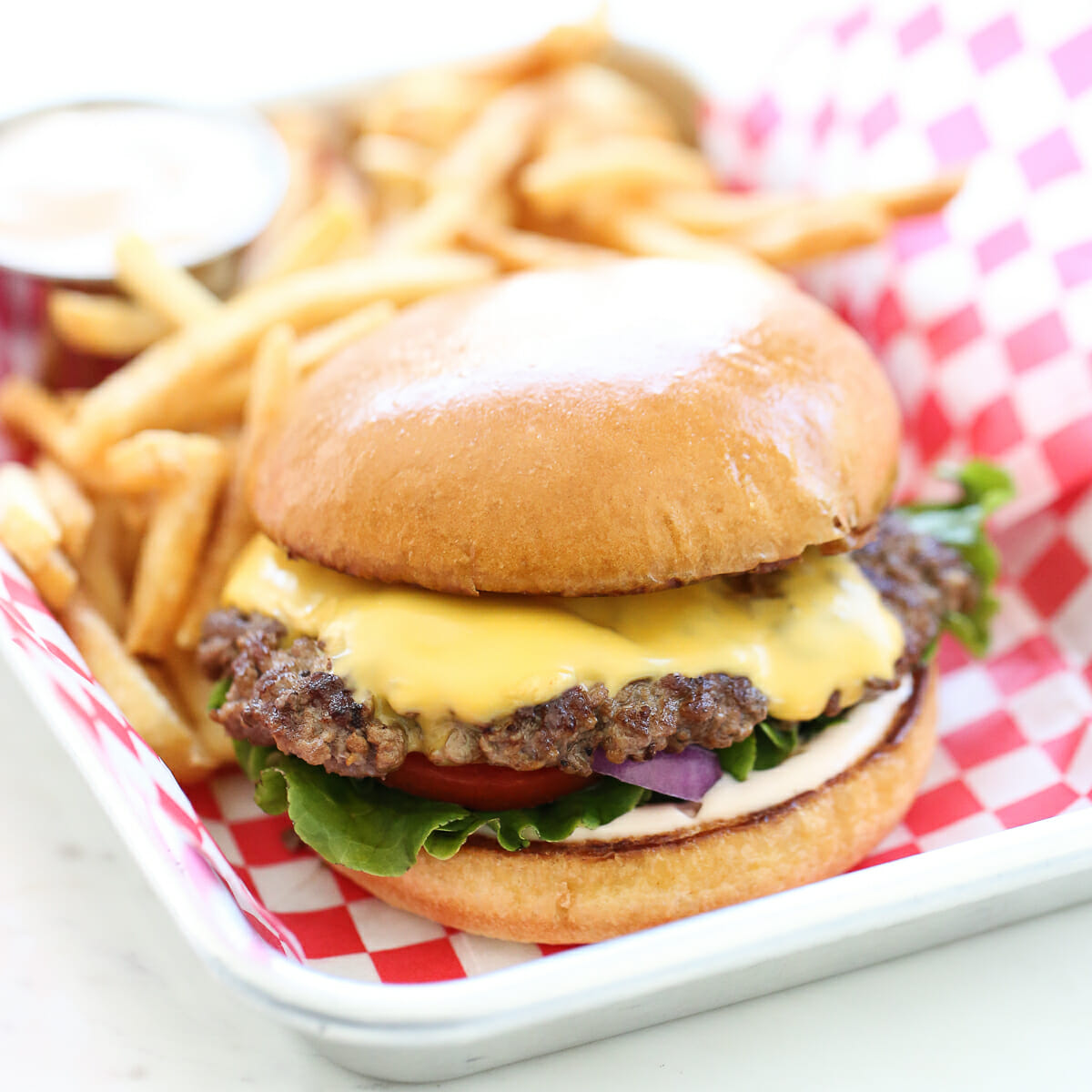 The best kind of beef for Homemade Smash Burgers:
The beef here is important.  You'll want to use 80/20 ground beef, this is not the place for lower fat options.  The thin smashed edges cook in the fat released from the meat, which is what gives it those signature edges.
How to Make a Homemade Smash Burger
The best way to make a bunch of burgers for a crowd is a large flat top- on an outdoor grill or an indoor option if you have it.  It's a great option to turn out lots of burgers, quickly!  I'll demonstrate the method in this extra large 14″ skillet just one at a time. I use this pan if I'm making just a few burgers at home since I can fit 3-4 in there at a time.
Preparations
This process happens REALLY FAST, so it's imperative that you have everything ready to go from the start!  Before you even start your burgers, prep the following:
Toast your buns.  We love Brioche buns the best, but any burger buns will do.  We brush them lightly with butter and either broil them in the oven, or toast them on a flat top and then set them on a rack in the oven to keep warm.
Prepare your toppings.  Make your Fry Sauce (doubles as burger spread), wash and prep romaine lettuce, slice tomatoes and red onions and pull out dill pickle slices.
Lastly unwrap your cheese from the wrapper so it's ready to go.
STEP 1: Smash Burger
Place a 4oz ball of beef in a hot pan, immediately cover with a square of either foil or parchment paper and place a strong, large spatula or burger press over the top and press down.  Burger should smash down to about 4″ in diameter or about 1/3″ thick.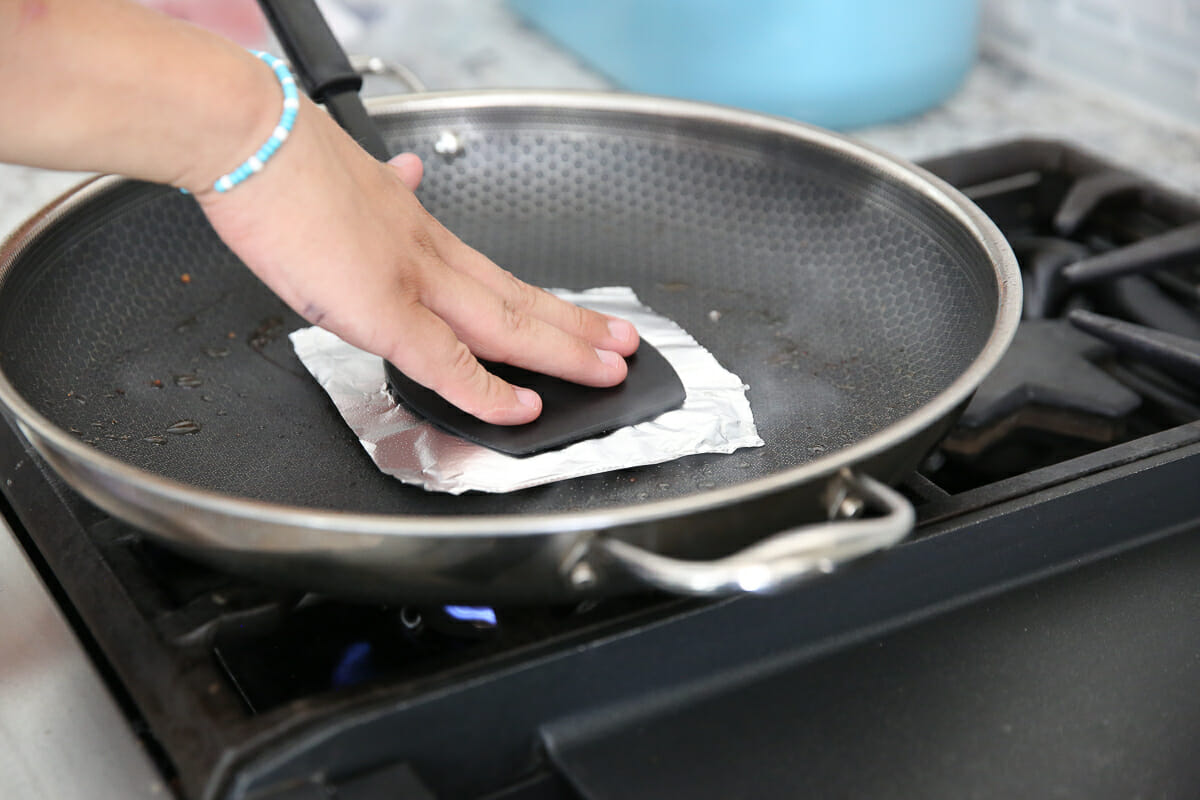 Step 2: Season
Peel off the foil and set aside and immediately sprinkle the top of your burger with either kosher salt and pepper, or your favorite steak seasoning.  I just use a simple pre-mixed store-bought steak seasoning.  These burgers cook incredibly fast, so after about a minute or so, flip your burger over.
Step 3: Top with Cheese
After your burger is flipped, Sprinkle a little more seasoning on remaining side  and immediately top with cheese.  Because these patties are so thin, they will cook incredibly fast, probably in about a minute!
Best Type of Cheese to Use for Smash Burgers
American cheese is the best style of cheese to use here (we're talking the plastic-wrapped singles trust me!) because it melts incredibly fast and gives you an almost sauce-like finish that's great with a diner-style burger.
Step 4: Assemble
While that first side is cooking, you can quickly prep your buns with toppings so they're ready to go.  Definitely slather in burger sauce because it makes all the difference!
Pop that hot and juicy burger on the bun and you'll feel like you're at your favorite restaurant.
Try these at home and see if you love them as much as my family does.  We probably have these at least once a week!  If you need a side dish, these are great with Sweet Potato Fries or our oven-baked steak fries!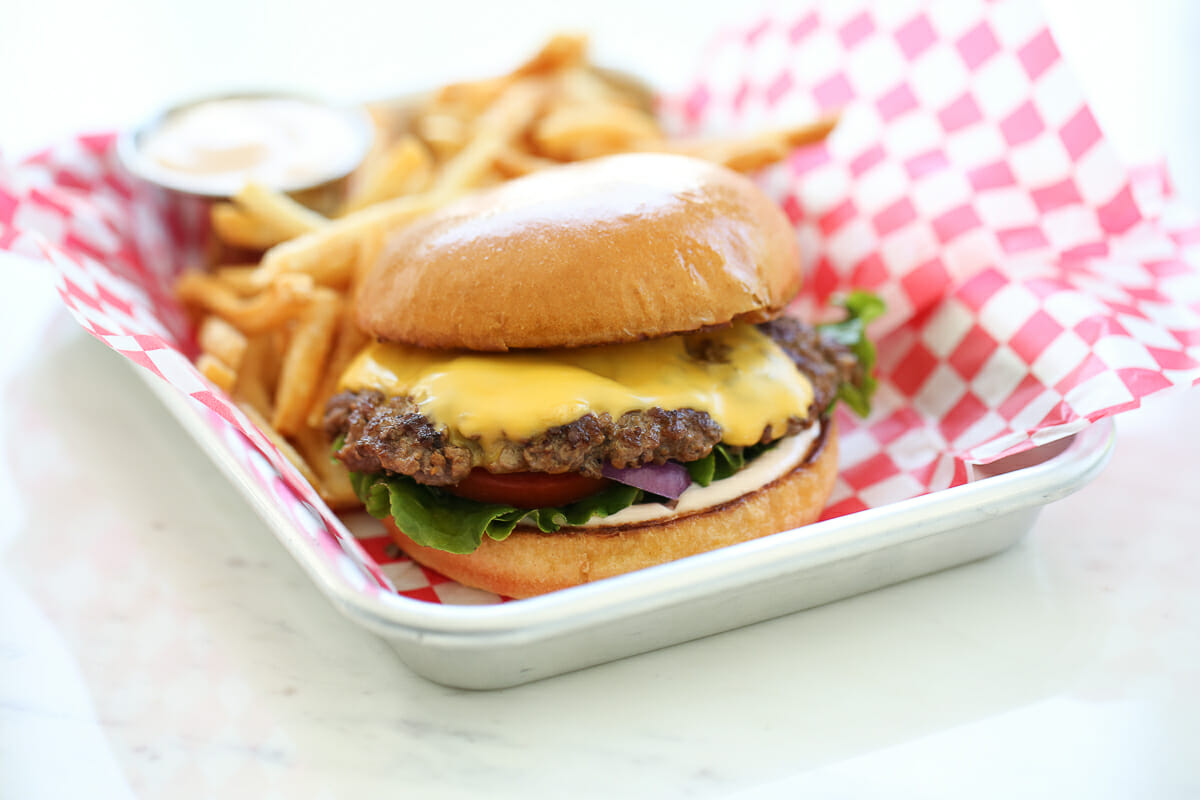 Print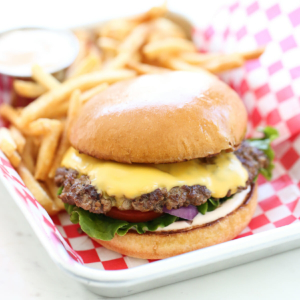 Smash Burgers
Author:

Sara Wells

Prep Time:

10 minutes

Cook Time:

5 minutes

Total Time:

15 minutes

Yield:

4 burgers

Method:

Grill or Stove Top

Cuisine:

American
---
Description
Homemade Smash Burgers rival any favorite restaurant! Making them at home is quick and easy and great for a crowd!
---
1 pound 80/20 ground beef
steak seasoning (or just kosher salt and black pepper)
4 slices American cheese (like kraft singles)
4 hamburger buns
Fry Sauce/Burger Spread
Desired toppings:
iceberg lettuce
sliced tomato
sliced dill pickle
sliced onion
---
Instructions
Divide beef into 4, 4-oz balls.  Do not roll super smooth, just roughly shape into round forms.
Cut or tear 4 sheets of parchment or foil into about 5″ squares.
Prepare all burger toppings and buns and set aside ready.
Heat a large flat-top grill pan, or large cast iron pan to medium heat.  Once hot, brush lightly with a neutral oil.  Place one portion of beef on pan at a time, place parchment square on top, place sturdy large spatula on top and immediately press down, using hand to push clean spatula, smashing beef to a thin patty, about 1/3″ thick.
Remove parchment/foil and sprinkle seasoning on top.  Repeat with remaining burgers.  Let cook until golden browned on bottom and edges, about 2-3 minutes.  Flip burgers, season remaining side, and immediate top with cheese.  Cook for additional 1 minute or so.
Spread sauce on buns, place cooked burgers on prepared buns and serve.
Variations:  feel free to use a 3-oz portion if you'd like them slightly smaller, or stack 2 burgers with cheese in the middle for a double-stack!
---