Palmiers are possibly THE easiest treat to make. I'm calling them cookies, but really they're a sugared, crisp little pastry. With only two ingredients, puff pastry and sugar, these take just minutes to make but look so fancy! Next time you need something quick, easy, and impressive, reach for these simple ingredients to make French Palmier Cookies.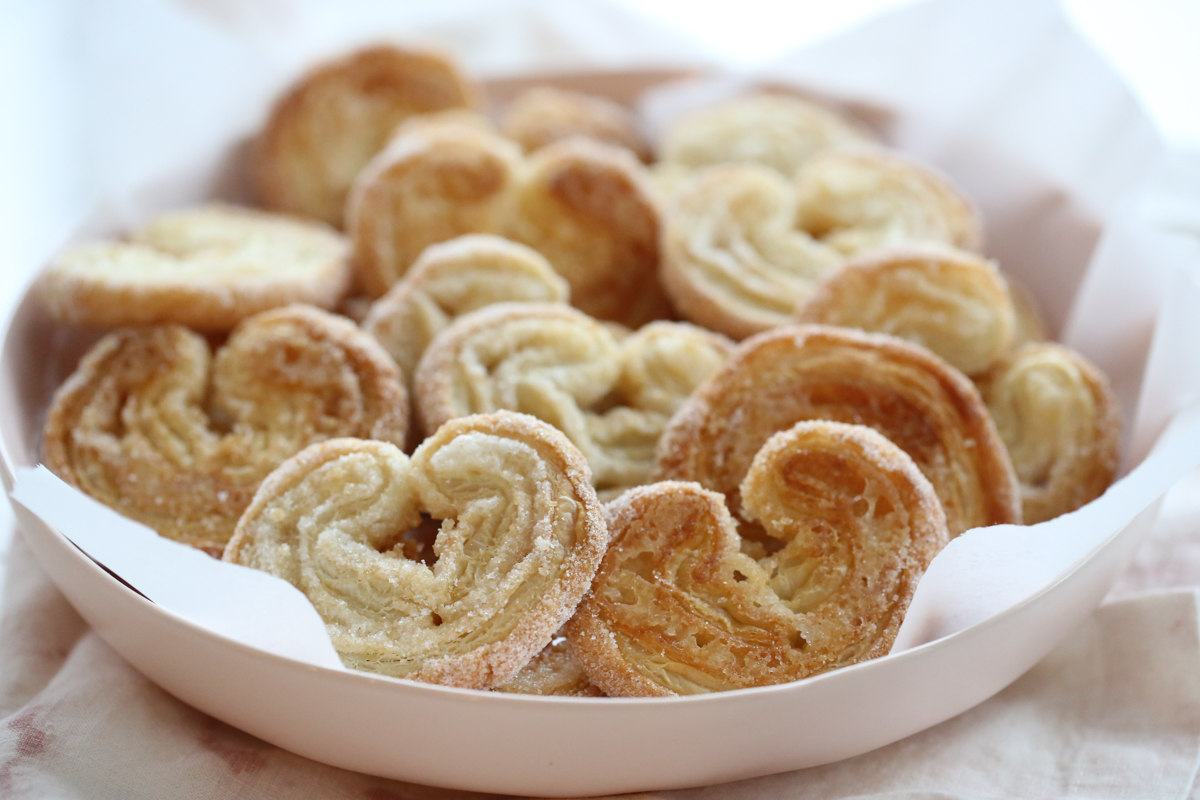 Ingredients and Equipment
Puff Pastry – you can find puff pastry in the frozen food section. It's often near the desserts and pie crusts. Since this recipe only has 2 ingredients, if you can find a high-quality all butter puff pastry (Trader Joe's is a good option) that would be best. But Pepperidge Farm is the most widely available in most major grocery stores, and while it's not all-butter, it works great as well. (It's what I'm using in these photos!)

Sugar – You'll need standard granulated sugar here, but it's fun to experiment with other options as well. I like to have a coarse, raw sugar to put on top for extra crunch and a deeper caramel flavor, but it's not necessary.

Parchment Paper – Since you'll be working with melted sugar, you'll definitely want to have parchment paper both for easy clean-up, and also to help prevent over browning the cookies on the bottom.
How to make Palmiers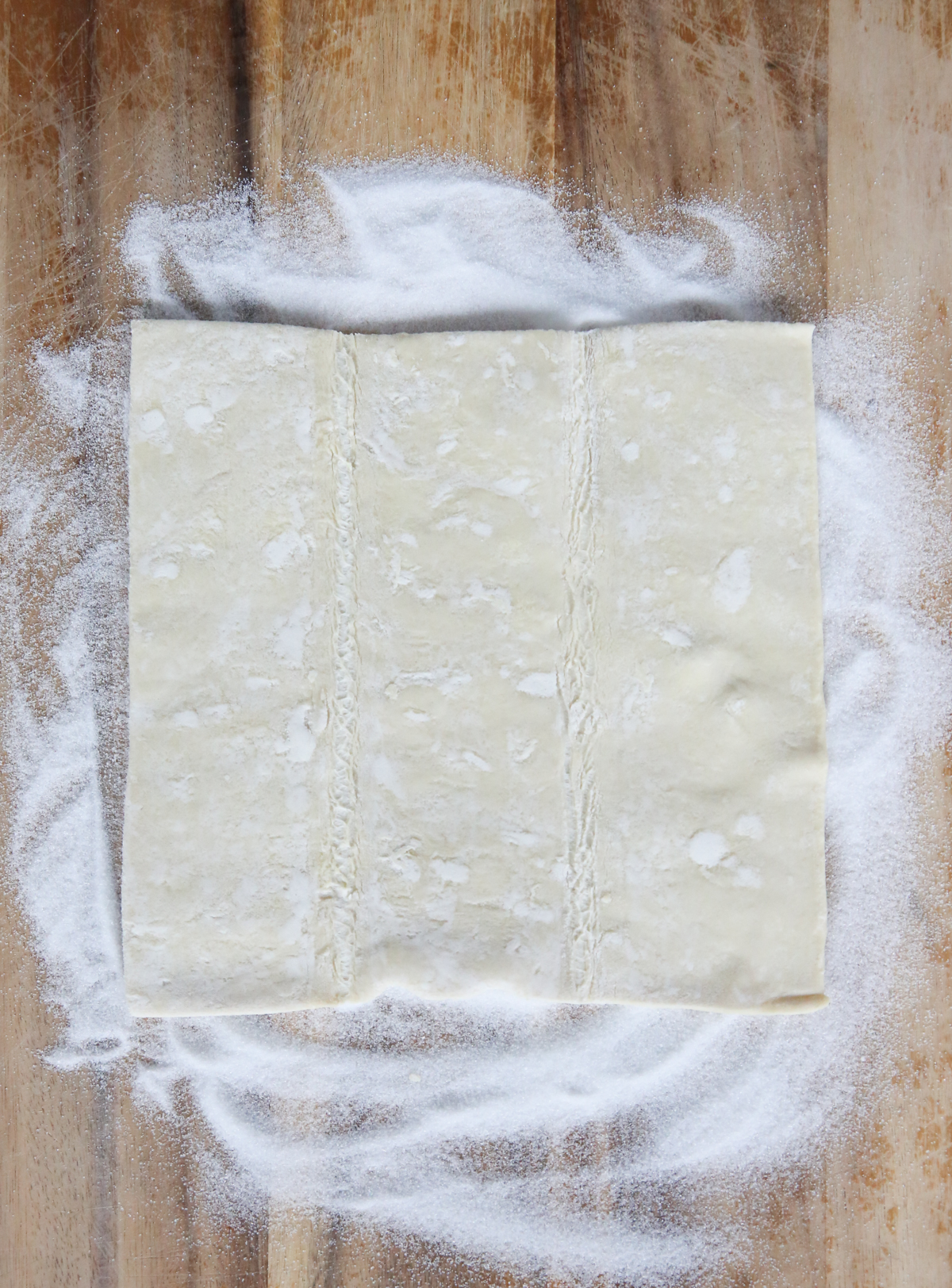 Spread about 1/2 cup sugar on work surface. You'll want this sugared space to be about the same size as your sheet of puff pastry.

Place one sheet of puff pastry on top of the sugar and then pour/sprinkle another 1/2 cup of sugar on top of it. You can see from the photos that this is NOT a gentle sprinkle. You're going for total excess! It's okay to have extra sugar around the board. You want the whole pastry covered in a nice layer of sugar.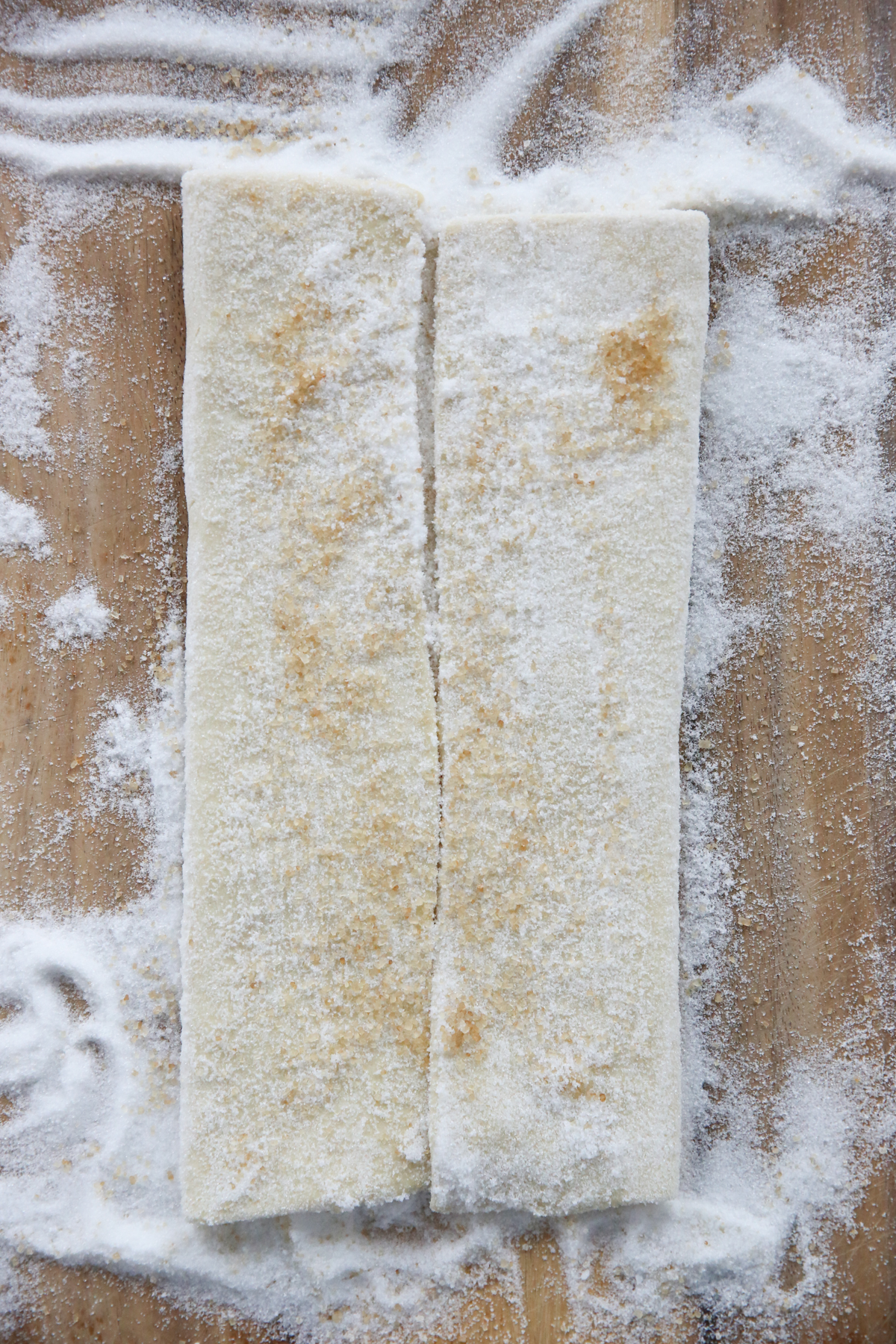 3. (L) Fold each side of the puff pastry into the center. Grab some extra sugar from your work surface and sprinkle it on top. You'll notice I added a little coarse sugar to the top, which are those brown specks you see.

4. (R) Fold each side into the center one more time.

5. Lastly, fold both sides together, like you're closing a book. (Below)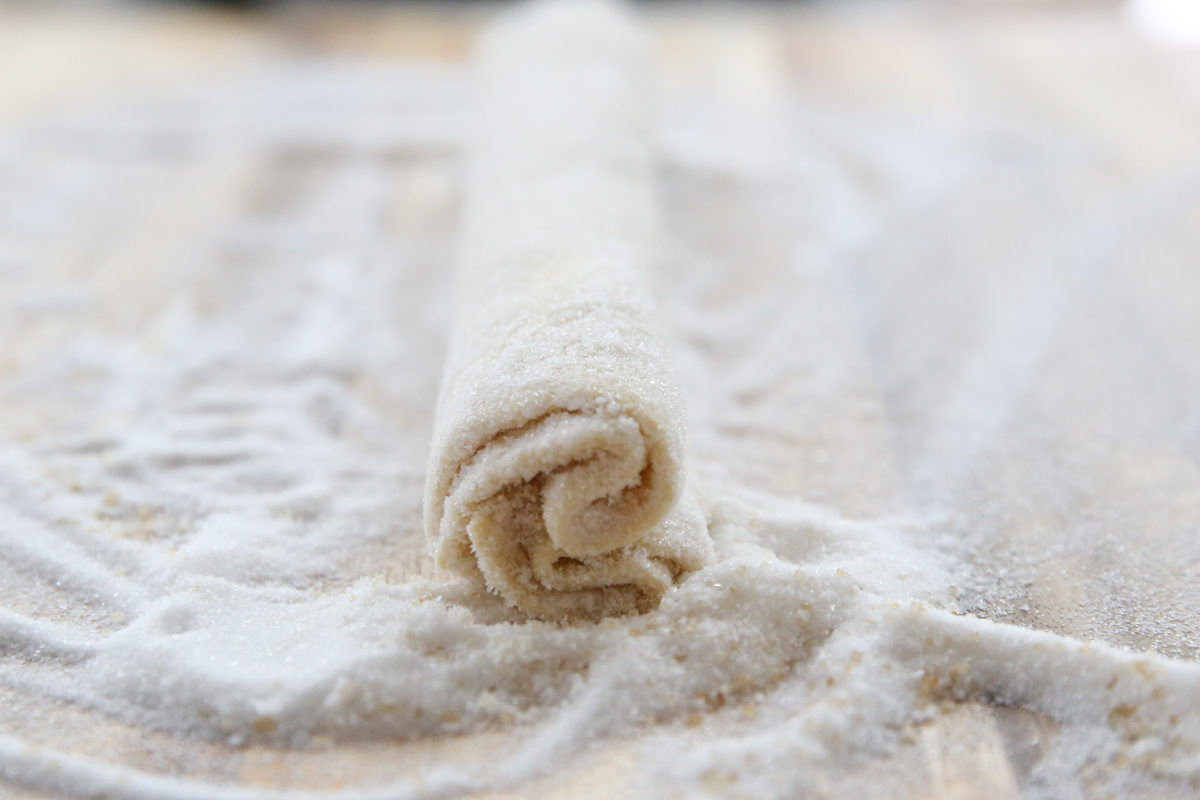 6. Sprinkle sugar one more time over everything and slice roll into slices about 3/8″ thick (you want them a little larger than 1/4 inch, but not as thick as 1/2 inch!) At this point, you can reshape them a little with your fingers if they got smashed funny during the cutting process.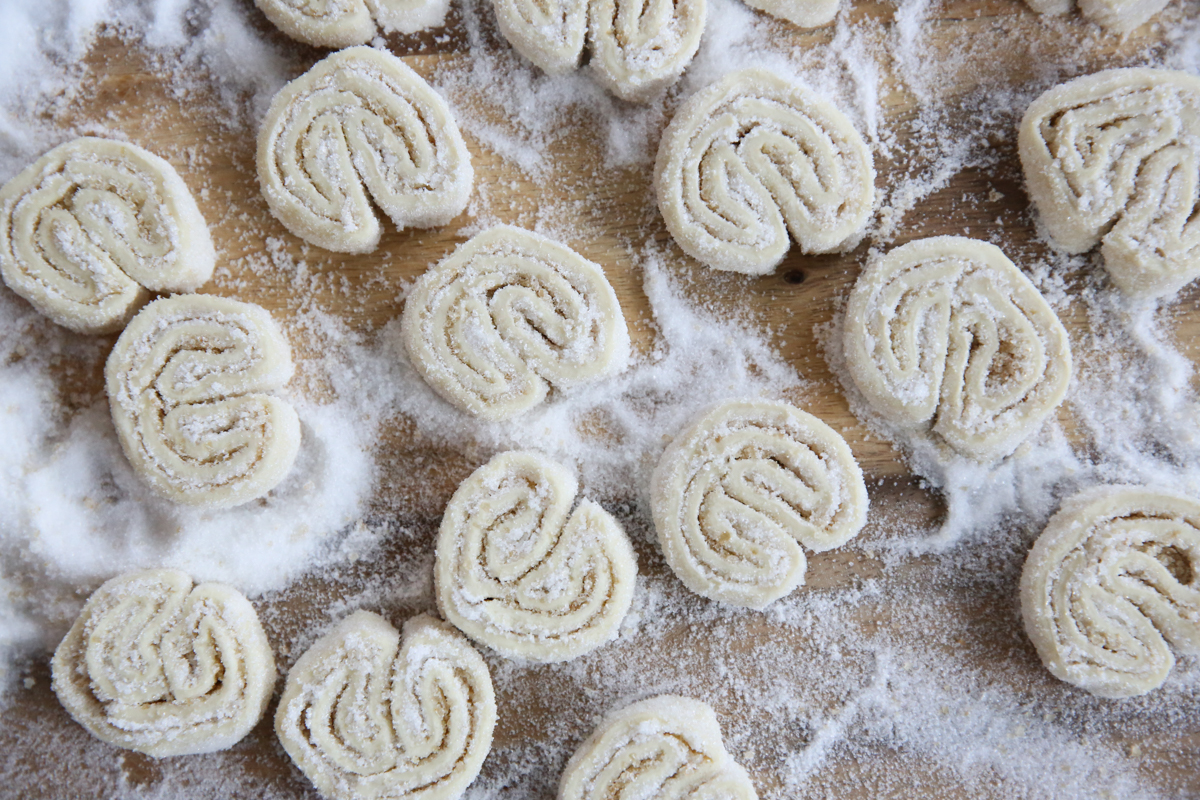 7. They'll bake up in the oven and as the pastry puffs, the sugar melts and caramelizes and makes a delicate, crisp bite.
To flip or not to flip
Some palmier recipes will tell you to flip the cookies half way through baking, and others won't. I've made them both ways and I'd say it's personal preference. If you look at this photo, the palmiers on the right were flipped half way through, and the ones on the left were not. The side of the cookies facing down on the baking sheet will be flattened, caramelized, and a little crispier. Some people prefer the puffed lighter look of the cookies if left unflipped. I'd say try it both ways and see what you like! I will say if your oven runs hot and the bottom of the cookies are getting a little too dark, flipping will solve that problem.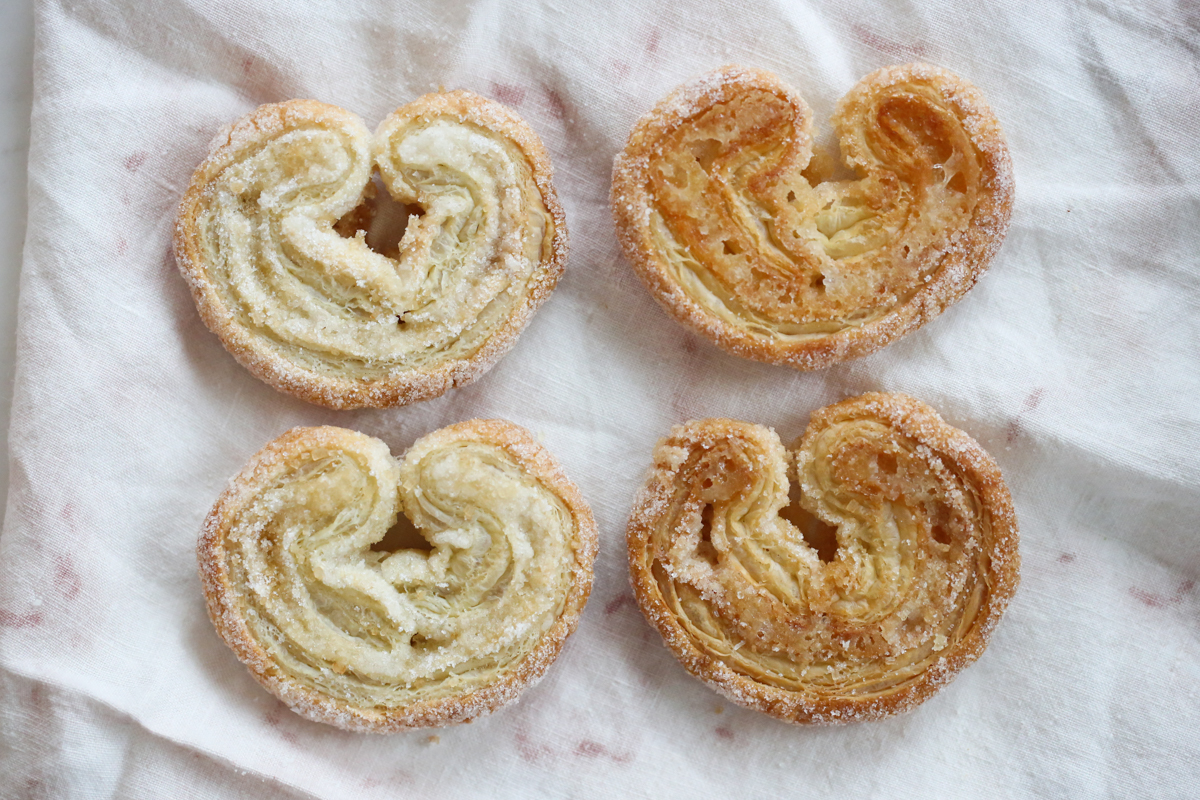 Frequently Asked Questions
Can I make French Palmier Cookies ahead of time? I'd say these are best made fresh and eaten fresh. I wouldn't purposely make them more than a few hours ahead of time.

How do I store leftovers? These are best eaten fresh, but if you do need to store, just keep in an airtight container.

Can I add other flavors? Absolutely! It's fun to experiment with different types of sugar, and you can add cinnamon or other spices for fun flavor variations.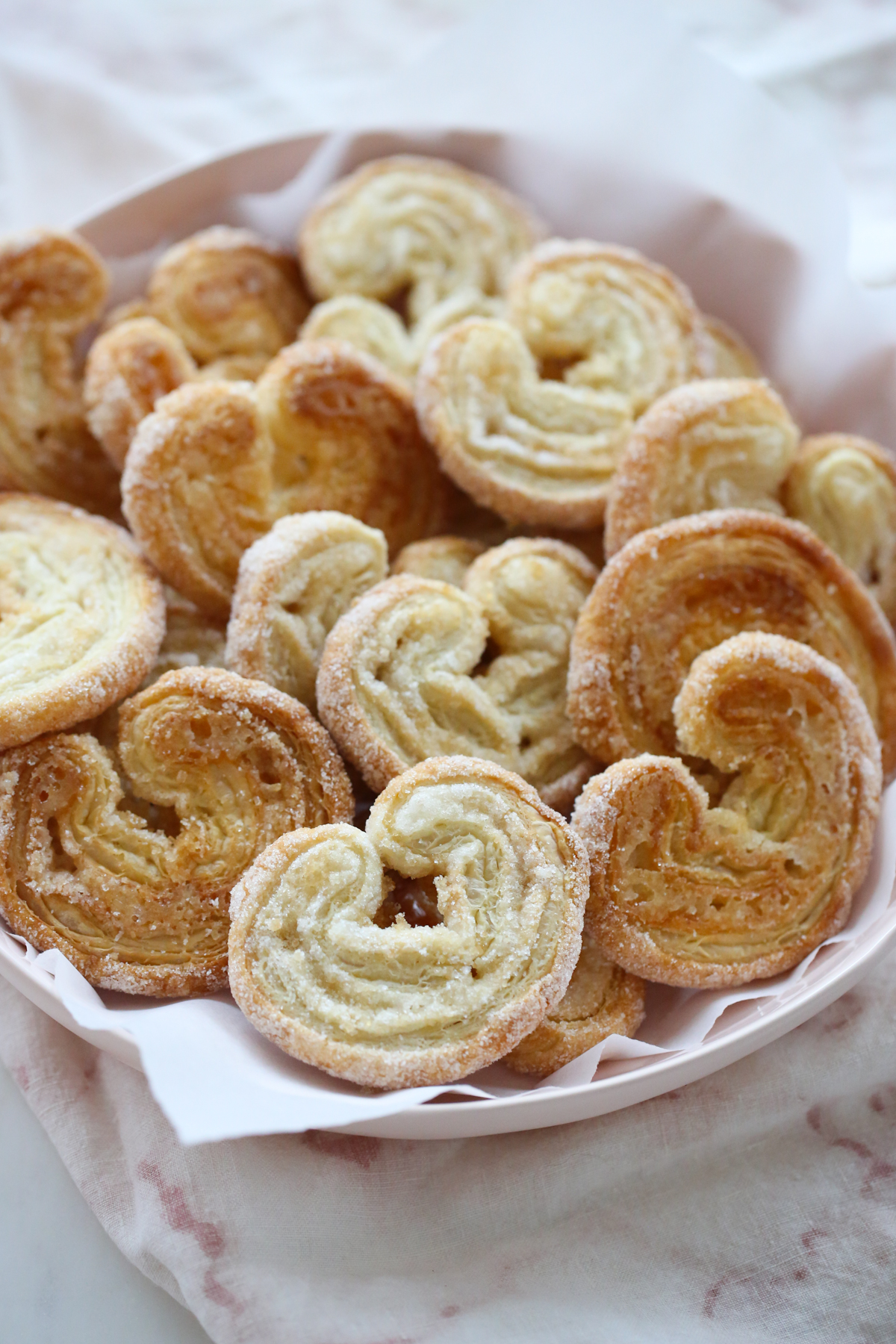 Here's a few other recipes you can make with puff pastry:
Print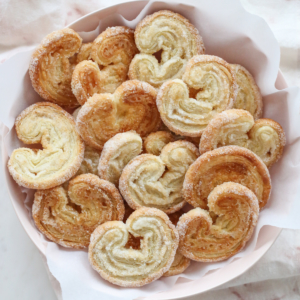 ---
Description
Only TWO ingredients needed for these easy, classy cookies.
---
2 sheets puff pastry (1 standard box)
2 cups granulated sugar
---
Instructions
Preheat oven to 400 degrees. Line a baking sheet with parchment paper.
Thaw puff pastry according to package instructions.  Make sure to keep cool in the fridge until ready to use.
Spread 1/2 cup sugar on work surface in a space about the same size as your pastry. Place one puff pastry sheet on top of the sugar and spread an additional 1/2 cup sugar on top. Gently spread around with your hands. Use a rolling pin to gently roll pastry sheet a couple times in all directions. You do not want to roll it thin, just roll to extend about an inch in all directions. You will be pressing sugar into the dough as you roll.
Fold the right side of the sheet so the edge meets the center of the dough.  Repeat with left side. Sprinkle more sugar from your board on top. Repeat process again to fold each side to the center again and sprinkle with sugar.  Finally fold the two sides together, like you're closing a book.
slice roll into 3/8″ slices and place 2 inches apart on the baking sheet.  These will puff up so they need room to grow!
Place pan in the center rack OR one notch above center.  Do not place on lower rack or they might burn. Bake for about 15-20 minutes total and keep an eye on them.  If you are flipping, flip about half way through baking. If not, watch until the tops are lightly golden. 
Cool completely before eating (remember melted sugar is hot!)
---