One of my most favorite cookies are lace cookies.  They're a delicate see-through toffee-like cookie that melts in your mouth when you bite into them.  You can leave them flat, or shape them in a few different ways and no matter what you choose, they'll be as beautiful as they are delicious.  These cookies are incredibly easy.  The batter only requires a very small list of ingredients (that you probably already have in your cupboard) and comes together in one pan in minutes.   These are sure to impress!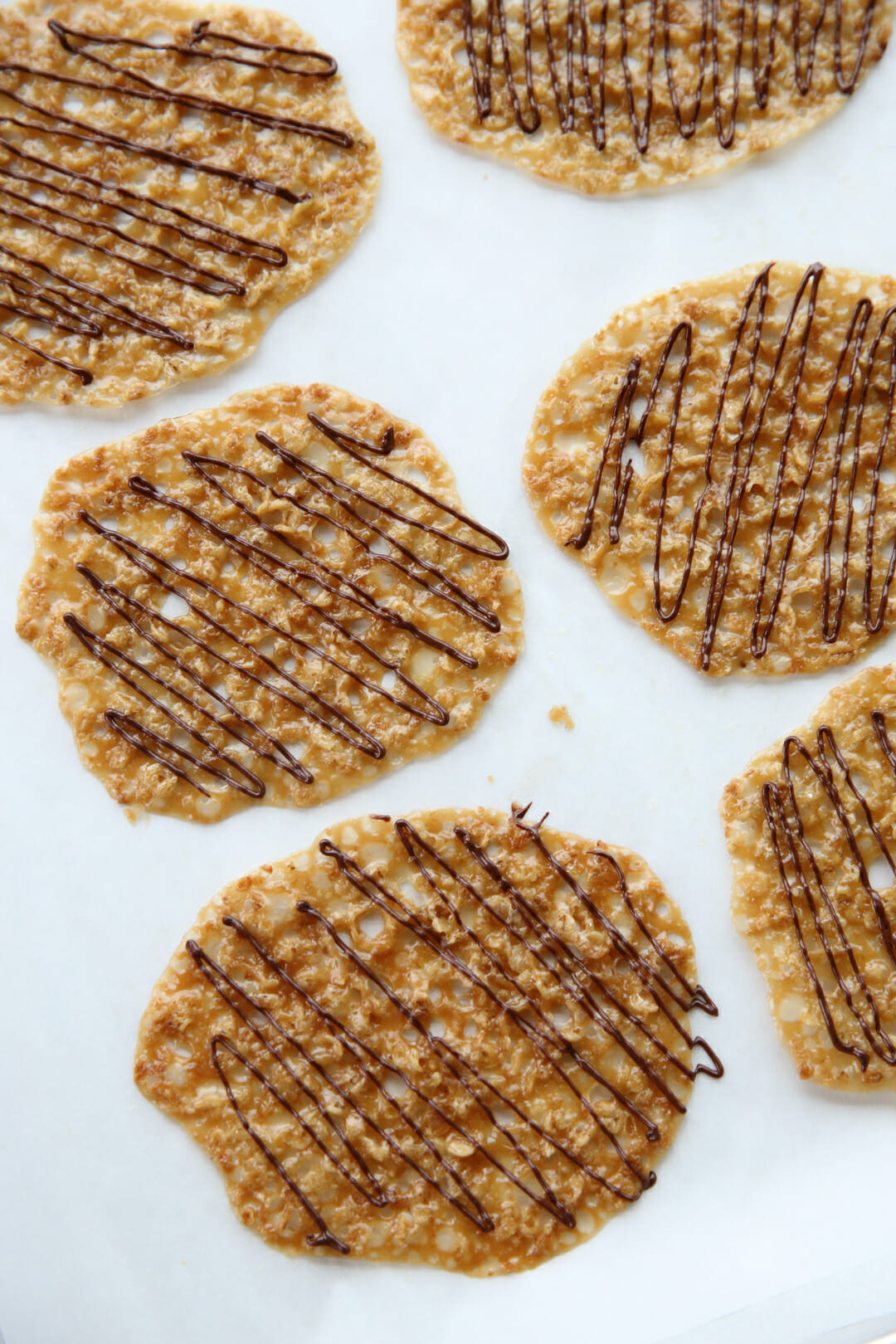 Start by melting butter, brown sugar, and corn syrup in a sauce pan.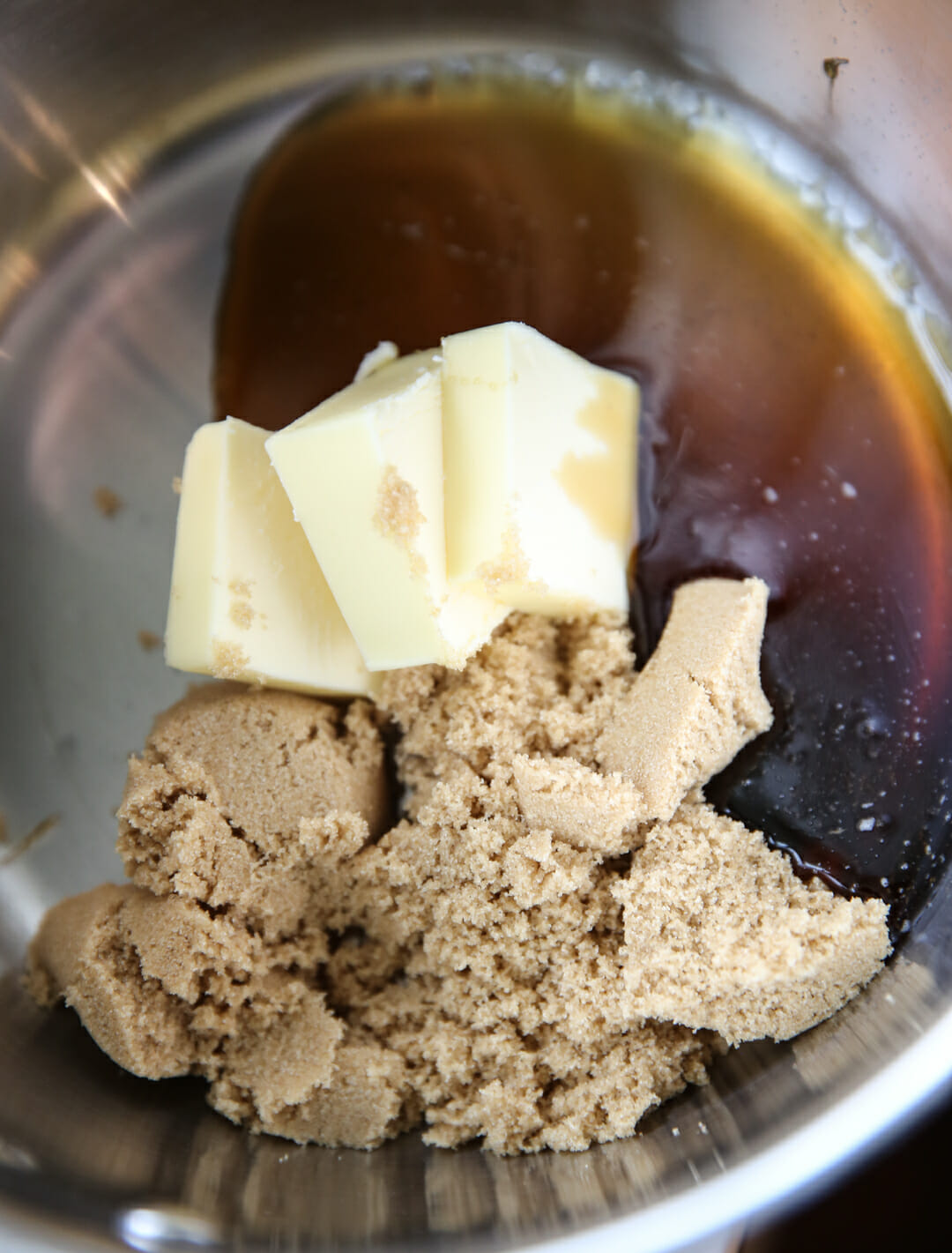 When it melts into a silky caramel, you'll stir in a little flour and oats.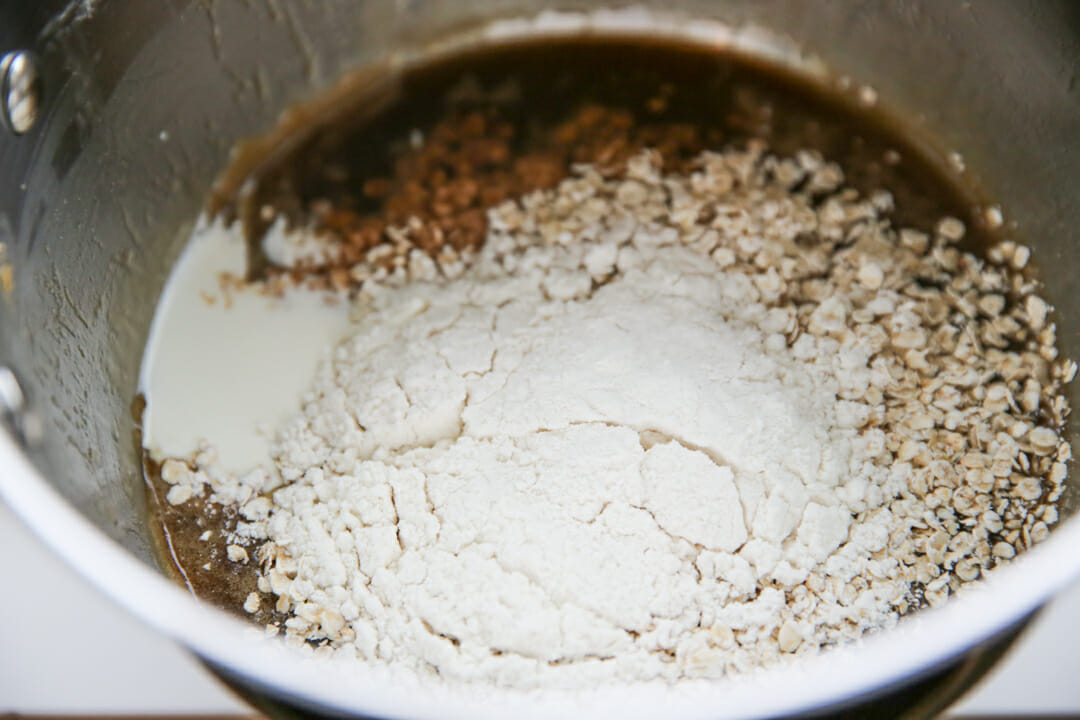 The batter is a more runny consistency the warmer it is.  As it comes off the heat and cools a little, it becomes a little thicker.  You'll drop teeny tiny little mounds on a baking sheet covered in parchment and you'll need to space them out quite a bit.  It will feel weird because you wonder how that tiny thing can turn into a large cookie!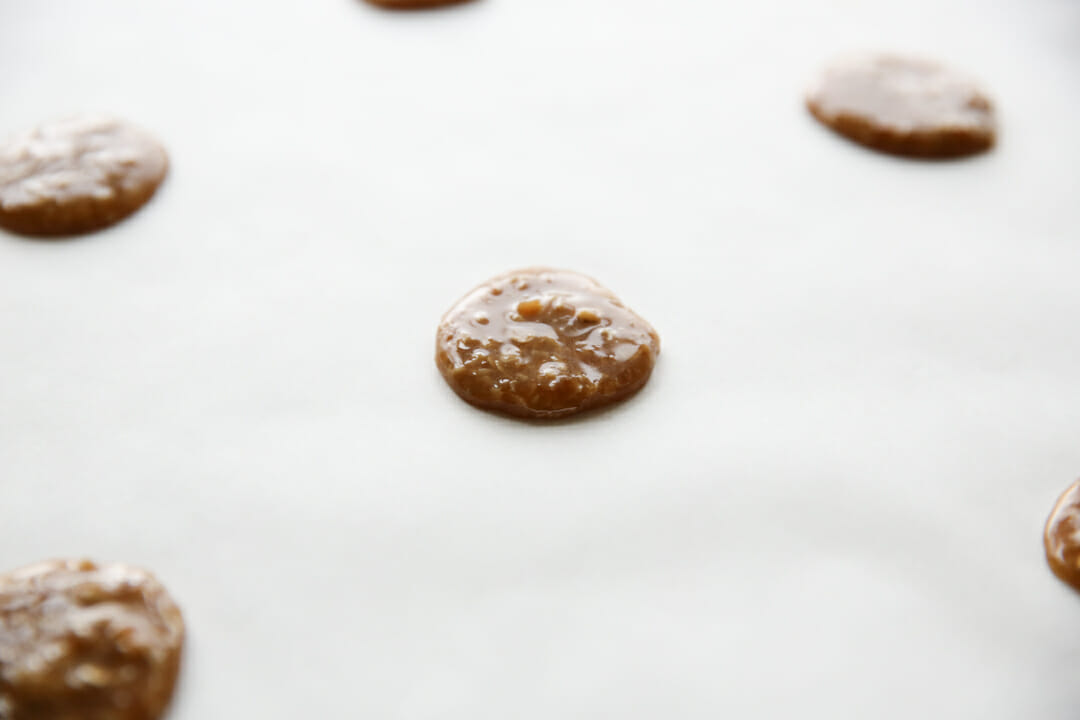 But as they cook, they spread out super thin and the sugar caramelizes.  One big tip here:  If you've never made these before, try just one before you do a whole pan.  These are not hard to make, but I think they do take a few to get the hang of how they look and feel.  If you overcook them, they'll crisp up super fast when they come off the pan and can break easily, and if you undercook they'll be soft and chewy.  Just right creates a cookie that literally melts in your mouth, like a thin, crisp toffee.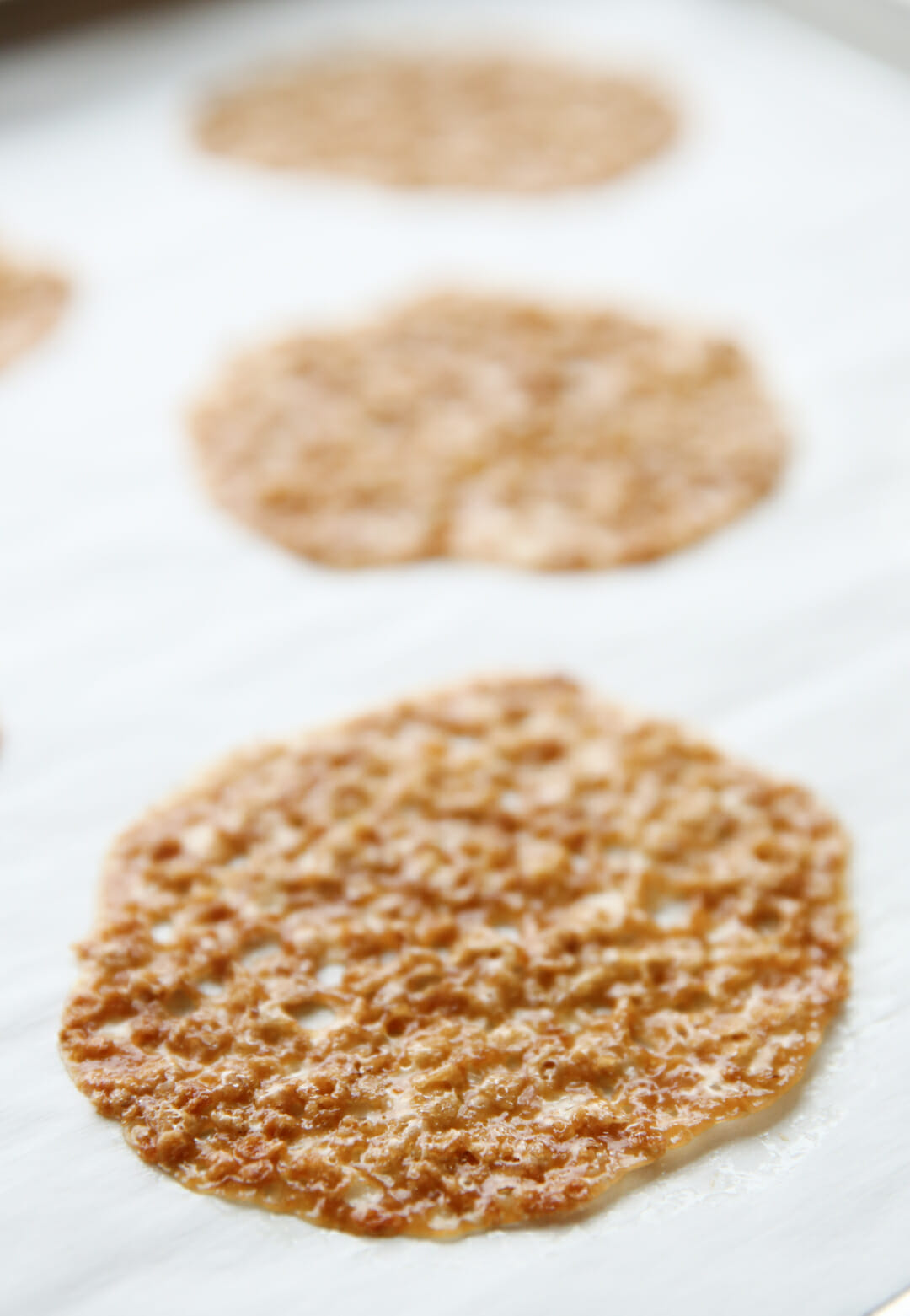 There are a variety of ways you can shape and serve these.  If you want to simply try the flat disks, they are delicious plain, or drizzled in chocolate.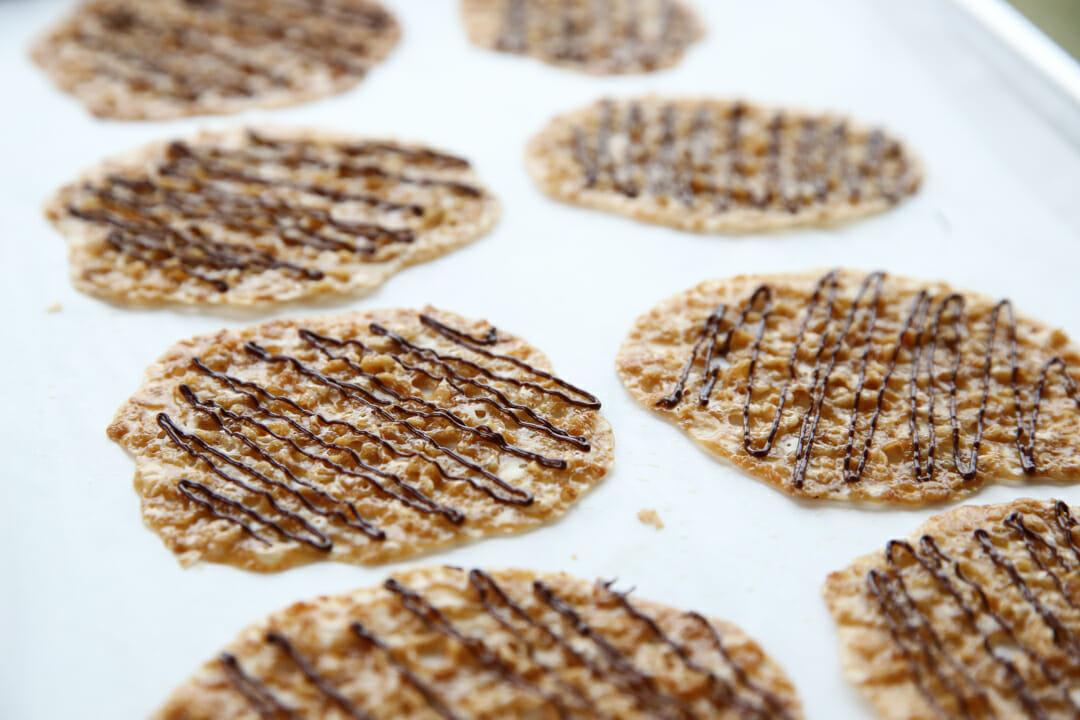 If you've ever had the Florentine cookies they sell at Costco, you can replicate those by sandwiching these with melted chocolate in the middle.  Florentines are usually made with ground almonds in place of oatmeal, but these will taste very similar! It will spill out the little holes, but just place on parchment until it dries and hardens.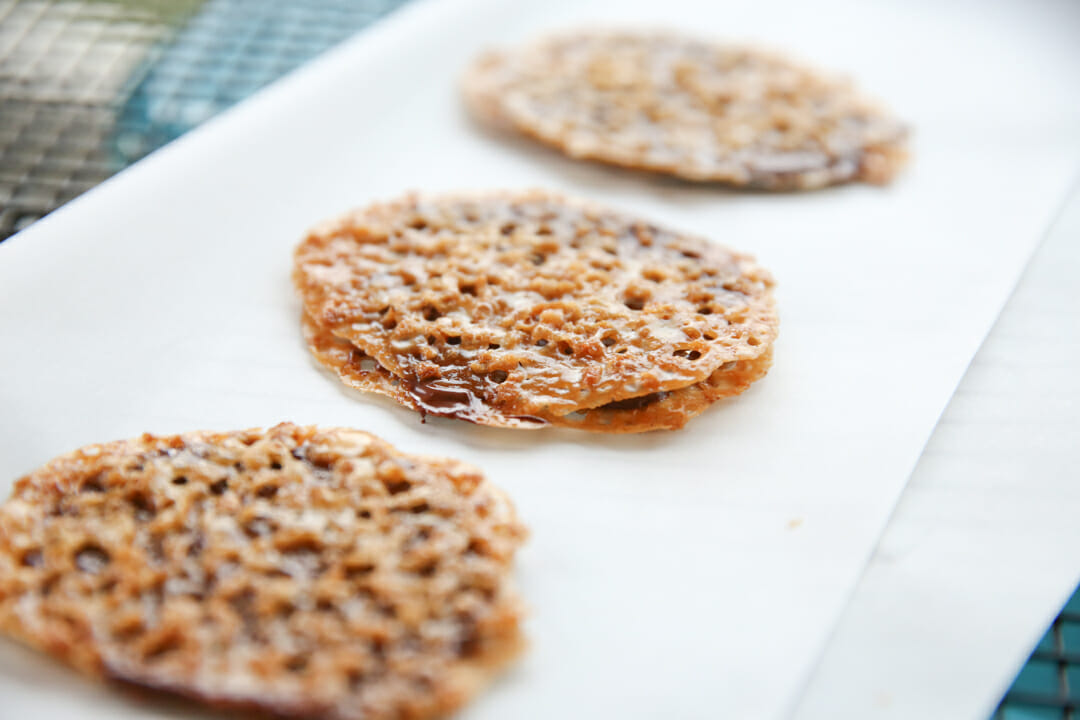 The other popular shape for this type of cookie is the classic cigar roll.  The trick with rolling is that it has to be at just the right temperature.  After they come out of the oven, you have a short time before they harden up, but they'll also be piping hot!  You'll need to wait until they're cool enough to touch, and then roll them over a spoon handle (or something similar) to shape.  Again, try this with just one before you do a whole pan so you get the hang of it!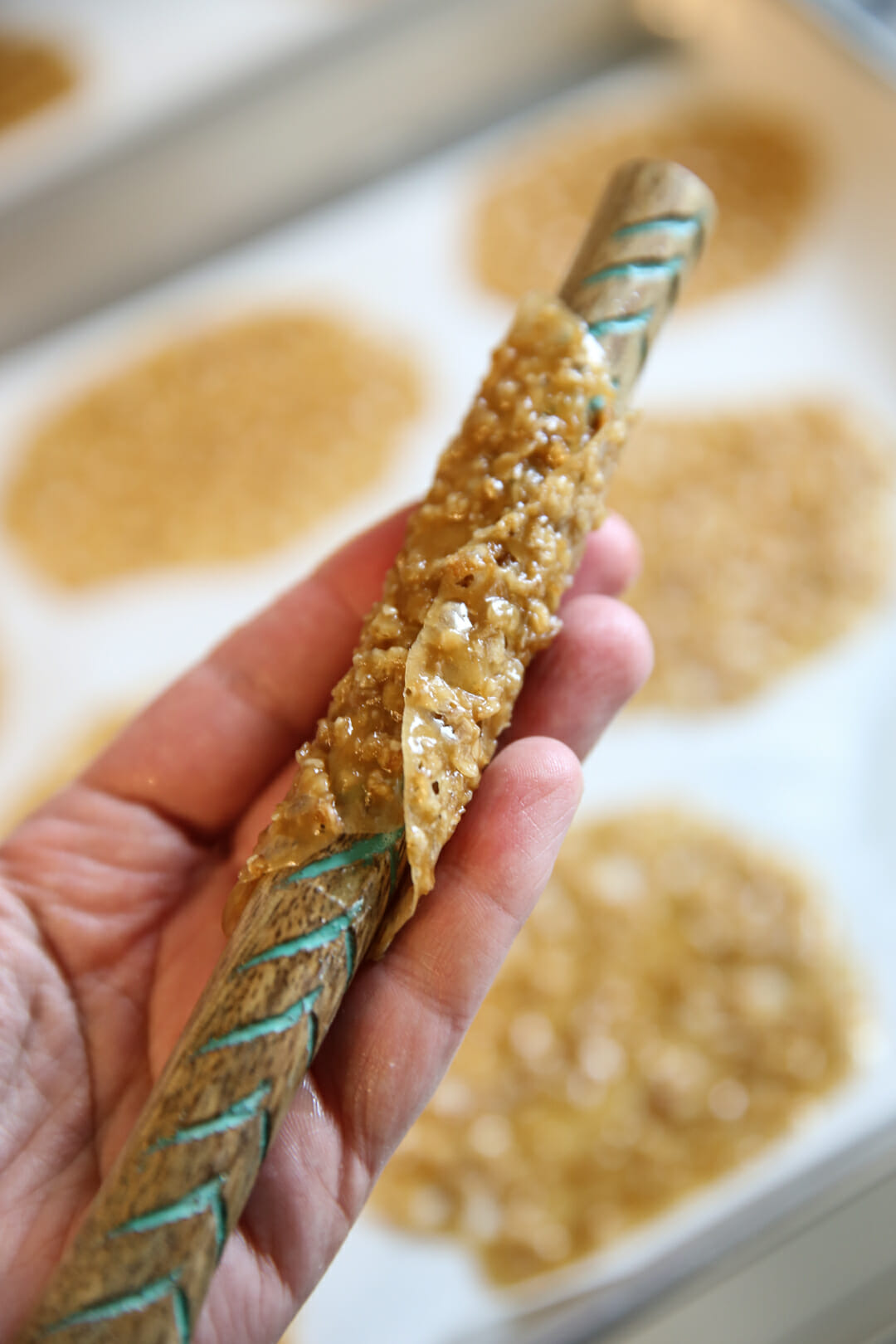 You can leave them plain, or drizzle with chocolate like I did.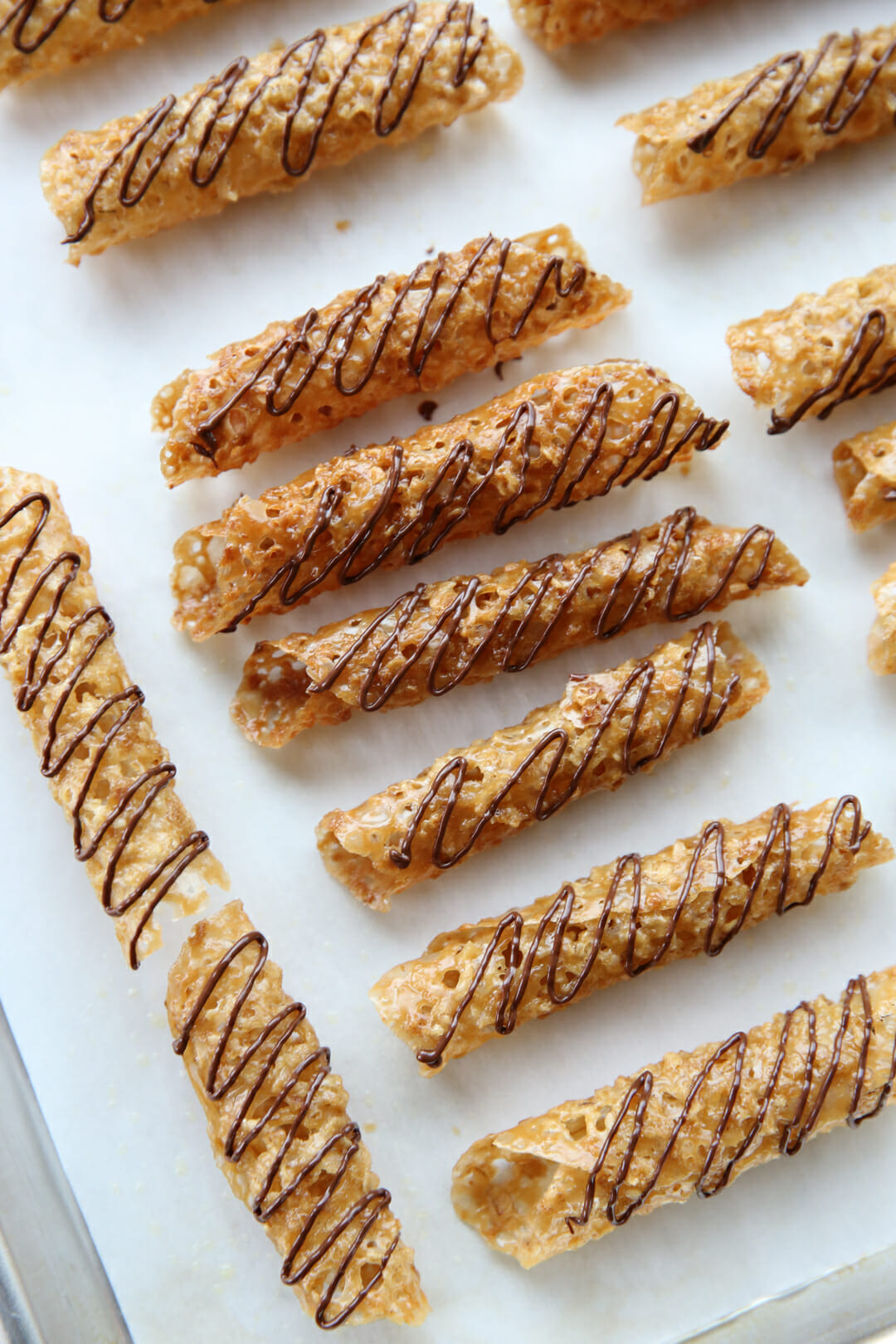 When they cool they become delicate little crisps that are beautiful to package and serve.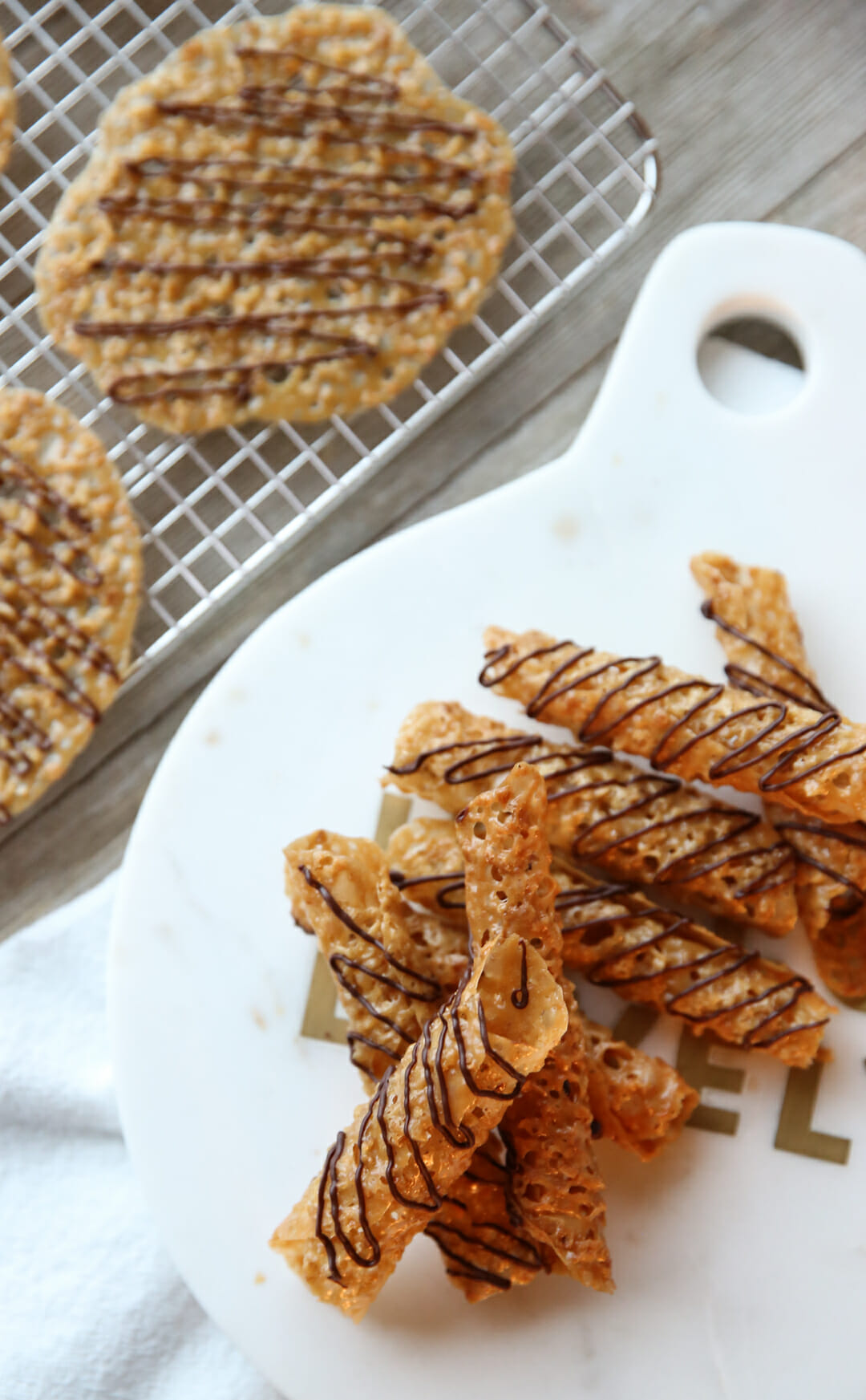 Print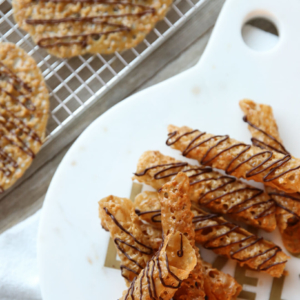 ---
Description
"Made from a batter that spreads and separates as it bakes into lacy, brittle, see-through wafers, these fancy-looking cookies crunch when you bite into them and immediately melt in your mouth with the rich taste of butter and brown sugar" – America's Test Kitchen
---
4 tablespoons

unsalted butter

6 tablespoons

packed (

2 2/3 oz

) light brown sugar

1/4 cup

dark corn syrup

1/2 cup

(

1.5 oz

) quick oats (NOT old fashioned)

1/4 cup

(

1 1/4 oz

) flour

2 teaspoons

vanilla extract

1 1/2 teaspoons

heavy cream

1/8 teaspoon

salt
---
Instructions
Heat oven to 350 degrees. Line baking sheets with parchment paper.
Combine butter, brown sugar, and corn syrup in medium saucepan; cook, stirring constantly, over medium heat until boiling. Off heat, add oats, flour, vanilla, cream, and salt and whisk until well combined.
Using 1-teaspoon measure, drop scoops of batter 3 inches apart on prepared sheets. Bake until golden and no longer bubbling, 6 to 8 minutes. Let cookies cool on sheets for 1-2 minutes if shaping cookies or 10 minutes if leaving flat. Gently remove cookies from parchment and repeat with remaining batter. Serve.
Shaping: To make a rolled cigar shape, flip the warm cookie upside down and then roll it around the handle and let it cool completely.
---
Notes
This recipe yields 36 cookies. However I suggest you double the batter just because it's so easy to, and then you'll have some wiggle room to test out a cookie or two before cooking the whole batch, just to get the hang of it!