A few years ago after I had bought my first iPhone and was still learning the ropes, my life changed for ever when my friend Brie told me Siri could remind me to do stuff. Wait, what? She can tell me not to forget to shower one day? Or when to start getting my kid ready for a birthday party I had already forgotten about? Or that I need to call someone on their birthday three months from now? I now use Siri to her full potential and have her to remind me to do crap ALL. DAY. LONG. Like, who needs a calendar when your phone can nag you?? I'm telling you it's the only reason I survive. Siri is probably in fact bitter that she's so overworked and underpaid. I'm pretty sure all phones can do this now- so do yourself a favor and set a reminder right now while you're thinking about it. Have your phone remind you THIS Friday at 1:25 pm MST that Sara is going live on Facebook from her kitchen and she's bringing her pal Mel and you don't want to miss it! That will give you time to find a quiet spot and log on by 1:30 when you can stream live with us and ask questions and chit chat. Think of it as a fun lunch date with us! Also, topic is TBD so if you have any requests- let me know in the comments. I'll be hopping on one more time this week for a fun sneak peek of a project I'm working on but I'll let you know later about that one. Follow us on Facebook so you keep up!
Now we can talk about cake. Tell your phone to remind you to make cake.
I thought of a lot of alternate titles for this recipe, like Sugar-Crusted Apple Cake, Apple Cake Cobbler, Caramelized Apple Cake, You-will-be-sick-because-you-can't-stop-eating-it-apple-cake… It's not a normal cake cake, even though it starts out like one.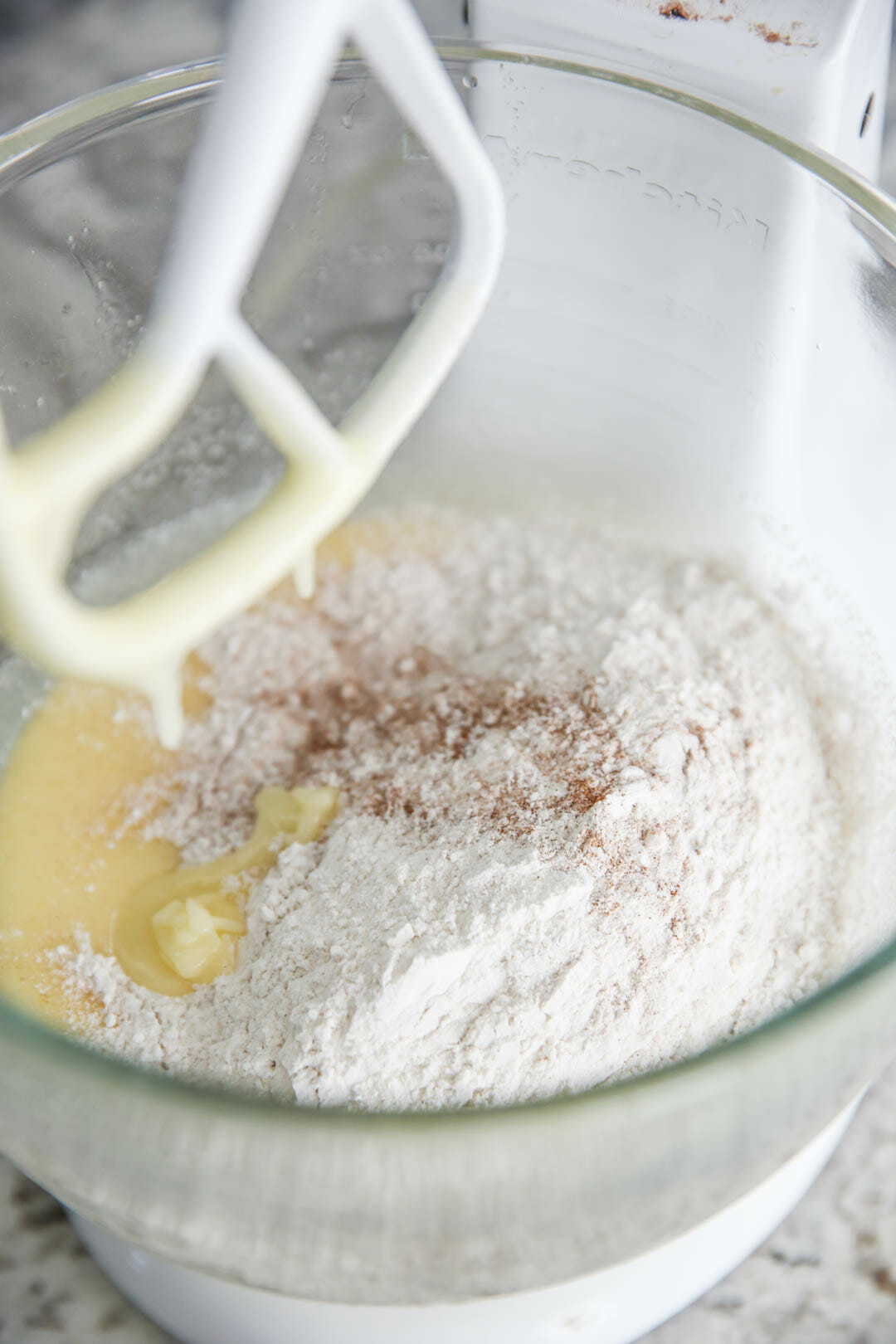 I have a pretty good feel for recipes, and as I was making this I could tell that the sugar was a little high, and while I really like apples in my recipes, it seemed like quite a bit for the amount of batter as well. But I decided to just go for it and see what happened because this recipe is in this same basic form in tons of different places around the internet. It's obviously been around for a long, long time so it must work just fine.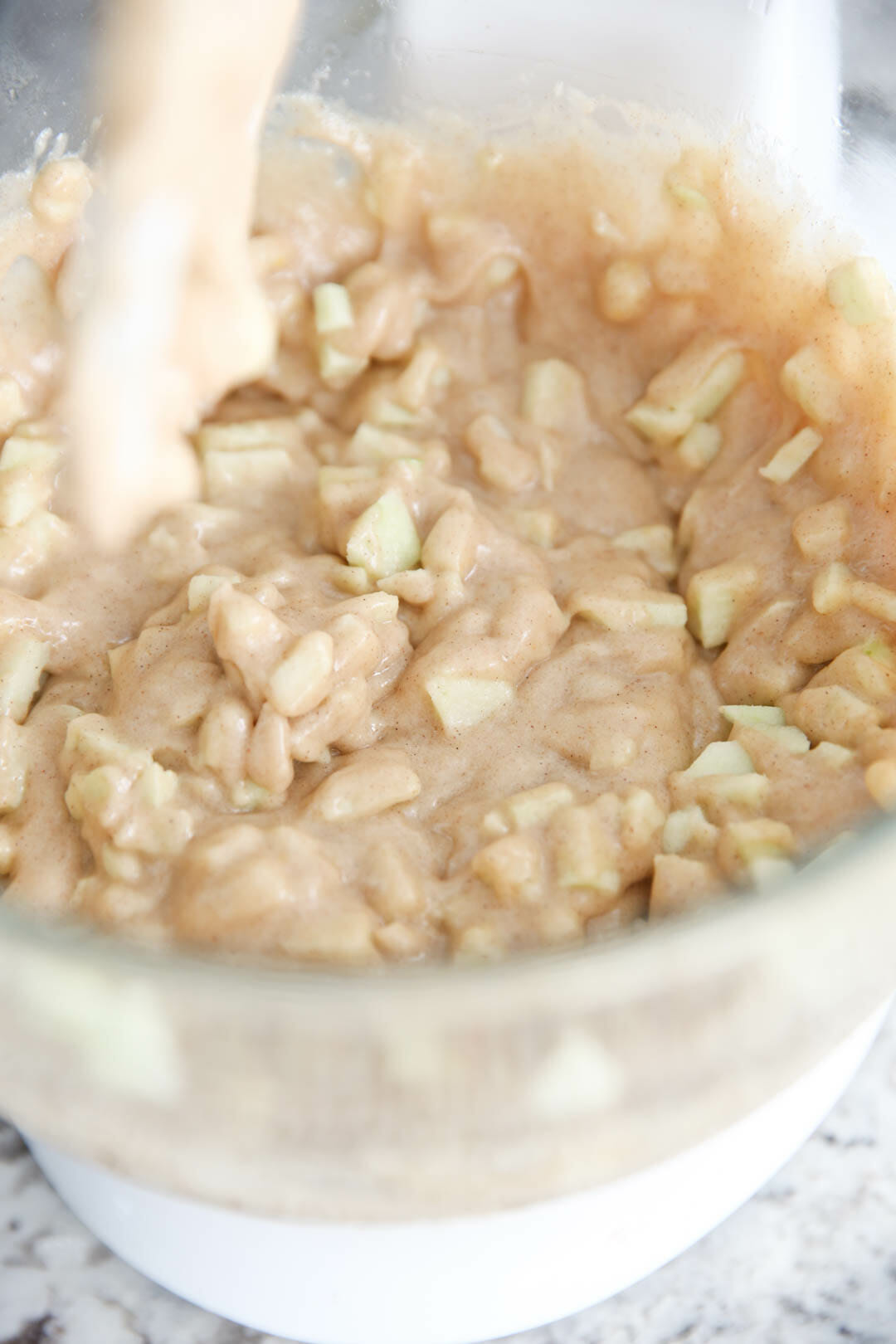 And sure enough. I was experimenting with pans this particular time, which is why you see mine in 2 8-inch rounds instead of the standard 9×13. See, something amazing happens in the oven when all that extra sugar starts cooking and caramelizing and turns into this to-die-for delicately chewy crust around the outside and top. Don't be weirded out if your cake looks like a brain on top. The brain is the best part. (I'm going to now get emails about how I grossed someone out. It also happens every time I use the word crap. Crap, I just did it again. And I did it in the opening paragraph. Strike 3.)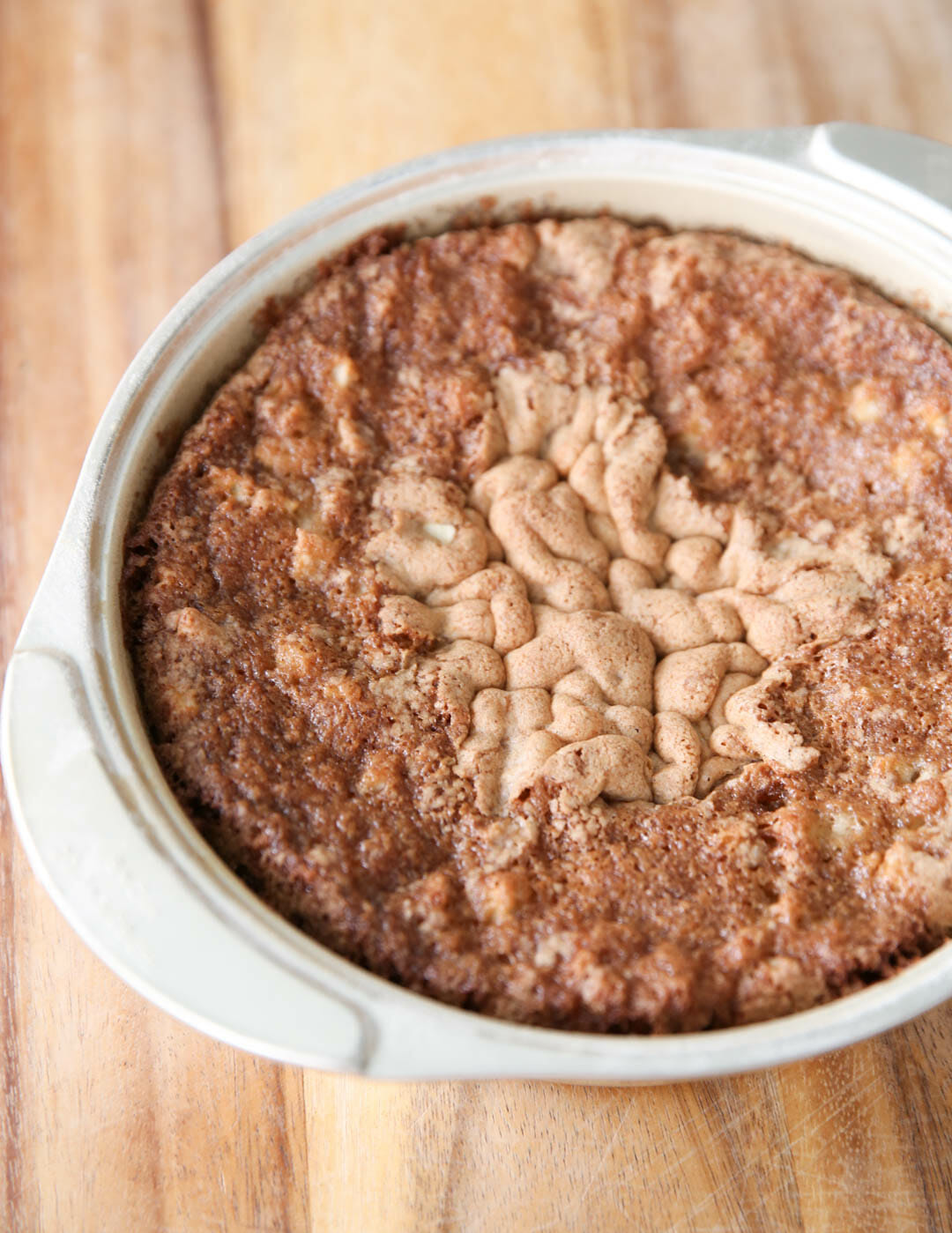 Guys, this cake is SO GOOD. It's so moist (see? It's good enough for me to actually use the word moist) and there are so many apples in there that it's almost more of a cake/cobbler. You could just shovel it in bowls over ice cream instead of cutting into nice slices.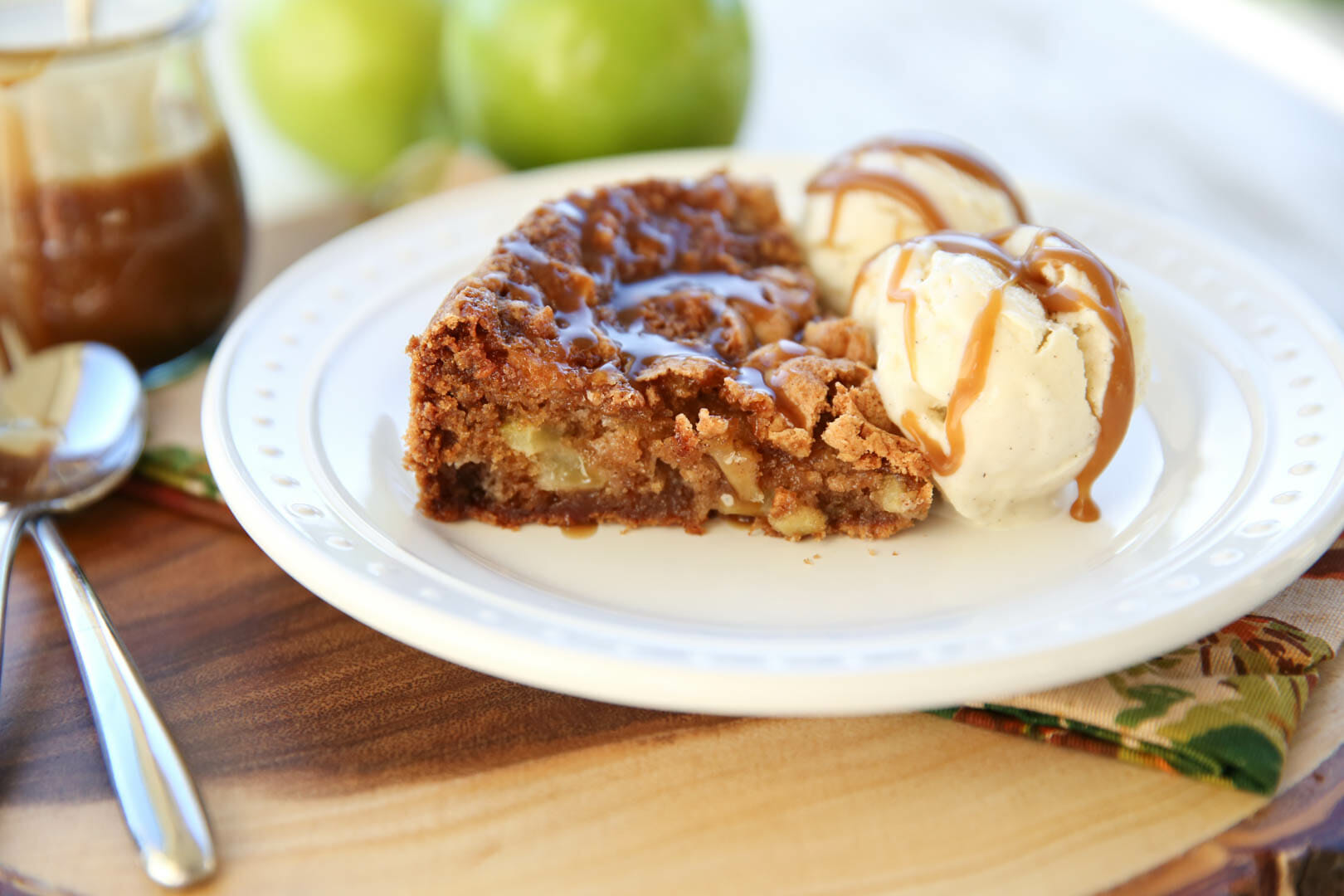 We could not. Stop. Eating.
And I did drizzle caramel on mine because heck, it seemed like a natural thing to do, but it totally doesn't need it. The cake is sweet enough, that plain vanilla ice cream or whipped cream is the perfect compliment.
You can see how the top is all bumpy and crackely, kind of like it was made to catch melted ice cream. Put this one on your must-make list!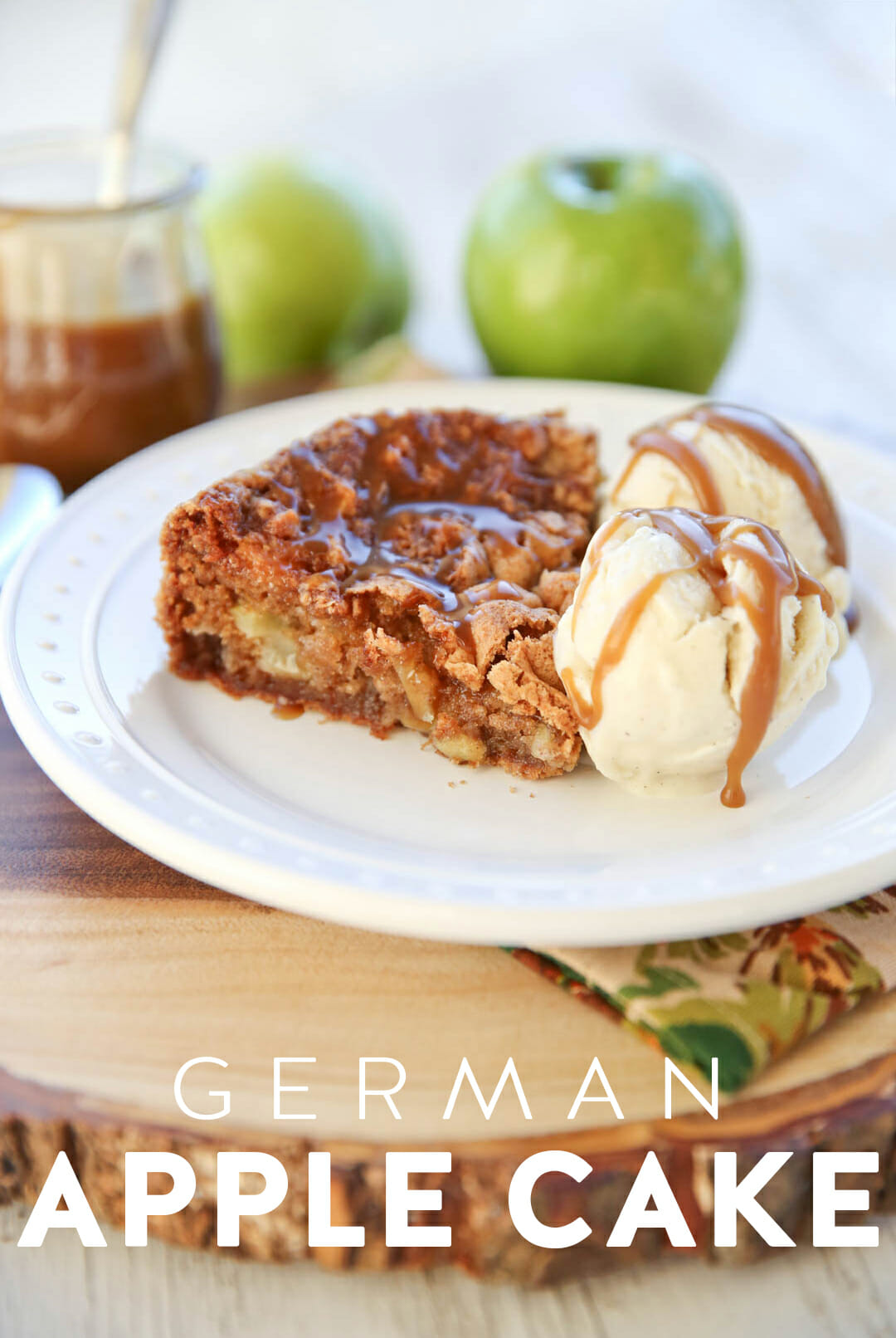 German Apple Cake
---
Description
A super moist, almost cobbler-like cake with sugar-crusted edges and chunks of fresh apples. Out of this world!
---
2

large eggs

1 cup

vegetable oil

2 cups

white sugar

2 teaspoons

ground cinnamon

1/2 teaspoons

salt

1 teaspoon

vanilla extract

2 cups

flour

1 teaspoon

baking soda

4 cups

peeled, diced apples (I suggest Granny Smith's)
optional but recommended: vanilla ice cream or whipped cream for serving.
---
Instructions
Preheat oven to 350 degrees. Spray a 9×13 pan with non-stick spray.
In a mixing bowl, beat oil and eggs with an electric mixer. Add sugar and vanilla and beat well. Combine flour, salt, baking soda, and ground cinnamon together in a bowl. Slowly add flour mixture to egg mixture and mix until combined. Teh batter will be thick. Mix in apples until just combined.
Spread batter in prepared pan and bake for about 45 minutes or until top looks set but toothpick comes out with moist crumbs attached. Don't overbake! This is best even slightly underbaked.
Let rest on a cooling rack and serve slightly warm with vanilla ice cream or whipped cream.
---