I vividly remember the first time I had a "German Pancake".  I was a little girl and my parents had gone out of town and one of my favorite babysitters, Amy Arneson, was staying with us.  She asked if we had ever had German Pancakes and I wondered what that could possibly mean.  We had pancakes a lot, and we even had ties to Germany so I wondered what those Germans could do so differently to warrant having a pancake named after them.  She placed a big glass cake pan in the oven and I remember watching in wonder as it morphed from a flat, silky batter, into an enormous fluffy cloud in the hot oven.  To be honest, I'm not sure if German pancakes have anything to do with Germany because when you make a smaller batch in a cast iron skillet, they're called "Dutch Babies".  Either way we apparently have Europeans to thank?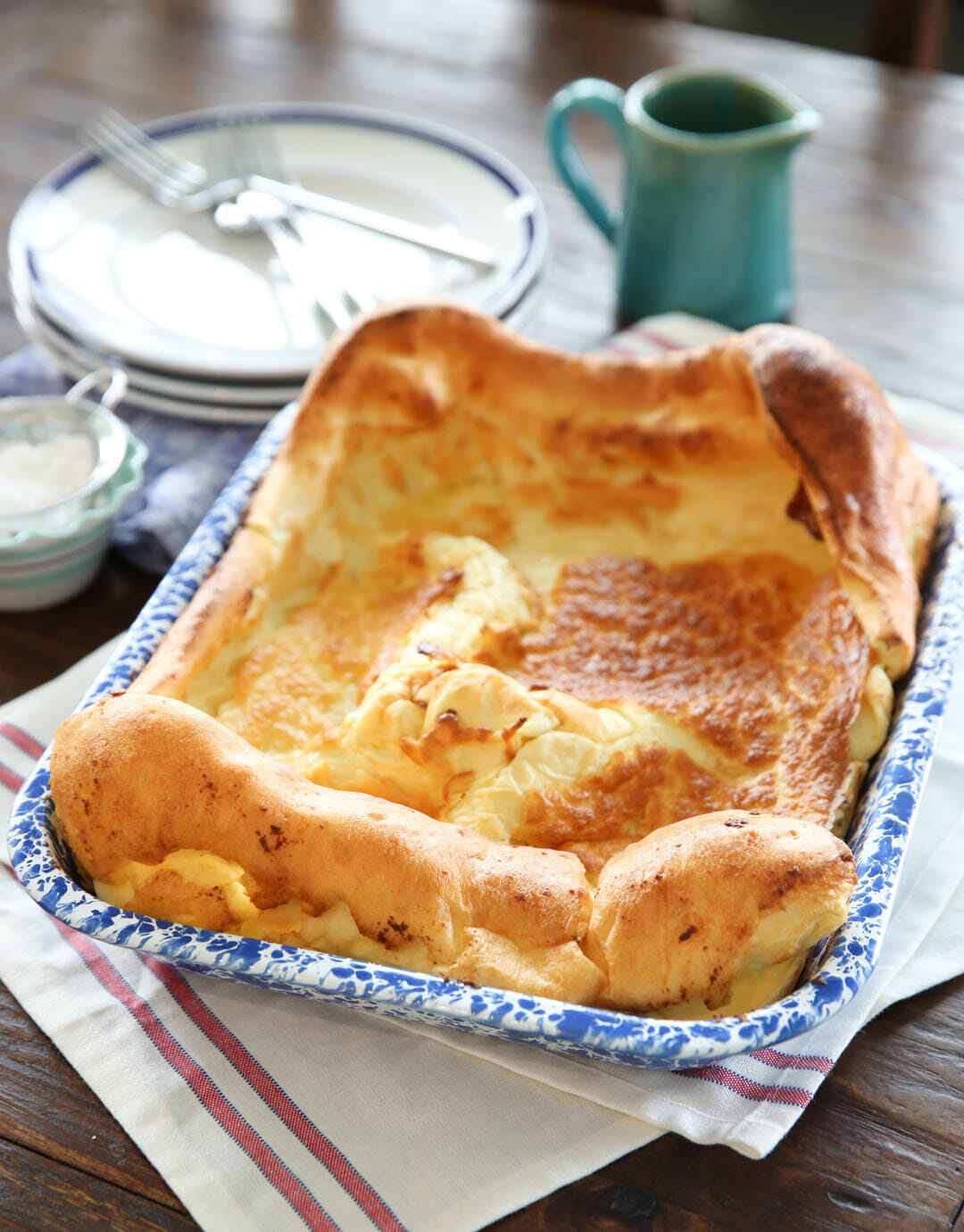 I mentioned on Friday that we've been stuck in a snopocolypse here in Boise (AKA longest winter break ever. ) We haven't really left the house so we've been quickly going through everything in the fridge and pantry.  I was actually kind of low on food right before the storm hit, but what we did have was a full crate of eggs from Costco, several gallons of milk, and a freezer full of bread.  So on these cold, snowy, stuck-at-home-days, we've been eating LOTS of breakfast.  Breakfast for breakfast, breakfast for lunch, breakfast for dinner.  You get the idea.  I've been making french toast for the armies of neighborhood boys piling up around meal time, scrambled egg sandwiches while we watch tv in our pajamas, and yes- German Pancakes.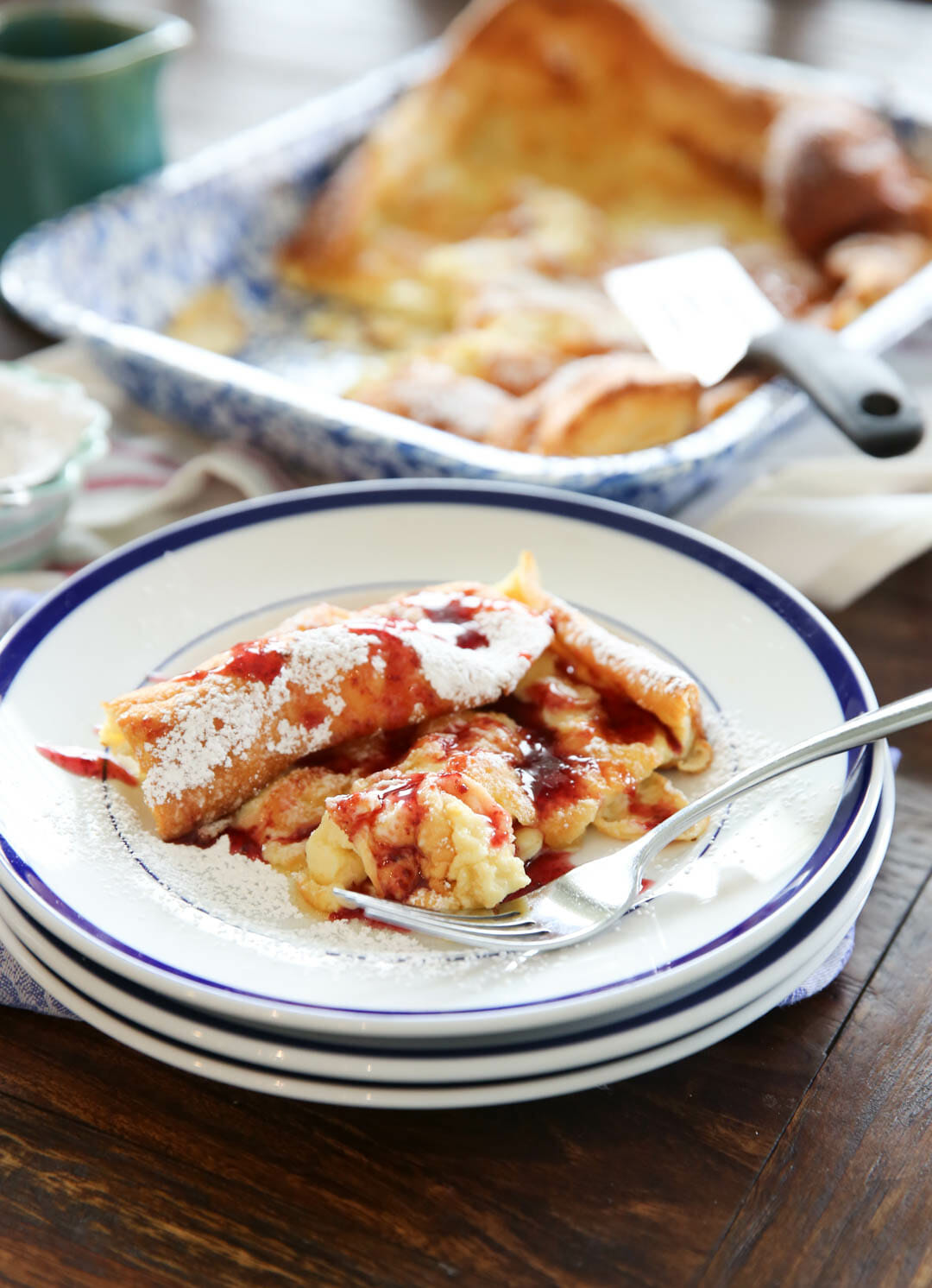 This is one of my kids most favorite "special" meals, but what they don't know is that it's one of Mom's go-to crap-I-need-to-cook-something meals.  Because it requires minimal pantry ingredients, literally about 3 minutes prep time and that's IT.  No pouring and flipping like crepes, pancakes, or french toast (there's another European name, what's with all the European breakfast names?) and no waiting for waffles to cook one by one in the waffle maker.  It's THE easiest of the breakfast foods, so it's a regular around here.  I realized that while I've shared a mini version of this favorite dish both here and in one of our cook books, I've never shared our tried and true dump-in-a-cake-pan version that we make so often.  So here we go.
This couldn't be easier.  First of all, you'll toss some butter in a pan and place that pan in the oven to get hot.  You want and need a hot pan for the best pancake so leave it in there until the butter melts, and it will even start to brown.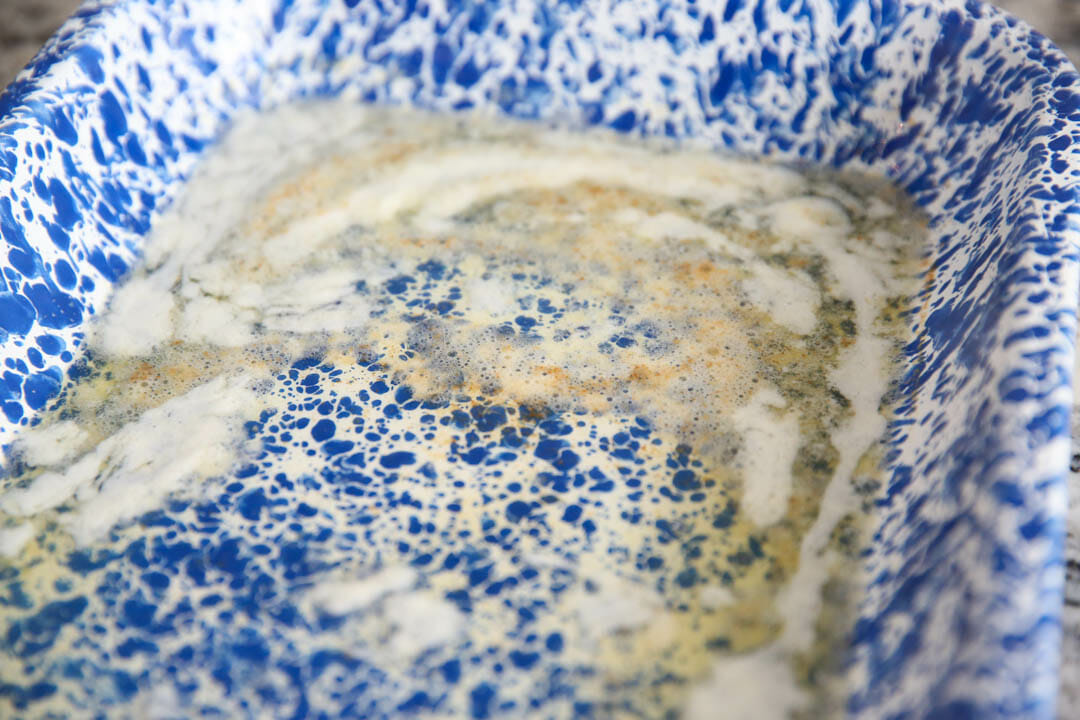 While it's heating up, you'll mix up eggs, milk and flour with a pinch of salt and a dash of vanilla. Then you just pour it in your hot pan.  (My cute pan is from Crow Country Home, by the way.  I bought it here.)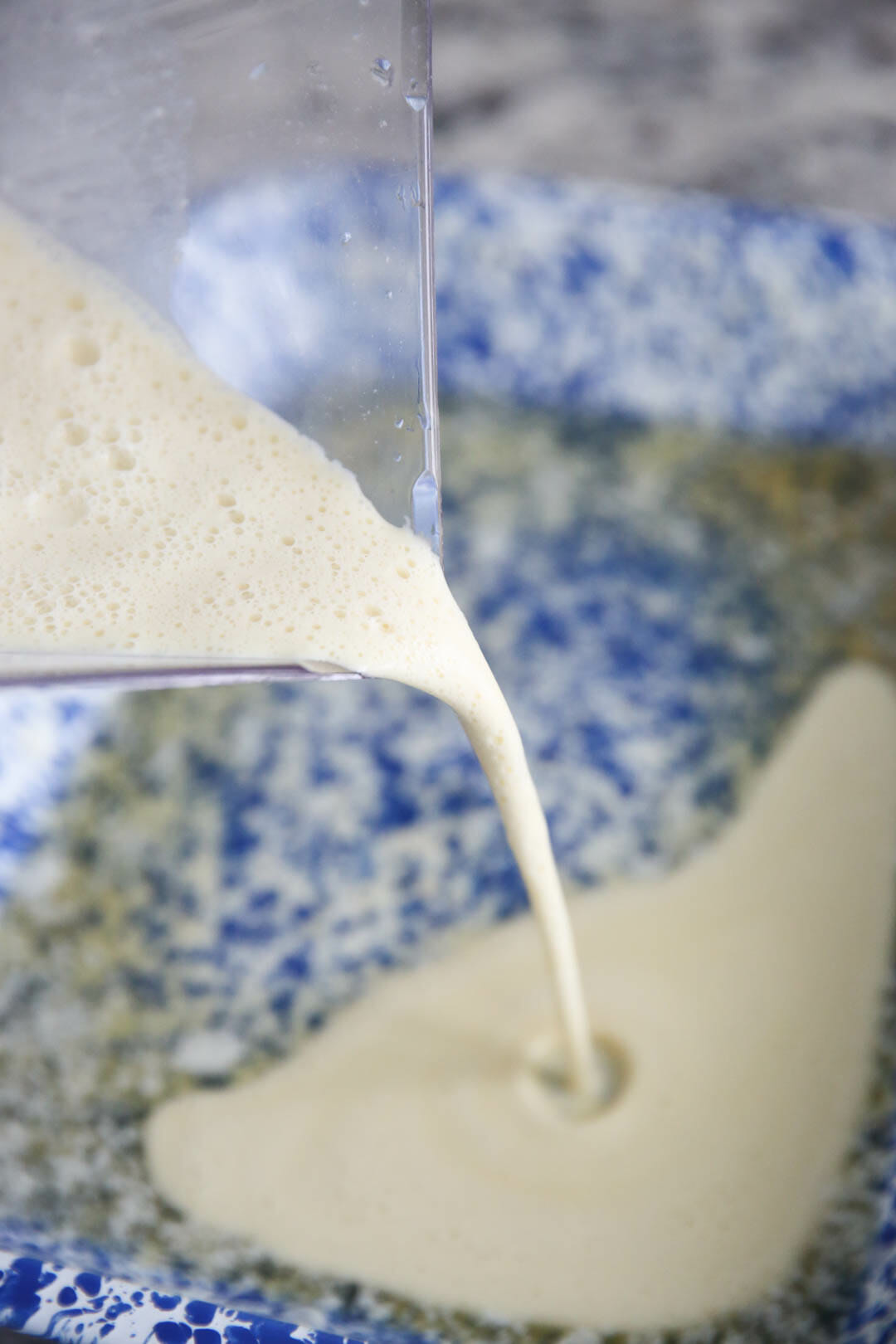 Pop that pan in the oven and in 15-20 minutes or so it will puff up into a delicious pillowy pancake.  My kids love standing near the oven and watching it morph.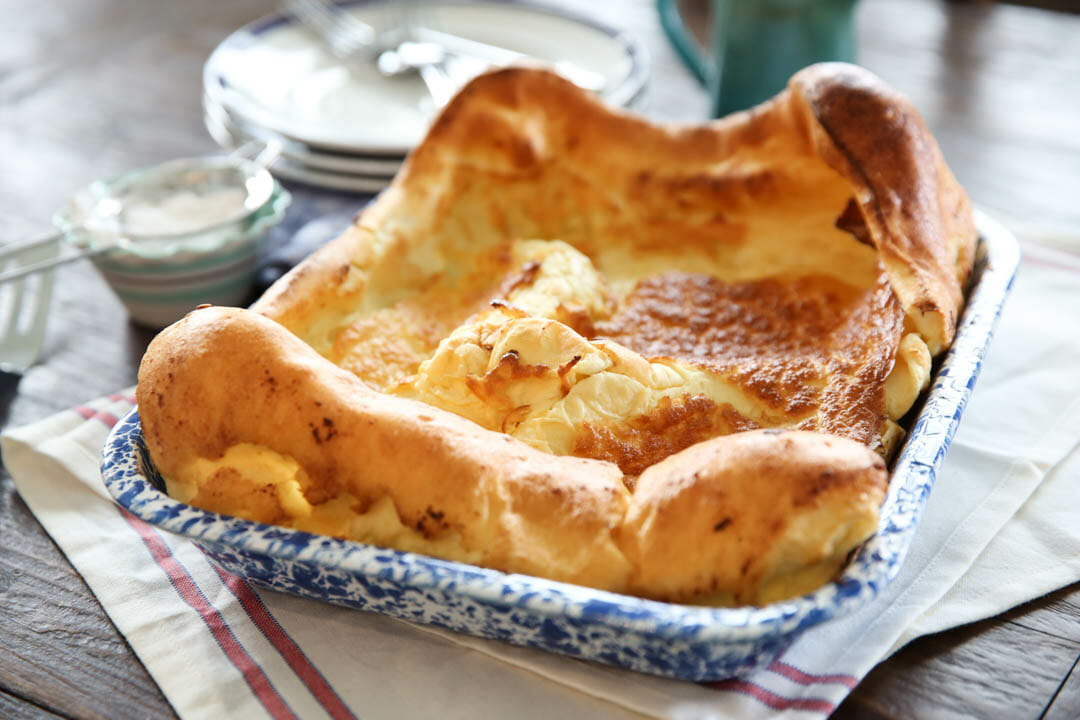 I actually go less by a timer and more by sight since it seems to cook a little different every time. It will start to sink down once it comes out, but no worries, that's normal!  Drizzle it with a little more melted butter,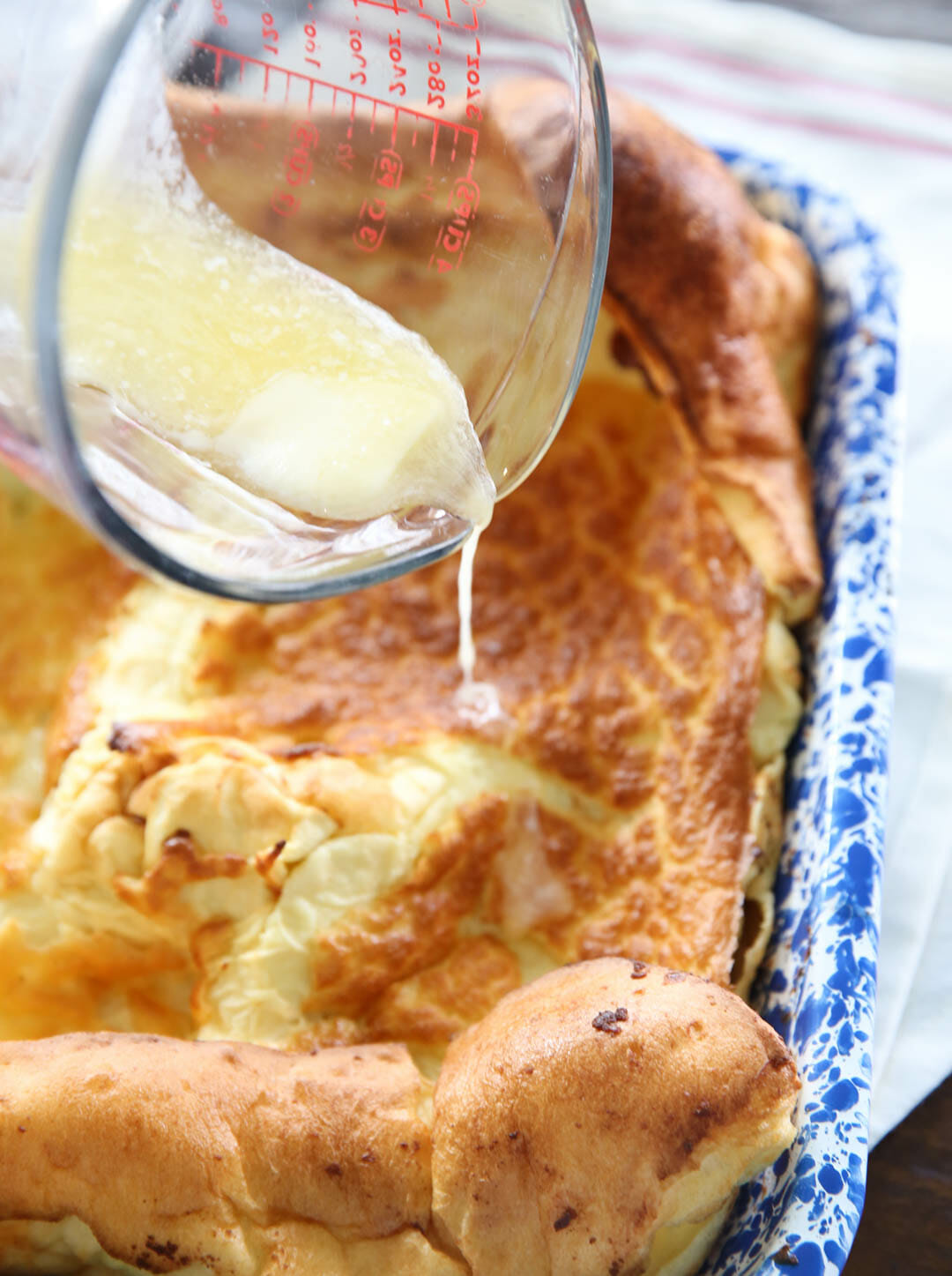 And we like a dusting of powdered sugar.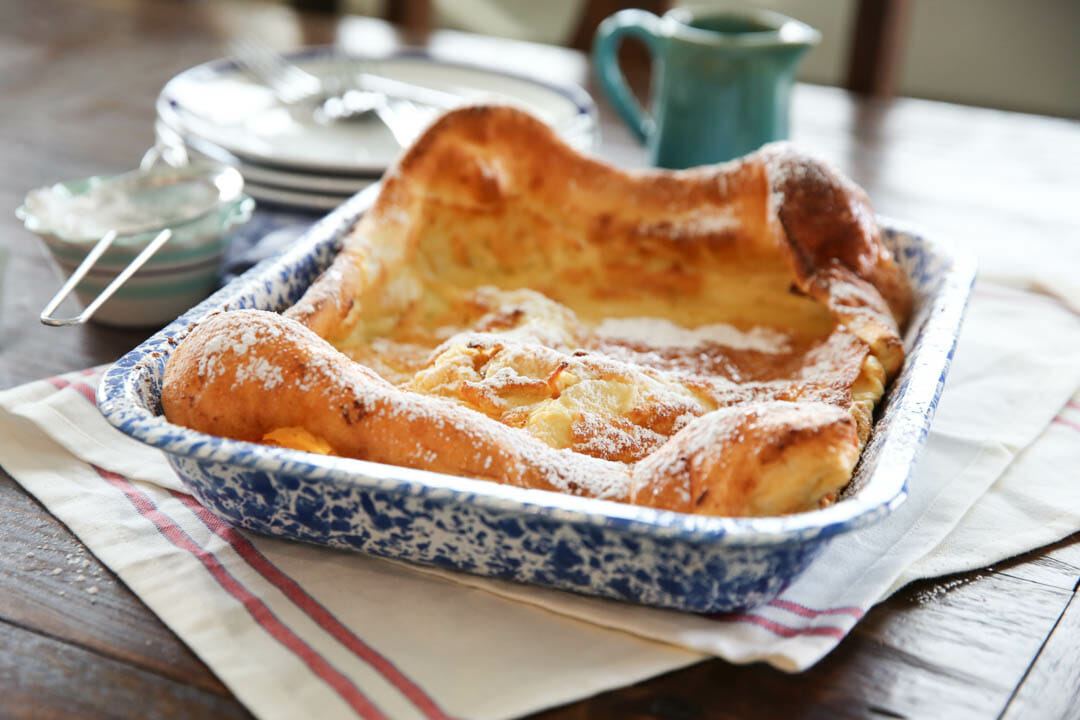 After that, the sky is the limit when it comes to toppings.  You can do good ol' maple syrup, or fresh berries and whipped cream, or lemon juice and powdered sugar just to name a few.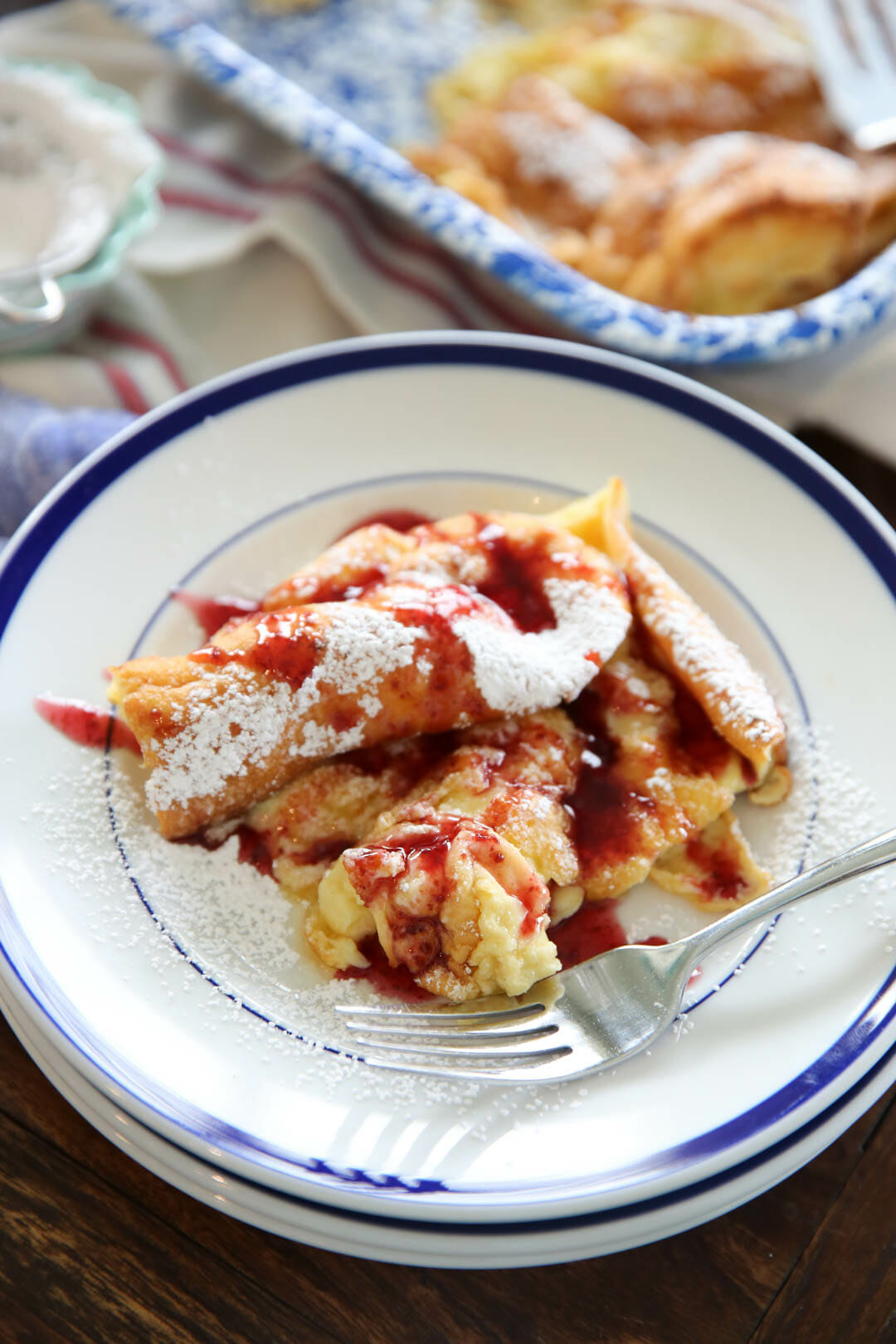 We love this Kodiak Cakes Berry Syrup, and if you want a homemade version, check out our Strawberry  or Blueberry Syrups, or this Buttermilk Syrup is also fantastic.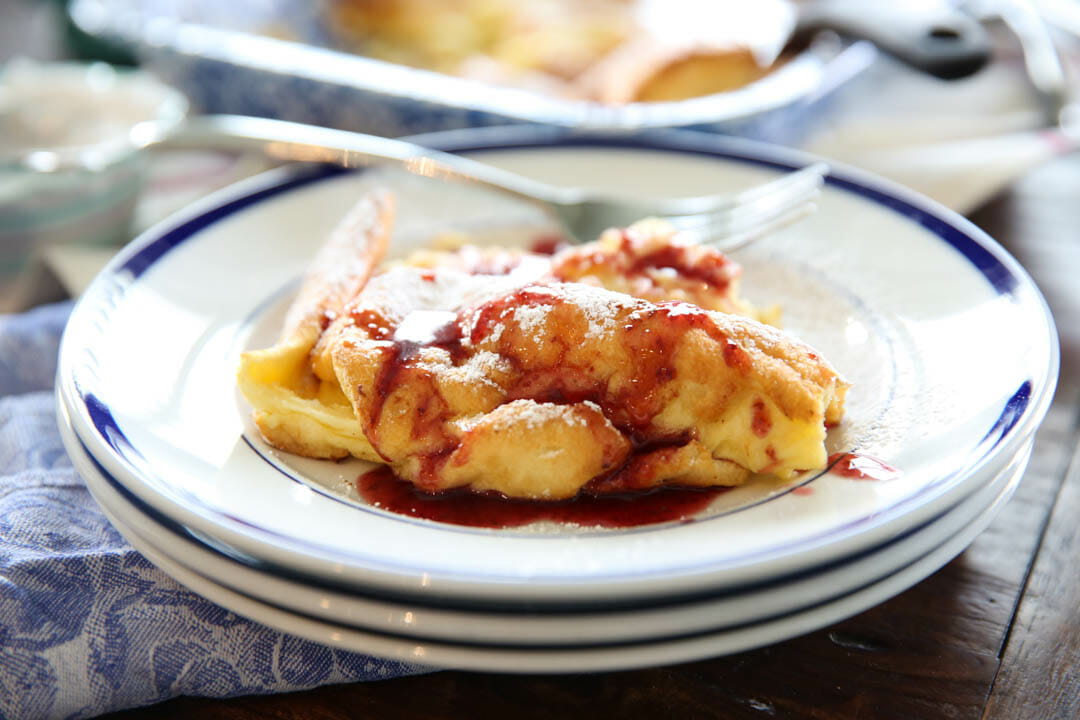 Today we had so much snow and ice that even our church, which is across the street from my house, was cancelled.  So we cozied up and while my boys assembled Lego sets from Christmas, my husband and I finally watched the Gilmore Girls revival (I've been re-binge watching all 7 seasons and finally finished the night before!) and ate German Pancakes for dinner with canned peaches from Grandpa's summer crop and whipped cream.  Pretty perfect day if you ask me.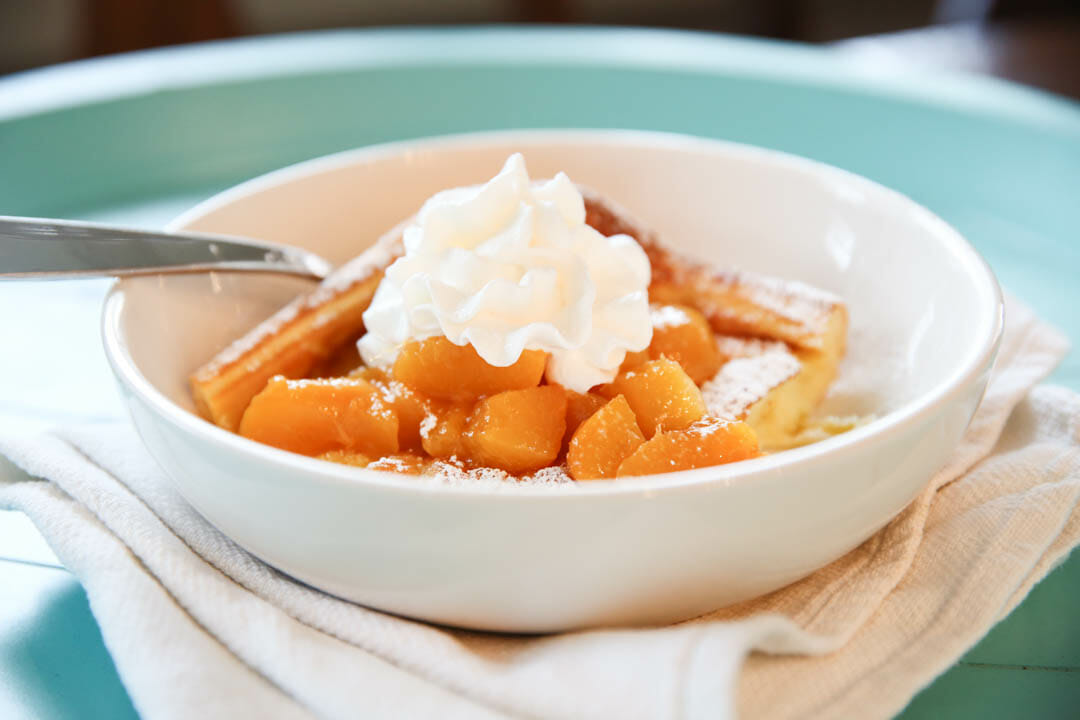 Print
German Pancakes
---
Description
Family-size fluffy egg pancake that can be topped with your favorite pancake toppings!
---
6 large eggs
1 1/3 cups milk
1 cup flour
1/4 teaspoon salt
1 teaspoon vanilla
8 tablespoons (1 stick) butter, divided
Powdered sugar
Additional toppings as desired
Berries, berry sauce, maple syrup, whipped cream,buttermilk caramel syrup, etc.
---
Instructions
Chop 6 tablespoons of the butter into chunks and place in a 9×13 pan. Place pan in oven and preheat to 400 degrees. Place remaining 2 tablespoons butter in a small dish and microwave until melted completely. Set aside.
While the oven is preheating, combine eggs, milk, flour, salt, and vanilla in a blender, or simply whisk until completely smooth. Remove pan from oven when butter is melted and tilt pan to distribute butter evenly on the bottom of pan and slightly up sides, or a silicone brush.
Pour batter into pan and then return to oven. Bake for 15-25 minutes or so, or until puffed up and golden brown on top. All ovens cook differently, so just keep an eye on it!
Remove from oven and immediately pour remaining melted butter over the top and sprinkle with powdered sugar. Cut into large pieces and top with desired toppings.
---
Notes
Although a 9×13 pan seems like a lot, these will go fast! I find 1 pan feeds my family of 6 if there are other things to accompany the meal, or hearty toppings (like lots of fruit.) If it's all we're eating, I often make 2 for my hungry boys!
And hey!  If you're looking for some inspiration and motivation this year to reach health and fitness goals, we have some great blog posts coming up to help you do just that!  But first and foremost, join our DietBet!  Also follow us on Instagram at @ourbestbites_fitclub if you aren't already!  Our Diet Bet starts on the 17th and you can find all the info, here!
*Disclaimer: This post contains affiliate links.