Remember back when when I posted the Honey Citrus Vinaigrette recipe and talked about how sometimes you can just look at the ingredient list for a recipe and instantly know in the pit of your soul that it would make you happy? Well I have three words for you: Chocolate. Butter. Sweetened Condensed Milk. Any questions? I didn't think so. If you're wondering how something so incredibly simple could be so incredibly delicious, then you'll just have to make it to find out. This was a favorite in our house growing up, and we especially loved it at Christmas time over peppermint ice cream. The great thing is that these are ingredients that (at least at our house) are always in the pantry. I promise once you make this you'll never buy that bottled Hershey's stuff again! And let's face it; if you're making homemade ice cream already, it deserves the best 🙂
Hot Fudge Sauce
Ingredients:
3oz semi-sweet chocolate* (3 squares of baking chocolate, or about 1/2 C chocolate chips
1/4 C butter (that's a half of a stick folks. Admit it, at least one of you didn't know that)
1 Can Sweetened Condensed Milk
*I wouldn't use milk chocolate for this, it's way too sweet, however both dark and bittersweet are awesome

Instructions:
1. If you're using baking squares, chop them up into small pieces so they melt easier. I chop the butter up into small chunks too.
2. Okay, it's not rocket science. Put it in a pan on medium heat and melt it all together till it's smooth, creamy, and just looking at it gives you happy thoughts.

3. If you have leftovers (but let's be honest, you'll have to quadruple the recipe to have leftovers) then put it in an airtight container in the fridge. It will harden into a soft, gooey fudge like consistency. Then keep a spoon handy on the counter and dip it in every time you pass by. This serves the same purpose as the always-open bags of chocolate chips that Kate and I both have in our pantries. Don't deny it Kate.
Something else that might come in handy: The SINGLE SERVING.
In the comments of Kate's Brazilian Lemonade post, I mentioned this great little invention:
The tiny can of sweetened condensed milk.

You find them not with the baking things, like regular sweetened condensed milk, but in the Latin Foods isle in a little six pack. They are PERFECT for all sorts of things when you don't need a whole can. Each cute little can has 3.5 oz, which is 1/4 the size of a normal can. And it makes the most perfect single serving of this fudge sauce, so here's the quantities for that!

—————————————————————————————-

Just for One:
1 tiny can sweetened condensed milk
2 T chocolate chips
1T butter
Just pop it in the microwave and heat in 45 second intervals until smooth!
Storage: This is just fine kept at room temp for a day, but if you are going to keep it overnight or for an extended period of time, pop it in the fridge and just reheat in the microwave.
Pretty Freaking Good poured over this stuff too:
Puffed French Toast (oooh, that's naughty!)
Pizzookies
Double Chocolate Waffles
Cherry Chocolate Ice Cream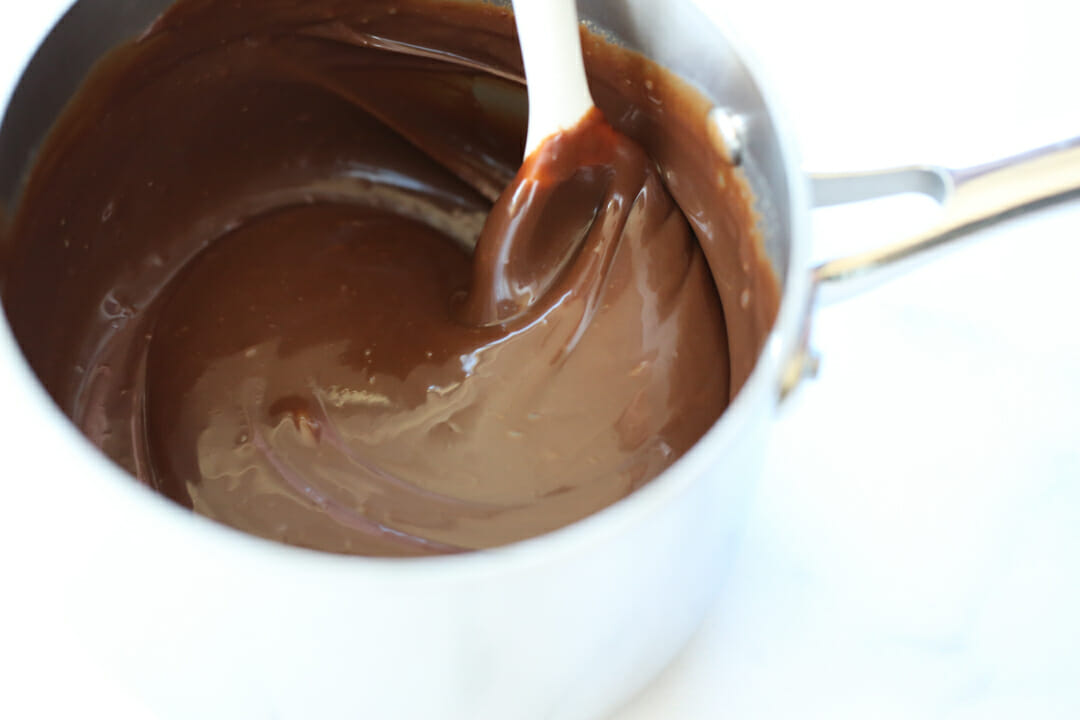 yum!
So easy to make