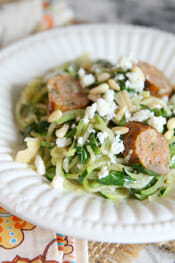 So on Wednesday, I shared my love of the popular Spiralizer.   This is a quick and easy meal I've been making lately.  My husband usually gets home from work around lunch time, and most of our kiddos are at school, so a lot of times I cook up something just for the two of us.  It utilizes some great pantry staples (staples at my house, maybe they soon will be at yours, too!) so this whole meal can be prepped, cooked, and on the plate in less than 15 minutes.  If you don't have a Spiralizer, no worries.  You could use a vegetable peeler to make thin strips of zucchini, or eat this with whole grain pasta, as well.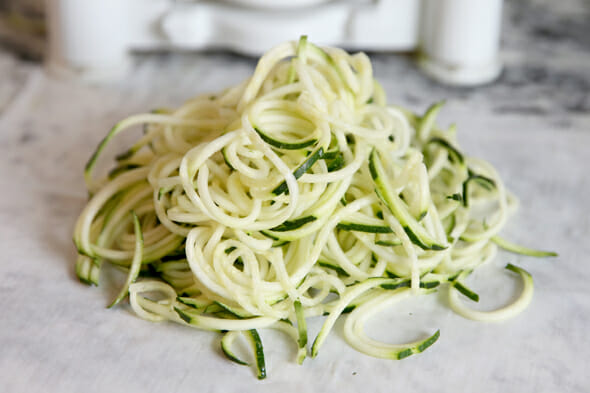 One of my favorite things to have on hand in my fridge are fully cooked chicken sausages.  These days you can buy them pretty much anywhere and there are so many great healthy, organic, awesomely flavored ones.  These ones pictured are one of the staples on my Costco list.  They have 140 calories each, 16 grams of protein, and make such a great protein source for quick lunches and dinners.  Costco actually carries a huge variety of chicken sausages from several brands.  There's a chicken-apple one I love there as well.   At our house we like to eat these sliced up in pasta, or with eggs, or on roasted veggies…the uses are pretty endless.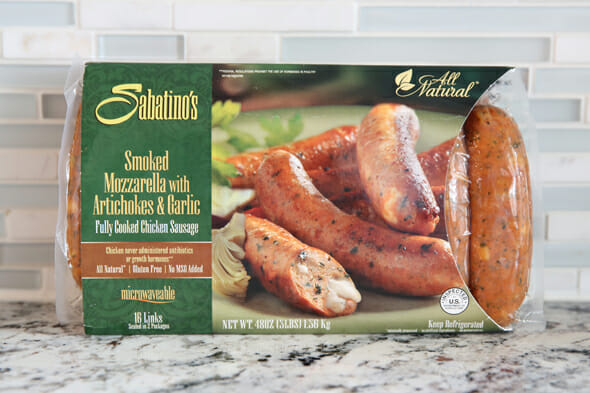 They are pre-cooked so they just take a couple of minutes to heat up in a saute pan, or even the microwave.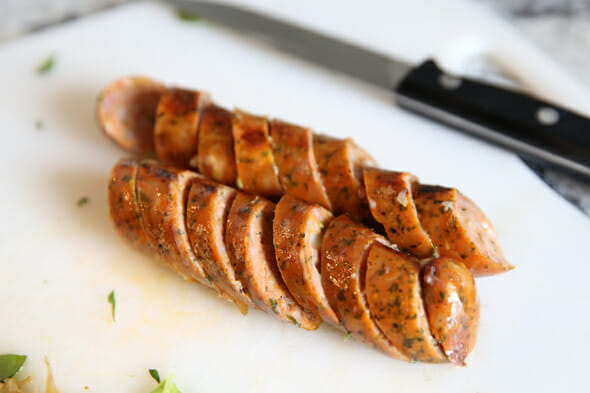 I'm also including some fresh spinach,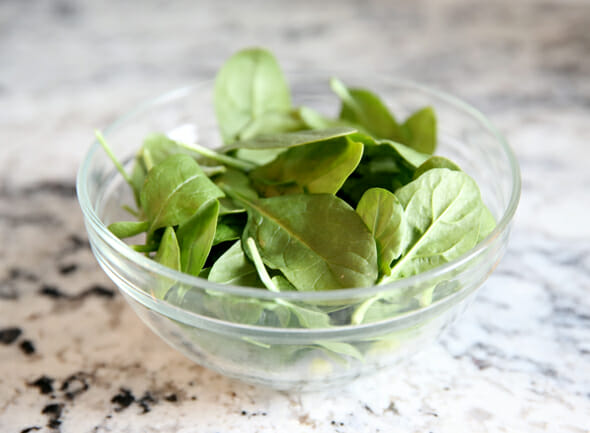 and some jarred artichoke hearts.  If you love marinated artichoke hearts, you will love these grilled ones.  They are new to me and I'm a little obsessed.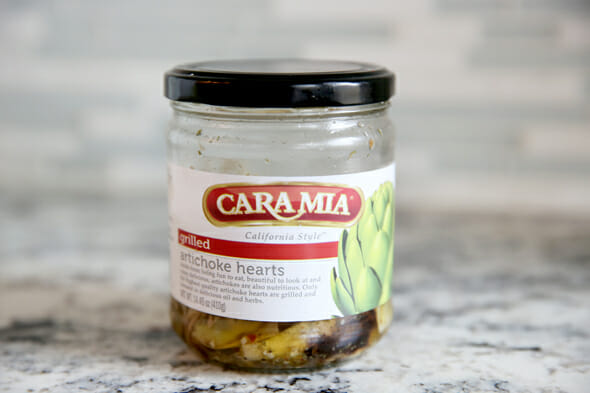 I like this meal because it's super quick, so I usually just pan fry my zoodles in a little flavored olive oil really quick.  I just under-cook them a little so they don't get too soggy.  If you have the time, you can use the trick in this post to remove water from your noodles first.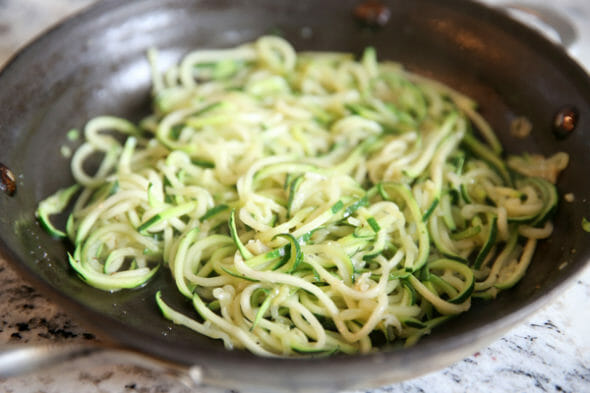 once the noodles are cooked up (only takes about 2 minutes), I just toss them with the artichokes, spinach, and cooked sausage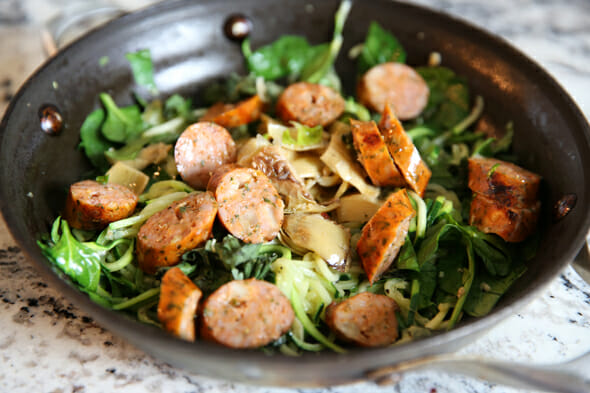 and top it with a sprinkle of toasted pine nuts (amazing flavor and buttery texture) and reduced fat feta.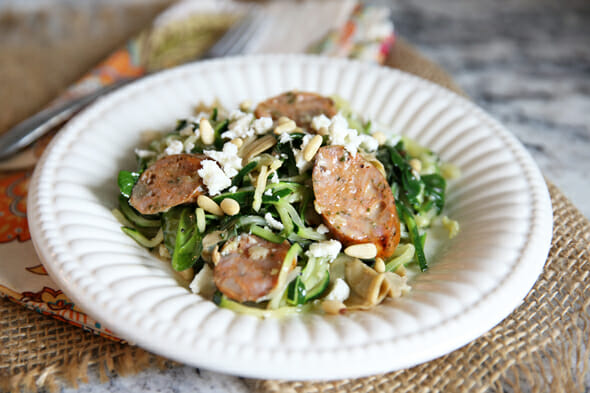 Looks and tastes like a gourmet meal, and it can literally be made start to finish in under 15 minutes.  Bam.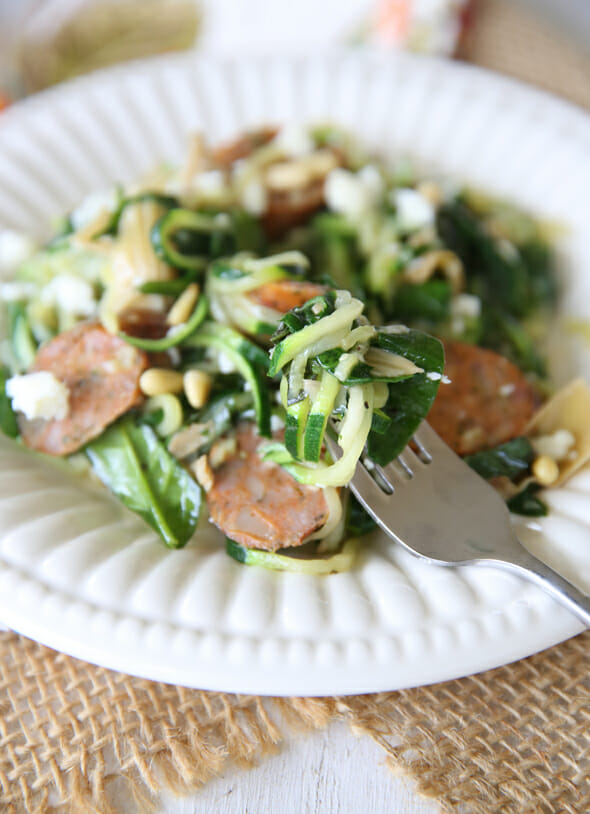 I'm writing this as a recipe for 2, so it's easily made for 1 if you half it.
Print
Zucchini Noodles and Chicken Sausage
---
---
2

pre-cooked chicken sausages, cooked according to package directions

2

–

3

medium/large zucchini (it shrinks down a lot!)

1 1/2 teaspoons

Basil Extra Virgin Olive Oil

1

large or

2

small cloves garlic, pressed

1/4 teaspoon

kosher salt

1/8 teaspoon

black pepper

1 cup

fresh spinach, roughly chopped

6

jarred marinated artichoke hearts, roughly chopped

1 tablespoon

toasted pine nuts

2 tablespoon

reduced fat feta
---
Instructions
Prepare chicken sausages in pan, set aside. Cut or spiralize zucchini noodles and set aside. Heat a large saute pan to medium heat. Add olive oil and garlic and saute 20-30 seconds. Add zucchini, sauté about 2 minutes, add spinach and stir to wilt slightly. Remove from heat and add artichokes and sliced sausage. Divide onto 2 plates and top each with feta and pine nuts.
---