Rice Krispie treats are everyone's favorites.  A staple for just about any event from parties to family nights.  But not all rice krispie treats are created equal!  We love them so much we have an entire section of our index dedicated to them.   Everything from Toasted Coconut-Lime to Smore's and Salted Caramel. Today's recipe is probably the one I use the most, because it's scaled for a huge batch, that's still doable at home.  And even though these are basic "plain" rice krispie treats, they're also perfect.  Too often recipes fall short on the marshmallow to cereal ratio and end up with treats that are either too gooey and hard to chew, or too dry and they scrape up the top of your mouth.  These Large Batch Rice Krispie Treats have the perfect ratio and I'm going to share LOADS of tips today on how to do them well.  This large batch is perfect for bake sales, fundraisers, parties and potlucks, any time you need either BIG rice krispie treats, or simply lots of them!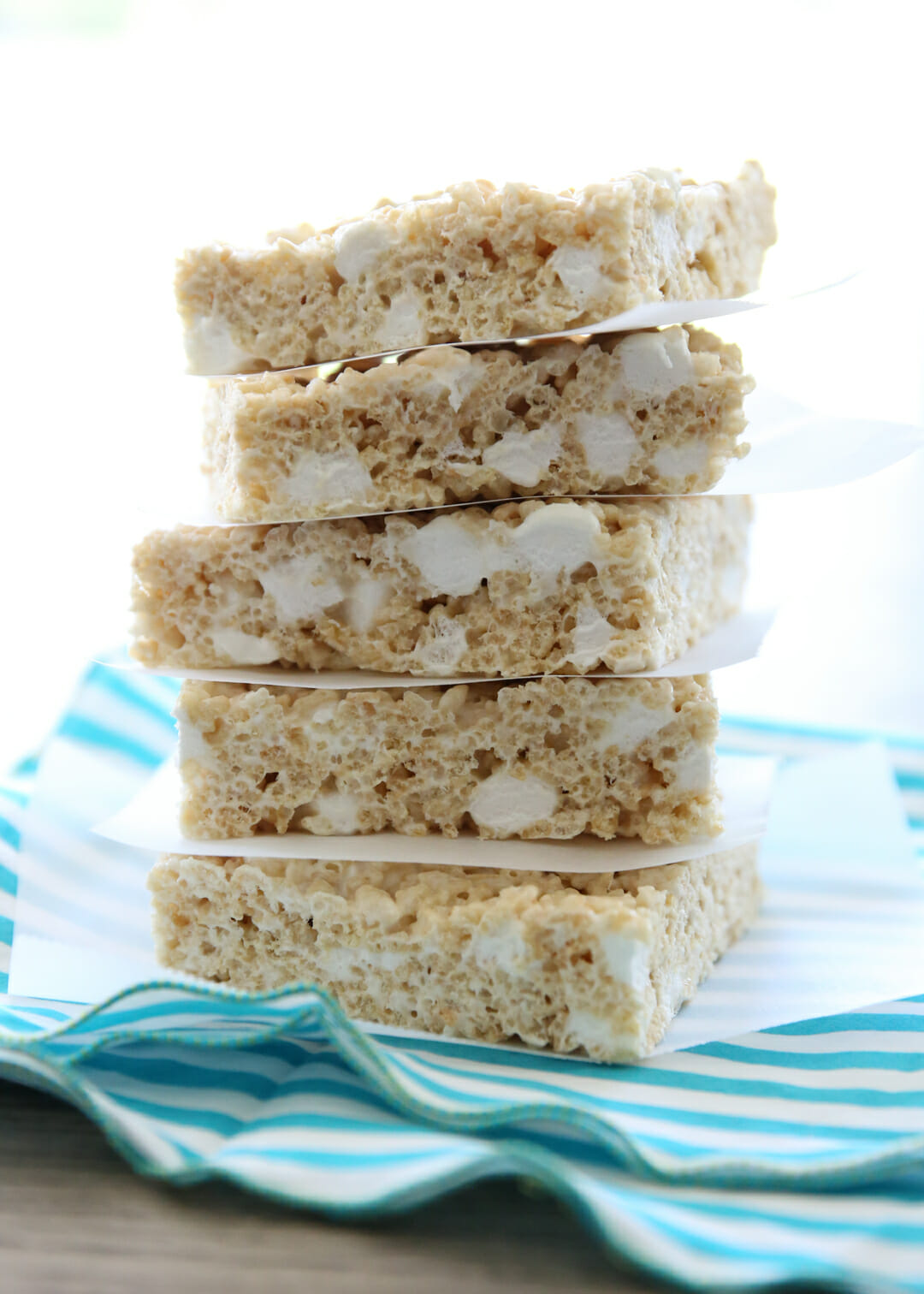 First let's talk equipment.  One of the handiest and most-used items in my kitchen are gigantic mixing bowls.  You can find these at restaurant supply stores for super cheap, or grab one on Amazon.  If you're a member of my faith you might also call them Mormon Salad bowls because just about every LDS chapel has these stocked in the kitchen for big church potlucks!  They make mixing this sticky gooey stuff so easy because you don't just need to fit stuff in there, you need room to really toss it around.
Before you even start, you'll want to lay a sheet of parchment (or foil) in your pan and spray it lightly with non-stick spray.  The pan size we're using is 12×18.  This is one of the most useful pan sizes to have in your kitchen.  It works so well to be able to make 1 and 1/2 times your favorite 9×13 recipes.  When 9×13 just isn't quite big enough. If you don't have a pan like that, then use a 12×18 rimmed baking sheet.  Chances are you have one of these!  It's the size of your standard cookie sheet.
Next place your cereal in your giant bowl (if you don't have a really huge bowl for mixing, I've used a roasting pan in a pinch!) Another secret to really great rice krispie treats is adding some whole marshmallows to the cereal mixture.  It bulks up the mixture all together and makes the treats softer and fluffier when you eat them.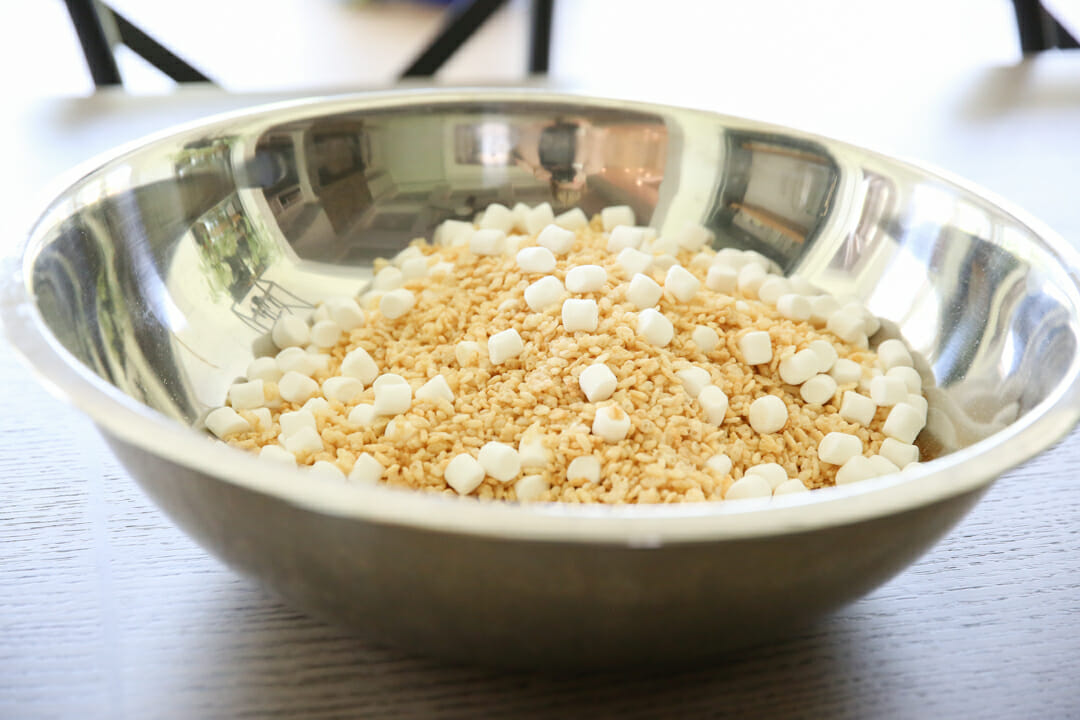 Melt your marshmallows and butter on the stove top until they're really smooth.  Sometimes people don't cook these long enough.  It should be easy to stir and fall off your spoon like a sauce.  You'll also stir in a little salt at this point.  Most people don't include salt in their rice krispie treats but they are so full of sugar, they need it for balance!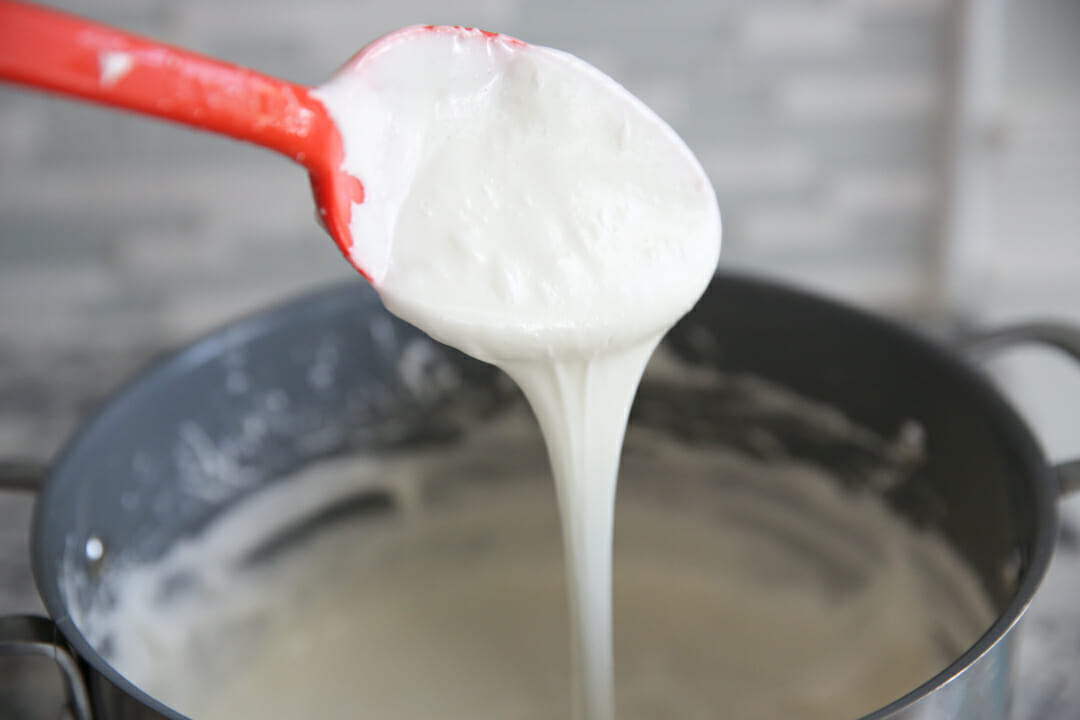 Pour the melted marshmallow mixture into the big bowl of cereal and marshmallow.  Make sure to scrape out all that good melted goo and then immediately stir stir stir to get it all coated.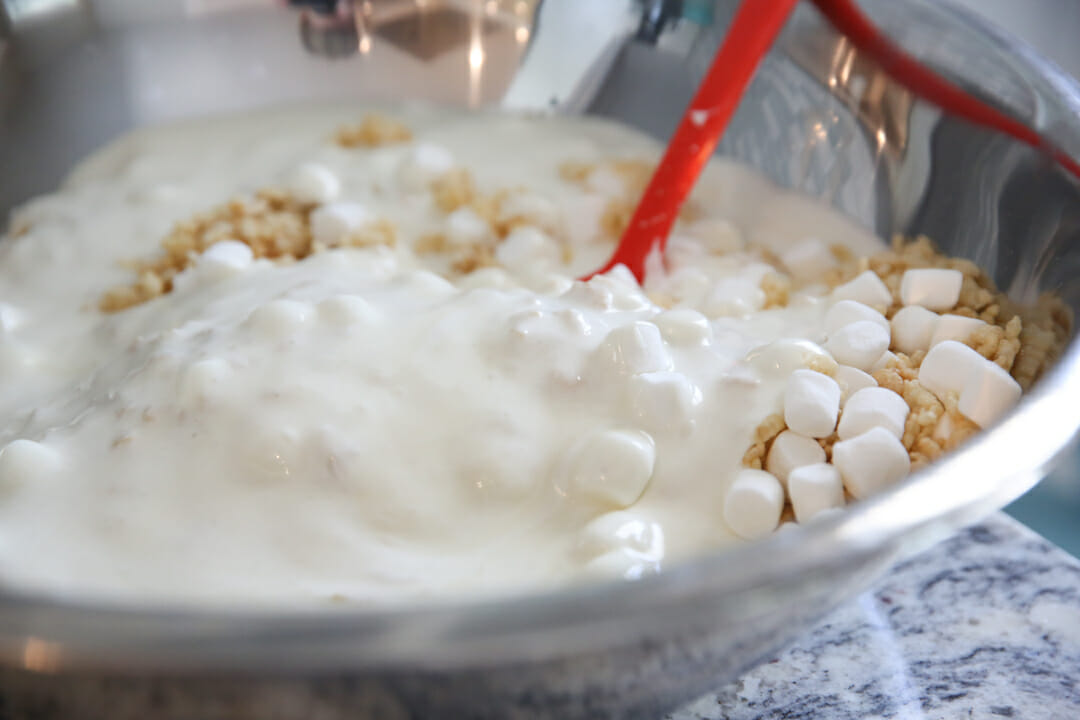 Immediately transfer the mixture to the prepared pan.  Either spray your hands with non-stick spray or rub them with butter and gently spread the mixture out and pat it down.  Don't pack it down.
Once they set up you can pick up the whole sheet by the parchment paper and remove it from the pan and put it on a cutting board.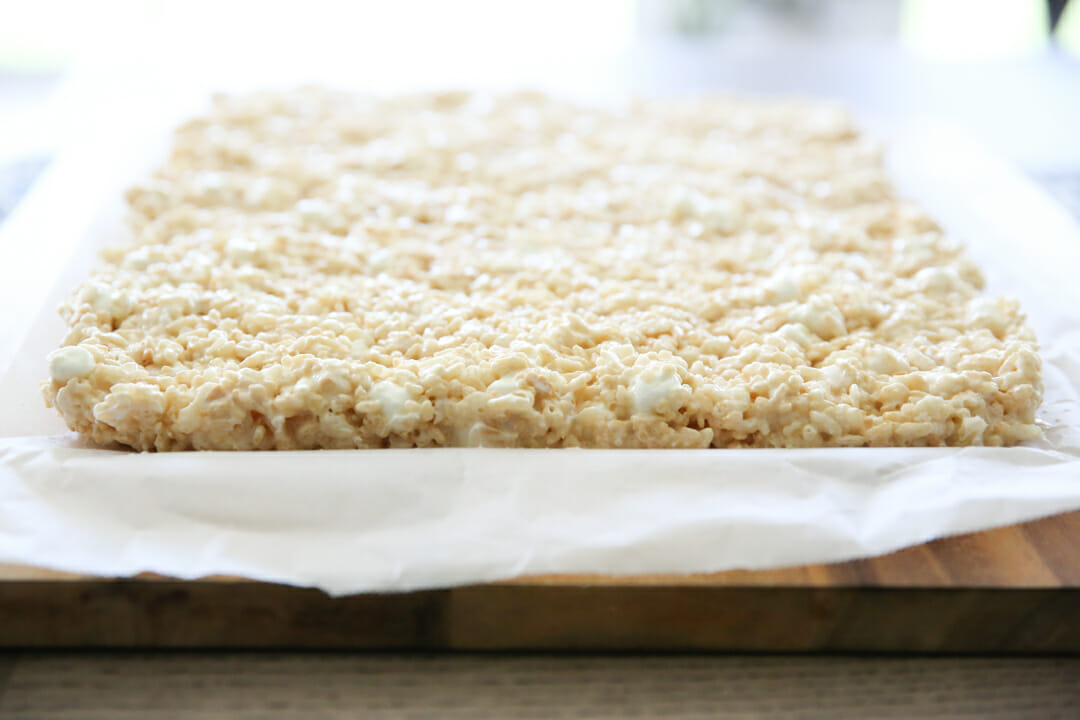 This recipe will make 12 jumbo rice krispie treats, or up to 48 normal sized ones. I love the jumbo size for bake sales and gifts.  There's just something so fun and enticing about a HUGE rice krispie treat.  I don't make these extra thick because I think that makes them kind of hard to eat.  I'd rather have more surface area.  You can see these ones are about as big as my hand!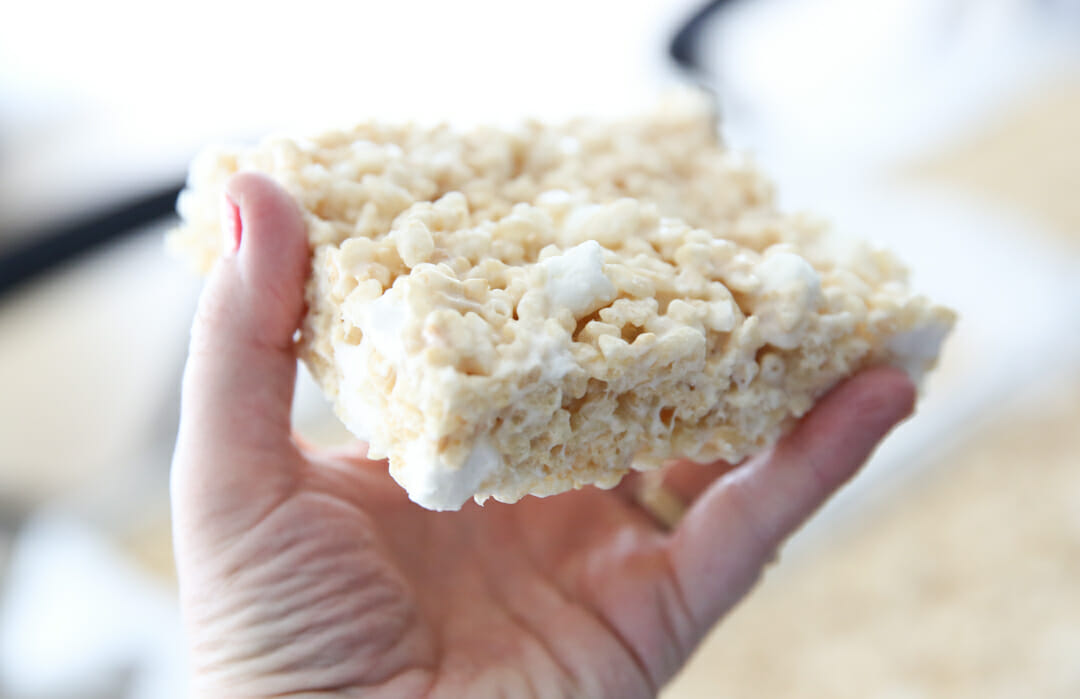 If you are going to package these for sale or an event or picnic or whatever, my favorite way to package is with a strip of parchment and then in plastic wrap.  This keeps them looking nice and they don't get melted and stuck to the plastic.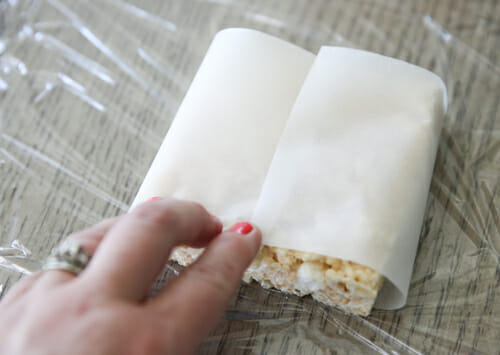 Well-wrapped, these really stay great for several days.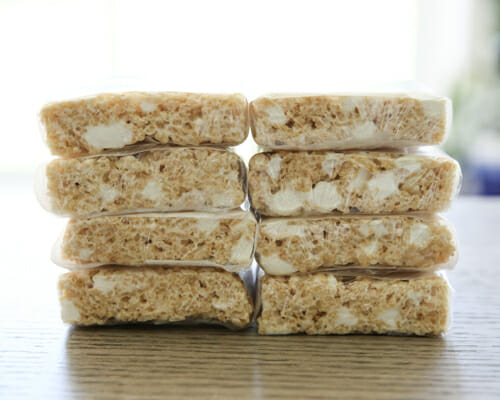 If you need to make multiple batches in a row, my tip is to make 2-3 max and then wash and dry all your equipment! Any more than that and things are just ay too goopy.  But I made 6 batches yesterday and it was relatively quick considering how many rice krispie treats I was able to make and wrap in one sitting.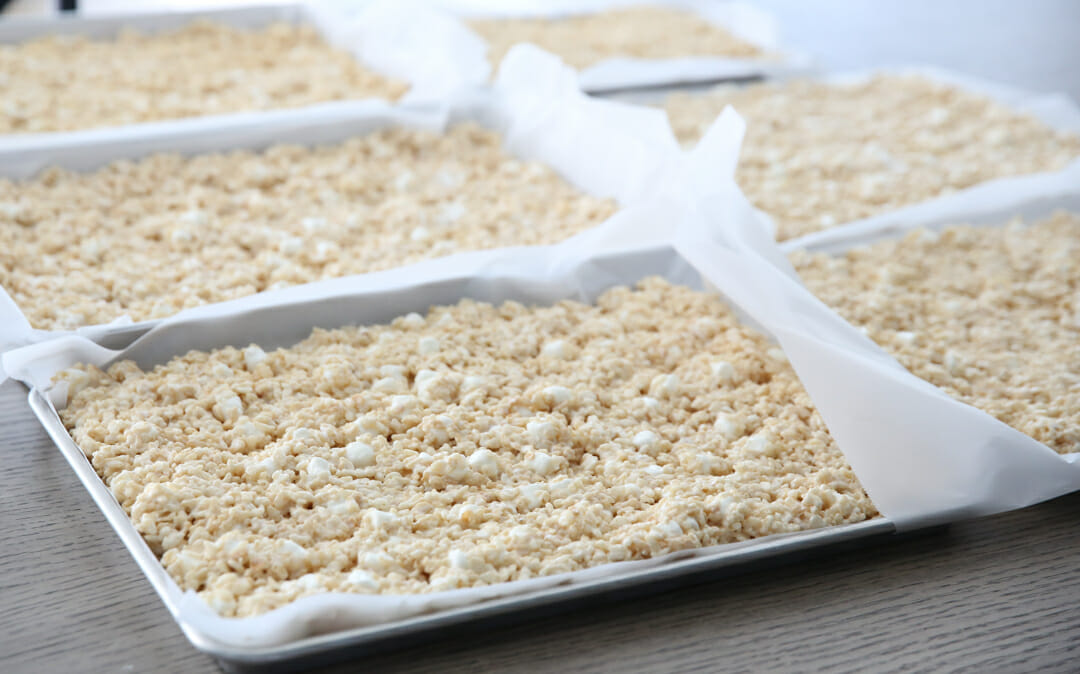 Try this recipe for the best large batch jumbo rice krispie treats next time you need a bunch!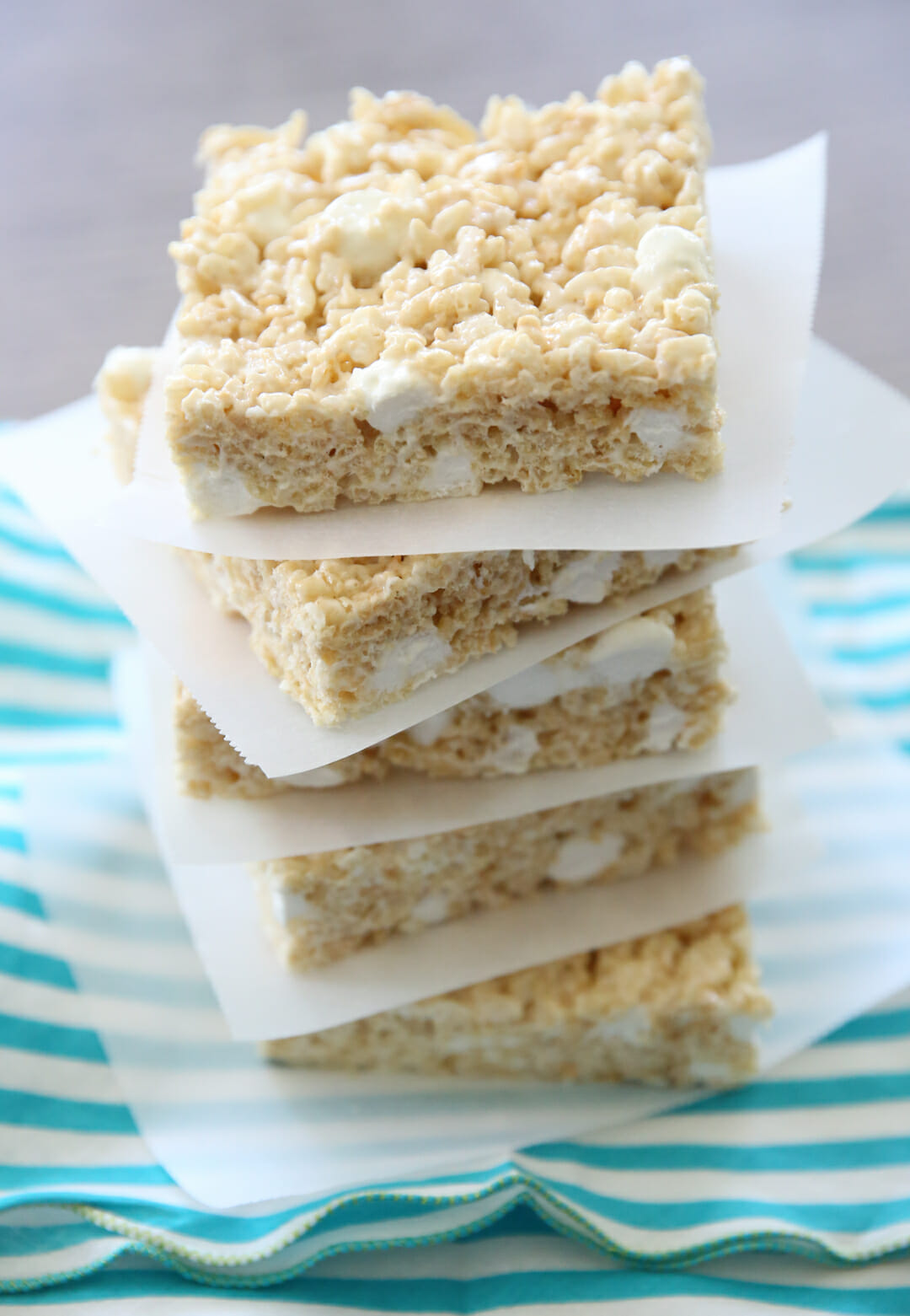 Print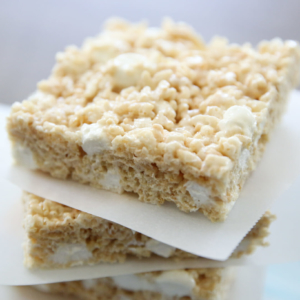 Large Batch Rice Krispie Treats
Author:

Sara Wells

Prep Time:

20 minutes

Total Time:

20 minutes

Yield:

12 jumbo treats or 48 regular sized treats

Category:

Dessert

Method:

No Bake

Cuisine:

American
---
Description
The perfect recipe and tips for making a large batch of Rice Krispie Treats, either for a crowd or a bake sale!
---
1 ½ sticks real butter (12 tablespoons)
16 cups + additional 4 cups mini marshmallows
12 cups rice krispie cereal
¼ teaspoon salt
---
Instructions
Line a 12 x 18" rimmed baking sheet with parchment or foil and spray lightly with non-stick spray.  Set aside.
In a very large mixing bowl add rice krispies and 4 cups mini marshmallows, set aside.

In a large stock pot on the stove top, melt the butter and add the 16 cups marshmallows.  If you feel your pot isn't large enough, add half the marshmallows at a time and let them melt down a bit before you add the rest.  Melt completely and stir in salt.

Once melted, quickly pour over cereal mixture and stir well until all cereal is coated.  Transfer mixture to prepared pan. Spray your hands with non-stick spray (or rub with a little butter) so you can gently press down mixture to the edges of the pan.  
Let treats set until firmed up and then lift your foil/parchment out of the pan for easy cutting.

---
Notes
Tip:  It's a large quantity to stir at once.  If you don't have an extra large bowl, I've used a large roasting pan in a pinch!
Keywords: rice krispie treats recipe, rice krispie squares, bake sale ideas