Summer time means a bounty of tomatoes, whether from your own garden, or the farmer's market, or your grocery store.  Nothing highlights the flavor of a good tomato like a classic caprese salad.  It's not rocket science, and you don't even need a recipe, but I've got some tips today on a couple different ways to prepare the very beset caprese salad! This is a classic Italian dish involving tomatoes, basil and fresh mozzarella, and dressed simply with olive oil, salt and pepper.  It's named after the island of Capri, where it is said to have originated and it pairs nicely with so many things!  Keep reading to see how I turn this classic combo into a Layered Fresh Caprese Salad, which is perfect for serving for a crowd.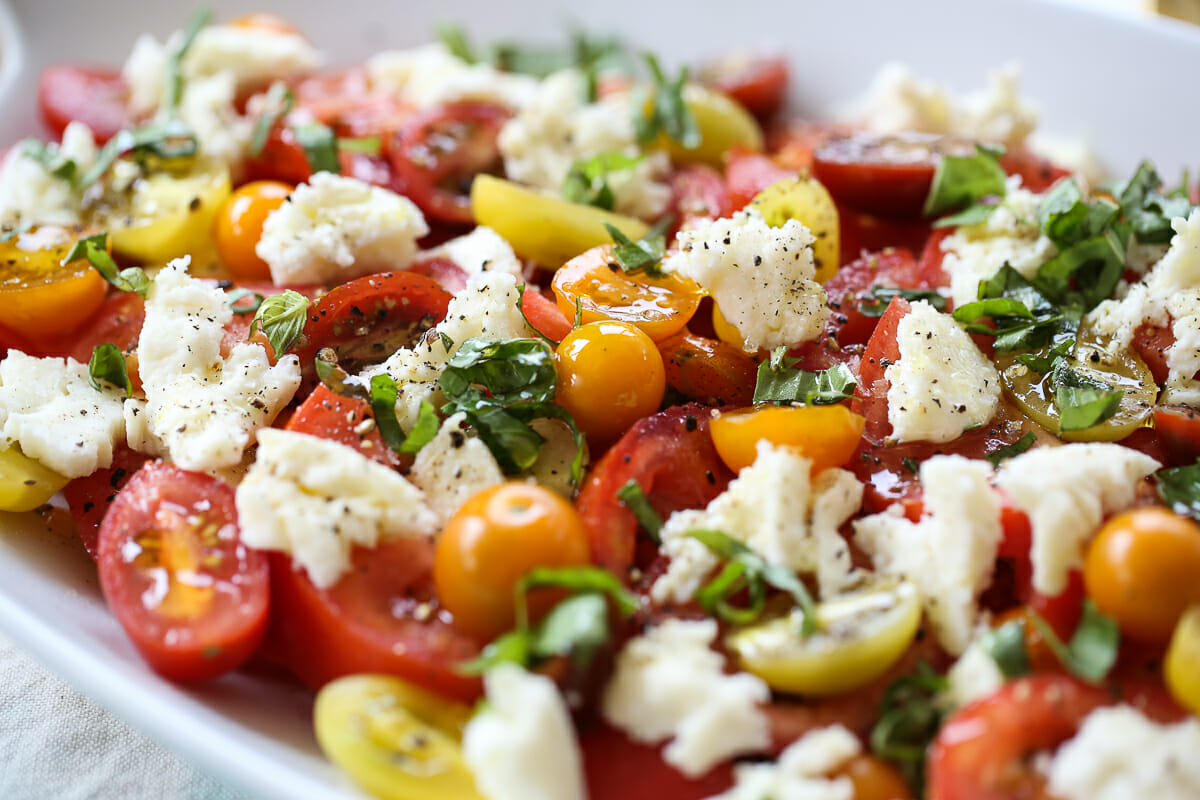 Use good ingredients for Caprese Salad
Quality is important when preparing dishes with only a few ingredients.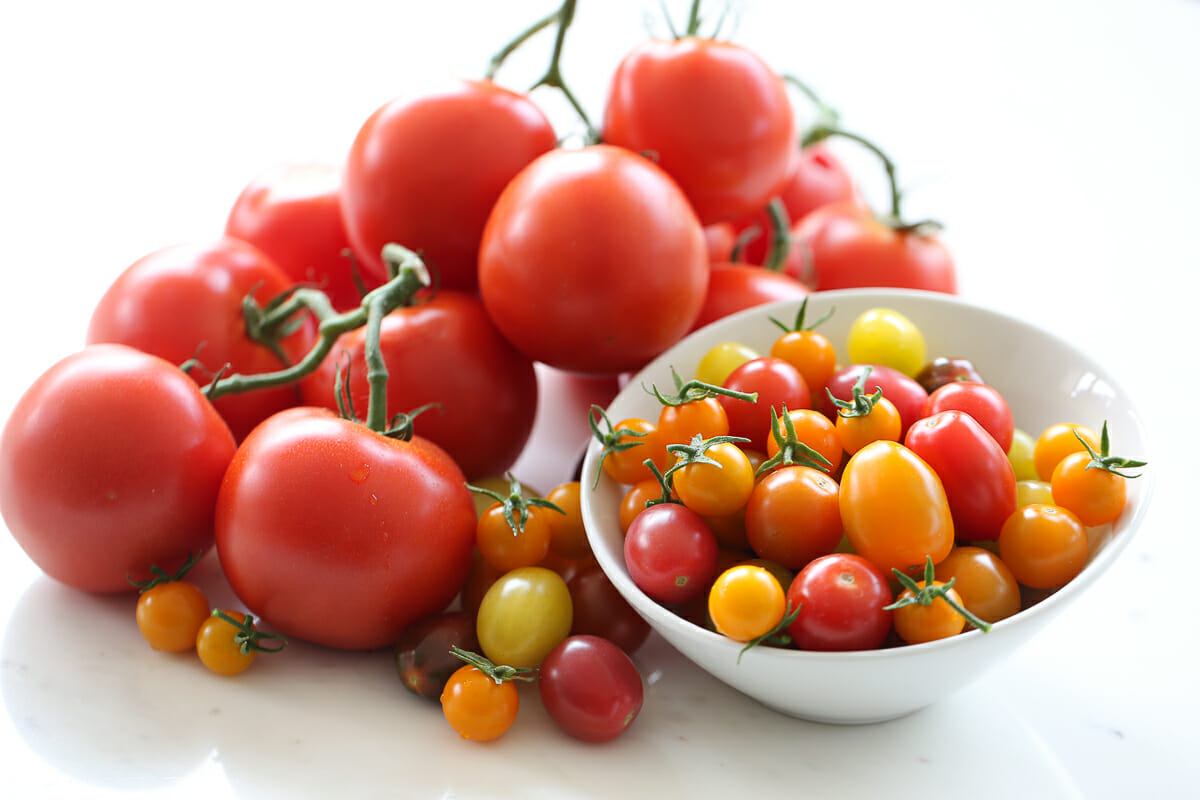 TOMATOES: Use ripe, plump tomatoes.  They should be vibrant in color and smell like tomatoes! If you're buying tomatoes at the store, I like using the tomatoes on the vine. Tomatoes with a similar circumference to your Mozzarella cheese works nicely in a stacked Caprese Salad.  If you're using a variety of tomatoes in different shapes and sizes, continue reading about my side dish caprese salad!
CHEESE: You need fresh Mozzarella for this dish, you'll generally find it in the deli case or specialty section of the grocery store. It often comes in a log shape which comes pre-sliced like this: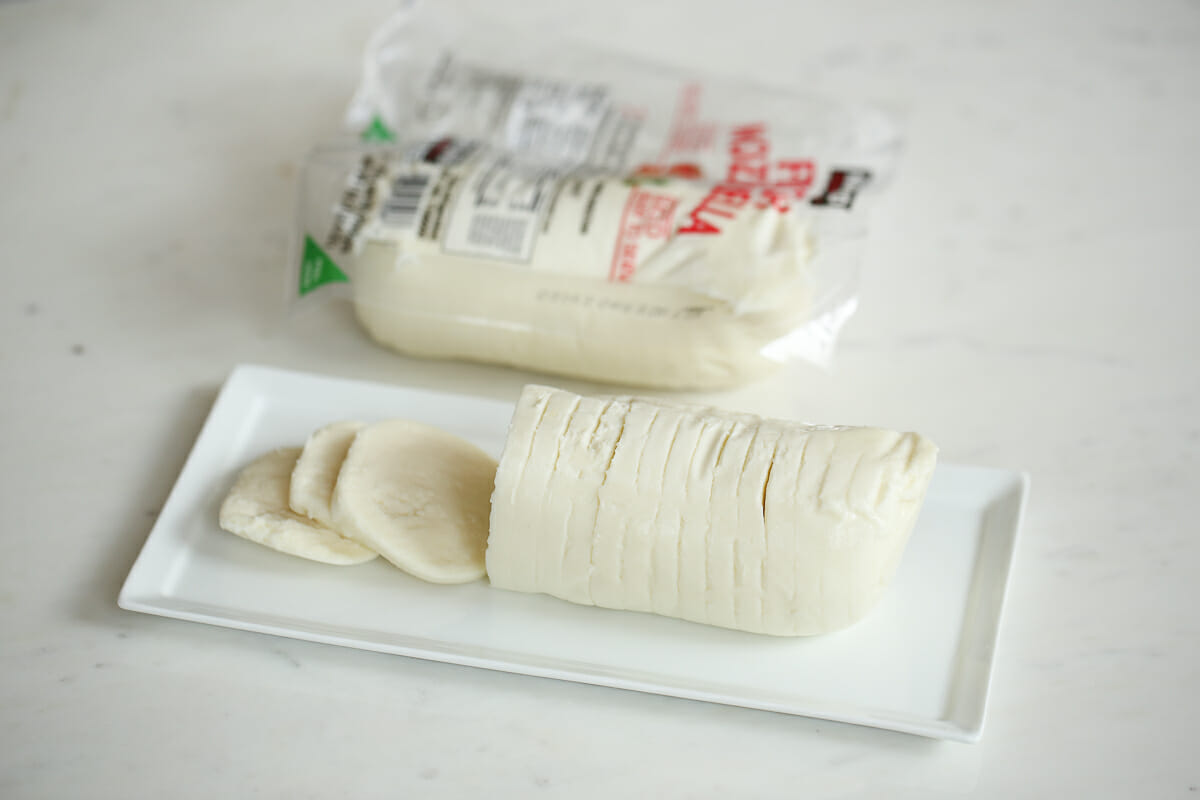 OLIVE OIL: Use a good quality extra virgin olive oil. I actually love the Kirkland brand Olive Oil at Costco! It stacks up to some of my more expensive bottles.
SALT & PEPPER: Use fresh cracked pepper and good quality salt.  I love a flaky sea salt- but you can certainly use simple kosher salt.  Avoid table salt.
EXTRAS: You might swap out your fresh basil for a basil pesto, and a Balsamic drizzle adds depth and interest to the classic flavor combination!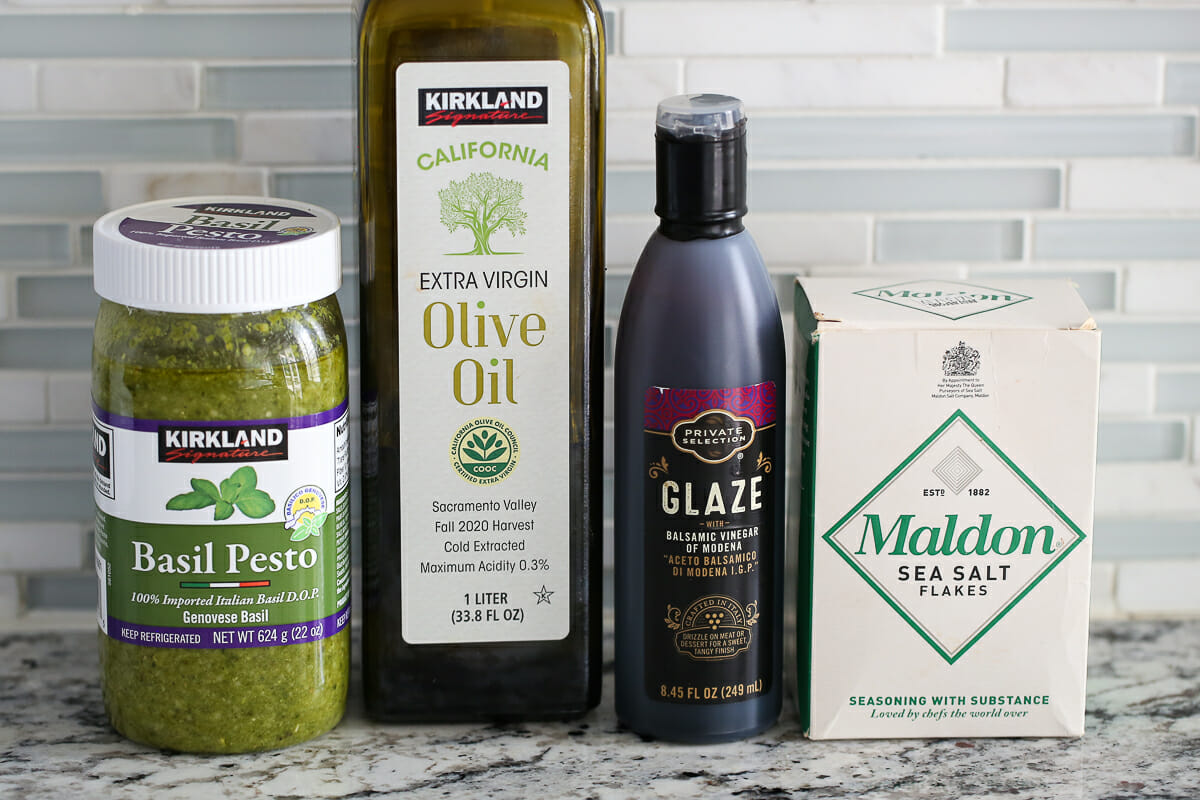 Simple Stacked or Layered Caprese Salad
Caprese Salad in its simplest form is just a slice of Mozzarella Cheese layered with a slice of tomato and a basil leaf and dressed with olive oil, salt and pepper. I personally like to finely slice the basil as opposed to using a whole leaf; I find it easier to eat. I also love the American addition of balsamic glaze, which you can purchase ready made in the grocery store near the balsamic vinegar. It adds a fantastic sweetness and tang.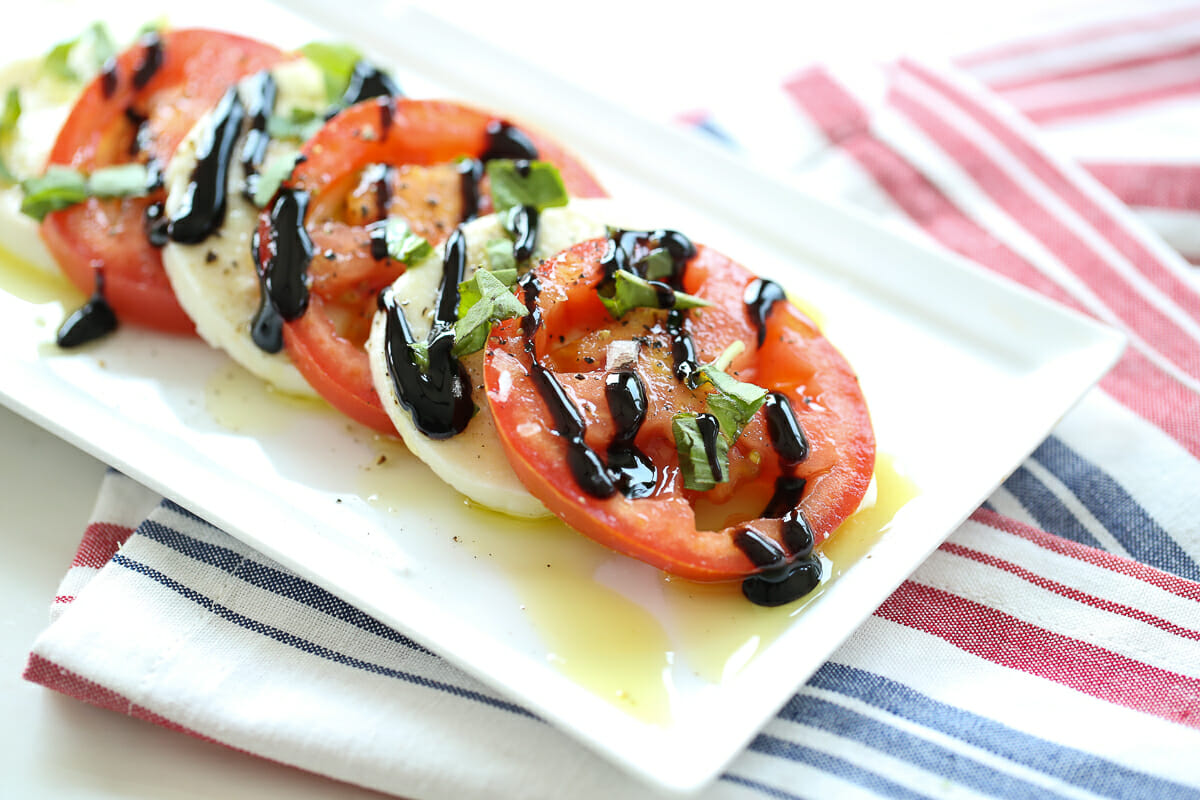 Caprese Salad as a Side Dish
If I have tomatoes in a variety of sizes, or I want to make Caprese salad for a crowd, or to serve with a meal, I prepare it a little differently.
First I cut the tomato slices in half and cut whole small tomatoes in half.  I leave teeny-tiny tomatoes like Sungolds, whole. I will often gently remove excess tomato pulp with my fingers so it doesn't wet down the salad.  I do a single layer of tomatoes in a serving dish and top with hand-torn bite size pieces of cheese.
 Next, I drizzle the first layer with olive oil and add fresh basil, salt and pepper.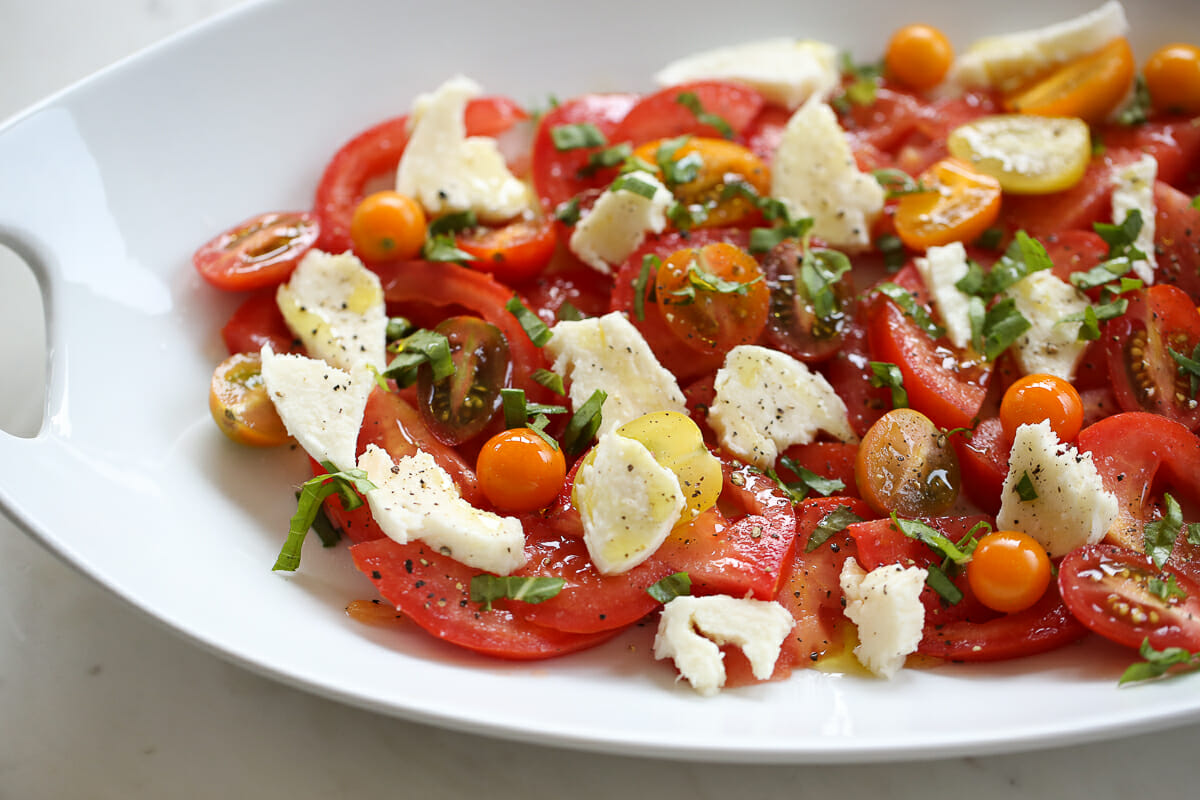 3. Then I continue with another layer on top of this and build until I'm out of ingredients.  Do not toss the salad.  It's meant to be served just like this!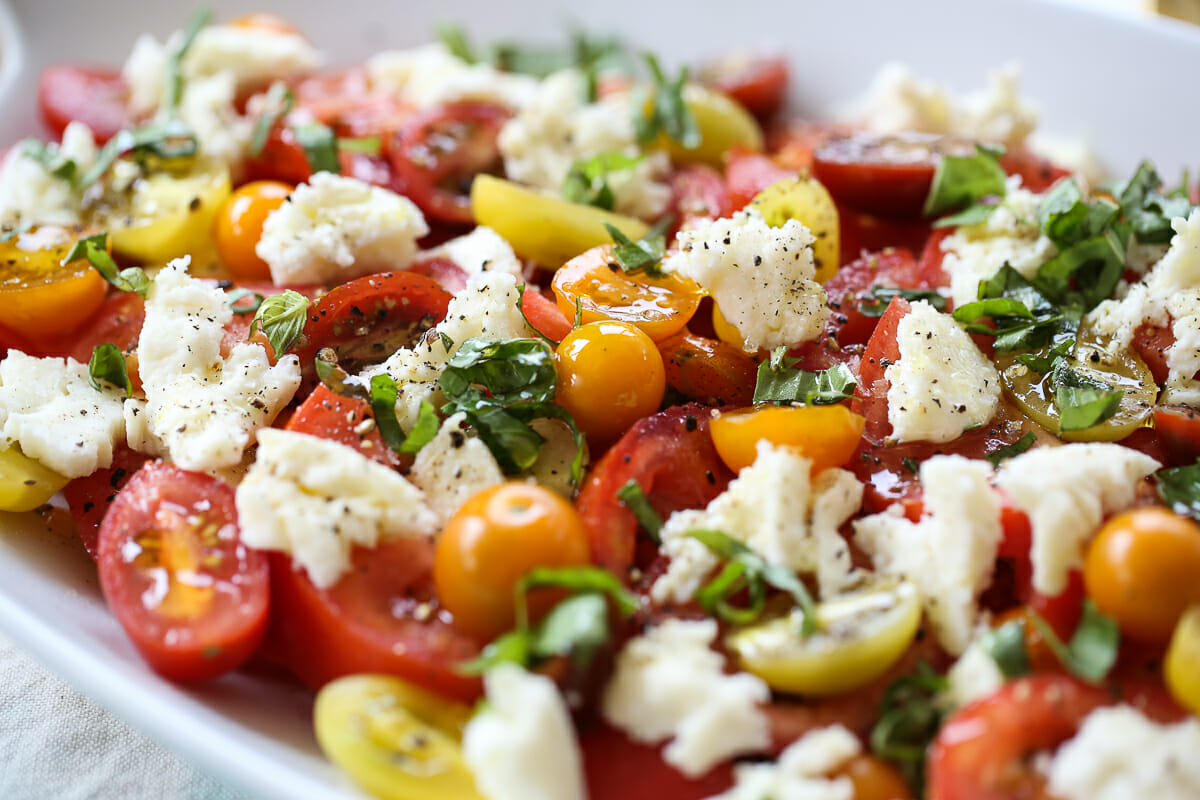 4. I wait until the very top layer of the salad to add things like balsamic or a dollop of two of pesto.  You could also serve these things on the side.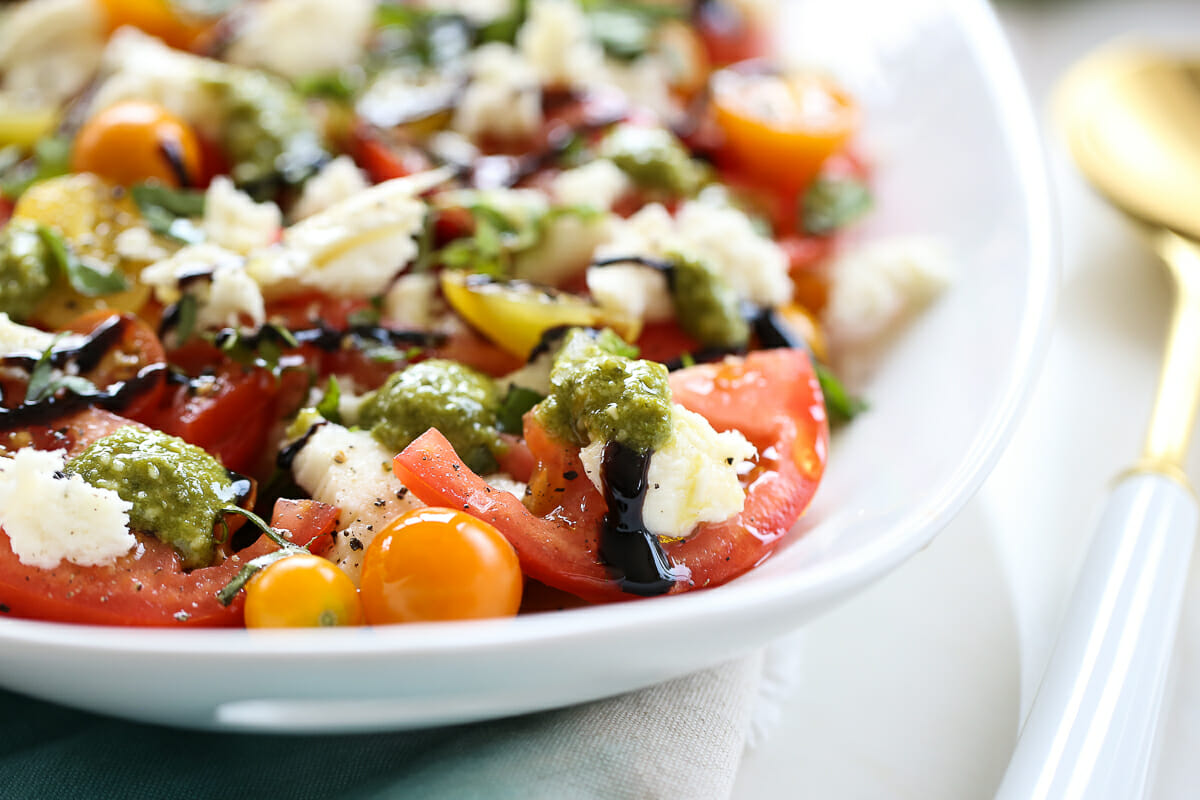 Prepared in this way, the bite-sized pieces of everything serve more like a salad.  It's fantastic served along side grilled chicken, beef, or fish.  Add some crostini to scoop up those delicious bites!
Either way you make this classic Italian dish, you can't go wrong with the combinations of tomatoes, Mozzarella, basil and olive oil!
Other great uses for fresh tomatoes:
Fresh Tomato-Basil Pasta 
Roasted Garden Tomato Sauce
Oven Roasted Tomatoes
Tomato Basil Simmer Sauce
Bruschetta
Garden Fresh Salsa
Print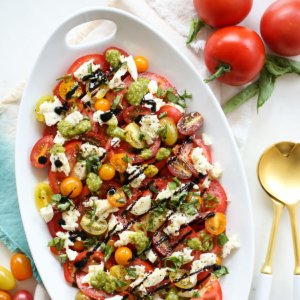 Fresh Caprese Salad
Author:

Sara Wells

Prep Time:

15

Total Time:

15 minutes

Yield:

varies
---
Description
A layered salad of fresh tomatoes, cheese, olive oil, and basil.  No measurements are given or required for this rustic salad.  Feel free to make to taste!
---
fresh tomatoes, any type
fresh mozzarella cheese
olive oil
fresh basil leaves
salt and pepper
Optional: Balsamic vinegar glaze (reduction), Pesto
---
Instructions
Cut large tomatoes into slices (cut slices in half if desired). Cut smaller tomatoes simply in half.  Gently remove any large amounts of pulp but don't stress about removing all of it!
Layer a single layer of tomatoes into a serving dish. Break off bite size piece of cheese and place on top of tomatoes.  Drizzle with olive oil, sprinkle with salt and pepper and minced basil.
Repeat these layers as many times as you like, do not toss. If desired drizzle with balsamic reduction/glaze (you can purchase this ready-made at the store, it's different than balsamic vinegar).
---
Keywords: caprese, tomatoes