*Long-Time Reader Favorite!* This hearty and flavorful garden tomato sauce is made by roasting tomatoes in the oven.  It's very hands-off, easy to make, and  perfect for an abundance of garden produce (or simply a good deal on tomatoes at the store!).  Make a small batch to enjoy, or a large batch and stock it in the freezer for months.  Note: This is not a canning recipe.  It's great to stock up on and store in the freezer, but if you want a recipe that has been tested for home canning, you'll find my favorite, here. 
Ingredient Notes
Tomatoes – You really can't go wrong here. Gather up any variety of fresh tomatoes. No need to peel!
Carrots and Onions – Same story as above- any variety of carrots and onion will work. I like Yellow or white onions and have always used traditional orange carrots.
How to Make Garden Tomato Sauce
For this recipe, I slow-roast tomatoes along with onions, garlic, and carrots.  All of those vegetables do magical things in the oven and the flavors intensify and sweeten into the most amazing sauce blend.
1. Chop veggies. You do want the tomatoes to be roughly the same size on the roasting sheet so if you have a mix of big and small ones, just cut them accordingly.  Chop up the carrots and onions as well and toss everything in extra virgin olive oil. Sprinkle it all with kosher salt and black pepper.
2. For the garlic, I just prepare it like regular roasted garlic.  If you need more direction, check out this post for Roasting Garlic.  Wrap it in foil (or parchment) and just nestle it on the baking sheet somewhere so it roasts along with everything else.
3. Roast vegetables. Everything cooks for 2-3 hours.  The juices evaporate, the flavors intensify, the natural sugars caramelize….like I said, it's magical. These are amazing straight off the pan.  Sometimes my sauce batches don't actually make it to the sauce stage because we just eat them like this.
4. Blend it up. If you can manage it, toss everything on the pan into a food processor.  Squeeze out the cloves of roasted garlic right in there too.  Use a rubber spatula to scrape all of the browned bits, oil, and salt and pepper in there as well.
Pulse it up a few times and then add beef broth to reach a good consistency.  Beef broth may seem strange, but I find the rich flavor adds a really great balance to round out the sauce.  The amount of broth will completely vary because it depends on how much moisture is in your tomatoes.  It also depends on personal preference.  I like to keep my sauces on the thick side because it's almost like having a concentrate.  When you go to use the sauce, you can add water or broth to thin it out.
5. I also add fresh herbs from the garden.  Basil obviously, and then usually oregano and rosemary.  You can tweak the herbs depending on what you have and what you like.
After that's pulsed up, taste your sauce and season with salt and pepper to taste.  Depending on each batch, I sometimes also add a couple of teaspoons of sugar, or a drizzle of balsamic vinegar.  When everything is cooled down, you can store it in the fridge for a few days or pop it in the freezer for later.
After thawing to eat, or after it's been in the fridge, it will even thicken a little bit more, so just add broth if needed for the consistency you like.
Optional:  Freezer Storage!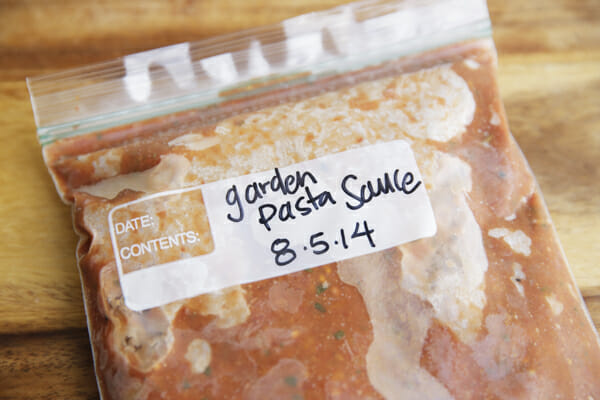 Because of the rich tomatoes, olive oil, and caramelized vegetables, this sauce is so thick and flavorful.  It reminds me fresh sauces in Italy (compared to the watered down jarred sauces we're used to pouring on here in the US).  I love having this in the freezer and often sauté Italian turkey sausage and then dump a bag of sauce in for a quick pasta dinner.  You can also add chicken or beef broth and simmer to a soup consistency and serve with grilled cheese.   It's such a fantastic way to preserve those flavors from the garden and enjoy them all winter long.  It's also crazy-easy so there's no excuses!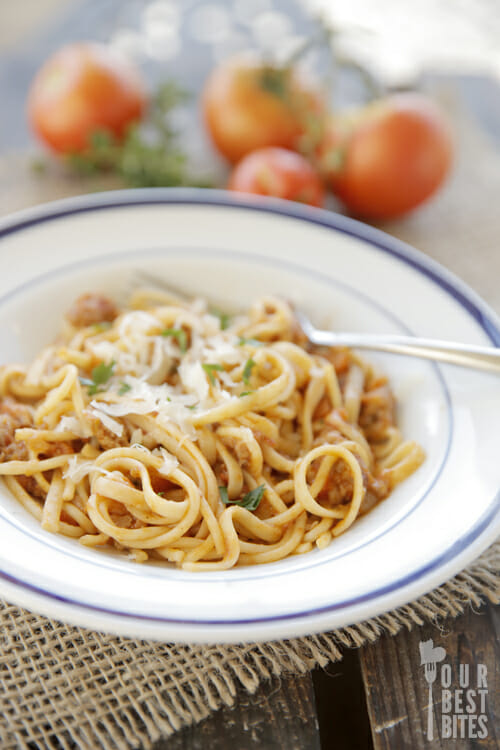 Serving Suggestions
Serve over pasta, zoodles, or thinned down with broth into a soup with a grilled cheese sandwich.
This recipe isn't designed or tested for canning. Check out this Tomato-Basil Simmer Sauce with Roasted Garlic if you'd like a tried and true tomato sauce to can.
If you have an abundance of garden tomatoes to use up, here are some other great ways to utilize them:
Roasted Sweeet Corn and Tomato Soup
FAQs
How long does this keep in the fridge/freezer? If storing in the fridge, I recommend eating within a few days. In the freezer, it will stay good for several months.
Did You Make This?
I'd love to hear from you! Snap a picture and tag me on Instagram, and then come back and give this recipe a rating!
Print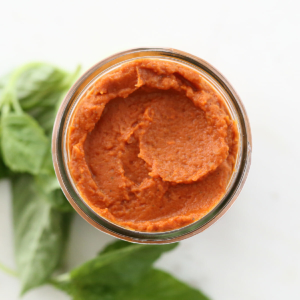 Roasted Garden Tomato Sauce
Author:

Sara Wells

Prep Time:

20 minutes

Cook Time:

2-3 hours

Total Time:

41 minute

Yield:

2 1/2 cups
---
Description
Oven roasted tomato sauce that is excellent for freezer storage.  Make it all summer long!  Thin it out for an amazing soup, use it thick as a spread on pizza or crostini, or use on pasta as usual.
---
Note: This is a small one-pan batch.  If you have lots of tomatoes, make multiple pans and just rotate them half way through cooking.
Ingredients
2 lbs tomatoes
2 carrots
1 medium onion
3 tablespoons olive oil
1/2 teaspoon kosher salt
1/4 teaspoon black pepper
6–8 tablespoons beef broth
1/3 cup herbs (I usually do about 1/4 cup basil, 1/2 tablespoon minced rosemary, 1 tablespoon minced oregano)
Additional salt and pepper
optional if needed: 1/2 – 2 teaspoons sugar, balsamic vinegar
For roasted garlic
1 head garlic
2 teaspoons olive oil
salt and pepper
---
Instructions
Preheat oven to 300 degrees Line a large baking sheet with foil.
Slice tomatoes in half or quarters, making them all roughly the same size.  Chop carrots in half lengthwise and then in 1-2 inch pieces.  Chop onion in large pieces, about 1-2 inches.  Place everything on baking sheet and drizzle with olive oil and sprinkle with salt and pepper.  Arrange everything in a single layer, with tomatoes sitting skin-side down. Cut top 1/3 of whole garlic head off and discard.  Place garlic on a piece of foil and drizzle with olive oil and sprinkle with salt and pepper. Pull sides of foil up and secure.  Place foil pack on baking sheet with tomatoes.
Roast in the oven for 2-3 hours, until everything is tender and tomatoes appear slightly shriveled.  (In my oven it almost always takes 2 1/2 hours).
Remove from oven and let cool slightly.  Place roasted vegetables in a food processor with broth.  Open garlic packet and squeeze all cloves into the food processor.  Pulse several times and then add fresh herbs.  Pulse again until desired consistency is reached.  Season with salt and pepper, add additional broth for consistency.  If needed, add a little sugar, or a drizzle of balsamic vinegar.  Let cool completely and then store in the fridge for a few days, or in the freezer for several months.    Yields 2-1/2 cups sauce.
---