It should come as no surprise that I spend a lot of time thinking about food. I keep a page of notes on my phone so I can jot down recipes ideas when they come to me and when I was looking over it the other day to find something to make and share with you guys I noticed that the last 12 involve peppermint and chocolate.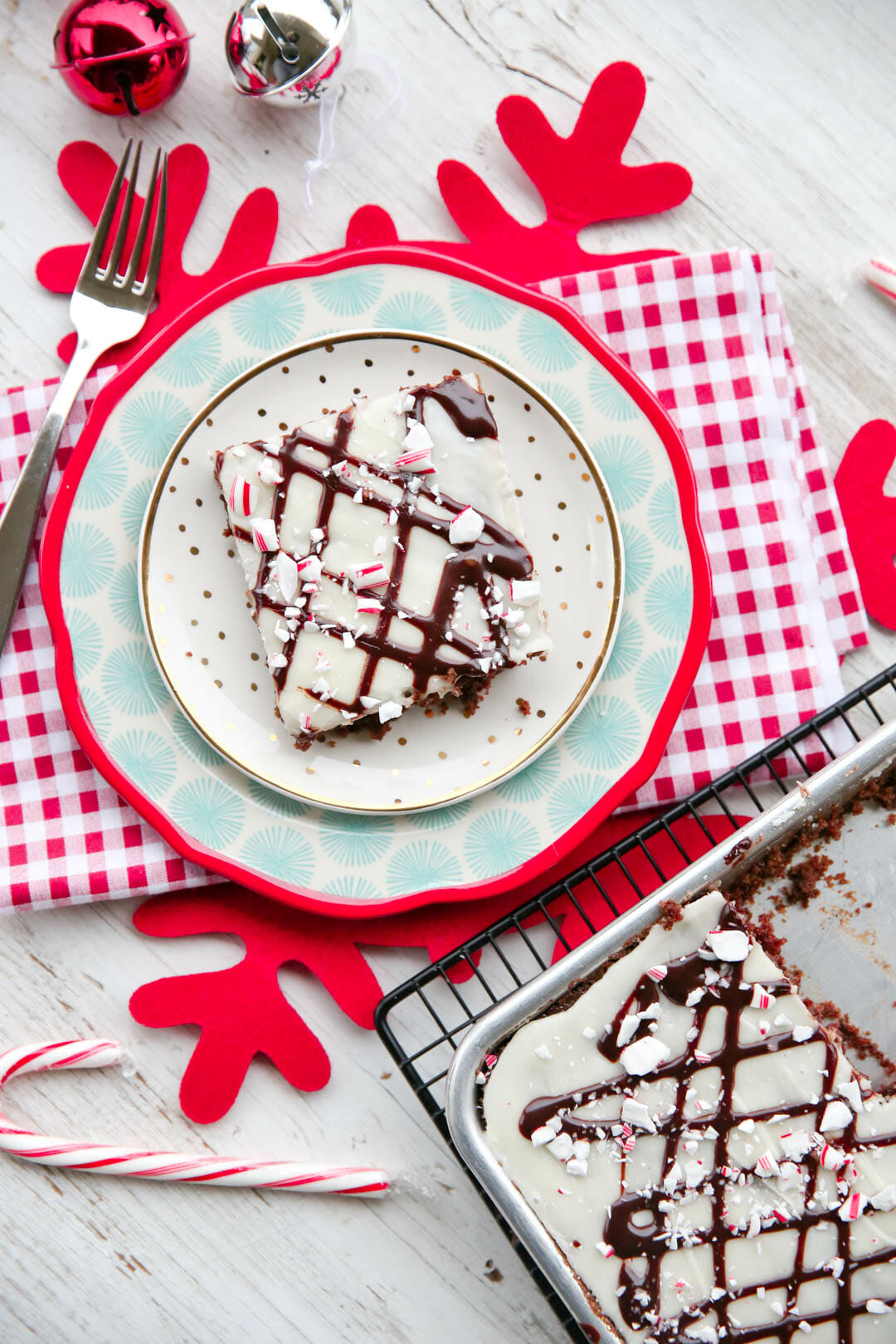 I've also had a little obsession with sheet cakes recently. They're awesome because they're so much lighter than a giant slice of traditional cake, and I love that they're easy to make and can feed a crowd.
So naturally I needed to make a peppermint version. I started out with the base to our Texas Sheet Cake. It's a rich but light (light in texture, not in calories. Let's be real, here), super tender cake made with buttermilk. I topped it with a soft and creamy white chocolate peppermint icing and then drizzled it in ganache and sprinkled with candy canes. So pretty much it's amazing.
Let's make it. This cake starts a little different than most, with butter, chocolate, and water melted on the stove top.
You'll pour the melted chocolate mixture into the batter and then pour it all into a big sheet pan to bake.
When the cake comes out, start the frosting. this stuff is goooood, which should be obvious by the ingredient list.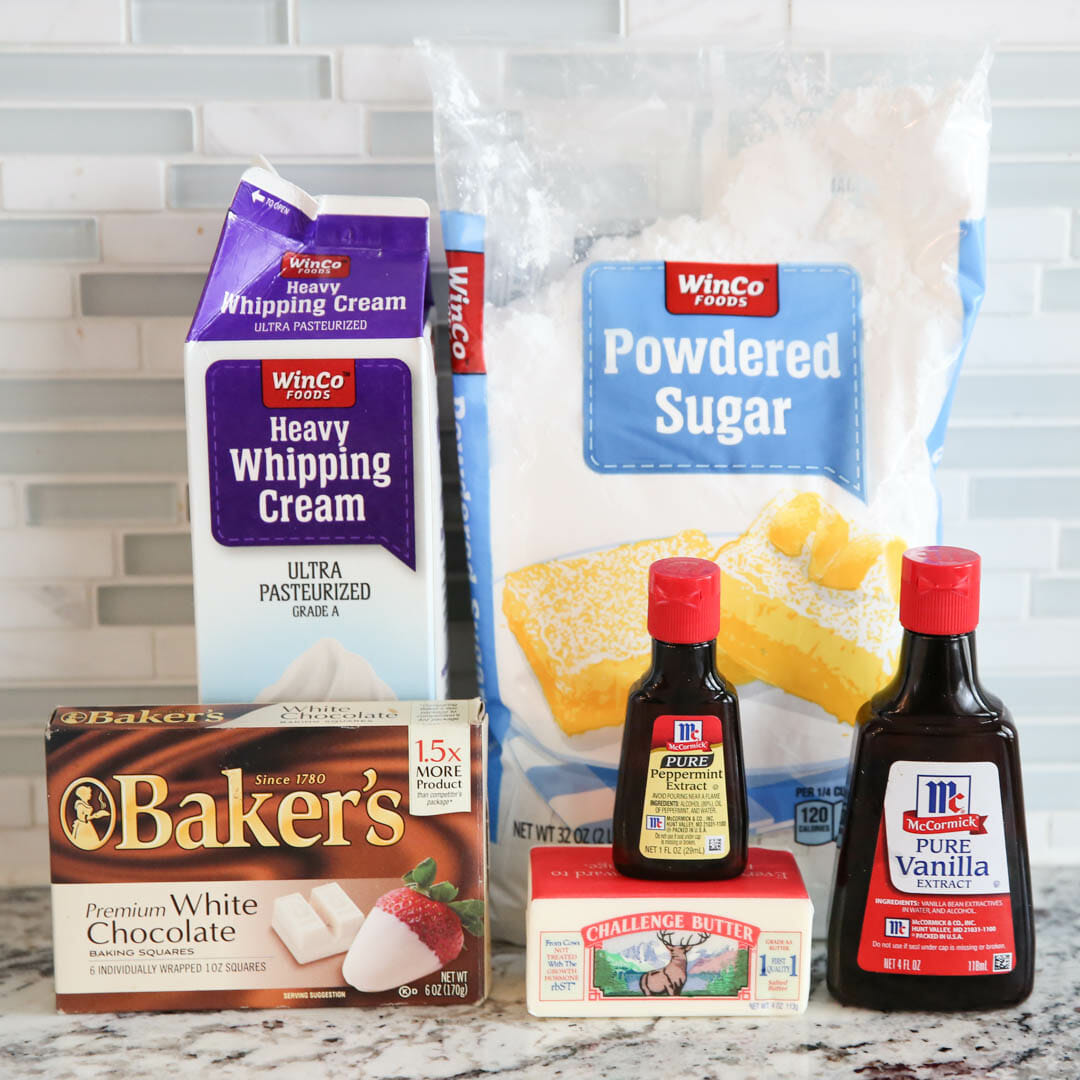 I melt butter with white chocolate and a little cream. I'm using white baking chocolate (which you can find in the baking aisle of the grocery store) but you could use white chocolate chips, too.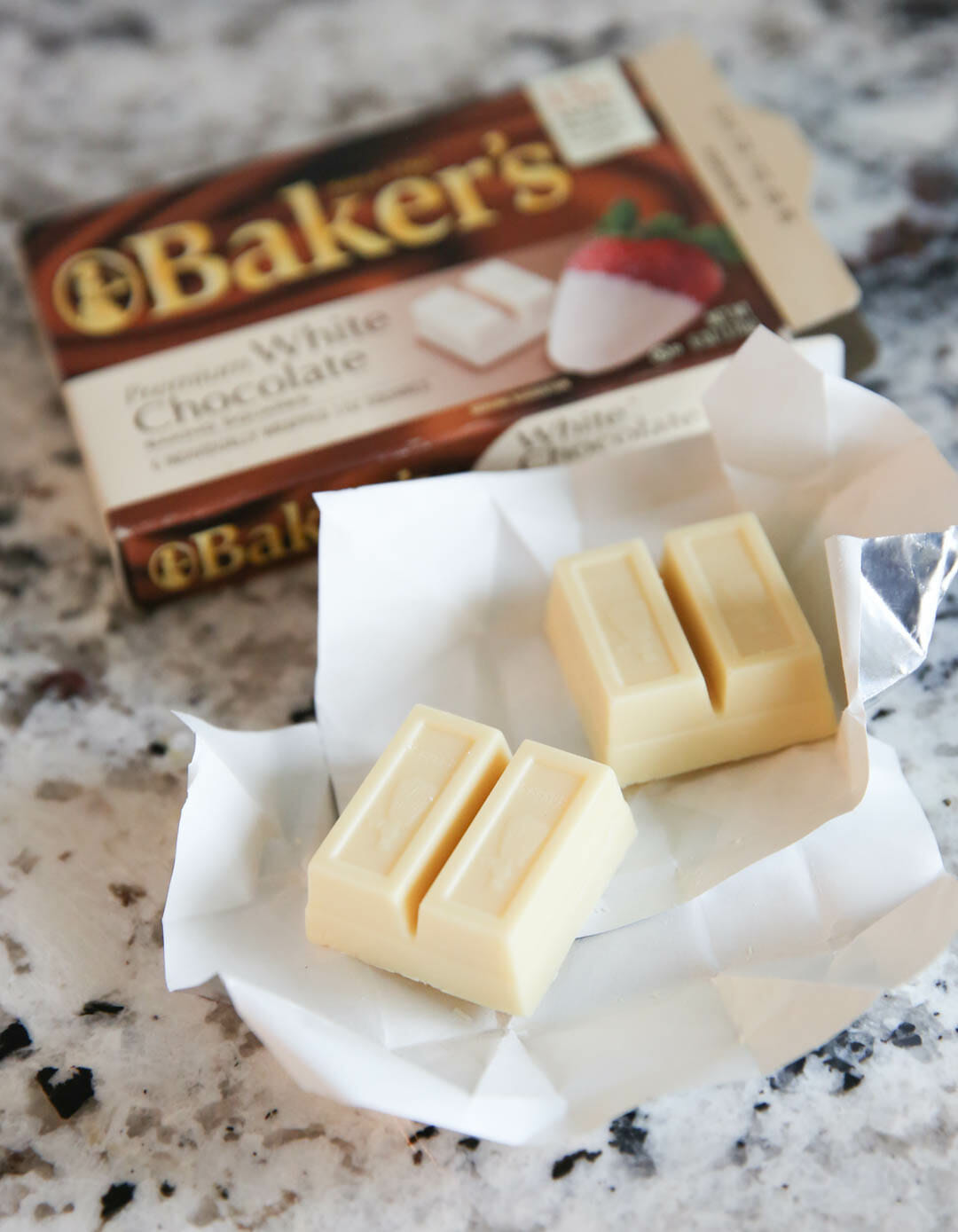 After that's melted together, you'll whisk in powdered sugar, along with both vanilla and peppermint extracts, and end up with a smooth "drizzly" consistency. This isn't traditional cake frosting, you want something that will spread easily over a tender cake.
I pour it as evenly as I can over the top of the cake,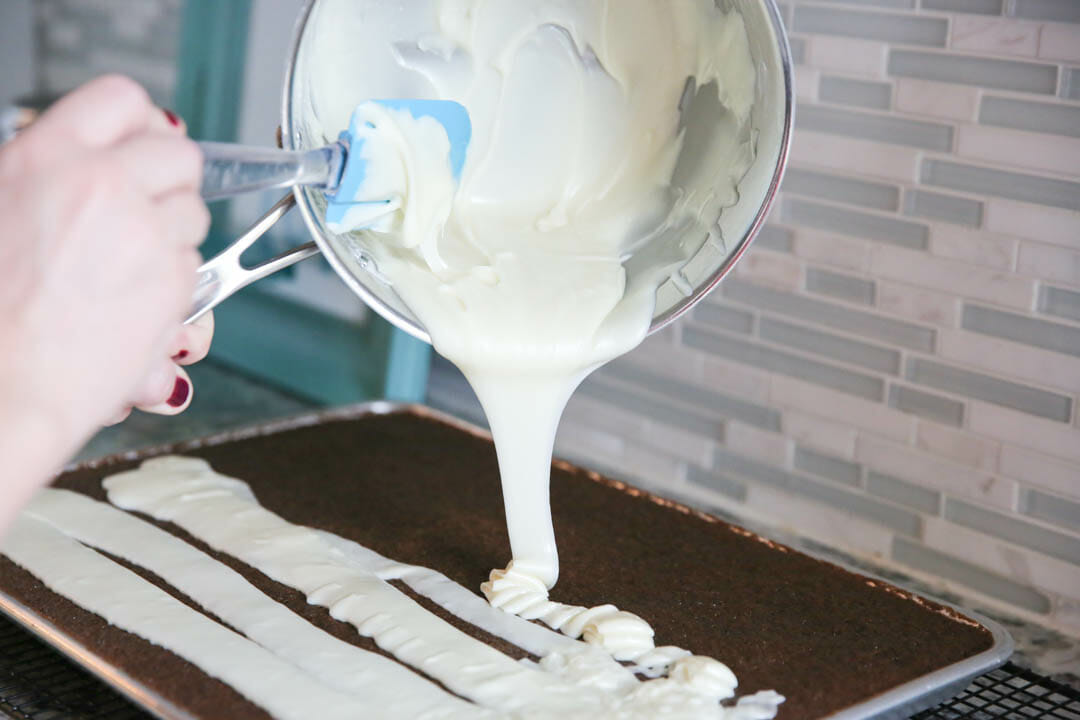 and then gently spread it to the edges.
You could really leave it this way with some crushed candycane on top if you like, but since you've got cream leftover from the frosting, I like to melt some with some chocolate chips for a little drizzle on top. (That cute whisk is from our Shop and it's the perfect size!)
Drizzle drizzle.
And then sprinkle crushed candy canes on top.
This cake is so fudgy I recommend using a nice metal spatula to serve it so you scrape every last bit out of the pan.
It will become a new holiday favorite!
Looking for more Peppermint Chocolate? Click Here!
How about Sheet Cakes? We gotcha covered, here.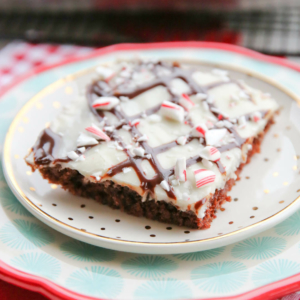 Peppermint Bark Sheet Cake
---
Description
Rich and tender chocolate cake with warm white chocolate peppermint icing and chocolate drizzle!
---
Ingredients
1 cup

butter

2

1-oz. squares unsweetened baking chocolate

½

c. buttermilk

2

eggs, beaten

2

c. sugar

1

c. water

2

c. flour

1 tsp

. baking soda

1 tsp

. vanilla
FROSTING
6 tablespoons

cream

½ cup

(

1

stick) butter

2

1-oz. squares white baking chocolate

1

lb. powdered sugar

1 teaspoons

vanilla

2 teaspoons

peppermint extract

4

–

5

candycanes, crushed
Ganache
3 tablespoons

chocolate chips

4 tablespoons

heavy cream

1/4 teaspoon

peppermint extract
---
Instructions
Preheat oven to 350 degrees. Spray a 11 x 17 jelly roll pan with nonstick spray.
Combine butter, 2 oz. chocolate, and water in a small saucepan. Heat until chocolate is melted.
In a separate small bowl, combine flour and baking soda. Set aside.
In a large mixing bowl, combine sugar, buttermilk, eggs, and vanilla. With mixer on low, pour in chocolate mixture slowly. With mixer still on, add flour mixture a little bit at a time until totally incorporated. Pour into prepared pan and bake 20-25 minutes or until a pick comes out clean.
After cake comes out of oven, prepare frosting.
Combine cream, white chocolate, and butter in a medium saucepan. Heat until everything is melted and smooth. Remove from heat and whisk in powdered sugar, vanilla, and peppermint and beat until smooth. Frosting should easily drizzle from whisk when whisk is lifted up. If needed, add additional cream.
While still warm, pour icing over cake and gently spread with spoon to smooth.
For ganache, heat cream, chocolate chips and peppermint extract and whisk until smooth. Ganache will be extra runny when hot. Let it cool a bit to come to a thicker consistency and then drizzle over cake. Top with crushed candy canes.
---
TWO more announcements before you take off to buy candycanes!

Our Holiday Line in the Shop will launch THIS week. Probably Wednesday, but you never know with us 😉 We've been giving sneak-peeks on Instagram, so if you follow us there you may have seen our new Handlettered (by me!) mugs, and specialty caramels. These always sell fast, so make sure to subscribe to our newsletter and follow the Shop on Instagram if you want first dibs!

2. We're doing something REALLY fun this Thursday, and you're all invited! Mark your calendars! I rounded up 10 of my rockstar friends, all super talented in their fields: we have beauty, fashion, crafts, design and decor, and food of course! We are doing a whole day of Facebook Live showing great Holiday tips, tricks, and eats. One of us will hop on every hour, on the hour starting at 10am – 8pm (I'm at 8pm!). The videos will be short and sweet, just about 10 minutes long, and we'll share them all on our Facebook Page, so follow us there! Here's the schedule if you want to check it out!