Are you ready for a serious confession?
I don't like pumpkin pie.
That may come as a surprise since I'm obsessed with things like this and this and this. Also a surprise when considering that this time of year, I spend about 85% of my available brain power trying to discover new ways to incorporate pumpkin flavor into everyday foods. See, while there's something about mushy orange pie that kick starts my gag reflex, there's also something entirely intoxicating about the combination of warm spices like cinnamon, nutmeg, and cloves, all strung together with sweet brown sugar and delicate pumpkin in just about anything else.
So the other day when my 4 year old and I were looking for a pre-bedtime treat, I reached in to grab the vanilla ice cream and knocked my frozen pumpkin puree off the shelf. One look at my kiddo and his cute little mouth covered in graham cracker crumbs and I knew exactly what we were about to create. That was a week ago. We've had these shakes about 6 times since. So yeah, just about every day. Go ahead, call the diet police. I dare you.
I purposely made this to serve 2 generous servings. I also made it to fit perfectly into my Blendtec Twister jar (which is smaller than a normal size blender jar) so you could certainly double it in a larger, high-powered blender. If you have a Blendtec, the Twister Jar works exceptionally well for things like this!
(If you're wondering about my specific Blender, it's the Blendec Designer Series 625, which comes in that awesome sea foam color)
In the jar of your blender, combine a little milk with some pumpkin puree, brown sugar, vanilla extract, cinnamon, nutmeg, and cloves.
Whip that up and then add in the vanilla ice cream. Now. It's important to use good ice cream here. I'm not talking about expensive ice cream, just good ice cream. I call for Vanilla Bean ice cream because that tends to be the closest to a good quality homemade vanilla without a lot of extra fake-y flavors. My go-to is Bryers Vanilla Bean. Try to stay away from any vanilla ice creams that are that bright yellow-ish color. Breyers is one of the few with only a few ingredients and that's always a good sign! I actually bought Walmart's Great Value brand for this batch and I couldn't believe how close it was to Breyers. Sure enough, when I looked at the ingredient list there were only a few ingredients (mostly milk, cream, sugar, and vanilla) and it was only a few bucks. So those are both great choices.
I also get my ice cream out a few minutes ahead of time so it's just a little bit soft. That tends to lead to the perfect consistency.

Whip it up and it morphs into the most amazing smooth, soft serve consistency.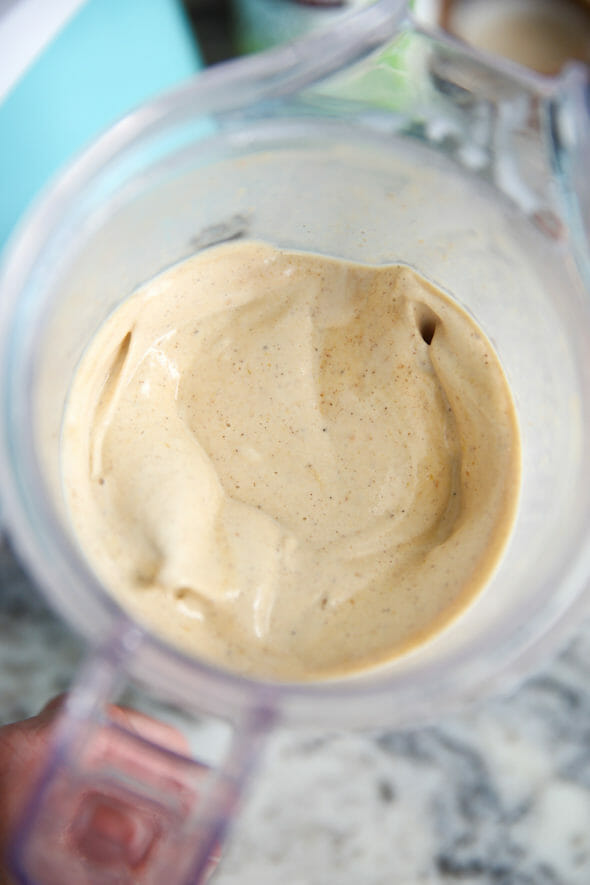 A note about blenders: Here's the problem with making thick, diner style milkshakes at home: A lot of times you have to add so much milk to the thing to get the blender to process that it turns into a milk-slushie instead. Or you have to blend and plunge, blend and plunge, etc. You know the drill, right? So if you have any trouble with your blender, I would recommend blending everything but the ice cream first and then mashing it into the ice cream by hand (well, with a hand. Holding a fork or spoon 🙂 If your scooped ice cream sits out at room temp while you measure the other things and get them all ready, then by the time you mash it all together it should be a good consistency and it will turn out like a nice soft-serve at the end. If you want it thinner, to drink with a big straw, just add a little milk or cream until you reach the right consistency.
Sprinkle with crushed graham cracker crumbs before serving. It tastes just like DQ's Pumkin Pie Blizzard!
Quick and easy frozen treat using real pumpkin and warm spices. The perfect autumn dessert!
Ingredients
1/3

C pumpkin puree, canned or homemade

2-4

tablespoons milk or cream (more if needed), divided

1/4

teaspoon vanilla

1/2

teaspoon cinnamon

1/16

teaspoon cloves (just use a 1/8 t measure and fill it half way, or do a large pinch)

1/16

t nutmeg

2

tablespoons brown sugar

2

C vanilla bean ice cream (I like Breyers)

1-2

graham crackers
Instructions
Set ice cream out at room temperature.
In the jar of a blender, or bowl, combine pumpkin, 2 tablespoons milk or cream, vanilla, cinnamon, cloves, nutmeg, and brown sugar. Blend or whisk to combine. Add ice cream and process (or smash by hand) to combine. Pour into glasses and top with crumbled graham crackers.