(Note: If you're playing along with us on DietBet, our bet is ending today!  Due to popular request, we've already set up our next one!  Click here to join our Back to School DietBet, which begins September 1st!  Our last pot climbed to over $60,000!)
A while back I did a huge salad bar for a large church gathering and I made a couple of homemade dressings to go with it.  Along with our Buttermilk Ranch, I made this Smoked Paprika Vinaigrette and everyone raved about it and asked for the recipe.  When I mentioned it was here on our blog, many loyal blog readers had mentioned they had never seen it and I think it's because it's kind of hiding in a post for this yummy Jar Salad.   Kate and I have been blogging for almost 9 years now and we have so many older recipes in need of updating, so one of the things I'm working on right now is re-photographing some of these when I make them for my own family to eat, and this dressing is a regular at my house!  I thought it deserved its own post, so here we are.  This is the perfect blend of sweet, tangy, and smokey.  One of the reasons I love it so much is because of its versatility.  It's great on Southwest themed salads, or BBQ salads, and it's even amazing as a marinade and glaze on grilled chicken or fish.  So pop this one into your rotation and try it out!
You'll start with 4 wet ingredients: Honey, oil, red wine vinegar, and stone-ground mustard.  The original recipe calls for using all olive oil, but I have always preferred it made with the lighter flavor of canola oil.  That was until I tried it replacing half of the canola with our Bacon Extra Virgin Olive Oil.  The smokiness comes through in just the perfect amount and it's out of this world.  If you don't have our Bacon Olive Oil, I suggest using 1/2 canola oil and 1/2 regular or light olive oil, but you can really use either, or any combination that you like.
All of those go right into your blender.
Next you'll add a little lime juice, some garlic, onion, and spices.  Along with salt, pepper, a pinch of sugar, and oregano, we have smoked paprika.  Smoked paprika is in my top 3 favorite spices of all time.  It gives this dressing not only the warm smoky flavor, but also its vibrant color.  I can consistently find it at Costco and Sam's (well back when we had a Sam's here, I could always find it there.)  If you can't find it at your normal grocery store, you could also grab some online from Amazon.  Regular paprika isn't the same thing; it's a very different flavor profile, so I suggest ordering some if you can't find it!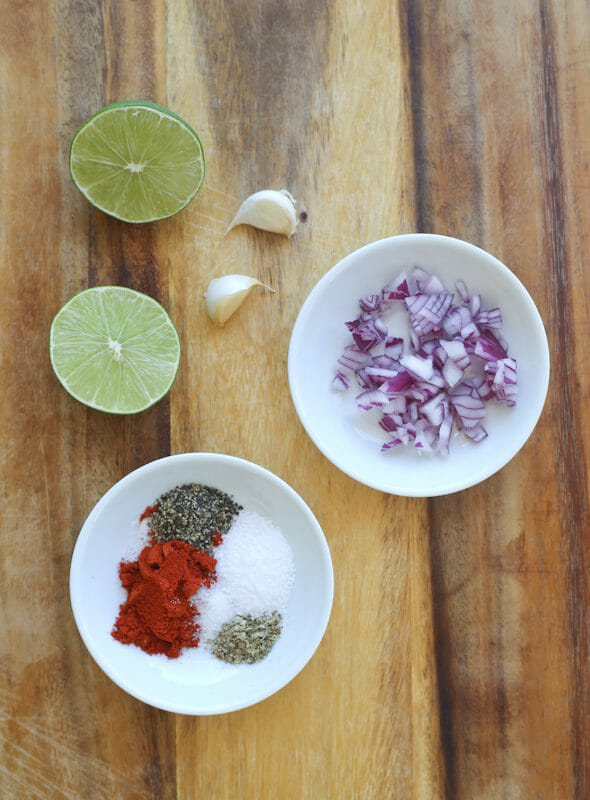 Blend those up really well.  I go ahead an pump the speed up and let it go because you want to pulverize the chunks of onion, garlic, and mustard.  After it's well blended, turn the blender on low and slowly drizzle in your oil just until incorporated. (For those of you who I know will ask- this is a Blendtec Designer Series in Aqua!)
Pop it in a jar in the fridge and it's good to go.
I have a stellar salad coming up soon where I use this dressing; it's been my go-to lunch for days, so stay tuned!
Print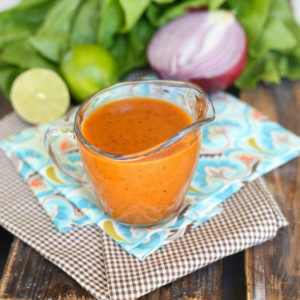 Smoked Paprika Vinegrette
---
Description
A sweet and smokey salad dressing perfect for a variety of salads, as well as a marinade or chicken or fish.
---
1/2 cup

red wine vinegar

1/3 cup

honey

1 tablespoon

stone-ground mustard

1 tablespoon

lime juice

3/4 teaspoon

freshly ground black pepper

3/4 teaspoon

kosher salt

1 1/4 teaspoons

smoked paprika

1

clove garlic

2 tablespoons

chopped onion

1/4 teaspoon

oregano

1

pinch white sugar, more to taste if needed

1/2 cup

oil *see note
---
Instructions
Combine all ingredients except oil in a blender and process until smooth. With the blender on low speed, slowly drizzle in oil. Store in a jar in the fridge.
---
Notes
*Oil: I prefer this dressing with 1/2 canola oil and 1/2 Bacon Extra Virgin Olive Oil . You could do any combination you like, including all canola or all regular olive oil. I personally prefer the lighter flavor of the canola oil over 100% olive oil in this recipe. But using some of the Bacon Oil is my very favorite!