Congratulations, you've made it into the final homestretch of summer!  Sometimes that's a sad feeling, as the long days of lounging by the pool and weekends at the lake come to an end, and sometimes it's a glorious feeling of anticipation of structure and order once returning to your home as you lovingly kick the kiddos out the door for their first day of school.  This really has nothing to do with salad other than the fact that I keep finding myself on social media while procrastinating writing this post and it's full of cute little kiddos on their first day of school.  We don't start for another couple of weeks so we're squeezing in as many lazy summer days as we can until then.  Okay, back to salad.  I've been crushing on this one lately.  It makes a great Jar Salad as well, if you're into that sort of thing (and I am in fact into that sort of thing.)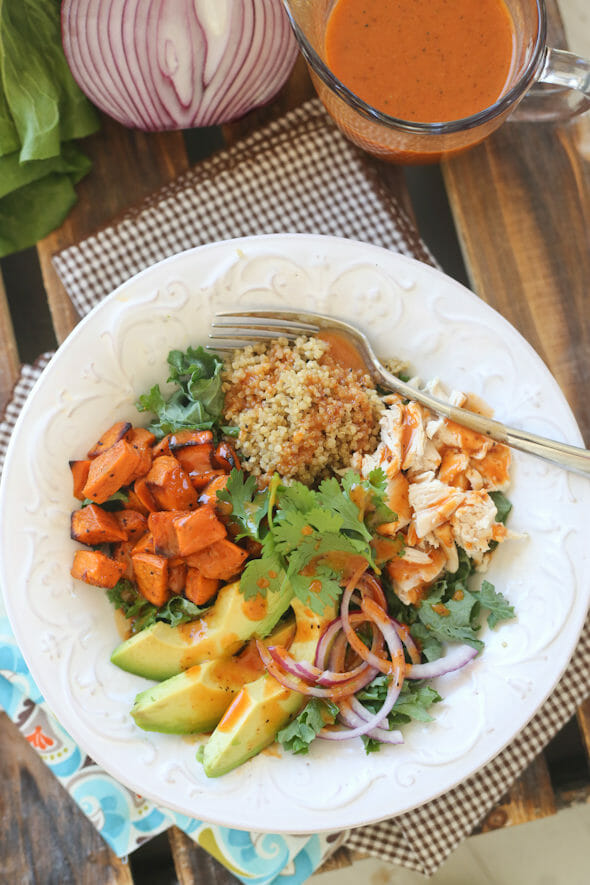 If you've never put roasted sweet potatoes into a salad before, you've got to try it.  Lately I've been roasting a bunch like this and keeping them in the fridge to toss onto salads, and even in egg scrambles in the morning.  You can use them in this recipe warm from the oven, cooled to room temp, or chilled.  My favorite way to cook them is to dice them into small pieces (like 1/2 inch or less) and toss them in Bacon Olive Oil and a spice mix of smoked paprika, ground cumin, kosher salt, and black pepper.
When they come out of the oven they should be nice and toasty brown on some of the edges; I actually kind of like a few semi-burned, but I'm weird like that.  I love the overcooked crispy brown french fries at the bottom of the container, too.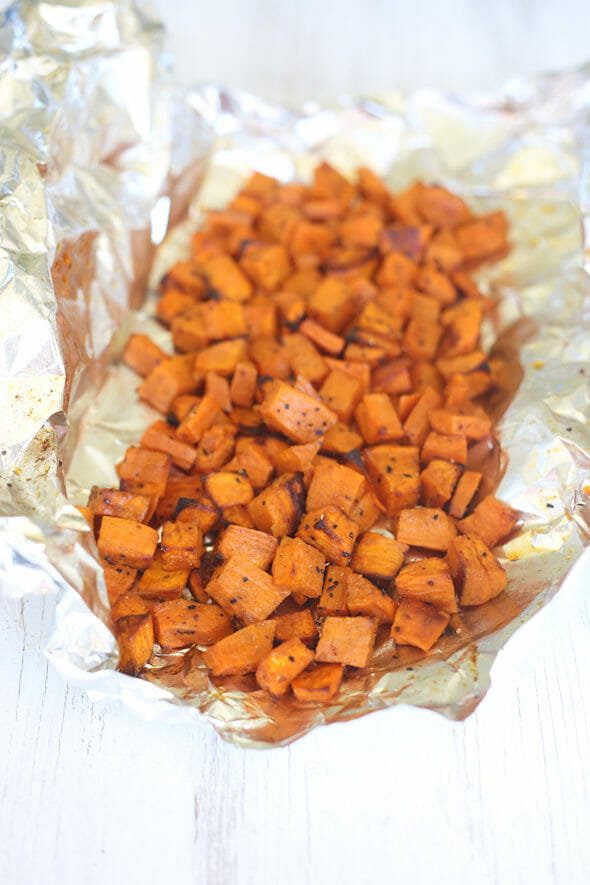 For the salad, use the quantities you like, either for one or for a crowd.  Kale or spinach, cooked and cooled quinoa, cilantro, sliced red onion, avocado, and diced chicken.
Pile everything in there.  You'll see it's got almost every food group represented and an awesome combination of varying flavors and textures.  It's definitely a one-dish dinner and a salad that won't leave you starving an hour later.
There are a few dressing options that I like.  I've been eating this non-stop lately with our Smoked Paprika Vinaigrette, but it's also awesome with this Maple Bacon Vinaigrette, or this Lime-Cilantro Vinaigrette.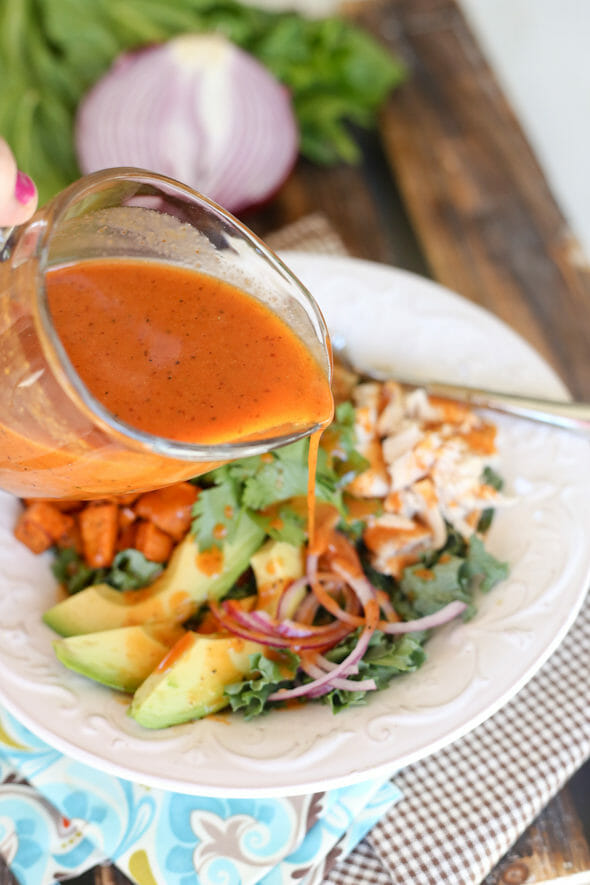 There are quite a few components, but if you keep them stocked in your fridge (some cooked quinoa, chicken that's already chopped and ready, sweet potatoes that are done) it's easy to throw together and eat for lunch or dinner a few days in a row.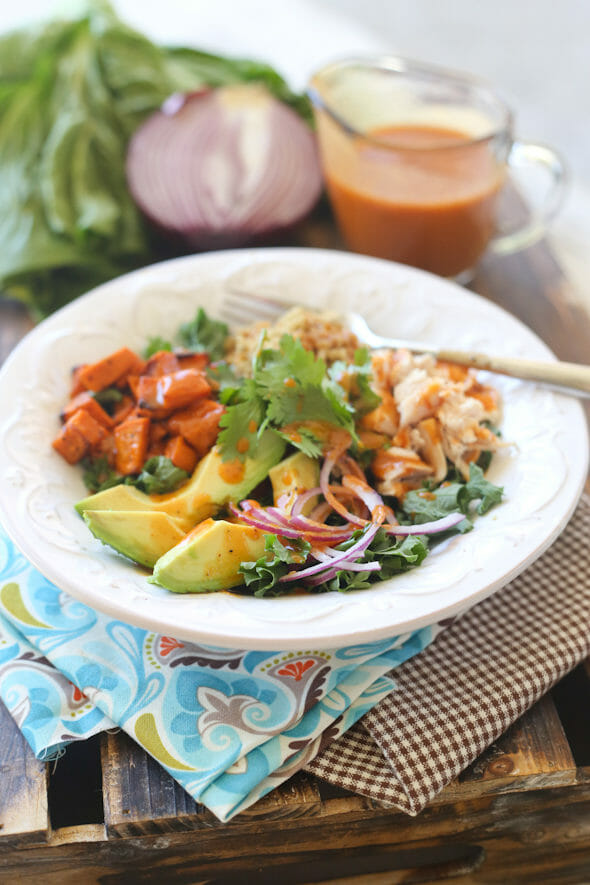 Print
Roasted Sweet Potato and Quinoa Chicken Salad
---
Description
A delightful combination of sweet, savory, tangy and smoky ingredients. Makes a great lunch or dinner main dish salad.
---
Fresh spinach or thinly sliced kale
roasted sweet potato chunks (see instructions in note)
cooked and cooled quinoa*
diced cooked chicken breast
thinly sliced onion
chopped cilantro
sliced or diced avocado
---
Instructions
Add all ingredients in desired quantity (It's a salad. Just go with the flow, here.)
Fill large salad bowl or individual serving with spinach or kale. Layer remaining ingredients on top and dress with salad dressing.
---
Notes
*Add more flavor to your quinoa by cooking it in broth instead of water.
Roasted Sweet Potato Chunks
Ingredients
1 large sweet potato, peeled and cut into 1/2-inch or smaller chunks (about 3 cups diced)
1.5 tablespoons olive oil (I use Bacon Olive Oil)
1/2 teaspoon kosher salt
1/4 teaspoon black pepper
1/4 teaspoon smoked paprika
1/4 teaspoon cumin
Preheat oven to 400 degrees. Toss sweet potato chunks in oil and then toss with spices. Spread on a baking sheet and cook for about 20 minutes or until browning on edges.