There may be no cookie quite as comforting as a giant oatmeal cookie and we're actually giving you two options for today's cookie!  You'll see I made a giant Oatmeal Chocolate Chip Cookie, but if you prefer, with some minor adjustments you can make a Giant Oatmeal Raisin Cookie, if you prefer!  Oatmeal gives this cookie the perfect chew, and it has all the good signature giant cookie hallmarks like crisp buttery outer edges and a soft chewy center.  This giant oatmeal cookie will knock your socks off!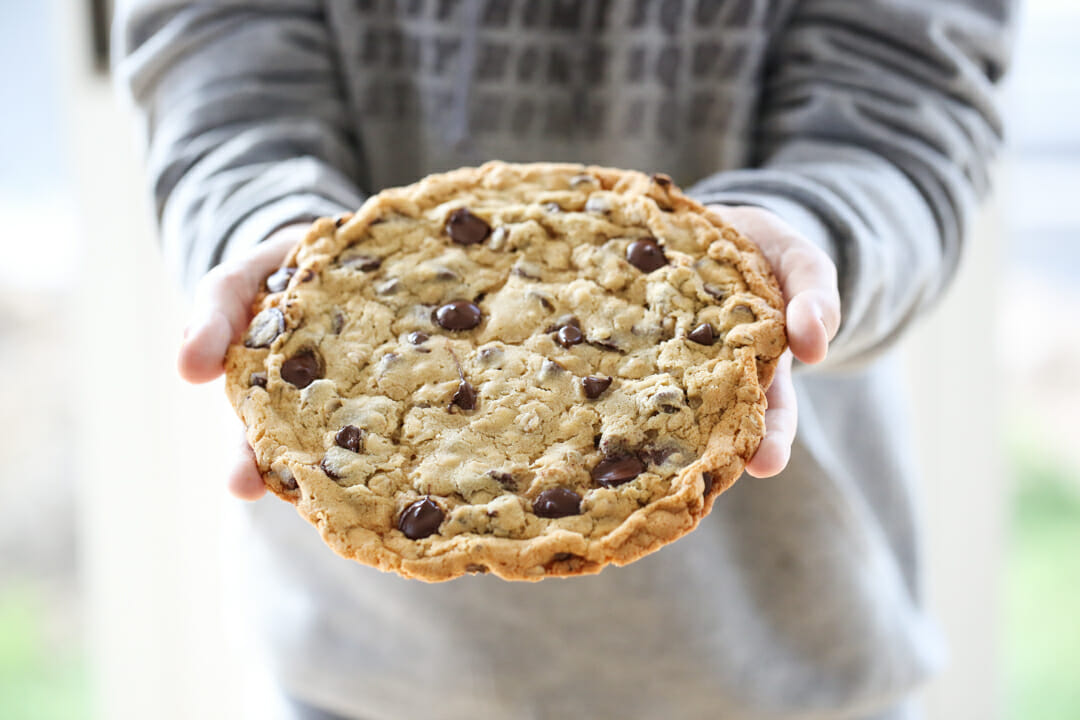 Scroll past recipe card for step-by-step photos and how-to's!
Print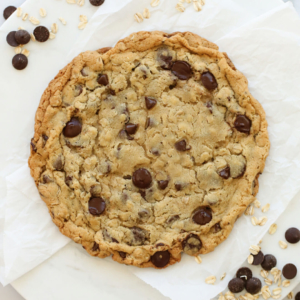 ---
Description
Makes a perfect, single GIANT Oatmeal cookie!  As written, this is an Oatmeal Chocolate Chip Cookie, but if you want a Giant Oatmeal Raisin Cookie, see the notes below!
---
4 tablespoons butter, melted (*see note in instructions before melting)
1/4 cup lightly packed dark brown sugar (light brown sugar will work just fine too)
2 tablespoons white sugar
1 egg yolk
1/2 teaspoon vanilla extract
1/2 cup all purpose flour
1/4 teaspoon baking soda
1/4 teaspoon baking powder
1/4 teaspoon salt
1/4 cup quick cooking oats*
1/2 cup chocolate chips
*I was out of quick cooking oats and used old fashioned rolled oats and it was delicious 🙂
---
Instructions
Preheat oven to 325 degrees. Line a cookie sheet with parchment.
1. Melt your butter in a heat-safe mixing bowl.  Note: It doesn't need to be ALL the way.  See photos for an example- I've found the best stage is when about half the butter is liquid, but the rest is super soft.  Like the texture of pudding.  You want it to easily stir completely smooth when you touch it.
2. Mix in brown sugar, white sugar, egg yolk and vanilla.
3. Measure your flour by spooning lightly into your measuring cup and then leveling with a knife.  Sprinkle flour, baking soda, baking powder, and salt on top and then mix together.  Stir in oats and chocolate chips. (Or raisins, if you are using those, instead)
4. Form dough into one large ball and place on prepared baking sheet.  Gently press down to about 3/4 inch thick.  I like to press a few additional chocolate chips into the top of the dough before baking.
5. Note:  All ovens cook differently and baking time will vary depending on how much you press your cookie down.  Set a timer for 10 minutes so you can keep a close watch for the remainder of the baking time.  Bake for 11-14 minutes, until edges are set and center looks set, but still soft.  Let cool for 10-15 minutes before using an extra large spatula to transfer to a cooling rack.
---
Notes
how to make an oatmeal raisin cookie
Follow all the ingredients and directions, but omit chocolate chips and add 1/2 cup raisins + 1/4 teaspoon cinnamon.
How to make a Giant Oatmeal Cookie!
Start by softening/melting your butter. Mix in your brown sugar, white sugar, egg yolk and vanilla. If you have dark brown sugar, use it. It adds a deeper caramelly warmth to this cookie.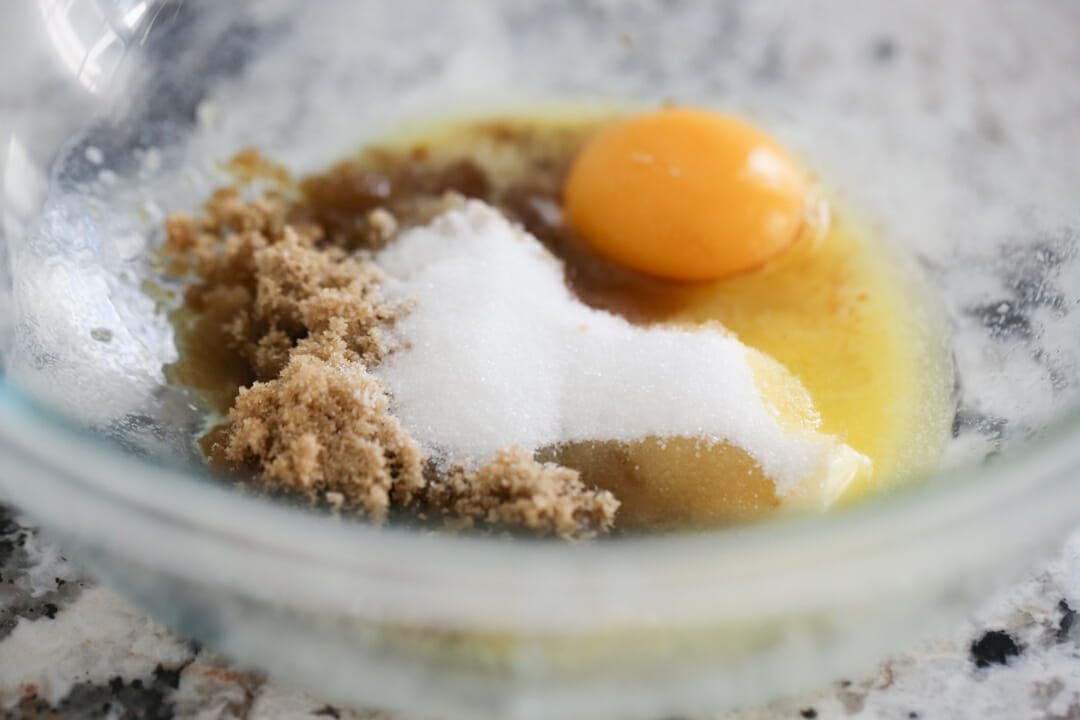 Sprinkle your dry ingredients right in on top of the wet ingredients and mix together.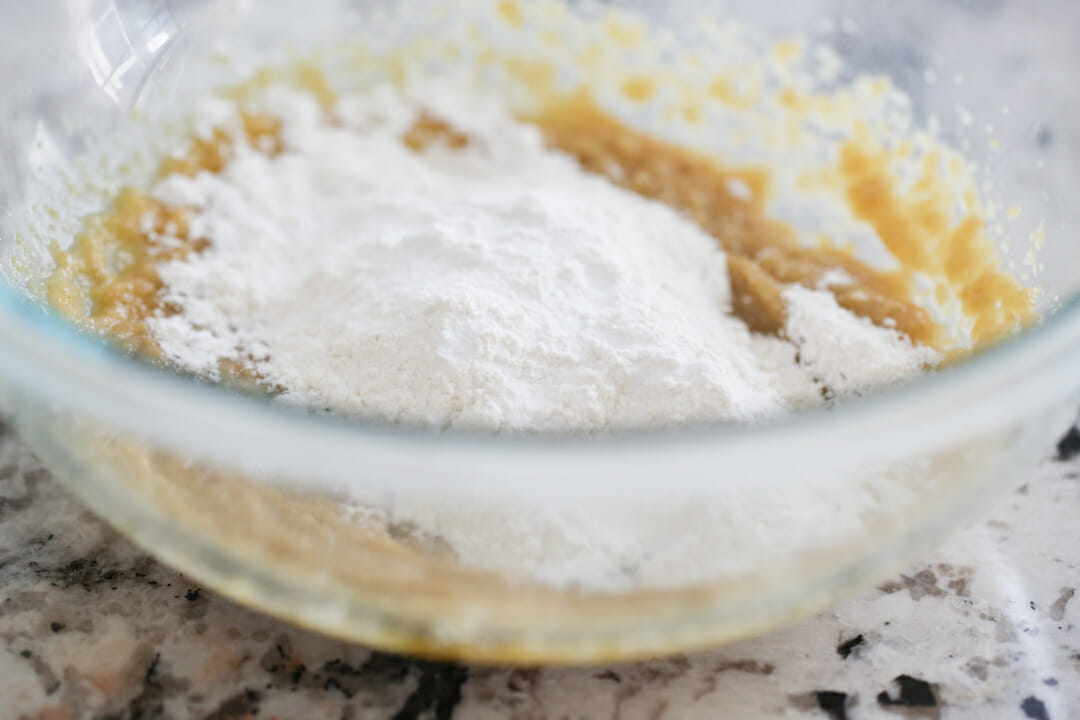 Add your mix-ins
Add your oats and your chocolate chips OR raisins if you choose to do that and stir everything together.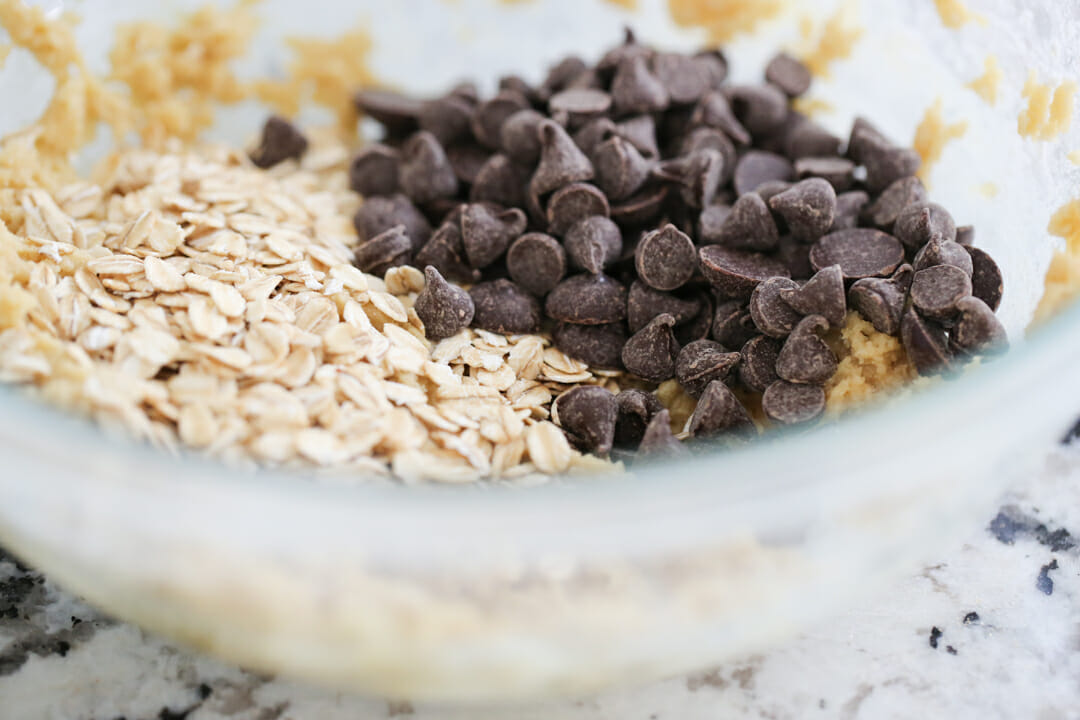 Form your dough into a ball and then press it lightly down on your prepared baking sheet. You'll want it about 1/2 -3/4 inch thick.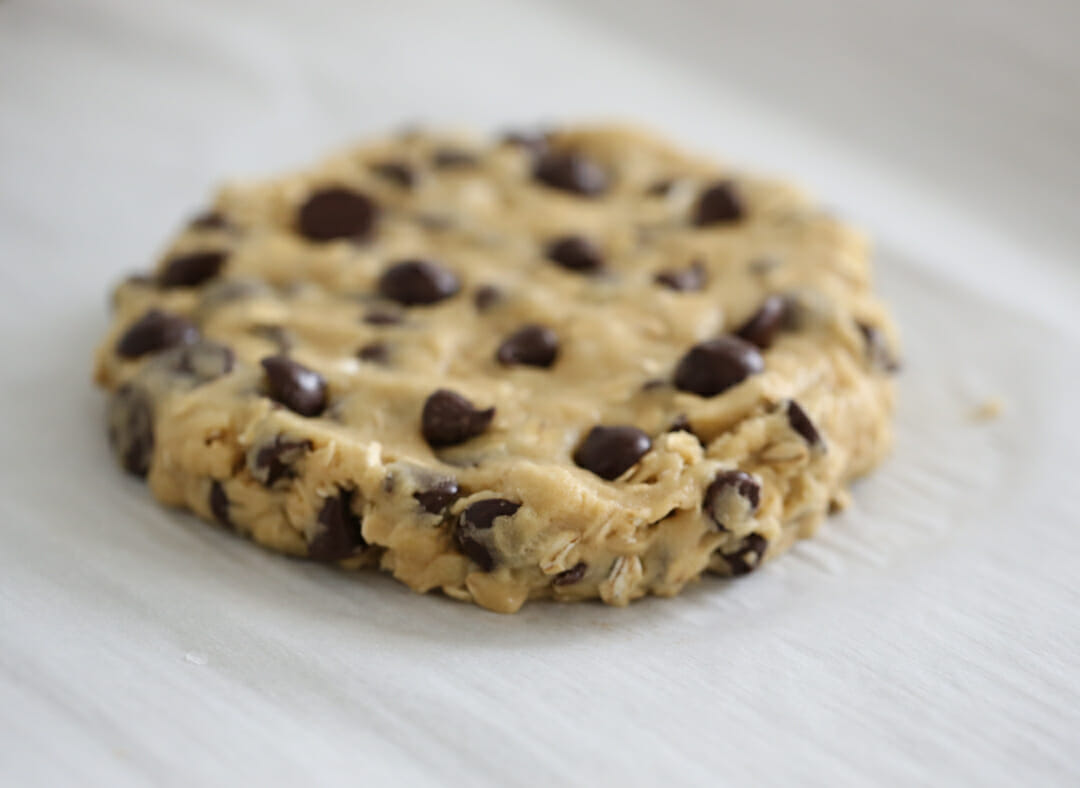 Bake as you would a normal cookie, watching for those edges to turn golden brown and the soft to puff and set, but not be browned. You want to under bake the center just a bit in order for it to stay soft and chewy after it's cooled!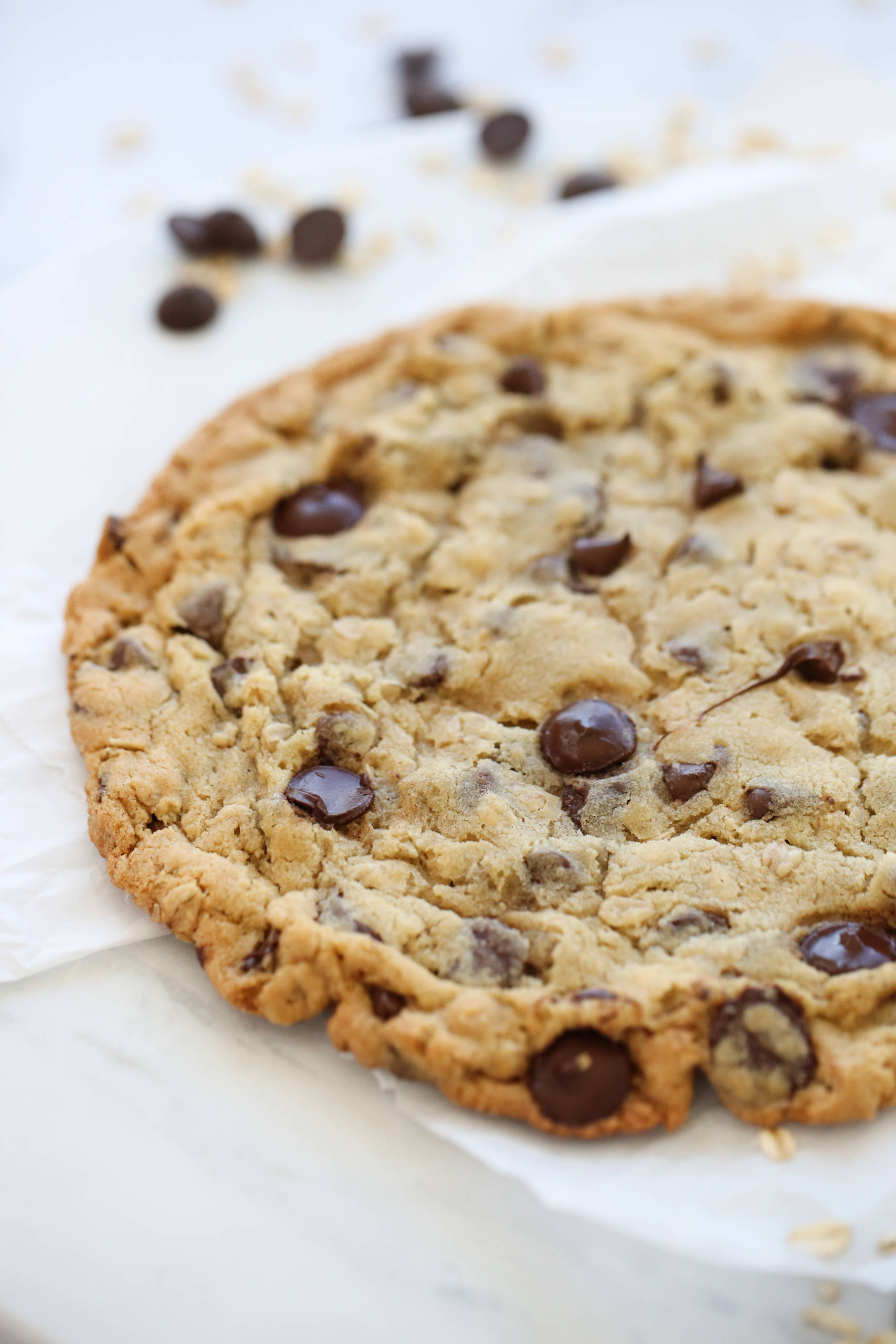 This is one of our favorite cookies. Perfect with a tall glass of milk (or as someone shared in their photo this week, a giant bowl of milk haha!)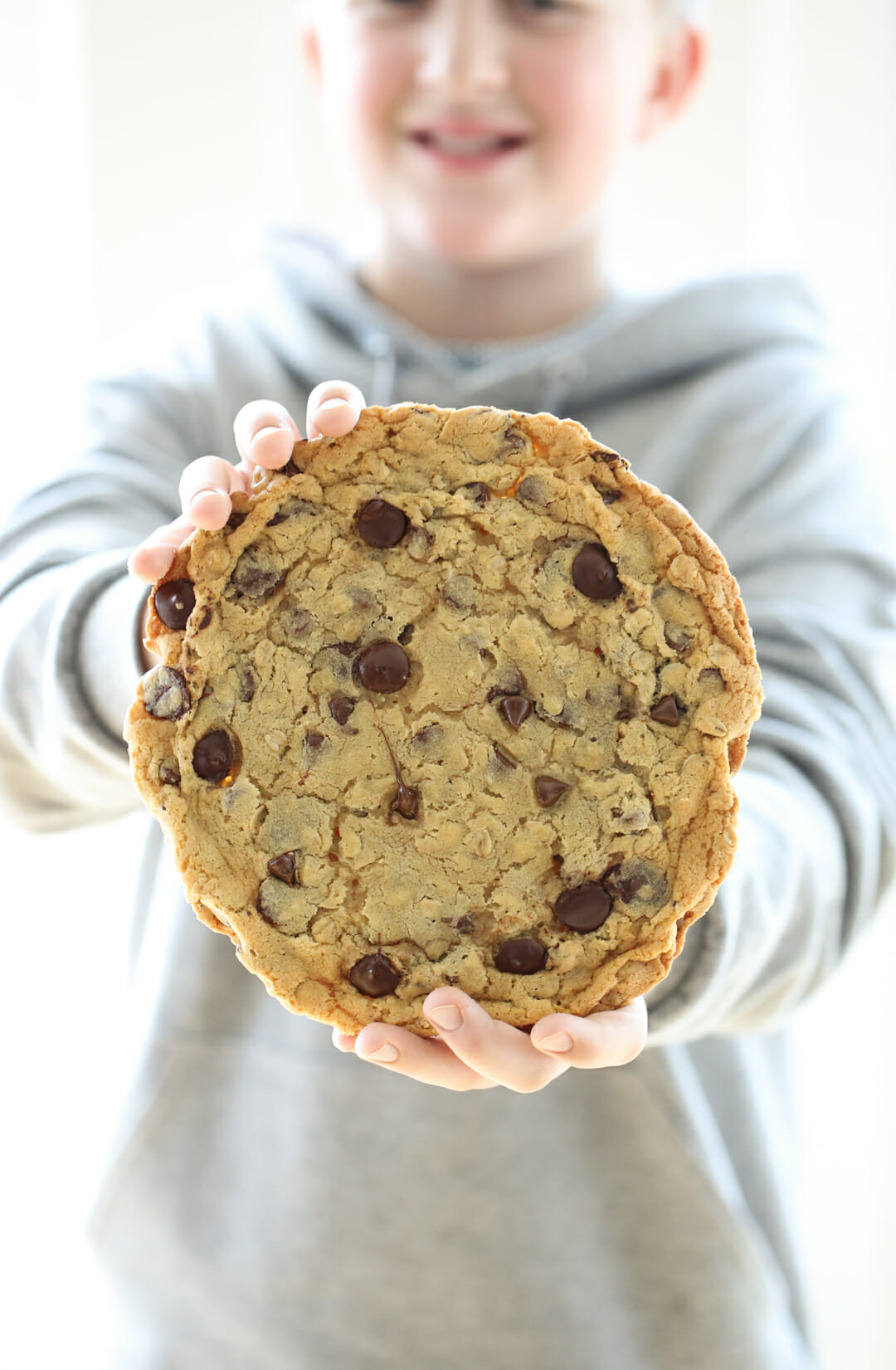 Related Recipes
Check out these Oatmeal Cookies for a regular sized batch of these cookies.
If you're looking for more big giant cookies, you can find them all right here:
Big Giant Chocolate Chip Cookie
Big Giant Double Chocolate Fudge Cookie
Big Giant Chocolate Sugar Cookie
Big Giant Chocolate Crinkle Cookie
Big Giant Soft and Chewy Ginger Cookie
Big Giant Peanut Butter Cookie
Big Giant Snickerdoodle Cookie
Giant Peppermint Candy Cane Chocolate Chip Cookie
Giant Chocolate Peppermint Bark Cookie
Giant Chocolate Cadbury Egg Cookie