One of my very most favorite things is creamy Greek-ish dill dip and salad dressing. Whether I'm using it as a salad dressing or a dip, it's a nice alternative to Ranch. But they can be hard to find or really expensive if you buy them in the produce section or kind of chemical-tasting if you buy them near the salad dressings. So I decided to make my own, and it's been a staple in our refrigerator for the last few weeks. It's seriously so easy–just a few minutes with regular pantry and refrigerator ingredients (you might not have kefir on hand…but we'll talk about that in a second and why I have some in my fridge all the time, and not because I'm über-crunchy, or even really very crunchy at all.)
For dry ingredients, you'll need some garlic powder, onion powder, kosher salt, a little black pepper, and some dill weed.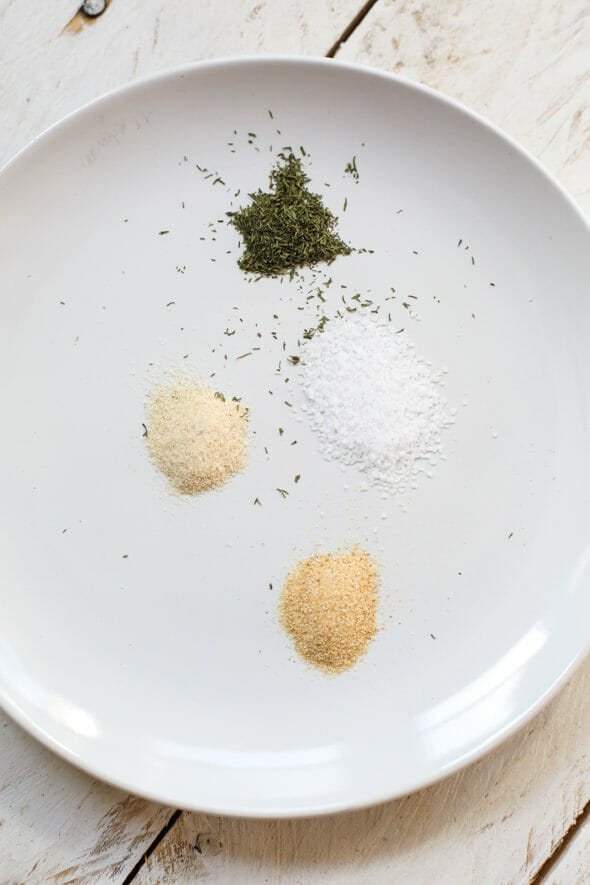 And then you'll need a handful of refrigerated ingredients–mayonnaise (light mayo is great. Also, a lot of people ask and Sara and I are die-hard Hellman's/Best Foods only kind of girls. It's a hill to die on.), crumbled feta cheese, and plain kefir (or buttermilk, but we're getting to that).
What is kefir? It's a cultured dairy product, lots and lots of probiotics in one place. Kind of like strong yogurt drink.  A lot of times, it's flavored (like strawberry kefir.) Why kefir? It's kind of a long and interesting story. Actually, it's not that long or really all that interesting. Basically, the grocery store I find myself in most frequently only sells buttermilk in quarts. I like to have buttermilk on hand, but I can rarely use it all before it goes bad and I promise, if it goes into my freezer, it's not coming out until 3 years later when I clean out my freezer and find it buried under a bag of fish fillets and chia seeds and other foods I bought with  really good intentions (while those Outshine coconut bars and Talenti gelato mysteriously disappear within days).
So anyway. One day, my store was out of the quarts of buttermilk and I had some serious buttermilk syrup needs, which I feel like needs real buttermilk, not the milk-and-lemon juice substitute. So I saw the plain kefir, and although I was a kefir virgin (drinking my yogurt gives me the heebie jeebies), I knew enough about it to think it was a reasonable substitute for buttermilk. Turns out it tastes JUST like buttermilk, with the added benefit of all those probiotics and, because of them, it lasts forever; when I buy it, the expiration date is usually about 2 months out, and it's good until then, no matter when you open it (this is not a sponsored post about kefir, by the way, I just found all of this information fascinating). So I can have a bottle of it in my fridge all the time without the overwhelming pressure to buttermilk all the things in my house before it goes bad. And that's why it's now one of my refrigerator staples.
Aaaaaanywaaay.
In a container or jar, add all your ingredients except for the feta.
Whisk it all together (if you love this whisk, you can find it in our shop…that I am shamelessly plugging.)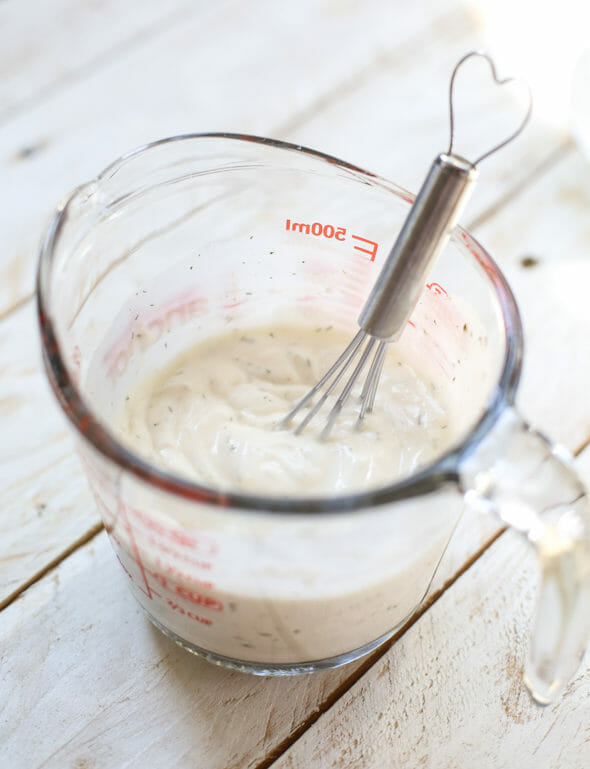 Fold in the feta cheese and then let it hang out in the refrigerator for about an hour before serving.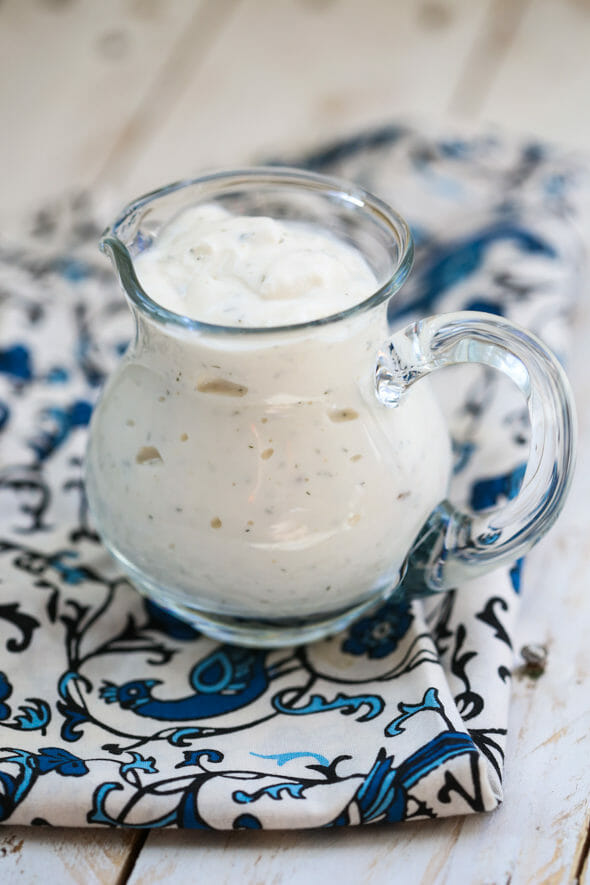 This makes a little over 1 cup of dressing.
Print
Creamy Feta and Dill Salad Dressing
---
1/2 cup

mayonnaise (light is fine)

2/3 cup

plain kefir or buttermilk

1/2 teaspoon

garlic powder

1/2 teaspoon

onion powder

1/2

heaping teaspoon kosher salt
black pepper to taste

1/2 teaspoon

dill weed

1/3 cup

crumbled feta cheese
---
Instructions
Whisk together mayonnaise, kefir, garlic powder, onion powder, salt, black pepper, and dill weed. Add feta and refrigerate for at least an hour before serving. Serve on top of salad or as a dip.
---