Choosing a check-out line at the grocery store is a fine art.  I've learned to recognize the store employees where I shop and know which ones are the fastest.  When Walmart is packed I can tell when they've grabbed the guys from the tire center to ring up groceries and avoid all of them if I have any produce.  I can often tell just by a woman's purse if she's going to bust out a check book and write very slowly in longhand cursive.  I can spot a couponer from a mile away thanks to the ginormous binders they carry around- or if not that, then the fact that they have 27 of every item in their cart- and avoid getting in line behind them (no offense couponers; I'm glad you got 900 free bottles of mustard, really I am, I just don't like standing in line behind you.  We can still be friends, right??)  And if I'm at a store where I have to load my stuff onto the belt I have the organization down to a science to roll over into the most efficient bagging technique.  Why all of this hoopla for a grocery store line you ask?  I have 3 kids under the age of 6.  I hate check-out lanes.  They are designed specifically to pain and torment mothers.  I'm fairly certain that there are top secret specialists somewhere in the world who are hired as consultants for this very purpose.  ("Definitely put gum at the level of a 3 year old" "Hey I know, let's have baskets of shiny light-up bouncy balls on the bottom shelf!"  "Is it lame?  Is it cheap?  Does it have magical pheromones that attract children to it?  Yes!  Put it in the check-out aisle!)  But I have a little secret.  When I'm shopping alone without my kids I use all of my same tricks to choose the absolute longest, slowest line I can find.  It's like a little guilt-free mini vacation where I have nothing else to do but grab a bunch of magazines and start reading.  A couple of weeks ago I read the entire Betty Crocker holiday mini-mag cover to cover, and that's what brings us to this little gem.  This recipe is on the cover and it's been taunting me for weeks now!
It's no secret I'm a pumpkin pie hater.  I usually make an Apple Pie, or our Pumpkin Cheesecake for Thanksgiving, but I was intrigued by this one because it's not a pumpkin flavored cheesecake- it's a regular cheesecake with toffee bits, topped with a pumpkin pie.  I learned I can totally handle pumpkin pie when it's mixed with creamy cheesecake.  The best of both worlds!  So if you've got some haters and some lovers in your Thanksgiving group this year, give this one a shot; it just might please everyone!
Start with the crust, which is your basic butter and graham cracker crumb mixture.  If I have to choose between regular pie crust and graham cracker crust, the graham wins every time.
And press it into the bottom of a springform pan.
That goes in the oven to bake for a few minutes, and while it does you can mix up your cheesecake layer.  One trick when making any kind of cheesecake is to have all of your ingredients at room temperature, or even slightly warm.  Soften your cream cheese in the microwave if it's still chilled until you can easily stir it with a spoon.  Place your eggs in a bowl of warm water for 5-10 minutes to take the chill off.  That way everything will blend together; if you add cold eggs to semi cold cream cheese, you get a big bowl of lumps.  Admit it; you've been there.
When your cheesecake layer is all mixed up (cream cheese, sugar, eggs, and vanilla) you'll mix in some toffee bits.
Make sure when you're at the store you grab regular toffee and not the chocolate covered ones.  Not that chocolate covered toffee can really ever be a bad thing, but, ya know…
Spread the cheesecake layer over the baked crust and set it aside.  Give the bowl you were working in before a quick rinse and then whip up your pumpkin pie layer.
In goes pumpkin, eggs,
cream, sugar,
and a few spices.
Then very carefully, and slowly pour the pumpkin layer over the cheesecake.  You want to avoid pouring it all out in one big gush because it will mess up your layers.  It actually works best to pour it out of the side of the bowl, not from the spout as you see me doing here.  (Do as I say not as I do).
And that baby goes into the oven for 2 hours.  Yes, two.  We're cooking low and slow here folks.  When the edges are set, but the center is still a little jiggly, just turn off the oven and crack the door, but leave the pan in the oven for about 30 minutes.  If you're like me and have little ones at oven height, you can leave the door shut.  Just walk by and crack it periodically during the 30 minutes to let a little heat out.
After it comes out and cools completely, run a knife around the edge of the pan, but leave it in the pan.  Cover it with plastic wrap and chill for at least 6 hours or preferably overnight.  You could probably even freeze this. I know because I didn't have 6 hours so I popped it in the freezer and it mostly froze!  I left it at room temp for a few minutes before serving and it was great.
When you're ready to serve it, plop some whipped cream on top.  I'm generally a proponent of using fresh sweetened whipped cream for this sort of thing, but you could also use Cool Whip, or the kind in a spray can.
Not gonna lie, I totally got my spray-can on with this one.
Inside you'll be all set up to have a bit of 50/50 cheesecake and pumpkin pie.
Pretty good combo if you ask me!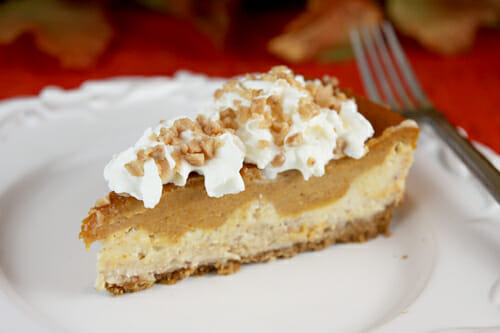 Toffee-Pumpkin Cheesecake
Slightly adapted from Betty Crocker
Ingredients:
2 cups cinnamon graham cracker crumbs (just short of 2 sleeves)
1/2 cup (1 stick) butter, melted
2 8-oz packages cream cheese, softened
1/2 cup sugar
1 teaspoon vanilla
5 eggs, at room temperature
1 bag toffee bits
1 15-oz can pumpkin (or use homemade, it's 1 3/4 cup)
3/4 cup whipping cream
2/3 cups sugar
1/2 teaspoon ground cinnamon
1/4 teaspoon pumpkin pie seasoning
1/8 teaspoons salt
Cool Whip or sweetened whipped cream for topping
Instructions:
Heat oven to 300 degrees.  Spray a 9 or 10″ springform pan with cooking spray.  In a small bowl, mix crumbs and butter.  Press in bottom of pan.  Bake 15 minutes.  Remove from oven and set aside.
In large bowl, beat cream cheese, 1/2 cup sugar, and vanilla until smooth.  Beat in 2 of the eggs.  Stir in 1 cup of the toffee bits.  Spread over crust.  Clean out your bowl (or by all means grab another one.)
Mix pumpkin, whipping cream, 2/3 cup sugar, the cinnamon, pumpkin pie seasoning, salt and remaining 3 eggs just until blended.   Slowly and carefully spoon over cheesecake layer.
Bake for 2 hours or until edge of cheesecake is set at least 2 inches from edge of pan but center still jiggles slightly when moved.  Turn oven off; open oven door at least 4 inches.  Leave cheesecake in oven 30 minutes.  Run spatula around edge of pan.  Cool 30 minutes.  Refrigerate 6 hours or overnight.  Run spatula around edge of pan; remove side of pan.  Pipe whipped topping or whipped cream around edges of cheesecake; sprinkle with remaining toffee bits.
Looking for other Turkey Day dessert idea?  Here's a few of our faves!
Pumpkin Cheesecake with Pecan-Gingersnap Crust
Easy Pumpkin Crumble
Classic Apple Pie
Crumb-Topped Apple Pie
Apple Pie Ice Cream
Caramel Apple Bread Pudding