Pizzookies are little individual servings filled with warm gooey chocolate cookie and ice cream.  We love topping our Pizzookie with chocolate and/or caramel sauce for a knock-your-socks-off dessert that's fancy enough for company and easy enough for a casual family treat. They can be made with 100% store-bought short cuts, or you can make any part of them with homemade recipes, we'll provide links for all the options but they are just as delicious either way!  Scroll past recipe card for step-by-step photos and some more tips.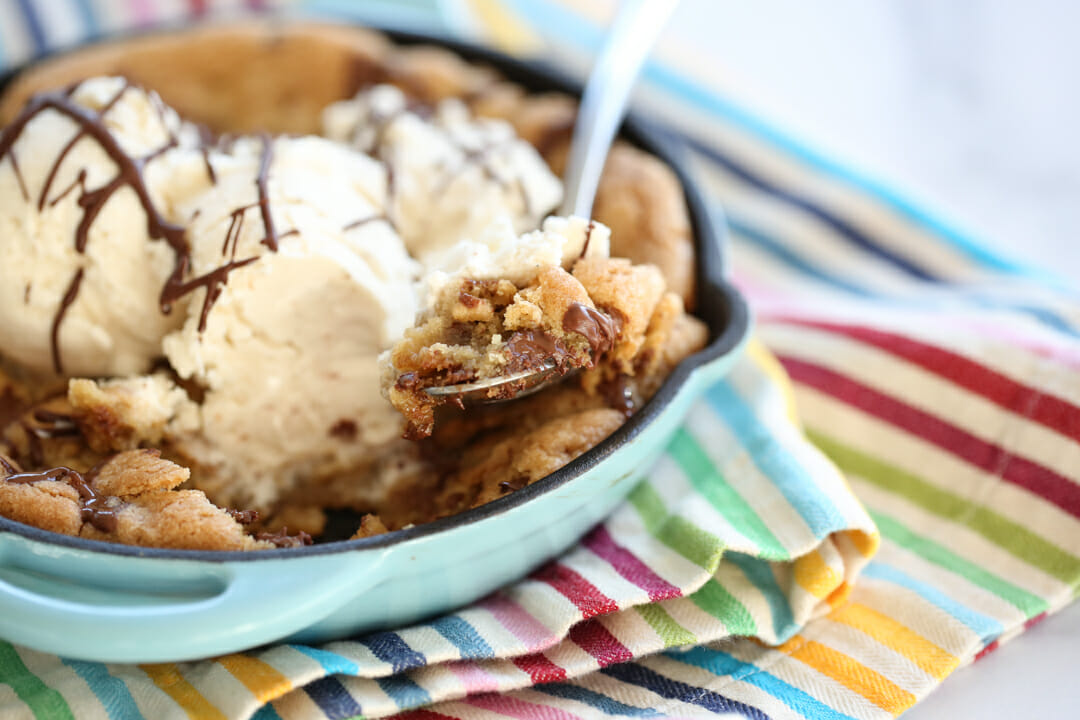 Print
---
Description
Individual servings of warm chocolate chip cookie with ice cream on top.
---
---
Instructions
Preheat oven to 350. Fill desired amount of ramekins (or any sort of individual sized oven safe serving vessels) a little bit more than half way with cookie dough.
Bake for about 12-14 minutes or until golden around the edges but still soft in the middle.
Remove from oven and allow to cool about 5 minutes. Top with a scoop of vanilla ice cream and drizzle with chocolate, or caramel or both!
---
Why a Pizzookie?
This dessert is for the end of the week and you're dead tired and so very grateful for the weekend, something you can delight in while you watch all the shows you
DVRed
during the week.  I've made them with
homemade cookie dough
, I've made them with the cookie dough from Papa Murphy's, and I've made them with the good
ol
' refrigerator cookie dough from the grocery store. Quite honestly? I like the dough I don't have to make the best. These are so easy and so AMAZING that any extra effort, either in preparation or cleanup, seems to take away from their deliciousness. That being said, they're pretty specatular taken up a knotch with homemade caramel, ice cream and fudge, so make them easy, or make them complicated, either way they're fantastic!  We love making these for company as well because it's easy to prep all the ramekins with dough and just keep them in the fridge.  Pop them in the oven as you're finishing dinner and they'll be warm and ready to go!
How to Make a Pizzookie
You can absolutely use a tub of store-bought cookie dough or make your own.  If you want to only make 2-4 pizzookies, I recommend making this easy dough from our giant cookie since it makes a smaller amount.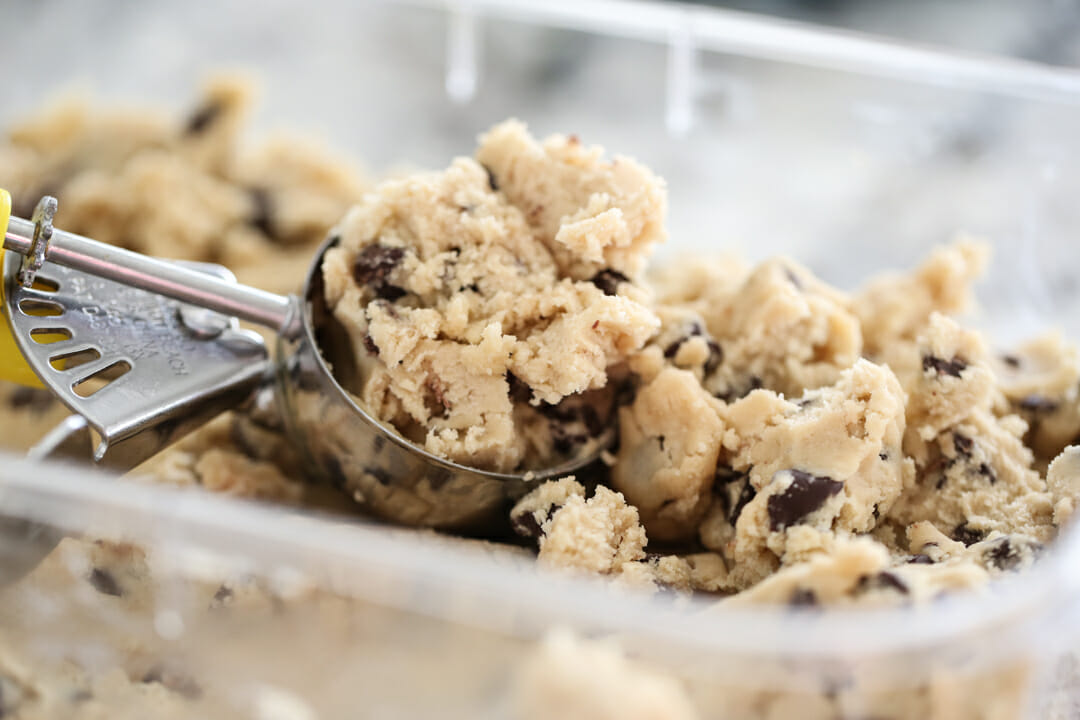 When you order a Pizzookie at a restaurant, it often comes in a mini skillet.  There are a lot of options, styles and sizes of those available on Amazon.  We often bust out the mini cast iron skillet when making one for a special occasion, or if we're going to share, but most times we love using ramekins because they're so easy to serve in and you don't end up with a hot handle you have to watch out for.  There is however something fun about eating out of a skillet.  So, either way!
Fill with cookie dough
You'll want to fill up your ramekin, or skillet, a little more than half way with cookie dough.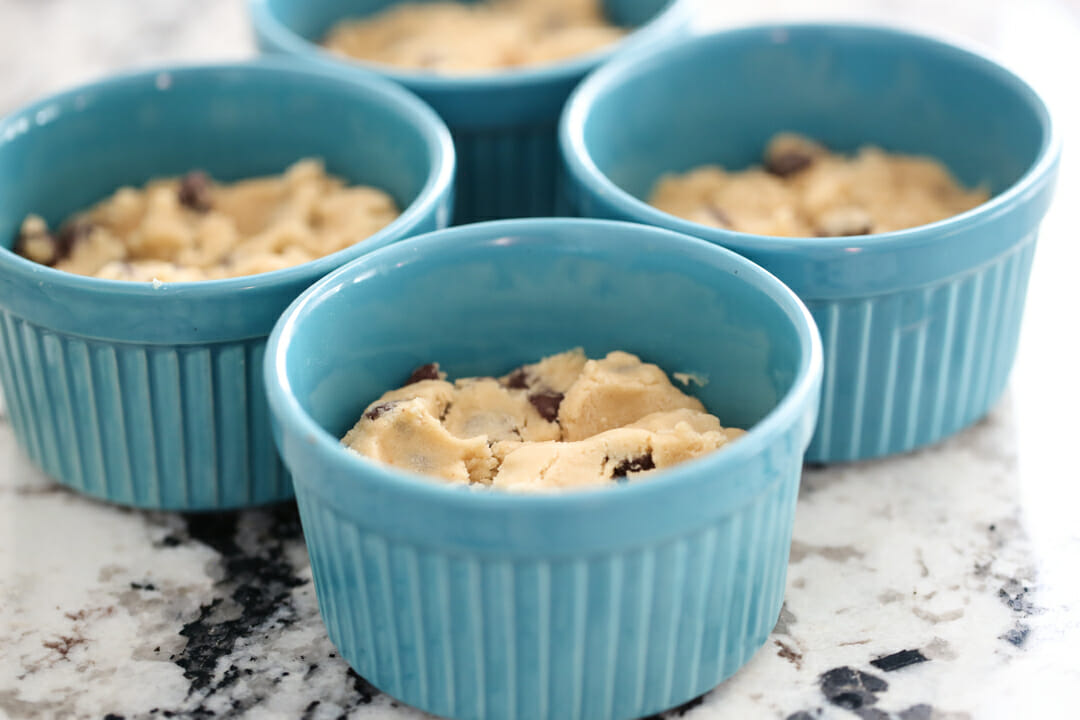 Bake them in the oven till the cookie dough is puffed and set on the edges but remember you want the inside super soft so don't over-bake!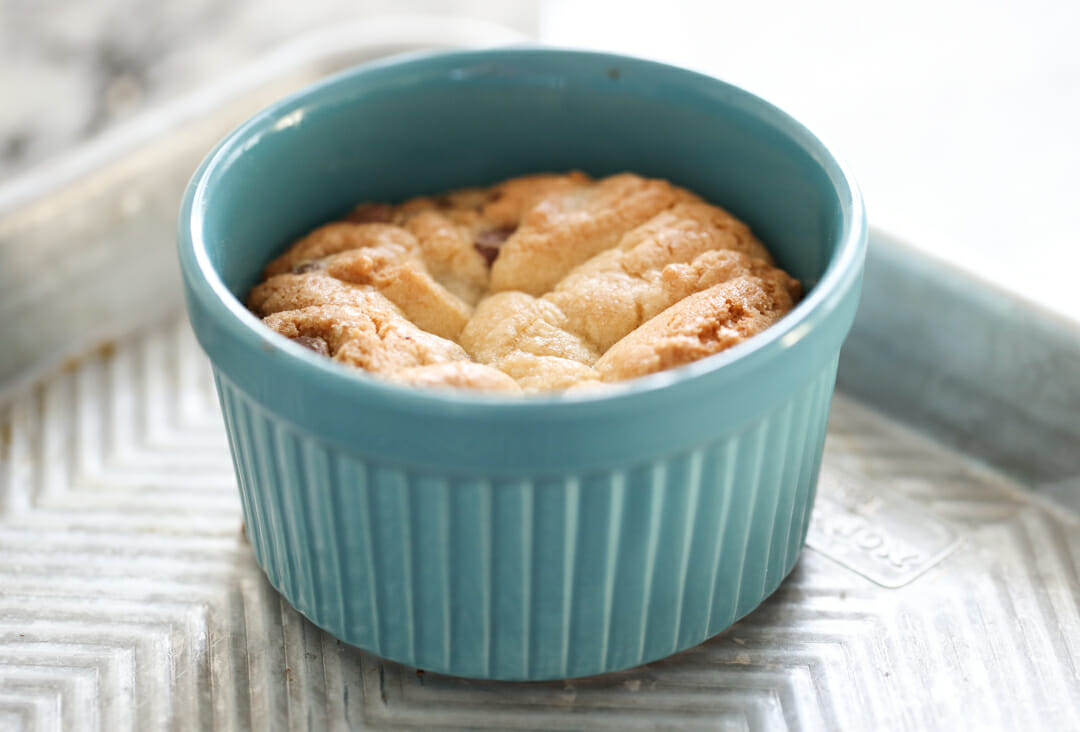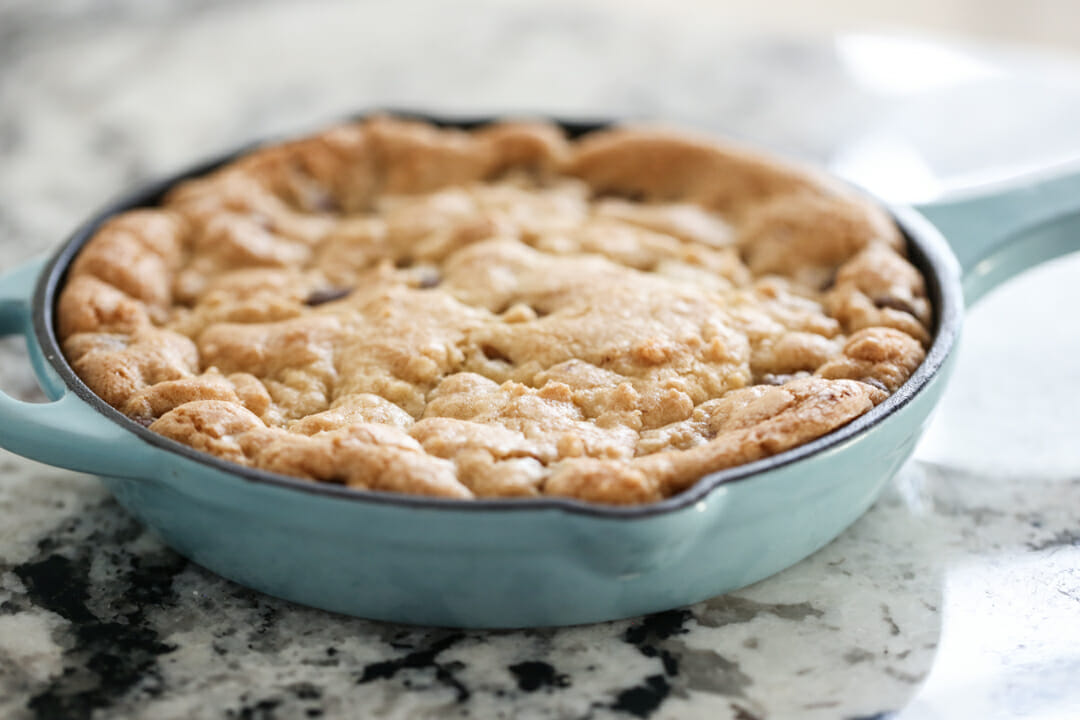 Top your Pizzookie with Ice Cream!
Let them cool for about 5 minutes (you want them warm, but not screaming hot) and then you'll be ready to scoop ice cream over the top and drizzle chocolate or caramel (or both!) over the top.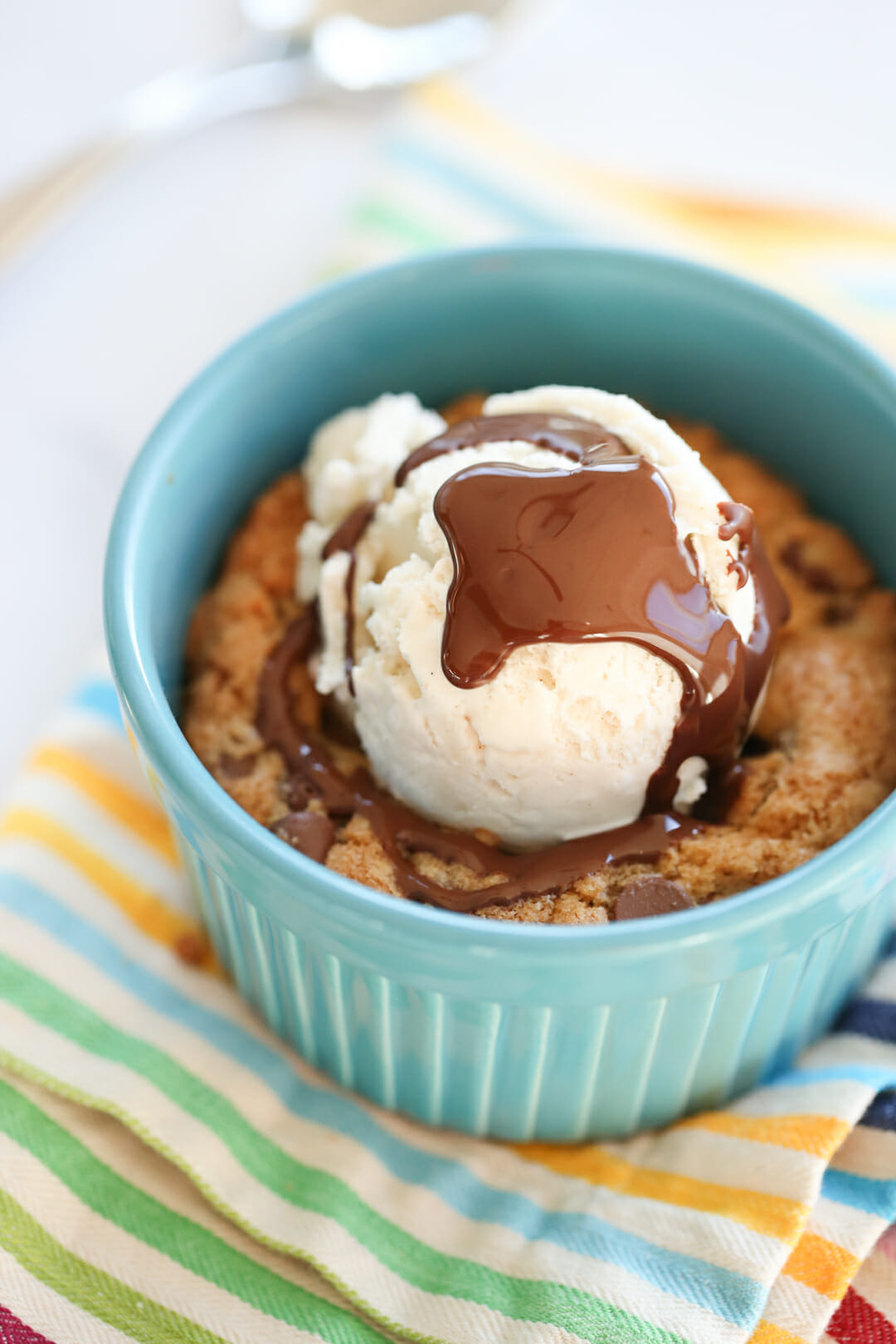 The BEST part about a pizzookie is that bite of warm cookie with the cold ice cream melting into it.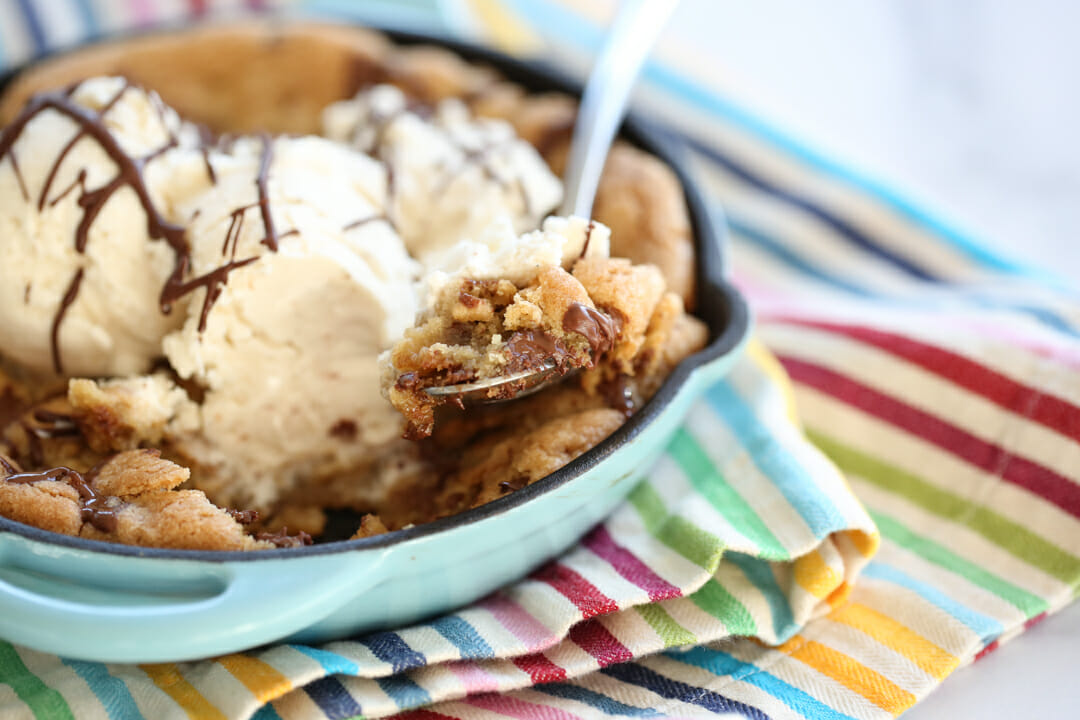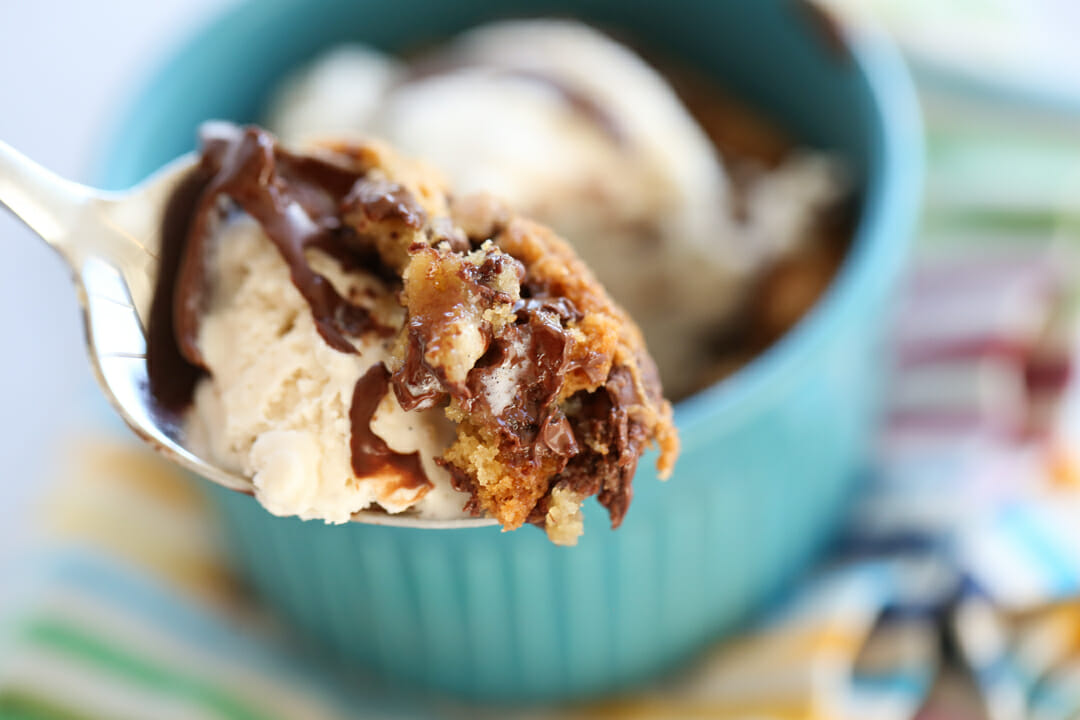 This is an absolute family favorite (often requested at birthdays) in our home and I bet it will be in yours, too!  If you make these, share a photo on Instagram and tag
@Kate_OurBestBites
and
@Sara_OurBestBites
so we can see!