This Roasted Sweet Corn and Tomato Soup is the ideal meal for when your garden is overflowing with sweet, flavorful summer produce. The blended corn gives it a rich, creamy texture with no dairy whatsoever. Smoked paprika and chipotle chili powder provide a subtle smoky, sweetness that will bring everybody back for more. Craving this beautiful soup other times of the year? Frozen corn and store-bought tomatoes will do in a pinch. It's easy and delicious and absolute perfection paired with a grilled cheese sandwich.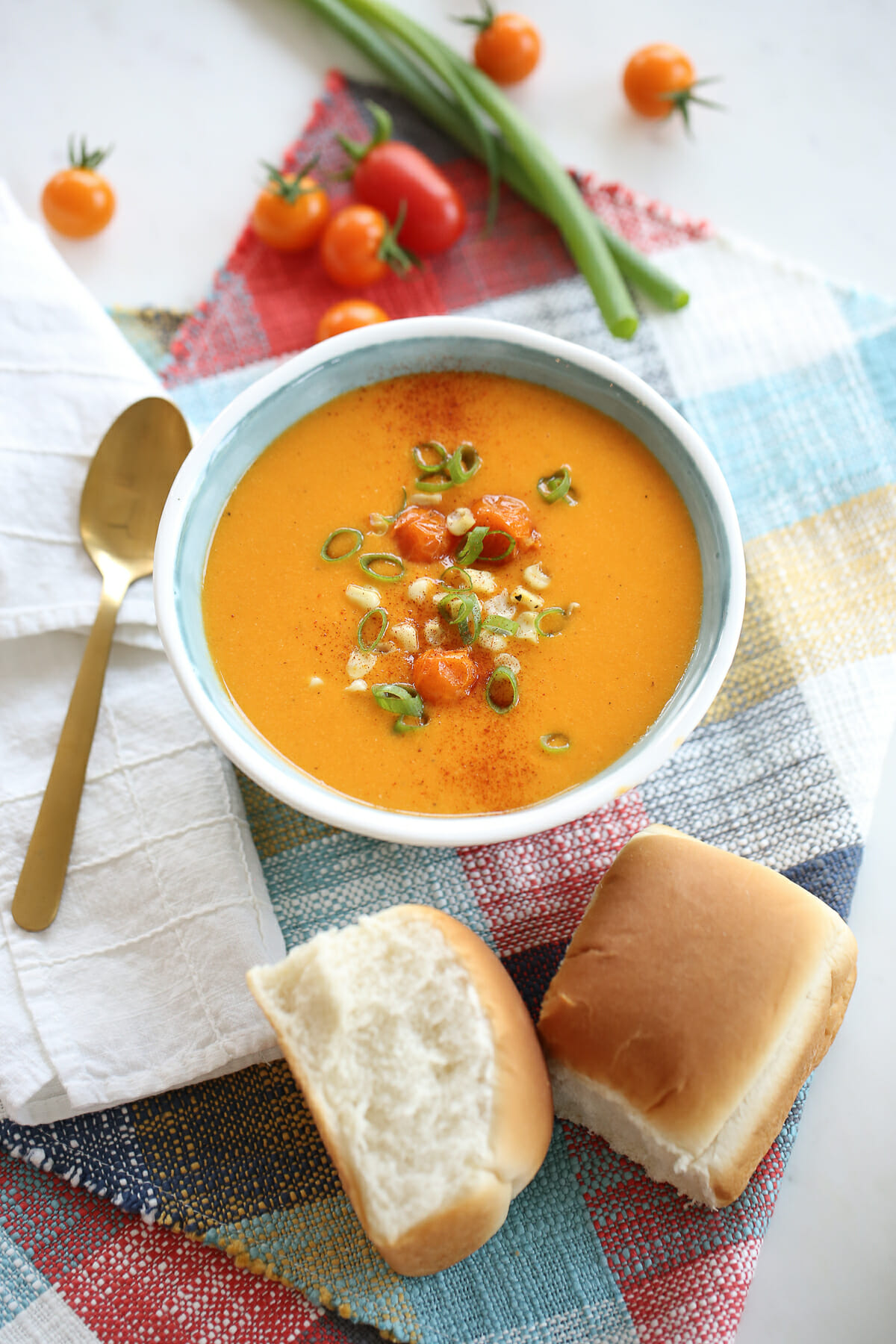 Ingredient & Equipment Notes
 Fresh corn on the cob – Fresh corn provides a delicious, creamy base for this soup and is by far the best choice. In a pinch, frozen corn would be a close second. Don't use canned corn for this recipe.
Tomatoes – You can use any variety of garden tomatoes here.  Little ones work the best, but if you happen to have large tomatoes in your garden, just quarter them before roasting and you'll be good to go.  You can buy 10 ounce containers of cherry tomatoes in the grocery store and those work great, too.
Roasted bell peppers – I wanted the smoky sweetness of fire-roasted bell peppers, but I really didn't want to take the time to roast one myself, so I used a jar since it's something I almost always have in my pantry.  If you want to roast your own bell pepper, just take a look at this tutorial for roasted red peppers.  An 8-ounce jar is equivalent to about 1 medium sized bell pepper.
Broth – Use chicken broth, unless you need to make this vegetarian, in which case you can experiment with vegetable broth.  When given the choice of the two however, I'll always go with chicken broth since it has a lot more flavor.
Spices – The two seasonings that will give a ton of flavor to our roasted veggies are chipotle chili powder and smoked paprika.  Both go beautifully with corn and tomatoes and are a perfect compliment to this flavor profile. Don't worry if you're not a big fan of spicy food- the chipotle chili powder does not make the soup spicy, just adds a lovely boost of flavor.
Baking sheet – The vegetables will be roasting to perfection in the oven. I highly recommend lining your baking sheet with foil for easy clean up!
Blender – You can use an immersion blender to puree the soup, but I actually prefer my blender for this one since the corn has so much texture.  Remember when you put anything hot in your blender to remove that little stopper at the top.  It's important that the steam has somewhere to go.  The other important step is that you cover it with a folded paper towel before you press start!
How To Make Roasted Sweet Corn and Tomato Soup
The base of this soup is sweet, fresh corn. We're going to toss the fresh corn kernels with some tomatoes, and then we'll add a bunch of chopped garlic, a light sprinkling of kosher salt and fresh cracked black pepper, and a little drizzle of olive oil. The oven then does magical things as the veggies roast and caramelize and release natural sugars. Your house will smell amazing.
While the corn and tomatoes are doing their thing in the oven, we'll sauté some diced onions on the stove top, and then add some diced roasted red peppers.
 We'll add our spices right to the pot. And then, since we're making soup here, we'll definitely need some broth.
Next we'll add that gloriously fragrant mixture of roasted corn and tomatoes from the oven, making sure to scrape all the caramelized bits off the baking sheet, and then let it all simmer for a few minutes to allow the flavors to blend together in a sweet, smoky combination.
Lastly we'll blend it all up. I originally planned to add a little low-fat cream cheese to this soup to add a rich, creamy feel, but I realized that the corn has enough starch in it to really create a creamy soup without any actual "creamy" products.  It's quite thick, and slightly sweet, smoky, and savory, all at the same time.  Simply divine.
Serving Suggestions
It's pretty safe to say every good soup needs a good grilled cheese by its side! Nice, crusty artisan or sourdough bread paired with smoked gouda or provolone would be an amazing companion here. If you're in the mood for something a little different, consider a Smoked Turkey and Artichoke Panini.
If you've got a garden full of tomatoes that need to be used up, check out these other tomato favorites:
FAQs
Does this soup freeze well? Most soups are great reheated, and this one is no exception! Freeze in "pucks" in a silicone cupcake mold or in individual mason jars for quick reheating.
Did You Make This?
I'd love to hear from you! Snap a picture and tag me on Instagram, and then come back and give this recipe a rating!
Print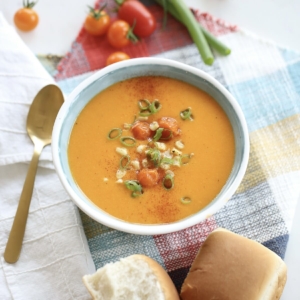 Roasted Sweet Corn and Tomato Soup
Total Time:

40 minutes

Yield:

About 6 cups of soup

Category:

Soups
---
Description
This rich, creamy soup is full of sweet, smoky flavor thanks to roasted peppers, sweet corn, and smoky spices. Perfect paired with a gooey grilled cheese sandwich.
---
3 cups fresh corn kernels (about 4 cobs)
10 ounces cherry tomatoes (about 2 cups)
4 cloves garlic, roughly chopped
1 tablespoon olive oil, divided
1 medium onion, any color, diced
8 ounce jar roasted red bell peppers, drained
32 ounces chicken broth (4 cups)
3/4 teaspoon smoked paprika
1/4 teaspoon chipotle chili powder
kosher salt
fresh cracked black pepper
optional: chopped herbs for garnish
---
Instructions
Preheat oven to 400 degrees.
Place corn, tomatoes, and garlic on a foil-lined baking sheet.  Drizzle with 2 teaspoons olive oil and sprinkle lightly with salt and pepper.  Gently toss with hands and then arrange in an even, flat layer.  Bake for 15-20 minutes or until tomatoes are crinkled and burst.
While vegetables are roasting, heat a stock pot to medium high heat on stove top.  Add remaining one teaspoon olive oil and diced onion.  Sauté about 5 minutes, or until tender.  Add roasted bell peppers, chicken broth, smoked paprika and chipotle chili powder.  Add a light sprinkling of kosher salt and black pepper (I add about 1/2 teaspoon salt and a few cracks of pepper at this point and then season to taste at the very end.)
When corn and tomatoes are done roasting, add them to the pot*, making sure to scrape off all of the bits on the pan.  (*If desired, reserve a couple spoonfuls of roasted corn for garnish.)  Bring soup to a low simmer and cover.  Simmer for 20 minutes.  Use an immersion blender, or transfer soup to stand blender and puree until smooth.  Taste, and add additional salt and pepper (and chipotle chili powder if you want a little more heat) to taste.  Divide into bowls and garnish with a sprinkle of smoked paprika, a few corn kernels, and some chopped herbs if desired.
---
---
Nutrition
Serving Size:

1 1/2 cup

Calories:

168

Fat:

7

Carbohydrates:

24

Protein:

8
Keywords: Soup, roasted red pepper, tomato, corn