Remember the time I didn't plant a garden?  And then I got sad in August when everyone else seemed to have yummy produce coming out of their ears and I had to actually buy tomatoes at the grocery store?  Well lucky for me, I have super awesome friends and neighbors who have been sharing.  We spent this past weekend at our cabin in the mountains and as we were heading out the door to go there, a friend of mine dropped off an enormous load of fresh-picked, locally grown corn on the cob.  We were gone for a couple of days and when we got back, I had a bag from another friend full of all kinds of garden goodies, like cucumbers, squash, and lots of sweet little tomatoes.  I'm just as happy with random veggie-drop-offs as I am with random cookie-drop-offs!  I wanted to use up all of this fresh stuff before it went bad and I immediately thought of soup.  A while back, there was a recipe for roasted corn soup in a Williams-Sonoma catalog, from cooking duo the Sussman Brothers.  It sounded really great, but included a few too many steps for my brain to really want to make it.  It also included a lot of heavy cream- which normally makes my brain want to make things, but since I'm currently trying to stick to a healthy diet while attempting to shed all of the pounds I gained writing a cook book, that turned me off as well.  So I took the same concept and re-worked it a little and came up with something that tasted rich, creamy, and amazing (and it comes in at only 168 calories per serving!)  Read on, my friends.
The base of this soup is sweet, fresh corn.  You'll need about 4 ears.
You can use any variety of garden tomatoes here.  Little ones work the best, but if you happen to have large tomatoes in your garden, just quarter them before roasting and you'll be good to go.  You can buy 10 ounce containers of cherry tomatoes in the grocery store and those work great, too.  I'm using a few red ones from the grocery store and a few of these little orange cutie-pies that my friend brought over.
You'll need to remove the corn from the corn cobs.  Here's a super old post with horrible photos post that shows my favorite way to do it (meaning, the one way where I don't end up with corn shooting violently all over my kitchen as I slice…)
Toss the corn and tomatoes on a foil-lined baking sheet (the foil is simply for easy clean up; you can skip that step if you love scrubbing roasted vegetable gunk off of metal pans) and then we'll add a bunch of chopped garlic, a light sprinkling of kosher salt and fresh cracked black pepper, and a little drizzle of olive oil.
The oven then does magical things as the veggies roast and caramelize and release natural sugars.  Your house will smell amazing.
While those are doing their thing in the oven, heat up a stock pot to medium high heat.  Add a little olive oil and some diced onion.
I wanted the smoky sweetness of fire-roasted bell peppers, but I really didn't want to take the time to roast one myself, so I use a jar since it's something I almost always have in my pantry.  If you want to roast your own bell pepper, just take a look at this tutorial.  An 8-ounce jar is equivalent to about 1 medium sized bell pepper.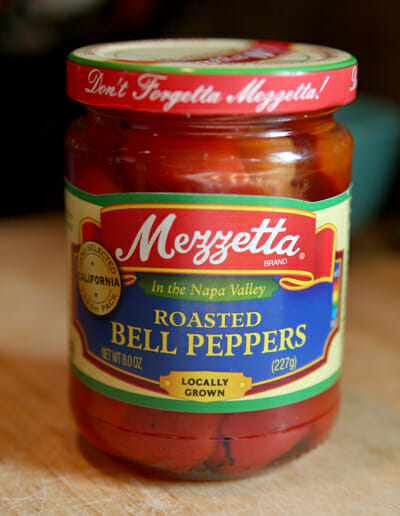 Just give them a rough dice before you toss them in the pot.
Bonus points for anyone who noticed the bell peppers are in the shape of a baby elephant before I mentioned it.  I know.  Awesome.
The two seasonings that will give a ton of flavor to our roasted veggies are chipotle chili powder and smoked paprika.  Both go beautifully with corn and tomatoes and are a perfect compliment to this flavor profile.  Since we're making soup here, we definitely need some broth.  Use chicken broth, unless you need to make this vegetarian and you can experiment with vegetable broth.  When given the choice of the two however, I'll always go with chicken broth since it has a lot more flavor.
Take the corn and tomatoes out of the oven when your tomatoes look all wrinkled, like this:
The corn will probably be turning a little golden brown, but it's okay if it's not.  Scrape every last bit of that pan into your soup pot and bring it to a simmer.  Cover the pot and keep it at a low simmer for about 20 minutes.  All of those flavors come together in a sweet, smoky, combination.
You can use an immersion blender to puree the soup, but I actually prefer my blender for this one since the corn has so much texture.  Remember when you put anything hot in your blender to remove that little stopper at the top.  It's important that the steam has somewhere to go.  The other important step is that you cover it with a folded paper towel before you press start!
Puree the soup until it's smooth.  Even after blending for quite a while, it will still have a little texture from the corn, which I like.  I originally planned to add a little low-fat cream cheese to this soup to add a rich, creamy feel, but I realized that the corn has enough starch in it to really create a creamy soup without any actual "creamy" products.  It's quite thick, and slightly sweet, smoky, and savory, all at the same time.  Simply divine.
Note that it is also mandatory to eat this soup with a grilled cheese sandwich.  Use a great artisan bread and a smoky cheese (like smoked cheddar or provolone) for maximum yum factor.
Print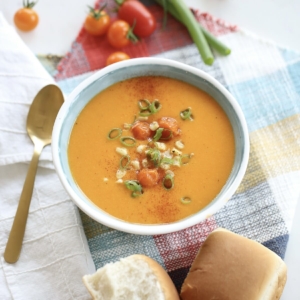 Roasted Sweet Corn and Tomato Soup
Total Time:

40 minutes

Yield:

About 6 cups of soup

Category:

Soups
---
Description
This rich, creamy soup is full of rich flavor thanks to roasted peppers, sweet corn, and smoky spices. Perfect paired with a gooey grilled cheese sandwich.
---
3 cups fresh corn kernels (about 4 cobs)
10 ounces cherry tomatoes (abt 2 cups)
4 cloves garlic, roughly chopped
1 tablespoon olive oil, divided
1 medium onion, any color, diced
8 ounce jar roasted red bell peppers, drained
32 ounces chicken broth (4 cups)
3/4 teaspoon smoked paprika
1/4 teaspoon chipotle chili powder
kosher salt
fresh cracked black pepper
optional: chopped herbs for garnish
---
Instructions
Preheat oven to 400 degrees.
Place corn, tomatoes, and garlic on a foil-lined baking sheet.  Drizzle with 2 teaspoons olive oil and sprinkle lightly with salt and pepper.  Gently toss with hands and then arrange in an even, flat layer.  Bake for 15-20 minutes or until tomatoes are crinkled and burst.
While vegetables are roasting, heat a stock pot to medium high heat on stove top.  Add remaining one teaspoon olive oil and diced onion.  Sauté about 5 minutes, or until tender.  Add roasted bell peppers, chicken broth, smoked paprika and chipotle chili powder.  Add a light sprinkling of kosher salt and black pepper (I add about 1/2 teaspoon salt and a few cracks of pepper at this point and then season to taste at the very end.)
When corn and tomatoes are done roasting, add them to the pot*, making sure to scrape off all of the bits on the pan.  (*If desired, reserve a couple spoonfuls of roasted corn for garnish.)  Bring soup to a low simmer and cover.  Simmer for 20 minutes.  Use an immersion blender, or transfer soup to stand blender and puree until smooth.  Taste, and add additional salt and pepper (and chipotle chili powder if you want a little more heat) to taste.  Divide into bowls and garnish with a sprinkle of smoked paprika, a few corn kernels, and some chopped herbs if desired.
Yields about 6 cups of soup.
Nutritional info for 4, 1 1/2 cup servings:
Calories: 168
Carbs: 24 g
Protein: 8 g
Fat: 7 g
[/print_this]
---
---
Nutrition
Serving Size:

1 1/2 cup

Calories:

168

Fat:

7

Carbohydrates:

24

Protein:

8
Keywords: Soup, roasted red pepper, tomato, corn