One of the reasons I used to be scared of canning is that I assumed it was a requirement to have four hundred pounds of something or other and 10-12 hours of kitchen-trashing labor which resulted in 207 jars to put away in closet space I didn't have.  I couldn't think of anything I needed 207 jars of (unless there's a recipe for canned dark chocolate out there).   Honestly, I have yet to can anything large scale yet, but what I've found is that it doesn't have to be a huge project.  There are plenty of recipes scaled down to just a few jars and if the actual recipe itself is fairly quick and easy to prepare, it's a very doable and worthwhile project. (On the other hand, if the recipe really does take half a day, every dish in your kitchen, and your sanity, you're going to want to make sure it results in 207 jars.)  This happens to be one of those quick and easy ones so it's perfect for beginners!  If you're not interested in canning, don't tune out just yet!  Because this recipe is so small, you can certainly still make it and just keep it in the fridge.
I saw this recipe for Peach BBQ Sauce and I could tell by the ingredient list that I would love it. Plus it seemed perfect seeing that peaches are all over the place right now.  It's actually nothing like a traditional BBQ sauce, as you can probably tell by the pictures, so keep that in mind.  I don't want the name to be misleading.  The consistency and flavor is more like a chutney or even a sweet and sour sauce.  If you're like me and love a sweet and savory combo (with a little kick) they you'll love this.  I think it would be really good on a turkey burger, a pulled pork sandwich, ribs, and definitely spooned over grilled chicken or fish.   I can't wait to use it as a dipping sauce for our Crispy Coconut Chicken– I think the flavor profile is perfect.  Scroll to the end of this post to see how we ate it at our house; my hubby and I loved it.
Also, I was excited to see this recipe scaled way down to just 3-4 little half pint jars.  To you crazy canners out there, that's probably even humorous, but it's perfect for beginners and people like me who are in the mood to try something new before embarking on an all-day canning adventure.  For the mini batch you just need a few peaches, a red pepper, an onion and some garlic.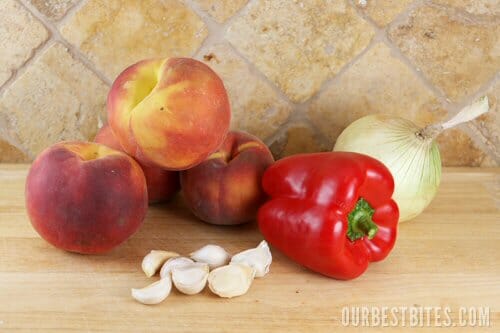 Also, Worcestershire sauce, red pepper flakes, dry mustard, salt, honey, and apple cider vinegar.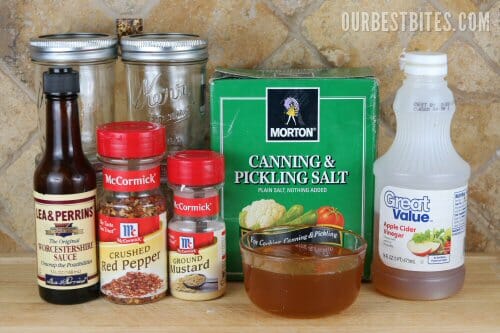 The recipe calls for "finely chopped" everything.  I figured everything would break down after simmering, but it didn't break down as much as I thought, so definitely chop things up small unless you want a really chunky sauce.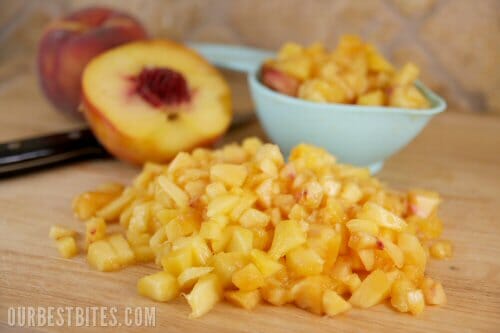 In fact, I would definitely recommend pressing your garlic through a garlic press.  I just chopped mine and it wasn't as soft as I wanted it in the finished product.  If you make a large batch (or even with this small batch) it might be helpful to pop things into a food processor as well- not to puree, but just to chop finely.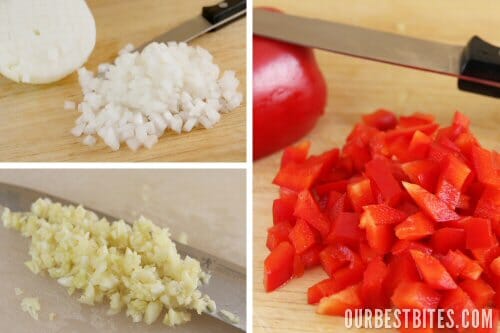 At this point you're just going to add everything to your pot.  I love the colors going on in here.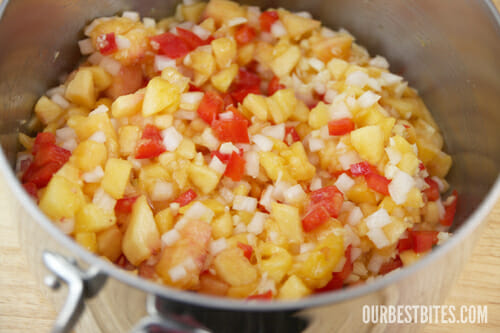 One of the main reasons I knew I would like this: honey.  Mmm…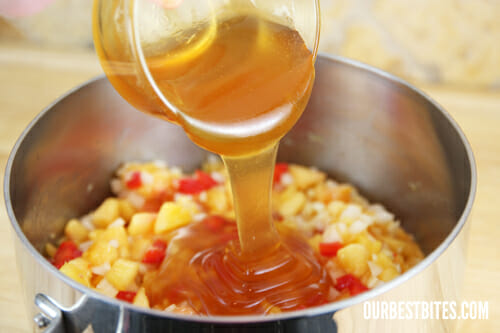 In goes the apple cider vinegar, red pepper flakes (this does have a nice little kick to it; not too spicy, but enough to notice) ground mustard and Worcestershire sauce.
You just need to bring it to a simmer and let it work for about 30 minutes.  Everything will break down and you can gently smash things up with the back of a spoon if you need to.  I even stuck a potato masher in there at the end to get the consistency I wanted.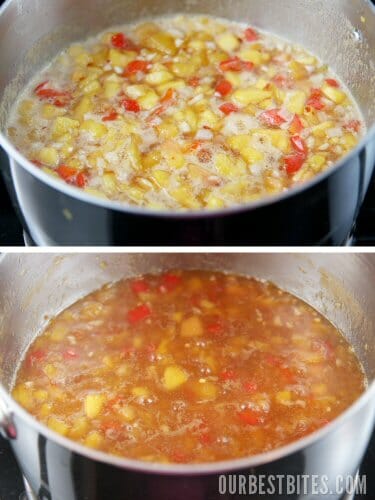 You can see in the photos how it goes from looking like a salsa to a darker colored, thicker sauce.
**If you're new to canning, read our "Introduction to Home Canning" post.
While your sauce is simmering, fill up your waterbath canner with water.  Since I'm making such a small batch, I just used a normal sized stock pot.  Your jars should be clean and warm when you fill them; I usually put mine through my dishwasher and have them heat dry.  Use a funnel to fill up your jars and make sure to leave 1/2 inch headspace on the top.  I have a little tool to measure it with, but you certainly don't need that.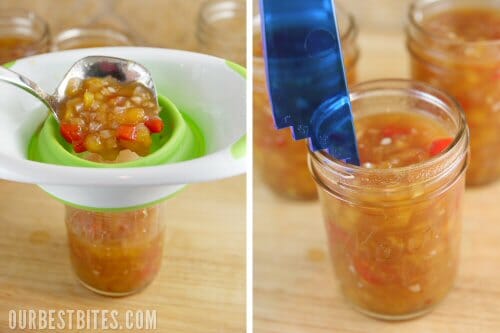 You should also heat up a small pot of water with your lids in it while your sauce is simmering.  Bring it to a simmer and leave lids in the pot until you're ready to use them.  After your jars are filled up with your sauce, wipe the rim to ensure it's clean and dry.  Use the magnet tool (check out this little kit) to pick up a lid and place it on your jar.  Screw the band on- not crazy tight, just normal snug.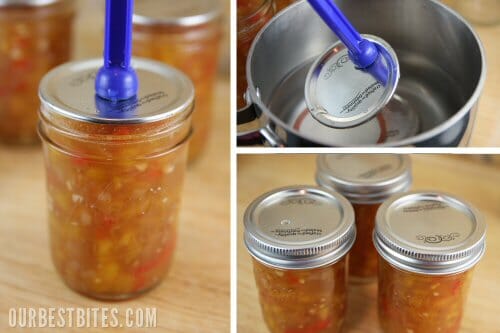 If you're a newbie and feel like trying out canning but not sure if you want to invest in all of the equipment, or even can a large amount of stuff, I highly recommend this mini set (called the "Home Canning Discovery Kit" by Ball.  It's only about 10 bucks.  It comes with 3 jars, a little recipe booklet, and this small green piece you see in my photos that just fits into a normal sized stock pot.  It only fits about 4 jars at a time, but if you're just starting out and want to experiment on a smaller scale, it's perfect.  I love it for when I want to try a new recipe so I make a small batch.  Back to the recipe…just lower your jars into the simmering water and process for for about 15 minutes.  If you live at a higher altitude you'll need to process them for a bit longer and those times are noted in the recipe.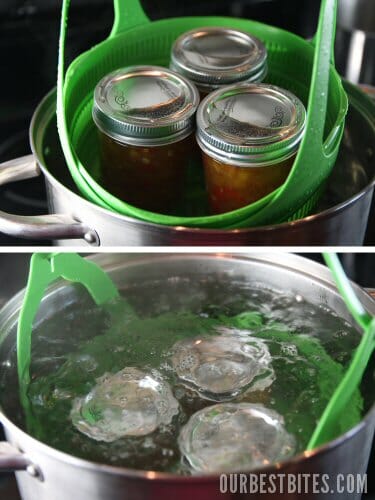 After they come out the jars need to sit at room temp.  Don't be tempted to fool around with them, just leave them alone!  I had enough sauce to can 3 full jars with a little left over.  My family really loved it- we thought it pretty good as it was going into jars, but it was way better after it had cooled and thickened a bit and the flavors had a chance to marry a bit more.  And while it was really great on a spoon, it was fantastic with grilled chicken.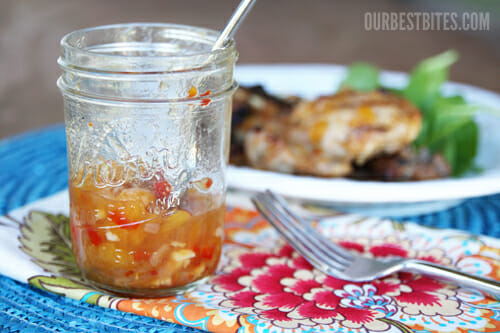 With honey and cider vinegar being main flavor components, I instantly thought of our beloved Spicy Honey Chicken.  So I grilled up some chicken thighs (without the glaze)  that I rubbed in those spices.  I skipped the chipotle powder in that recipe since the sauce already has some heat.  I brushed some over the meat during the last few minutes of grilling, but I wish I would have saved it and put it all on top at the end.  I had a fairly chunky sauce so I lost some of it to the grill!  I served it with rice too, and one of my favorite things was eating the rice that had soaked up the extra sauce.
You can see in the pictures it's almost like a thick salsa.  It's sweet and tangy and savory and so great when combined with the meat.  Hope you guys enjoy it as much as we did; this is something that would make a great gift!
Spicy Peach BBQ Sauce
Recipe from Ball
*note this is a very small batch; I only canned 3 half pint jars with it.  Click on the link above to see measurements for a larger batch as well.

Ingredients:
3 cups finely chopped pitted, peeled peaches (abt 1 1/2 lbs or 5 med)
1/2 cup finely chopped seeded red bell pepper (abt 1/2 large pepper)
1/2 cup finely chopped onion (about 1/2 large)
1 1/2 Tbs finely chopped garlic (about 7 cloves)
2/3 cups honey
1/3 cup cider vinegar
1 1/2 tsp Worcestershire sauce
1 tsp hot pepper flakes
1 tsp dry mustard
1 tsp salt
4 (8 oz) half pint glass preserving jars with lids and bands
*If you're new to canning, make sure to read our "Introduction to Home Canning and Preserving post, found by clicking here.
Directions:
1.  Prepare boiling water canner (as in, fill up your big pot with water) .  Heat jars and lids in simmering water until ready for use (I put my jars through the "sanitize" setting on my dishwasher and place the lids in a pot of simmering water).  Do not boil.  Set bands aside.
2.  Combine all ingredients in a large saucepan.  Bring to a boil.  Reduce heat and simmer, stirring frequently, until mixture thickens to the consistency of a thin commercial barbeque sauce, about 25 minutes.
3.  Ladle hot sauce into hot jars leaving 1/2 inch headspace.  Remove air bubbles (just place the head space measuring device or a clean spatula in the jar and gently move back and forth a few times).  Wipe rims.  Center hot lid on jar.  Apply band and adjust until fit is fingertip tight (that means don't screw it on super duper tight, just normal snug.)
4.  Process in boiling water for 15 minutes, adjusting for altitude*.  Remove jars and cool.  Check lids for seal after 24 hours.  Lid should not flex up adn down when center is pressed.
*Recipe as written is for altitudes 0-1000 ft above sea level.  Increase processing time for amount given for each altitude:  For 1,001-3,000 ft: add 5 minutes.  3,001-6,000: add 10 minutes.  6,001-8,000: add 15 minutes.  8,001-10,000: add 20 minutes.
Serve over chicken, fish, or pork, or as a spread on turkey or chicken burgers or a dip for Crispy Coconut Chicken Fingers.