This Taco Soup is one of my family's FAVORITE meals! I love this recipe because it's super easy–make it on the stovetop or toss everything into your crockpot and let it simmer all day. Plus, it uses up a whole bunch of refrigerator and pantry staples: canned tomatoes, tomato sauce, corn, taco seasoning (you can even make your own in bulk!), and kidney beans. Oh, and a fresh onion and some fresh garlic. It's cheap, packed with protein, and feeds a smally army. In fact, my oldest son, who has always been a die-hard chili fan (this Easy Weeknight Chili and Sara's Black Bean and Sweet Potato Chili are two of his favorite meals) declared this his favorite. So. That's saying a lot.
My favorite topping is a big spoonful or two of Pico de Gallo. It adds a lot of fresh flavor with almost no extra calories. I also love adding some sour cream, shredded cheese, and some crushed tortilla chips (or, if you're feeling fancy, you could fry your own tortilla strips.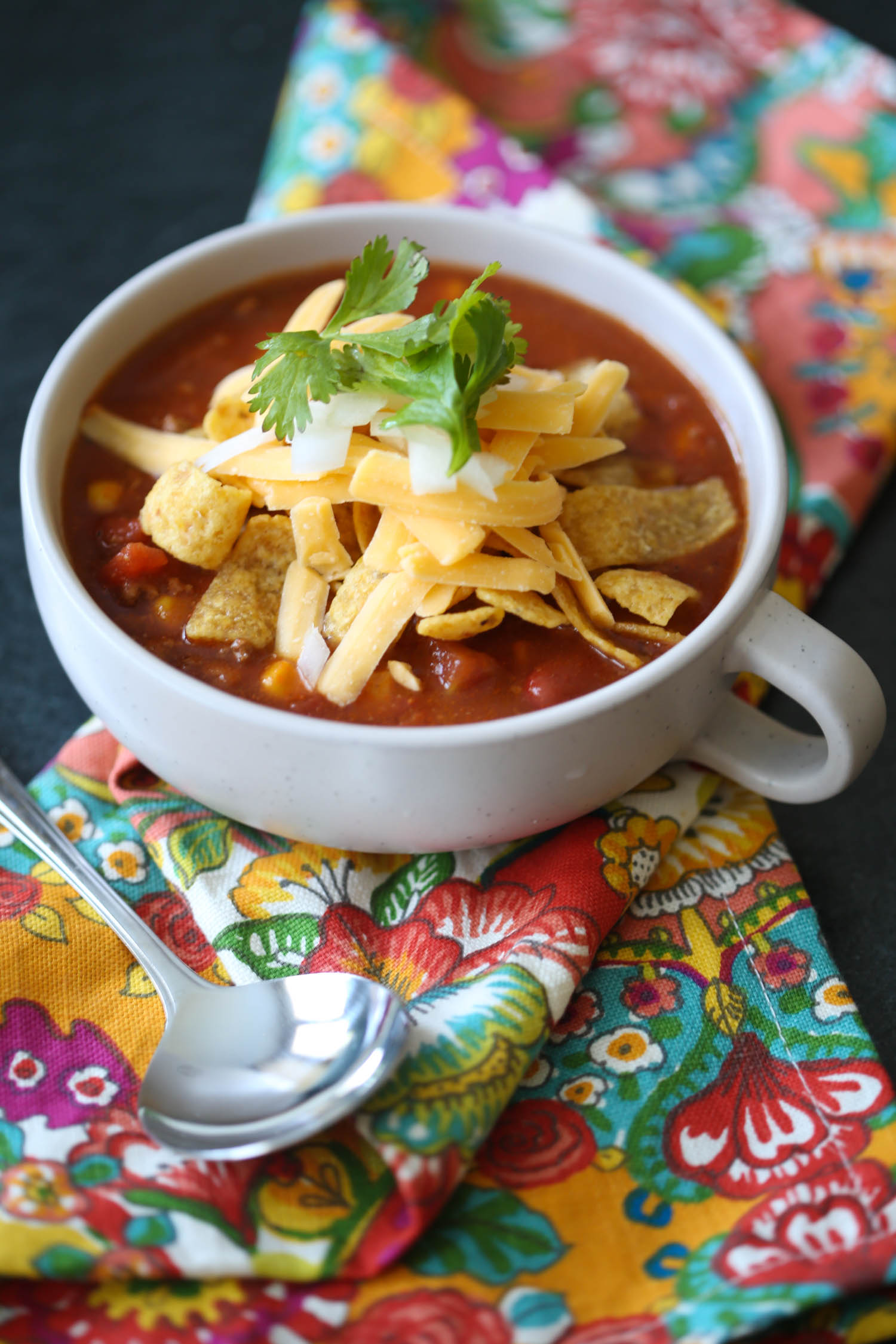 Print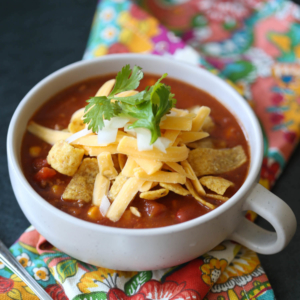 ---
Description
This family-friendly taco soup is packed with protein and fiber, uses a whole bunch of pantry staples, and feeds a small army!
---
1 lb. lean or extra-lean ground beef
1 onion, chopped
4–5 cloves garlic, minced
1 1.25-ounce packet taco seasoning (or make your own and use about 1/4 cup)
3 cups water, divided
2 28-ounce cans diced tomatoes
1 15-ounce can tomato sauce
2 15-ounce cans kidney beans, rinsed and drained
1 can corn, drained (or 1 cup frozen corn)
Toppings: Pico de Gallo, light sour cream, shredded cheese, crushed tortilla chips, tortilla strips, guacamole, etc.
---
Instructions
Heat 1-2 teaspoons olive oil in a large soup pot over medium heat. When hot, brown the ground beef with the onion and garlic. When almost brown, add the taco seasoning and 1 cup water. Add the remaining ingredients, including the remaining 2 cups water, bring to a medium boil, then, cover and reduce heat. Simmer for at least 15 minutes. Serve with desired toppings. Makes 10 1 1/2-cup servings.
---
Notes
Slow Cooker Instructions: After browning the meat, place all the ingredients into a slow cooker and cook on low for about 6-8 hours.
Freezer Instructions: Because of all the canned goods, you'll just take up a lot of space in your freezer if you freeze the whole recipe. However, after it's been cooked, the leftovers freeze extremely well. You can even try freezing individual portions in 12-oz. freezer-safe containers and then reheating them for a quick lunch.
Nutritional Information (using 93% lean ground beef):
Calories: 188
Fat: 3.6
Fiber: 8.6
Protein: 15.8