This is the first summer in a long time that I didn't plant a garden.  You guys know that with my background in horticulture and my current-ground (yes I made that term up, why doesn't anyone else say it?) in food, that a vegetable garden is something I'm passionate about.  I am really missing a backyard abundant in tomatoes, zucchini, and fresh herbs this year.  The reason why we didn't plant anything earlier this spring is because we're moving!  We're building a house right now (not far from where we currently live, in Idaho) and the thought of tending my precious garden all summer long and then leaving it behind just when everything was ready to eat pained my heart.  Although now I'm kind of regretting that decision because our house probably won't be done until after the growing season so had I planned that better, I could have been up to my ears in squash right now.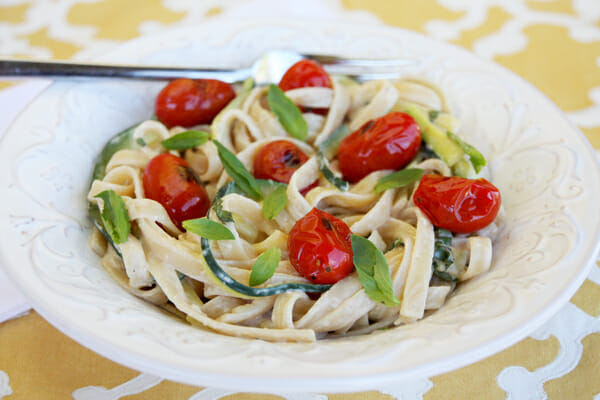 Buuuut, back to the food.  I was thinking about my non-existent garden the other day and started craving sweet little tomatoes and tender zucchini.
I created this recipe to be a healthy one!  I'm in a calorie-counting phase of life at the moment, so I wanted to show you how you can still have really delicious, filling food- even pasta and cream sauce,  and stick to a healthy diet.  There are a few great tricks in here, so pay attention folks.  Let's get cookin'.
Here's one of the secrets to this recipe.  It's a trick I sometimes use on my kids.  Shhhh… Slice a zucchini in thin slices vertically.  I used a mandoline to make it quick and easy.  If you don't have a mandoline, it's a pretty useful kitchen gadget.  I use this one– it's inexpensive and works great!  If you don't have a mandoline, you can use a vegetable peeler.  You want them about 1/8 inch thick.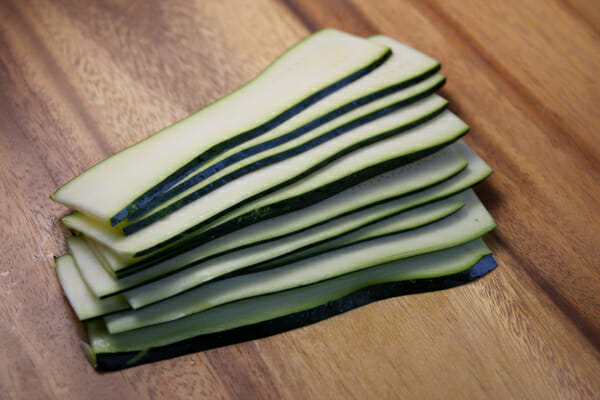 Now cut them the other direction, like this: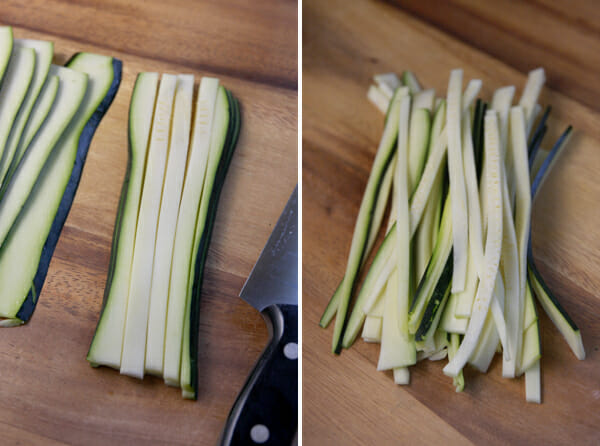 Can you see where we're going here?  What do those look like?  Noodles, baby!  If you want to really trick your kids, peel off the green stuff first and mix it with spaghetti)  We're going to drop these zucchini noodles right into the pot with the pasta, at the end.  Since it's the same size and shape, it blends in perfectly.  This allows you to get much more on your plate, with less calories.  Win-win!  We'll come back to the zucchini.
Next you'll need some little tomatoes.  I'm using a 10oz carton you can buy at the store.  it's about 2 cups.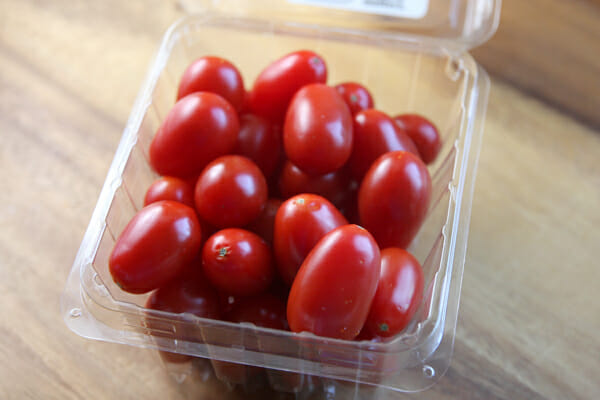 Quickly saute those up; it only takes a couple of minutes.  You should stop when they look a little blistered and just barely start to burst.  At this point they've released some sweetness and it's caramelized in the pan to develop a whole new depth of flavor.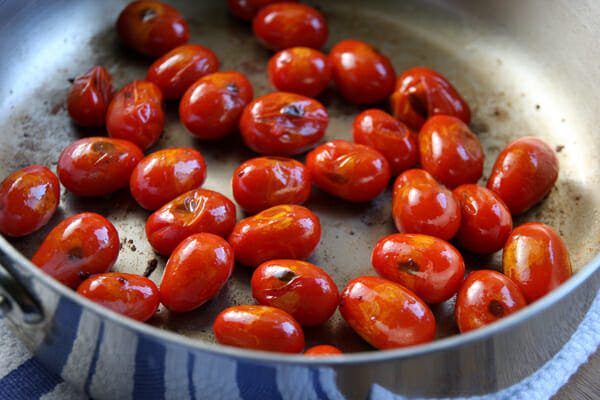 Scoop those little guys out of the pan and set them aside.  Chop up a few cloves of garlic and give them a quick saute in your same pan.  Once those are golden, add a little chicken broth.  As the chicken broth simmers, you can scrape all of the little browned bits off the bottom of the pan- they add tons of flavor here.
Now for the secret to our sinfully creamy sauce.  Kate and I almost never use fat-free cream cheese.  We don't recommend it for baking, and I don't really like it in dips, but the one place it does work really well is when it's melted into a sauce, like this.  We just need the creaminess, and fat-free cream cheese has significantly less calories than even the reduced fat kind.  Obviously feel free to use any of the three, but know that fat-free works great.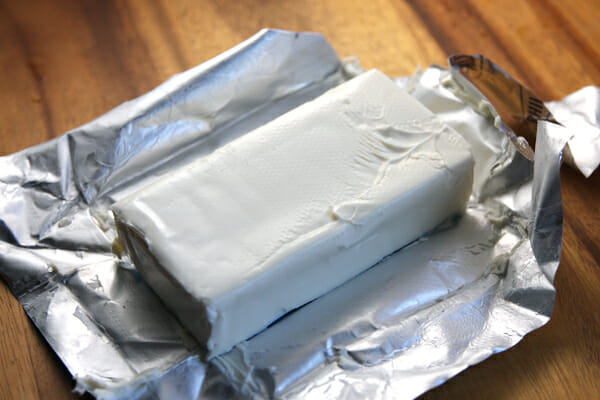 In the printable instructions I explain the best way to get the cream cheese melted and the sauce smooth, so make sure to read that [note: don't just drop it in the sauce!]  but when it's all done it's super creamy and flavorful.  And we only used 3 ounces of cream cheese, that's less than 1/2 of a block.  When that's nice and smooth, toss in some fresh basil and a squeeze of fresh lemon juice.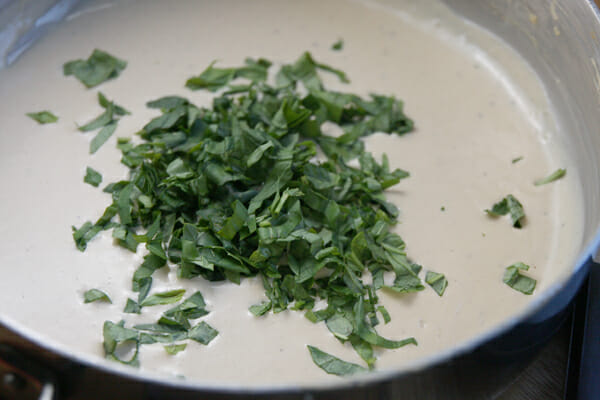 Stir it up and then add in the cooked pasta and zucchini.  See how creamy that is?  It's not drenched and heavy, it's just a light coating that adds both flavor and texture to the pasta.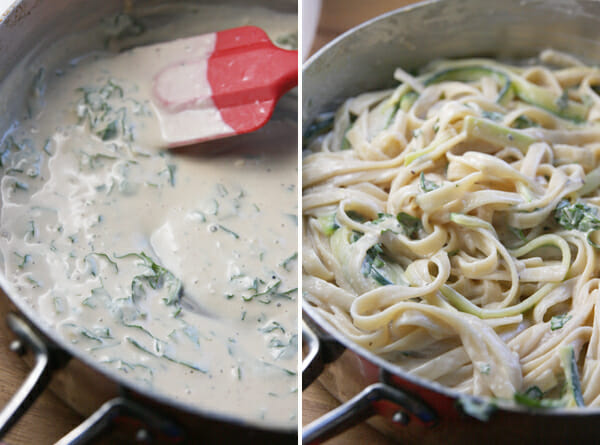 You can stir the tomatoes in, or I like to just place them on top because they look so pretty.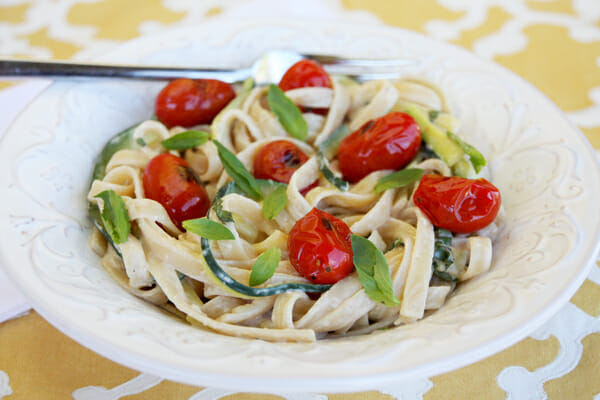 You get those super sweet tomatoes, with pieces of fresh basil and creamy sauce-coated pasta and just a hint of lemon and garlic.  It's the perfect bite.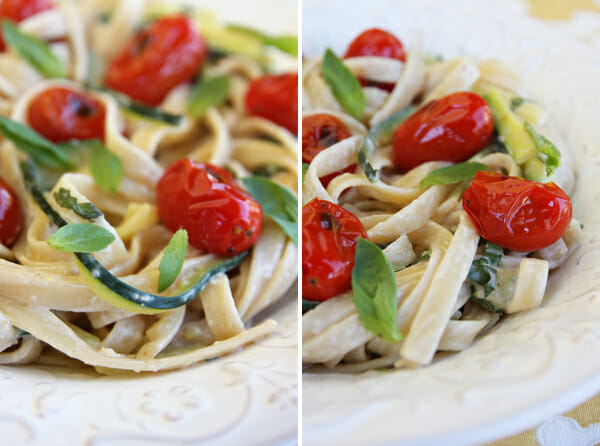 Now here's the awesome part.  This recipe makes 4 generous main dish servings.  Like, that whole bowl you see in the pictures- and in that entire bowl of deliciousness, there are only about 286 calories.  Two hundred and eighty six!  So if you think you have to give up pasta and creamy sauces when trying to eat healthy, think again.  That even leaves plenty of caloric room to toss some grilled chicken on top.  And maybe eat a cookie.  (I won't tell if you don't.)
Print
Zucchini Ribbon Pasta with Creamy Lemon-Basil Sauce
---
---
1/2

lb (or

8 oz

) fettuccine

1

medium zucchini

2 tsp

olive oil, divided

10 ounces

grape tomatoes (about

2 cups

)
kosher salt
black pepper

3

–

4

cloves finely minced garlic

1 cup

low sodium chicken broth

3 ounces

fat-free cream cheese

1 cup

very loosely packed basil, chopped

1 tablespoon

fresh squeezed lemon juice, more if desired
---
Instructions
Prepare a pot of water and cook pasta according to package instructions. Cut ends off zucchini and slice along the long direction, cutting the zucchini into about ⅛ inch slices. Cut each of those slices into long pieces, about the same size as the fettuccine (see photos above for explanation). Set zucchini aside.
Heat a medium size skillet to medium heat. When hot, add 1 teaspoon olive oil. Add tomatoes and give them a little sprinkle of kosher salt and a few cracks of black pepper. Cook, stirring frequently, for about 3-4 minutes. Just until they start to burst and look blistered. Remove tomatoes from pan and place in a small dish, covered, and set aside.
Add another 1 teaspoon olive oil to the empty pan and add garlic. Stir constantly on medium-low heat for about 30-60 seconds. Add chicken broth. Bring to a simmer and use a spatula to scrape any browned bits off the bottom of the pan. Simmer for 1-2 minutes and then reduce heat to low.
Place cream cheese in a microwave-safe bowl and soften for 20-30 seconds, until it can be easily stirred smooth. Ladle in a couple spoonfuls of the chicken broth mixture into the cream cheese and stir to combine. Once the mixture is smooth, add it to the pan with the remaining broth mixture and whisk until smooth and creamy. Add chopped basil and lemon juice and stir to combine. Taste sauce and season with salt and pepper to taste. (Lemon lovers can also squeeze in extra lemon juice at this point.)
When pasta is just about done, add zucchini strips to pot (so they're cooking with the pasta). Boil for about 2 minutes, or until tender. Drain zucchini and pasta and combine with sauce. Gently toss in tomatoes, or simply add them on top of each serving. Garnish with additional basil if desired.
---
---
Nutrition
Serving Size:

4

Calories:

294kcal

Sugar:

6g

Sodium:

674mg

Fat:

4g

Saturated Fat:

1g

Trans Fat:

0

Carbohydrates:

51g

Fiber:

4g

Protein:

14g

Cholesterol:

3mg