We're back in the swing of school, plus my entire family is in our local production of The Wizard of Oz this week, which means that mealtime is short and precious and I need all the planning and recipe ideas I can get! Today I'm sharing 10 of our best, easiest breakfasts. Some of them you can make the day or night before and some of them come together in jut a few minutes, but all of them are definitely do-able on busy weekday mornings (or to make ahead the day or night before)!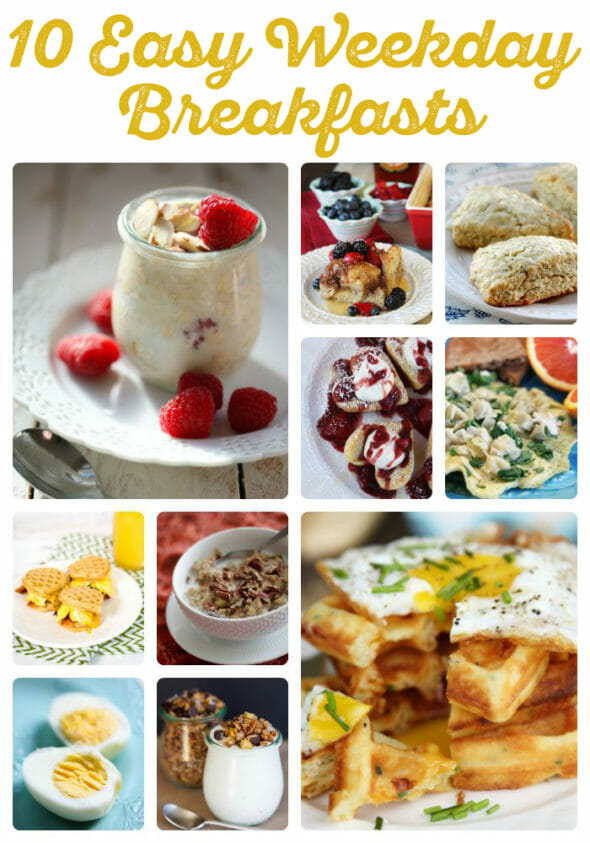 1. Overnight Refrigerator Oatmeal. This is a great one to grab on the go in the morning because it doesn't have to be reheated (although you can if you want). If you're super efficient, keep the almonds handy and you can just sprinkle them on right before eating!
2. Overnight French Toast. This is a fun first day of school breakfast (we also frequently do it when birthdays fall on a weekday because I probably am not ever going to get up any earlier than necessary to make traditional pancakes, waffles, or French toast on a school day.)
3. Lemon Poppyseed Scones. These scones are one of my all-time favorites and they're perfect to grab and go in the morning or to tuck into lunch boxes!
4. Mini Puffed Oven Pancakes with Berry Sauce. These pancakes were always our go-to special breakfast when I was growing up and now that I'm a mom, I realize it's probably because they're so easy! You can do them in a big 9×13″ pan, but there's something fun about making them in muffin tins and having self-contained individual servings.
5. Spinach Artichoke Omelet. For awhile there this summer, I was eating this at least once a day for breakfast and/or lunch (until I got food poisoning from the spinach…word to the wise–when it smells bad, don't eat it, even if you just opened it and it doesn't expire for another week.)
6. Bacon Egg and Cheese Waffle Bites. These have become a staple at our house, not just for breakfast, but for easy dinners as well!
7. Overnight Apple-Cinnamon Oatmeal. If you love having a hot breakfast, this one's for you. Your house will smell like apple pie in the morning, which is pretty much the best way to start any day.
8. Oven-Baked Hard-Boiled Eggs. This is my favorite way to make perfect hard-cooked eggs every single time! My daughter loves to eat these for breakfast and lunch and I'll often pull one out and make an egg salad sandwich for lunch.
9. Homemade Granola with Cherries, Dark Chocolate, and Pistachios. Sprinkle this delicious granola over Greek yogurt for a crunchy, protein-packed breakfast.
10. Ham and Cheddar Waffle Bread. Those are pretty much 4 of my favorite words in the English language. Savory waffles. Top 'em off with a fried egg and that's the breakfast of champions.
Be sure to check out our entire breakfast section–there were so many amazing recipes that I didn't include that you might have forgotten about!