First of all, congratulations to entrant #1980, Bethany, who won the Blickenstaff's Candy Giveaway! Bethany, we've emailed you at the email address you sent us, so please claim your prize within 24 hours lest we have to give your prize to someone else!
I don't have a lot of grandparent memories. My parents, at least by 31-years-ago standards, were older when they had me and my mom's parents had both passed away. My dad's parents lived about 1 1/2 hours away, and we visited them often, but they were also quite a bit older and my grandma had Alzheimer's for most of the time that I knew her, so most of the memories I have of my grandma and grandpa are from when I was pretty little. Which means I don't have a lot of specifics.
But I do have the abstract memories–the way their house smelled and the steep linoleum steps (which seemed much steeper than they probably were in reality) and the graham crackers. My grandma always had a "back to school" party for each grandkid when they went to kindergarten–all the cousins and aunts and uncles would bring backpacks and school supplies for the kindergartner and we'd have a party in their backyard. Whether it was back to school parties or Thanksgiving or Easter, there were always lots of old-fashioned, incredibly delicious treats (like homemade, home-canned grape juice lemonade with real grapes in the canning jars–never seen it before or since but if it's half as delicious as I remember it, I'd die of happiness if I ever found a recipe for it). And like Banana Slush Punch. It's probably been, oh, 25 years since I had my grandma's Banana Slush Punch, but I can still taste it.
With Easter coming up, I've been thinking a lot about food and traditions and the kinds of food memories I have and what I want to share with my own kids. We had this slushy punch at every Grandma Randle Easter party that I can remember from my early childhood and even though I don't have tons and tons of memories of my grandparents, I want this to be one of the recipes my kids take with them in their own lives.
Place 3 cups of water and 4 very ripe bananas into your blender.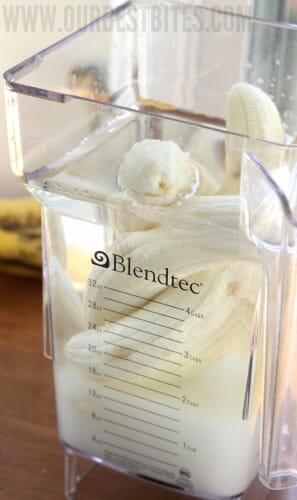 Like bananas that are starting to turn brown. Spotty bananas. The ones no one wants eat.
Sprinkle 1 1/2 cups of sugar over the bananas.
Blend until smooth and then set aside.
In a large bowl or pot, combine 6 cups of pineapple juice, 2 12-ounce cans of orange juice concentrate, a 12-ounce can of lemonade (pink or yellow), and 3 more cups of water. Mix well. If you didn't think ahead (like me) to thaw out the concentrates, pop an immersion blender into the mixture and mix until it's smooth. Add the banana mixture and mix well.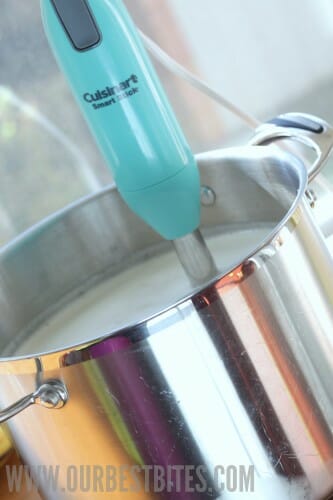 Pour the banana mixture into 3 separate freezer-safe containers or gallon-sized Ziploc bags. Freeze several hours or overnight (at least). When ready to serve, place one frozen bag of banana mixture into a punch bowl or serving jar and pour 1 liter of Sprite or ginger ale over the mixture.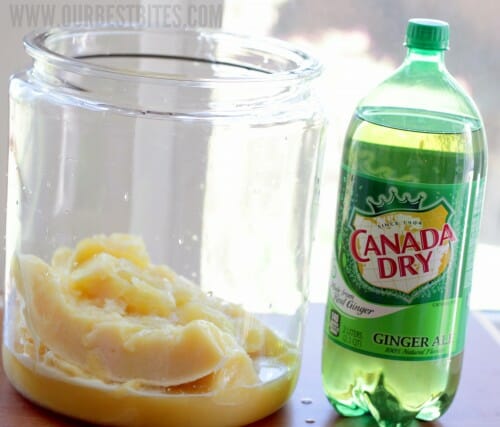 Break up with a spoon or ladle (or whip out that immersion blender again) and serve. You can garnish it with frozen raspberries or frozen sliced strawberries if you want.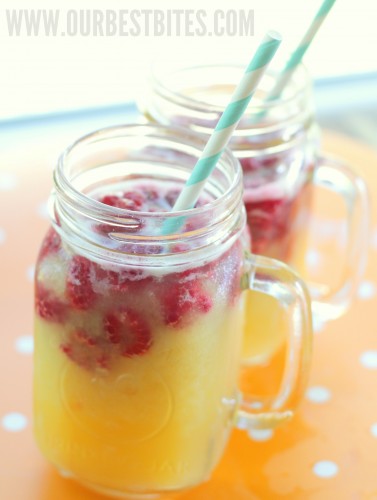 This will serve a small army, so feel free to cut the recipe in half if you're not interested in feeding a small army.
Banana Slush Punch
Recipe adapted from Allrecipes
Ingredients:
6 cups water, divided
4 very ripe bananas
1 1/2 cups white sugar
6 cups (48 ounces) pineapple juice
2 12- ounce cans orange juice concentrate
1 12-ounce can lemonade concentrate (pink or yellow)
3 liters Sprite or ginger ale
Instructions:
In the jar of a blender, combine 3 cups water, bananas, and sugar. Blend until smooth and set aside.
In a large bowl or pot, combine remaining water, pineapple juice, orange juice concentrate, and lemonade concentrate and mix well or blend with an immersion blender. Add banana mixture.
Divide the mixture evenly among 3 freezer-safe containers or gallon-sized Ziploc bags and freeze for several hours or overnight (at least). When ready to serve, place 1 container of banana mixture at a time into a drink bowl or jar and pour 1 liter of chilled ginger ale or Sprite over the banana mixture. Mix with a spoon (or immersion blender) and serve immediately. If desired, you can garnish with frozen berries.