There are different trains of thought when it comes to New Year's Resolutions.  Some people say they're silly or cliche, or that they're even a mechanism to set yourself up for failure.  I for one love the advent of a new year and the fresh perspective it brings.  There's something cathartic about flipping that calendar page in December and saying goodbye to what was, and hello to a new start.  I also believe in the power of goal-setting.  Setting goals and ambitions at the start of new year's past has helped me learn new skills, accomplish big goals, and take bit leaps.  I'm going to share a few of my new goals with you in some future blog posts, but today I'm focusing on one that no matter how cliche, affects thousands of you out there!  SO many people want to take strides to improve their health and the post-holiday New Year mark is a great time to do it.  I'm guessing many of you made some goals just a couple weeks ago, and some of you may have already given up on them!  I'm going to share 10 things today to help you stay on track.  These are all things I'm doing and using myself as I work on one of my personal goals: to lose 30lbs by June.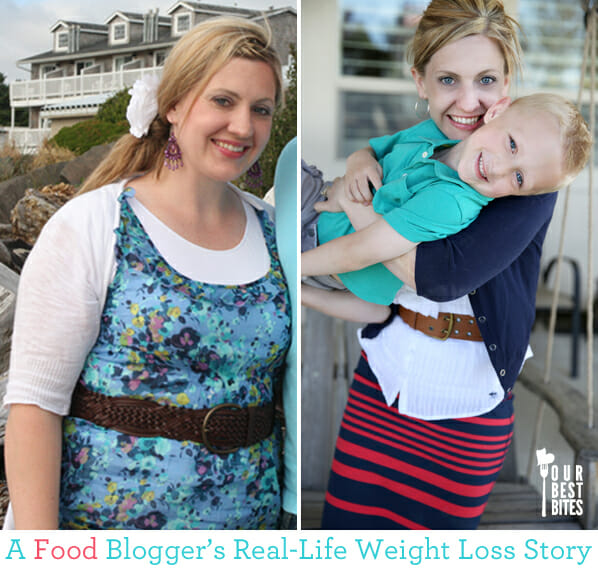 You know what I read for inspiration?  My own story!  I shared my 50lb weight-loss story several years ago and after a few years, and a pregnancy, I'm in the middle of this journey once again.  Reading back over my own experiences helps me remember my mindset when I was successful and gives me encouragement I can do it again!  You can also read my tips on how I lost fat and built muscle, and how to count macros, which is kind of like advanced calorie-counting.
Okay, this is one of my best finds yet.  Admit it.  You've seen the infomercials.  The happy sweaty people with their amazing before and after pictures and you're dying to see if it actually works.  But you don't want to go order a giant set of DVD's for a small fortune so you just keep watching the infomercials.  There's the infamous P90X and Insanity, there's the super popular 21-Day Fix that so many people you know have had success with, there's TONS of amazing Beachbody programs.  Well guess what?  You don't have to order DVD's off the TV OR go through your awkward friend trying to sell them via multi-level marketing.  This is seriously the coolest thing- you can actually stream them all.  Yes, ALL OF THEM.  They actually have an On-Demand service, that normally just has their older programs, and you can purchase newer programs as add-ons, but right now only they're offering ALL programs, old and brand stinking new.  For a little over $8.00  month (yes you read that right, EIGHT) you have access to every BeachBody program in existence.  You guys, I've done a lot of BeachBody Programs, and if you're looking for a home workout to customize to your style and have on a schedule to follow, there is nothing better than these ones.  You can have access to everything for an entire year for under $100 bucks.  That's less than many of them cost alone!  That's .28 cents a DAY!  I know I'm using a lot of caps in this one, but I'm telling you- this is an amazing deal and I'm super excited about it.  These are my favorite at-home workouts and I've been streaming them on my TV, iPad, and even my phone when I travel.  Just note that if you sign up for the 30 day trial you won't get access to everything- it's only when you buy the special 99.95 lump sum they have going on right now.  Click here to check out all the programs, and get the deal here.
We have been hosting occasional DietBet's over the past couple of years and they have been a HUGE success!  So many of you have kicked off your own great success stories by taking part in these fun challenges.  We have a new DietBet starting NEXT WEEK, so take a look and join up!  The great thing about these is that everyone who is successful, wins.  Basically, everyone contributes $30 to the "pot" and if you lose 4% of your body weight in 4 weeks, you split the pot with the rest of the winners.  It's super fun and you get to join our awesome private Facebook community for support!  Make a commitment by clicking here to join!
One of the #1 questions I get on our FitClub Instagram is what kind of protein powder I use.  I have been using MusclePharm Cookies and Cream for a long time because you can buy it at Costco and I think it tastes great, I buy PE Science specifically for these Protein Waffles, and most recently Kate and I discovered Progenex.  Progenex is far and away the best tasting protein I've tried (and I've tried a LOT).  I've had a very difficult time specifically with chocolate- most chocolate protein powders have that weird protein-y taste and this tastes like…CHOCOLATE.  If you're a coffee drinker, their Loco Mocha flavor is fantastic.  My favorite thing about these is that you can order yourself a sample pack and pick and choose any flavors you like.  Nothing is worse than investing in a $60 tub of protein only to find out it's horrible!  I love these single-serving packs.  Try a bunch of flavors and then if you find one you like, you can stock up on a big bag.  Kate and I genuinely love this brand.  The Belgian Chocolate and Peanut Butter Smash are probably my favorites, and I'm super excited to order some of their new protein pancake mix! 
If you're new around here, make sure you check out this link to our Fit Club homepage.  There's so much great info there like home workouts, videos, and reviews.
If you're on Instagram, follow us on our Fitness account!  So much good stuff happens over there.  I'm the one posting there and I share behind-the-scenes stuff about what I'm cooking and eating, and what I'm doing at the gym.  It's a fun place to meet friends and "talk" to me.  I'm on there a lot and I try to answer every question!  (If you want to hang with Kate, she manages our private FitClub Facebook Community, so head over there!)
Here's a fun link to a bunch of our favorite things in the health and fitness world.  We've also done lots of blog posts, like a review on different fitness trackers, favorite at-home gym equipment, and fitness faves.
This is a fun snack-box subscription program I've been trying out.  All of the snacks are approved by a dietitian and it's been fun to get special treats in the mail that aren't horrible for you!  We've found a lot of new favorite snacks here.  Try out a single box or sign up for a subscription.
Another fun subscription box is this gourmet beef jerky.  I'm always looking for ways to increase my protein intake and snacking is one of my biggest issues.  Kate and I both LOVE this jerky and it's another great "healthy" fun snack idea.  Check out their custom boxes or get a subscription!
Our healthy cook book "400 Calories or Less" has gotten RAVE reviews!  It's a staple in so many of your homes and we're so glad.  It's really great, family friendly food, that also happens to be healthy and wholesome.  You can check it out here.  
I hope that at least one thing on this list strikes a chord with those of you who need it.  And if you don't need any of this, bravo.  Go check out our cookie index 🙂  Wishing you all the best in 2017!
*Disclaimer: This post contains affiliate links.